New Yorkers are no longer especially eager to buy properties with shared indoor amenities. Instead the pandemic has put the focus on private outdoor space. If you live in a townhouse, you may be looking to maximize every inch of your available outdoor space, either for yourself or to increase the value of your property before you sell.
One way to unlock valuable outdoor space is to add a deck to your townhouse roof. In many cases your roof space is twice as large as the backyard and often gets more sunshine, says Joseph Vance, principal of Joseph Vance Architects, who has nearly 30 years of experience working with NYC townhouses.
"Our townhouse clients are looking to utilize their rooftops at a whole new level—making them as functional as possible," Vance says. Even before the pandemic, he says, there was new interest in developing roofs into private oases.
That's because the technology needed for these kinds of projects and the growing awareness of sustainability have converged to make it not just possible, but in certain cases, a requirement, thanks to the city's new green roof laws. With the pandemic, you have another incentive to incorporate your roof into your property's usable square footage.
No surprise that these projects are not for the faint hearted. The kind of budget you'll need is huge,  Vance says. This is because most townhouses don't have stairs to the roof or access—both of which need to be built. These changes often mean altering the structure of the roof. Vance says the cost of the project is normally baked into a gut renovation—typically in the hundreds of thousands (if not millions).
However, there are ways to bring the price down and there's plenty to consider—including how you plan to use the space and whether you live in one of the city's historic districts. Here are the questions to ask before you go ahead.
What can the structure of the roof handle?
If you own a townhouse built in the last 10 or 15 years, you're in luck. New construction is often built to the kind of specifications that make converting the roof to usable space much easier, Vance says. The roof may already be easily accessible and reinforced.
If your townhouse is a brick structure built in the late 1800s—which most are—the roof is not designed to have people on it—and can't take heavy containers either. "It's not usually possible to go up there and grow grass or put in roof pavers or fake turf," Vance says. 
If you don't want to do a gut renovation of the upper floor, and want to keep the project exclusively to the roof space, you might consider floating a recreational deck over the original roof surface. Vance says this has several advantages. For starters it doesn't require any reinforcement of the original roof. It also means you're not interfering with the way water drains off the roof. 
"The water goes through the new platform and goes off your roof as normal. There's no new drainage system required," Vance says. 
On a job like this, he will design a floating roof spanning from one end of the building to the other. The load-bearing brick walls of your townhouse will carry the weight of the installation. 
How will you access the roof?
Most older townhouses in New York City don't have stairs to the roof. Instead they'll have a ladder and a hatch. As soon as you are installing a stairway with access, you are typically going to alter the structure of the roof, Vance says.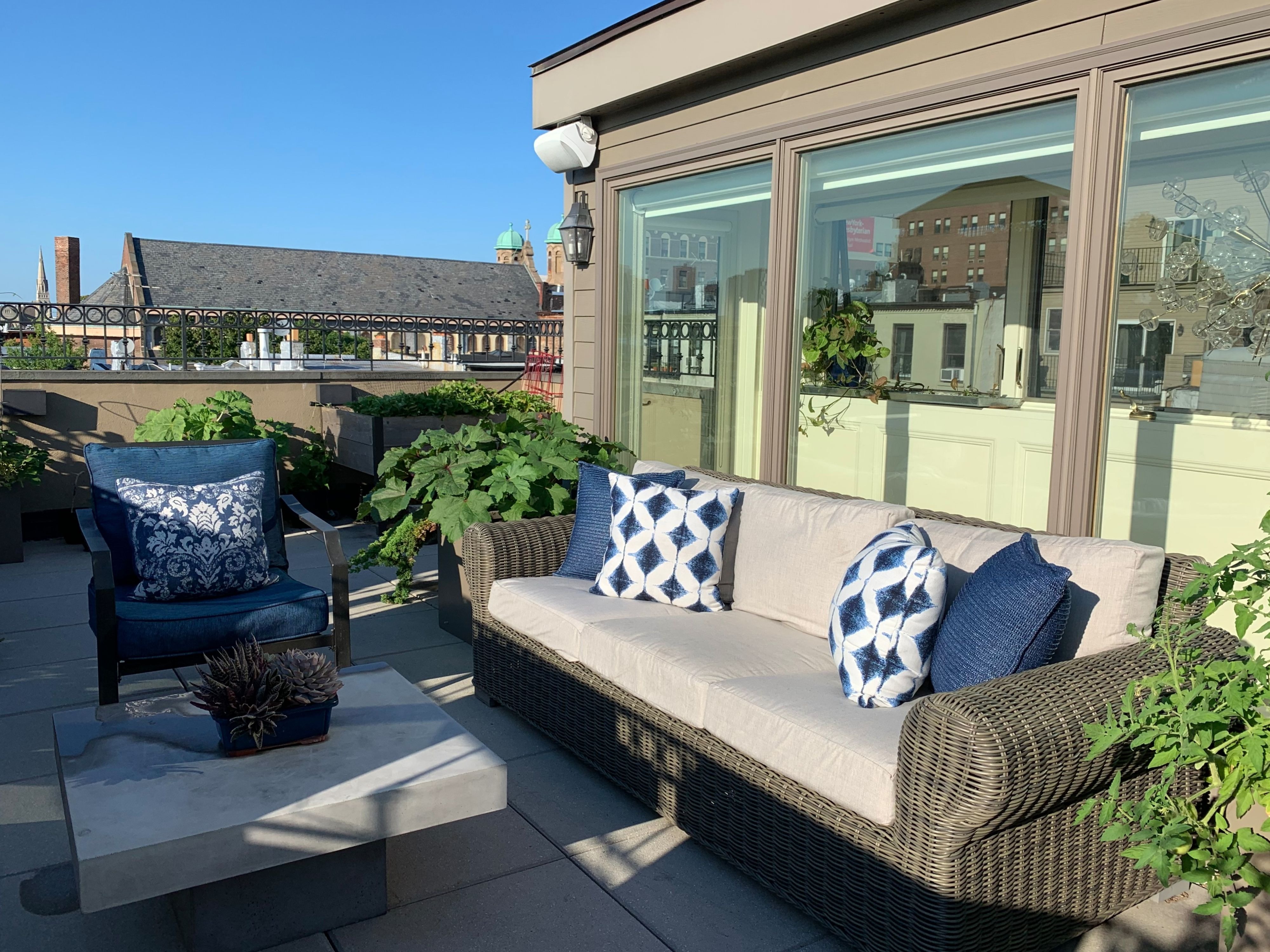 When Jason Agee, founder of interior design firm Jason Agee Design, bought a Brooklyn brownstone several years ago, he knew he wanted to turn the fourth-floor attic into the master bedroom. This required raising the roof and presented Agee with the opportunity to do something with the outdoor roof space.
He decided against a spiral staircase and instead continued the original staircase all the way to the roof. He enclosed the bulkhead (the access point to the stairs on the roof) in glass to make it light and airy. 
Is your build affected by green-roof requirements? 
All buildings undergoing a major roof renovation must now install solar panels or a green roof component to comply with new laws. The changes mainly affect new construction. Adding planting may be your goal for a roof remodel, after all, they can help absorb water when it rains and also keeps the sun off your roof which can lower your energy costs.
Vance says, however, there is a way for townhouse owners to get out of meeting these requirements—and it involves amending the Certificate of Occupancy so the roof is designated for recreational purposes. 
How much weight are you adding?
If you are considering a green roof, there are different types of planted roofs. "Extensive" systems involve seedlings and trays and are not typically meant to be walked on. An "intensive" system, however, will be more like a garden with soil deep enough to sustain bushes and even trees. Vance says it's possible to install a floating intensive system but it may still require "opening up the ceiling on the floor below to reinforce the roof framing system to support the load."
Agee says he reinforced his roof with twice as many steel I-beams than was necessary because he was concerned about the weight of snow that might build up in winter. In fact, that was never a problem, but the additional reinforcement has made him comfortable installing sizable planters as well as furniture.
Is a new drainage system required?
Rainwater that falls on a floating deck will drain in the same way as before. If you plan on putting pavers or planting directly onto the roof, you will have to alter the drainage (as well as the level of reinforcement). In most cases you will also need new waterproofing membranes and sealants.
For Agee the drainage issues involved a run-off water study, new guttering and the construction of a retaining well in the back yard.
Is your house in an historic district?
Any renovations you make to a building in a NYC historic district need to be approved by the Landmark Preservation Commission. Vance says in most cases he uses every square inch of roof space but sometimes LPC will take issue with visible railings and they may need to be set back from the edge of the building. 
Does the roof already have railings? 
The building code requires that you have a 42-inch railing above the highest walkable surface. If your roof already has railings but you decide to put down two-inch pavers, your railing might not be up to code.
Out of an abundance of caution, Agee installed a concrete wall that was a little bit higher than code and added a small wrought iron railing on top.
Brick Underground articles occasionally include the expertise of, or information about, advertising partners when relevant to the story. We will never promote an advertiser's product without making the relationship clear to our readers.