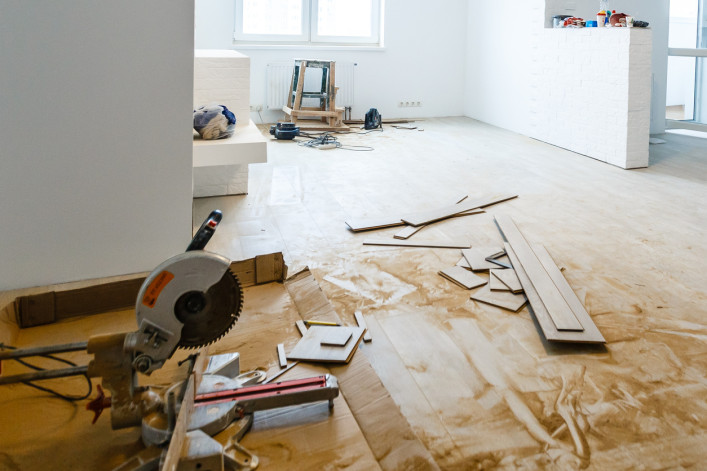 Anyone who was in the middle of an apartment renovation in New York City when the city shut down to stop the spread of the coronavirus found themselves in a serious jam. Some owners realized that their apartments were uninhabitable. Others who were earlier along in the process now face a struggle to get their renovation project past boards that are only convening virtually.
Several projects in buildings managed by Gumley Haft were "stopped mid-stream," says Daniel Wollman, CEO. That includes one owner who has no floor and can't live in the apartment.
Now, as New York prepares to open for business, buildings are discussing how to proceed with NYC renovation projects. If you thought they were complicated before the pandemic, they are about to get even more so—and remain that way until a vaccine is widely available. If you are planning to embark on work, you'll need to factor in additional time and costs for new cleaning and safety requirements, and mitigate disruptions for residents, many of whom will likely continue to stay home even as the city opens up. Here's what to watch out for.
---
Click here for more of Brick Underground's coronavirus coverage.
---
Some renovations will take priority over others
As property managers and boards begin to ease restrictions in line with the Governor Andrew Cuomo's orders, many will be prioritizing the work that gets done. In discussions with a board in the past week, Wollman says he thinks the initial focus for at least one of his buildings will be "to get people who we stopped in the middle, to finish [their work] as long as it's not cosmetic in nature." So the owner without a floor will be able to finish the job in order to move back in.
The next step for that particular building will be to complete work needed in order to get the condos rented or sold. "They need to be prepared so we want [the owners] to be able to conduct business," he says.
If however, you were hoping to do a gut renovation, you might have a much longer wait. "Even though construction is going to open, there will be a lot of boards who are not going to have the appetite for allowing it and won't want to risk anyone getting sick in their building," Wollman says.
Safety measures will slow down renovations
Conversations are taking place between boards and property managers about how renovations can be carried out safely amid the current public health crisis. Peter von Simson, CEO of New Bedford Management, anticipates alteration requests will "ramp up again" when state and local restrictions are lifted in the summer.
This is prompting discussions about access issues for contractors including, von Simson says, "requiring face masks at all times, potentially the taking of temperatures of workers, as well as increased cleaning and disinfecting of common spaces, especially hallways and elevators, after contractors have come into the building and left for the day."
Wollman says boards are looking to property managers to prepare comprehensive procedures which will then be strengthened or relaxed depending on the approach in each building. One thing is certain he says, "things are going to be working much slower." Anyone with renovation experience knows time costs money. 
Carl Shenton, founder of Shenton Architects, was remodeling a duplex in Brooklyn Bridge Park when the city shut down and work was halted. In addition to introducing PPE requirements, when the building allows renovations to continue, there are plans to limit the number of workers allowed on the job site at the same time. This "obviously impacts the schedule," Shenton says.  
"The general contractor is now planning to install a second cleaning station and bring in another laborer dedicated to sanitizing the site, which makes sense but adds cost for the client," he says. 
Workers' movements may be limited within buildings
In order to keep buildings properly sanitized and to protect building staff, boards may bring in rules that prohibit workers from leaving a job site during the day, Wollman says.
"One of the big concerns is that anywhere [construction workers] go in the building we have to clean behind them. Our view is that we send everybody up one by one, because I can only put one person in the elevator at a time, they go into the apartment, and they don't go out for lunch. We clean the elevator and service area, use the elevator during the day and when they are finished for the day we send the elevator to get them, and they come out one at a time. Then we clean in reverse."
Whether these new restrictions will be well received by construction workers and how crews adapt to them is still unclear. Shenton says more responsibility will be placed on the general contractors "to ensure that their team follows all the rules, or risk being shut down."
Other red tape may come from the subcontractors themselves, Shenton says, including common sense measures like discouraging sharing tools
Disruption will be worse as work from home and joblessness continue
Many New Yorkers are either working from home or staying home now because they have to. You can expect many of your neighbors to remain at home even after restrictions have lifted, either because their job now allows it, or because they are out of work. Anyone undertaking a renovation will need to be particularly mindful of their neighbors.
However, it's possible buildings may try to extend their work hours as safety procedures slow the renovations down, Wollman says. "They may look to change their work hours so contractors are there earlier in the morning or later in the afternoon or they may allow certain things to happen on Saturdays," he says. This policy may well meet resistance from neighbors doing what they can to work and stay well rested during the pandemic.
Brick Underground articles occasionally include the expertise of, or information about, advertising partners when relevant to the story. We will never promote an advertiser's product without making the relationship clear to our readers.