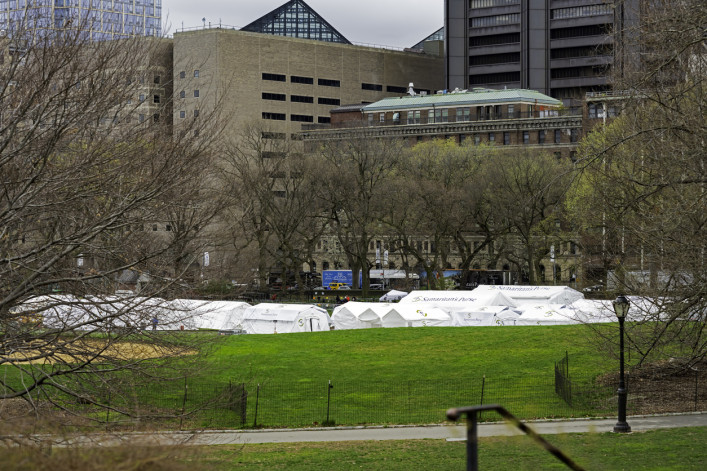 The decision by New Yorkers to move out of the city as the coronavirus pandemic continues is a "knee-jerk reaction" that's only going to have a short-term impact, says real estate legend Barbara Corcoran of "Shark Tank."
Corcoran was interviewed in an hour-long Q&A last week hosted by New York Residential Agent Continuum, an organization for real estate agents. The online presentation was aimed at agents but if you're thinking of putting your apartment on the sales or rental market, you may find her perspective encouraging.
Corcoran, whose Upper East Side apartment overlooks where emergency medical tents were set up for coronavirus patients in Central Park, says many New Yorkers are afraid right now and want to get away from the city, which has been the epicenter of the pandemic.
"You'll have young couples looking at their 1,000-square-foot home in Manhattan and thinking they can get a 2,500-square-foot home in the suburbs and it will be safe for them to start a family or move their family," Corcoran tells Leonard Steinberg, chief evangelist of Compass, who moderated the event.
But that trend will be short-lived because New York City will always be desirable Corcoran says. She called the impulse to leave "a knee-jerk reaction."
"The minute it's safe to come out and play in New York, New York will resume. Because if there's one thing I learned about NYC as a young broker—and I continue to learn the lesson again, and again, and again—New York always comes back. Not as a cheerleader thing—but because somebody always wants it. The somebody changes but somebody always wants it," Corcoran says.
Steinberg pointed out other factors that could boost sales, including low interest rates, federal stimulus funds, and pent-up demand deferred from the loss of the traditional spring market. "Never have you had a market shut down completely for three months," he says.
---
Click here for more of Brick Underground's coronavirus coverage.
---
Impact on prices
One analyst also sees NYC as well-positioned for a comeback.
There may be a slight decline in prices caused by sellers who need to move accepting a lower bid, says Garrett Derderian, founder and CEO of GS Data Services, but he believes prices will rebound once the economy recovers.
Assuming there's a vaccine, the number of sales transactions will probably hit pre-pandemic levels in the first quarter of 2021, Derderian says. Another positive sign: In January and February, the number of contracts signed in Manhattan was increasing, indicating at that point "buyers felt comfortable," he says.
"Assuming the U.S. and global economies begin reopening, we are likely to see pent-up demand, which could shift the busy buying season to the fall and winter months, as buyers are able to go view properties in-person," Derderian says.
How useful are virtual tours?
When asked about the real estate industry's new dependence on virtual apartment tours, Corcoran says she sees this as a tool for renters, not buyers.
"I believe people will rent [an] apartment without seeing it, they already are. You can size it up pretty well," Corcoran says. "I think it is much more difficult for people to commit to high- or medium-priced primary home not physically seeing it."
It's a different scenario for investors and luxury buyers, she says.
"We've been selling condominiums off floor plans and various sales techniques for years, so if someone is buying the fourth or fifth luxury home, it's different, but if you are putting your hard-earned cash in your one home, especially your first one, people need to walk the space," Corcoran says.
Brick Underground articles occasionally include the expertise of, or information about, advertising partners when relevant to the story. We will never promote an advertiser's product without making the relationship clear to our readers.