New York City has a new set of laws designed to make roofs more environmentally friendly. All buildings undergoing major roof renovations are now required to install solar panels, green roofs, or some combination of the two in order to comply with the laws that went into effect in November. 
The changes mainly affect new construction but if a building is being expanded to include new floors, (like a penthouse addition), or the roof is entirely replaced, the renovation will need to meet the new requirements. 
"There is a lot of misunderstanding on this," says Stephen Varone, president of RAND Engineering and Architecture, who is familiar with the laws. He points out when you do a typical roof replacement you remove the roofing surface, insulation, and barrier. Typically, you only repair the roof deck when needed. "If you are not replacing the deck, this law does not apply to you," he says.
This will likely reassure many homeowners or boards who thought their roof repairs might mean an obligation to do more expansive green renovations. For clarity, the Department of Buildings has issued a memo to guide New Yorkers through compliance with the new laws. 
The goal of the new laws
Lawmakers want a 40 percent reduction in greenhouse gas emissions from the majority of buildings of more than 25,000 square feet, in the next 10 years. 
The rules on sustainable roofs are part of that effort and also address rainwater runoff issues and the urban heat island effect (where urban areas have higher temperatures than neighboring rural areas).  
Rainwater usually runs off a blacktop roof but when soil and vegetation are installed, the rain is captured and released much more slowly. What that means for the city is the more plant life on our roofs the less likely the city's sewage system will be overwhelmed during a rainstorm, therefore less chance untreated sewage gets into the rivers.
An increase in rooftop solar panels will also increase NYC's solar capacity and provide the city with cleaner air. 
What roof renovations might look like
The appeal of solar panels is that they can reduce the cost of taking power from the grid. To tackle fire code restrictions, Brooklyn SolarWorks installs a canopy system that lifts the panels nine feet in the air and increases the solar capacity.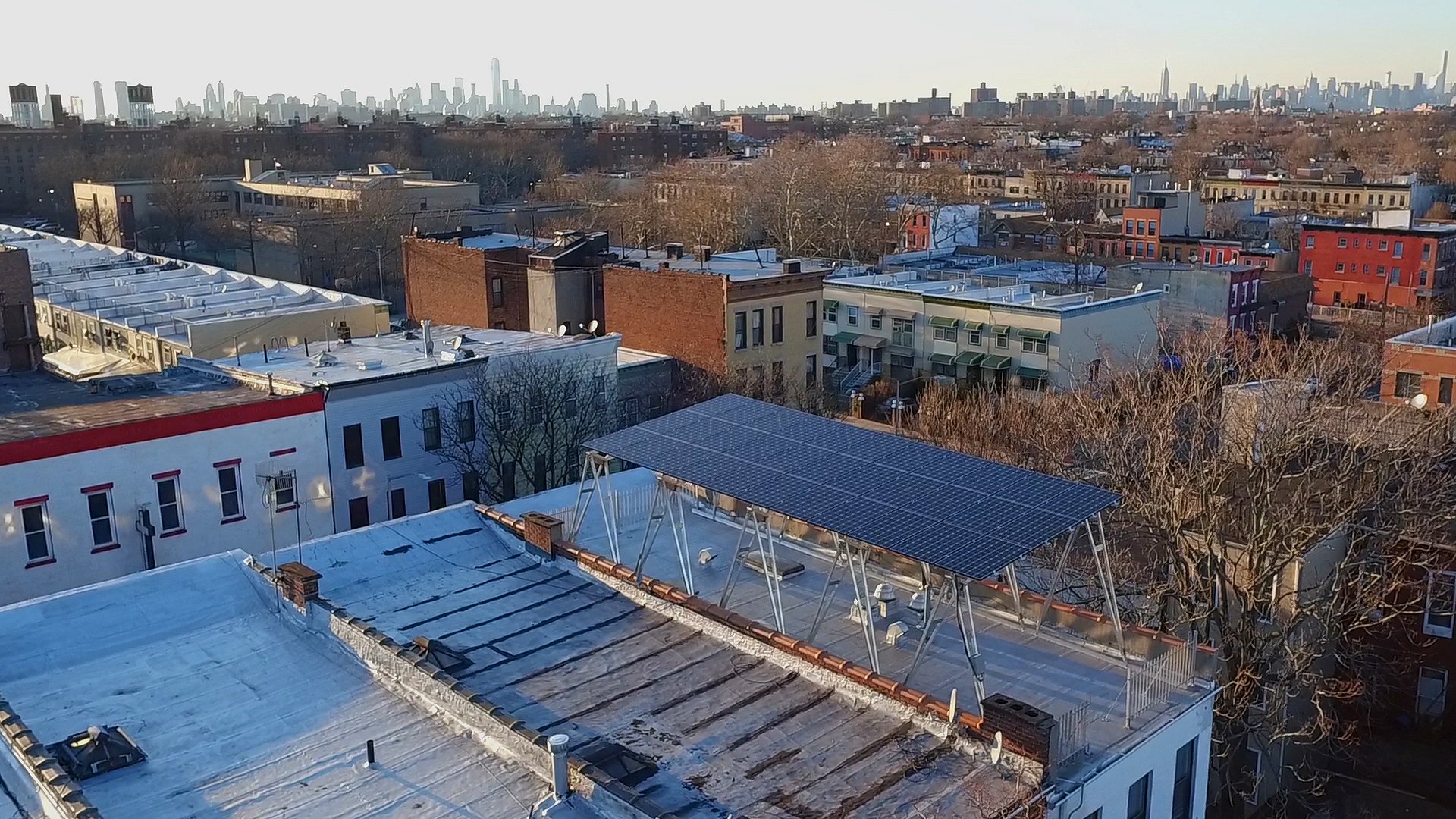 There's a huge range in the cost of installing a green roof. T.R. Ludwig, the founder of Brooklyn SolarWorks, says solar panel installations at the lower end can be $25,000. At the high end, it is closer to $50,000 to $60,000. The design, materials, labor, and installation of planted options can be up to $30 per square foot but it can be double that if the underlying roof needs repairs. 
Even though upfront costs are high, the benefits of sustainable roofs include savings from decreased energy costs as well as improved use of the building's footprint.
Varone says, "There are reasons why, regardless of legislation, buildings would want to install green roofs. Sometimes it's a cold hard payback analysis and sometimes it's a little softer, increasing the real estate value."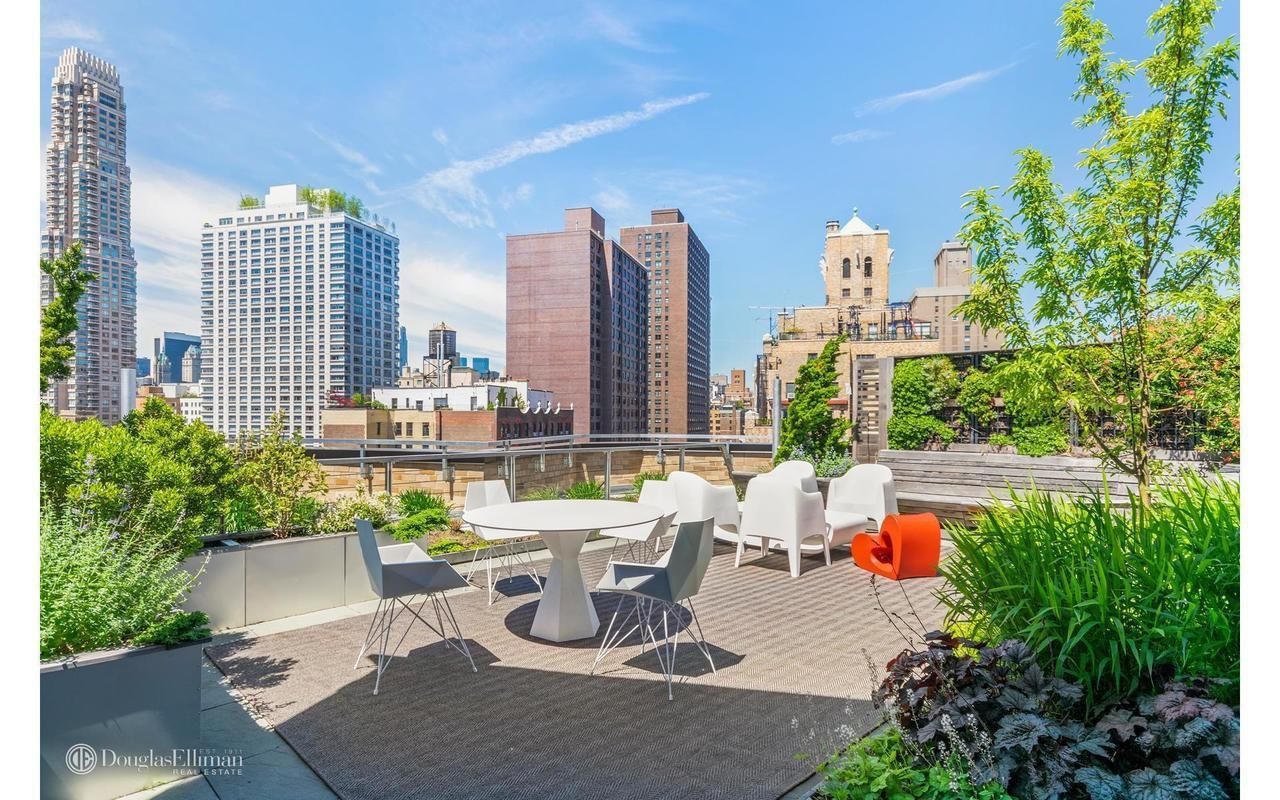 An "intensive" green roof can be installed on the city's newest buildings if the roof is a thick concrete slab. This is when the soil can be deep enough to sustain bushes and even trees. "It is most common on top of an underground garage, where there is a roof but it is at ground level and the park above it is really an intensive green roof system," says Varone.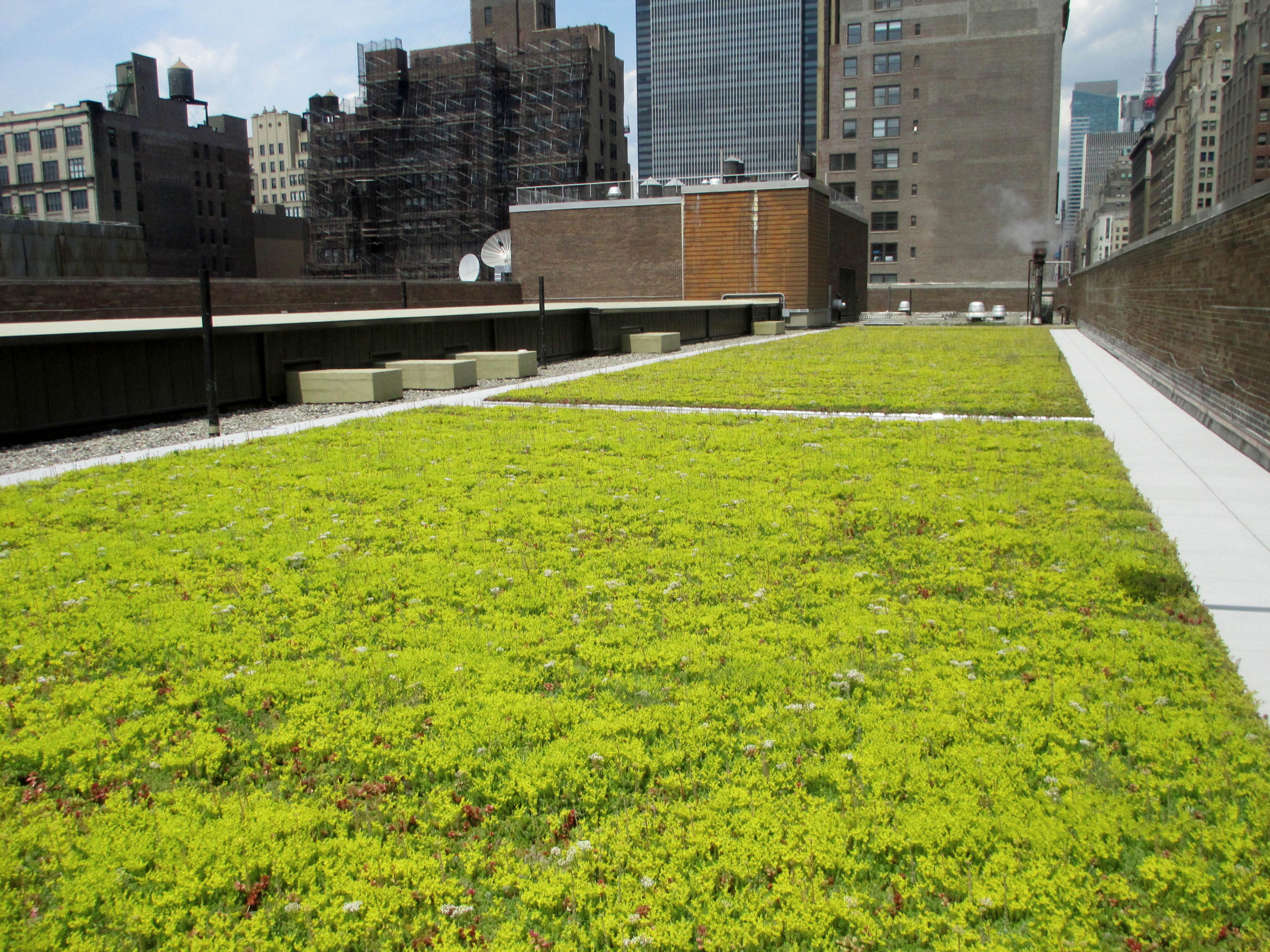 A more modest "extensive" system can be installed on a building that doesn't have the same structural capacity. Planting on the shallow soil bed of an extensive system supports low lying sedum, grasses, and moss. 
Exemptions
The new laws require buildings to cover all available space with green roofing although there are exceptions for areas with mechanical equipment or setbacks and terraces. 
Varone says one concern is "that [mechanical equipment exemptions] is encouraging people to put the mechanical equipment back on the roof after that had fallen out of vogue." 
If buildings go the solar panel route, the equipment must generate at least four kilowatts of electricity. Those that can't, may still be required to install some kind of sustainable roof elements. 
Abatements and incentives
In order to comply with the law, financial help is being offered through a variety of loans, tax abatements, and grants.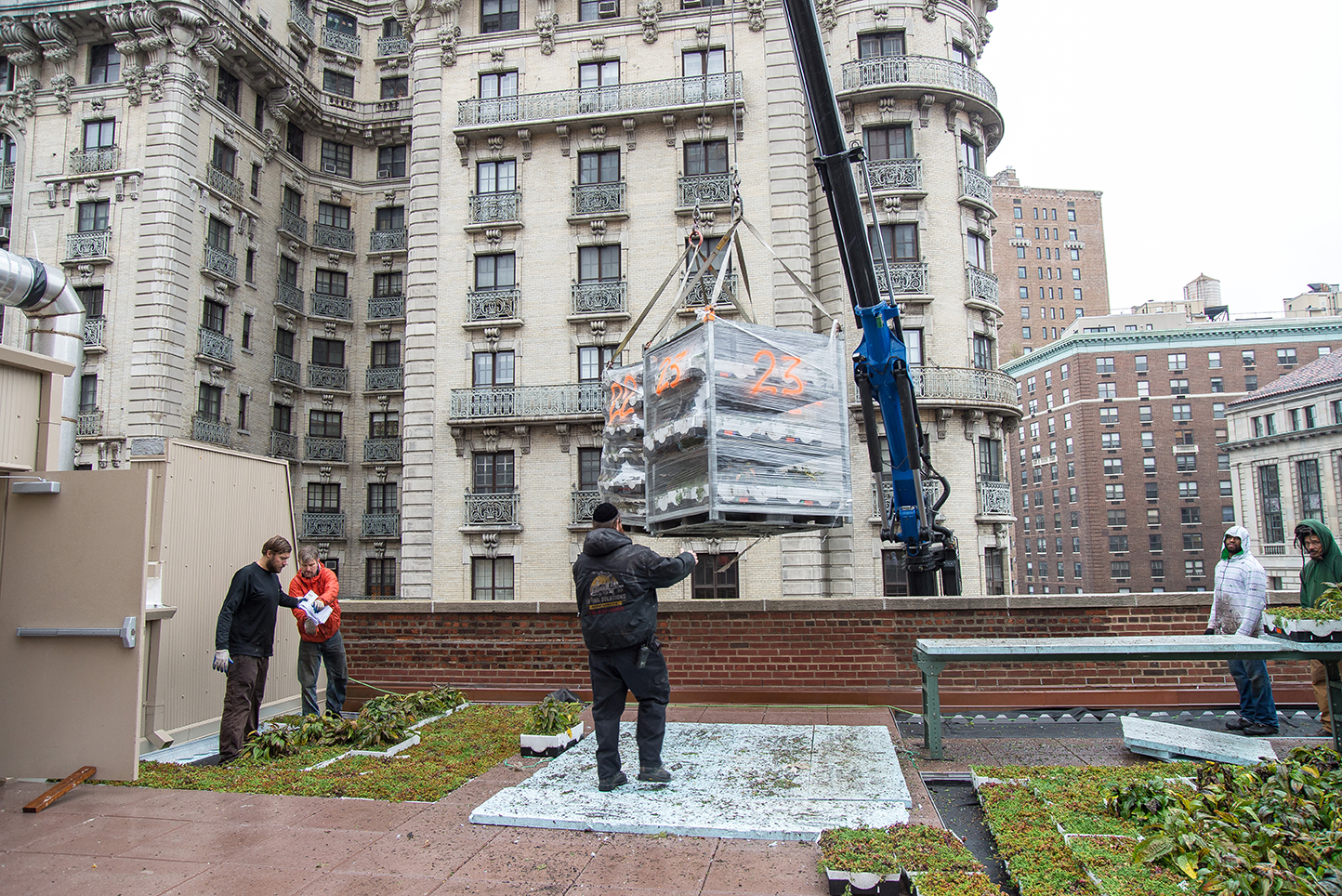 For New Yorkers going the solar route, Ludwig says there's "a layer cake of incentives."
For green roofs covering at least 50 percent of the building's total roof area, tax breaks of $5.23 per square foot are available. The abatement rises to $15 per square foot for extensive or intensive green roofs in specific areas where flooding is a problem. There are also loans available to help with green roof installation on multi-family buildings and a Department of Environmental Protection grant for some specific designs.
One other possible perk for multi-family residential buildings is a DEP reimbursement program, which property managers need to apply for ahead of installation. 
Brick Underground articles occasionally include the expertise of, or information about, advertising partners when relevant to the story. We will never promote an advertiser's product without making the relationship clear to our readers.