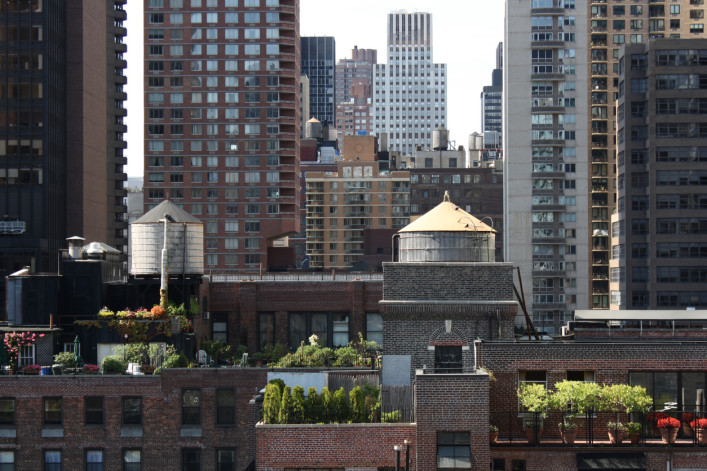 My building wants to add a green roof, and we want to be able to use it, too. What are the requirements for a green roof, and how much will it cost? Will it add significantly to our property values? We don't want too large of an assessment, and are also interested in what kind of subsidies are available.
As far as your building's potential financial gain, adding a green roof is more of a long-term play than a source of immediate savings, but is certainly worth considering for quality-of-life and other improvements, say our experts.
"If you're adding green features, you're looking at staying in the long term, because that's where you get the savings," says Anna Karp of Bolster (a Brick sponsor). "A lot of the benefits you're looking at are environmental [in terms of both green benefits and the social environment of the building], some of which are not quantifiable."
And there's no way around the fact that turning your building's uppermost level into a green roof (as opposed to a regular rooftop terrace) will involve greater expenses up-front, in both the construction and the maintenance.
How much, however, will depend on a variety of factors, including the thickness of the soil you're putting down, with thinner options (which capture less rainwater) running between $8 to $10 per square foot, an "intensive" 6" to 12" thick option that runs between $40 and $45 per square foot, as well as a median option that's closer to $30 per square foot, explains Sri Rangarajan, Bolster's advisor on green roof projects.
There are also labor costs to consider once the green roof is in place, as you'll need a gardener or other maintenance person to keep everything healthy and in working order. In some buildings, says Rangarajan, the gardening is done by residents, and in others, they might simply be paying between $10 and $25 per hour for a gardener.
"It's better to know everything that's included, from the engineer, the architect, the costs of plants, labor, materials, insurance, and so on and so forth," says Karp. "You really need to know all these variables and numbers before you even start so you're not in a sticker shock situation."
That said, Rangarajan points out, there are major rebates available to buildings that go green, most notably a state-sponsored one-year tax abatement, offering $4.50 for each square foot of green roof built, for a maximum subsidy of up to $100,000. Depending on the location of your building, he adds, there are grants via the Department of Environmental Protection to encourage green roofs (which absorb rainwater) in particularly flood-prone areas, as well.
"In Gowanus, near Newtown Creek, so many projects have been funded this way," says Rangarajan. "It does take some time, maybe two to three extra months, to go through the review process." And once the roof is in place, buildings must sign an agreement to maintain the roof for at least 20 years, in exchange for heavy subsidies from the DEP.
In smaller buildings, says Karp, green roofs can be a particularly good idea to add on to a renovation that's already in the works. "If they're already doing a renovation, they can do a green terrace, get some subsidies, and also get part of their project paid for," she notes.
As far as adding to your building's value, it may depend on your neighborhood, and what kind of buyers are generally on the hunt in your building. "Most likely some downtown locations and many locations in Brooklyn will value such an amenity," says Corcoran's Deanna Kory. "The increase in the value to the apartments will be minimal, but it can sometimes have an impact of a few percentage points, and certainly can help an apartment sell more quickly." 
"Basically, it makes the building more appealing to those who are concerned about the environment and energy efficiency," she adds.
And even if your building isn't in a location where buyers are clamoring for green options, Kory notes, this kind of addition can speak well of your building and board in general, which will still be an upside for buyers. "The fact that it's been done and was paid for by residents of the building, is, for some people, a major plus and potential selling point," Kory explains. "It says to the buying community that the owners of the building have done something that is good for the environment and also good for the building."
---
Trouble at home? Get your NYC apartment-dweller questions answered by an expert! Send us your questions.
See all Ask an Expert.
Brick Underground articles occasionally include the expertise of, or information about, advertising partners when relevant to the story. We will never promote an advertiser's product without making the relationship clear to our readers.