NYC Renovation Q's
Paint, computers, air conditioners, & more: How to throw out hazardous waste in NYC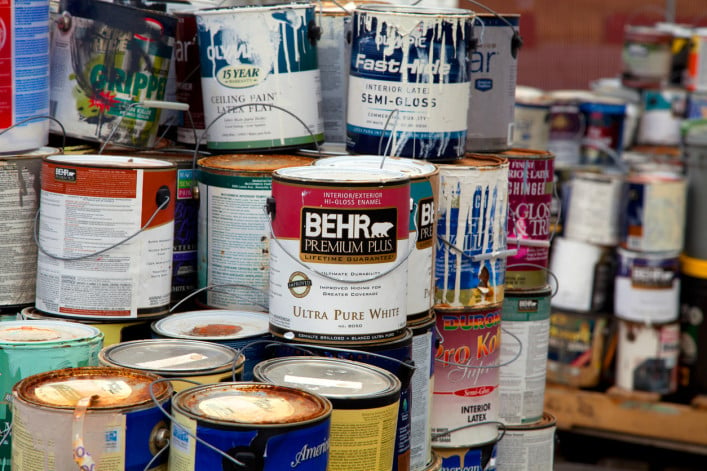 If you think about it (and you probably don't want to for very long) the amount of trash New York City's Department of Sanitation processes is truly staggering. DSNY, the largest sanitation department in the world, collects more than 10,500 tons of residential and institutional garbage, and 1,760 tons of recyclables each day,
In addition to all the trash, recyclables, and food scraps DSNY handles, it also helps to safely dispose of hazardous materials that cannot be picked up curbside as part of your regularly scheduled collection.
The list of what you should not lump in with household garbage, is long and varied and includes paint and electronics, pest control products, appliances, lawn and garden care products, and tires. (If you violate disposal laws, you could be facing a summons and up to several hundred dollars in fines. )
The Department of Sanitation has an impressively comprehensive Safe Handling and Disposal of Harmful Products Guide for NYC Residents,  which details the full roster of what not to put out with your trash (or flush down the toilet), how to prepare it for disposal, and, if it's an option, where you can bring it. This is the mother document for all your disposal needs and questions.
Why you shouldn't dispose of hazardous products in your trash
Household items like electronics, solvents, flammable liquids, and automotive products can be hazardous if improperly disposed of. Not only can these materials contaminate the water supply and NYC waterways, they can seriously harm sanitation workers and landfill employees.
Think you can toss it in the trash? Check again; rules have changed.
In case you missed it, as of January 2015, it's against the law to throw out electronics such as cell phones, televisions, monitors, laptops, MP3 players, and video game consoles. Many electronics—phones and MP3 players for example—carry heavy metals such as mercury, lead, lithium, and other materials that pollute the air when incinerated or contaminate the ecosystem if thrown into landfills.
The effort to curb this type of waste appears to be working: According to the DSNY's 2017 Waste Characterization Study, in four years e-waste has declined by almost two thirds in New York City, with the number of televisions in particular seeing a steep decline.
E-waste pickup for Brooklyn, Staten Island, and western Queens
DSNY provides curbside collection of unwanted electronics in Brooklyn, Staten Island and western Queens as part of its e-Waste Collection Program, which is offered to residential buildings with less than 10 apartment units. Residents simply request a pickup, then set their e-waste at the curb after 4 p.m. For more information or to request a pickup, visit: on.nyc.gov/e-waste-pickup
The department's free ecycleNYC program for residential buildings citywide with 10 or more apartment units is operated in partnership with ERI, which recycles electronics following the strictest industry and environmental standards. You can find more information on it here.
Fridge, freezers, and other CFC appliances
Large appliances such as refrigerators, freezers, and air conditioners contain chlorofluorocarbons, or CFCs, and you need to make an appointment to have them removed. Only appliances with an appointment that have been tagged will be picked up.
Where to bring your hazardous waste
The best way to dispose hazardous waste is to take it to a SAFE (Solvents, Automotive, Flammable and Electronics) Disposal Event, which are held twice a year in every borough, in the spring and fall. A schedule of upcoming SAFE events can be found here.
If you can't make it to a SAFE Disposal event, DSNY has special waste drop-off sites across the city, which you can find here, or by calling 311. (A word of advice: do your best to make it to a disposal event, as the drop-off sites are limited and far afield.) Note that DSNY Special Waste Drop-Off sites and DSNY SAFE Disposal Events accept different items. A list of the products that are accepted at each can be found on pages 19 and 20 of the Harmful Products Guide.
But you CAN throw out or recycle these items
Alkaline batteries are no longer classified as hazardous in New York State, and you can toss those in the trash. (However, it is more environmentally-friendly to bring them to a SAFE Disposal event.)
If made of mostly metal or plastic, products with electric cords can be set out for recycling collection. If they are not recyclable, you can put them in with your regular trash.
What about paint?
Residents are strongly urged not to put latex paint in the trash for curbside pickup, but instead drop it off at a disposal site or SAFE Disposal Event. Oil paint and spray paint will also be accepted at SAFE Disposal Events.
However, if is a small amount of paint, it can be dried out or mixed with an absorbent material such as kitty litter, and then put out for trash collection. Empty paint containers can be recycled.
Prepare your waste properly
Whether you're bringing hazardous materials to a SAFE Disposal Event, or dropping it off at a DSNY site, make sure it's prepped to be disposed of safely and properly.
The DSNY recommends the following tips and steps before you drop off your waste:
Look for items with danger, poison, or caution labels. Read labels carefully for safe handling.
Clearly label all products.

Tightly seal containers.

Don't mix products or bring open containers.

If an item is leaking, pack in a larger container and use an absorbent material, such as kitty litter or newspaper, to soak up excess fluid.

Place containers upright in a sturdy box to transport them.

Package syringes and lancets in a "sharps" container or other clearly labeled leak-proof, puncture-resistant container.

Place TVs and computer monitors with broken glass in separate sealed bags or boxes.
Not sure what to do with something? The DSNY recommends calling 311.
Brick Underground articles occasionally include the expertise of, or information about, advertising partners when relevant to the story. We will never promote an advertiser's product without making the relationship clear to our readers.