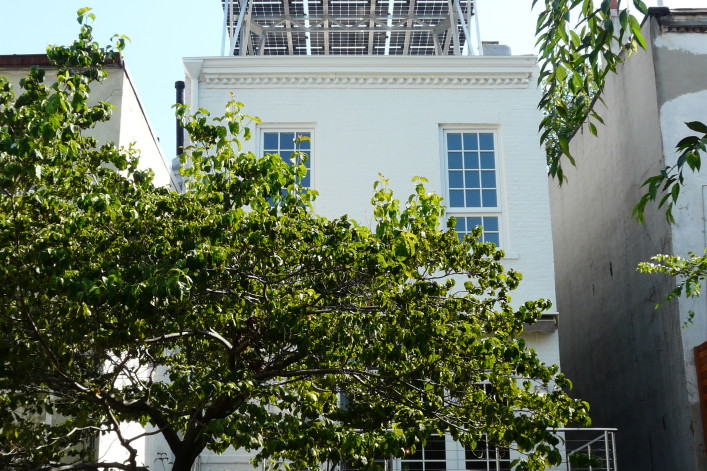 A renovation is an opportune time to make your New York City apartment more eco-friendly and will do more for you than just save on energy costs. Taking steps to improve sustainability can also improve the health of your indoor environment—and the planet. But which green improvements have the biggest impact? 
Take a cue from the new crop of LEED-certified residential buildings, which are using recycled and local building materials, high-efficiency LED light fixtures, and low-flow plumbing fixtures, to name the more common green improvements—and the ones that are easy to replicate in your own upgrade. Reducing the amount of off-gassing, or volatile organic compounds (VOCs) from paint and other materials is another. (LEED stands for Leadership in Energy and Environmental Design and is a global program that promotes the value of all types of green buildings.) 
There are some green changes that are mandated. New York State plans to be carbon-neutral by 2050, and even residential building owners will be expected to comply with the stringent rules and regs, since single- and multi-family dwellings have been shown to contribute up to two-thirds of NYC's carbon emissions. "New York City is leading the way compared to many other cities," says Stas Zakrzewski, principle at ZH-Architects. (Good to know!)
"New developments may get all the attention, but there are far, far more existing buildings so the emphasis is on retrofitting those," says architect David Bergman of DavidBergmanEco, who runs a Masters-degree program on sustainability at the New York School of Interior Design.
A good place to start is by scheduling a home energy audit, which will help you identify any areas for improvement and see how you stack up against your neighbors. 
You may also want to look for LEED-accredited contractors, designers, architects, real estate attorneys, and even brokers, says Bergman (who has been LEED certified since 2005). 
When it comes to making specific renovation choices, it's all about being intentional. In a brownstone, for example, those can involve heating, cooling and water systems; replacing windows; or putting solar panels on your roof. (Solar energy use is on the rise in Brooklyn, according to the New York Times)
There's even plenty for co-op and condo owners to consider, including swapping out lighting and appliances, and reducing your exposure to off gases (and even joining a solar community). 
Even if you can't afford a top-down renovation all at once, you can do it in stages, says Zakrzewski. Maybe you change just the windows now and in five years you could add in insulation and ventilation, all the while incorporating these into an overall plan so that in 15 or 20 years you end up with a high-performance property. 
With that context in mind, here are eight different ways you can incorporate environmentally friendly choices into your renovation plans.
1) LED lighting
Lighting can quickly ramp up your utility costs and yet it's simple to dial that down with LED fixtures, especially when they make use of smart technology.  
"Smart lighting is incredible," says Amy Green, founder of Amy Green Design and a LEED-certified architect since 2006. (She also formerly served as NYC's LEED and green development coordinator.) 
What she especially likes: You can divide up the fixtures and control them separately, have them be dimmable, program the lighting (to wake you up slowly with gradually increasing brightness, for example), and control it with your smart home assistant. She is especially fond of Phillips smart lighting for offering tons of options including pre-set preferences to suit different tasks or times of day.
Lutron and Lifx are also popular, well-rated smart lighting systems. 
"Besides being energy efficient, these programs also speak to your comfort, since you don't want the bright glare first thing in the morning or before you go to bed," says Green. 
They are also especially conducive for bathrooms. Green recently did an edgeless mirror on a vanity wall surrounded by glowing, color-changing (purple, blue, and green) and dimmable smart LED lights. "A lot of my clients are having fun with these options," she says.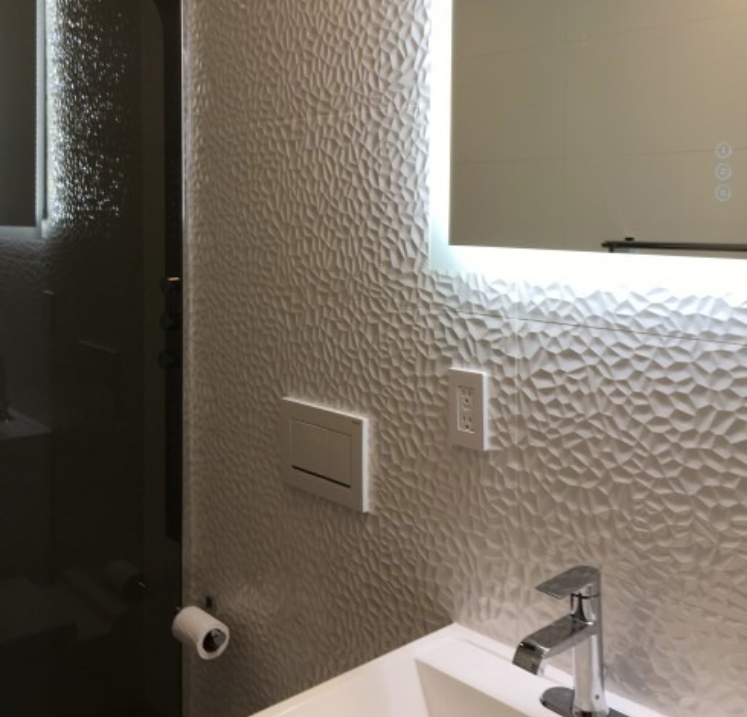 Of course, you don't have to go all-out using LED bulbs, which do tend to put out a lot of lumens. Green sometimes puts softer incandescent lights in a feature fixture in a dining room or foyer. "You can always change the bulbs to be more efficient," she says. 
2) Energy-saving
appliances
Here's a well-researched fact: Home appliances—refrigerators, washer/dryers, and dishwashers especially—account for a full 20 percent of your total electric bill. That's a strong argument for buying newer models that use less energy, despite their often higher price tag. There are many options in every price range (look for the Energy Star rating).
Certainly this is one of the biggest improvements apartment residents can make, says Bergman. 
"Most co-op boards write into the building's alteration agreement that you have to use them because the less energy the whole building is using the better it is for everyone," says Green. 
For Zakrzewski, the biggest move you can make in your home in terms of improving air quality is to remove your gas stove. "It's not a rule that you cannot have a gas stove in a high-performance building but we strongly encourage going with inductive or electric instead," he says. These are much more efficient because all the heat goes directly into what's being cooked. With a gas stove, some energy is wasted as the gas heats the air around the pan. 
3) Low-flow and smart fixtures
A mere 1 percent of the planet's surface is potable water and toilet flushing uses a great deal of it, says Green. With traditional toilets, flushing accounts for as much as 30 percent of your total water usage. Luckily reducing that amount is easier than ever. High-efficient toilets (aka dual-flush toilets) are the only models Green ever uses. 
In general, you should look for the Water Sense label for eco-friendly bathroom fixtures.
When it comes to faucets, most already have aerators that make them more efficient. Green is a particular fan of smart faucets (she always uses them in commercial projects) that turn themselves off. (If you have children, who frequently don't shut faucets all the way off, this will come in handy.)
Running the tap to get the water hot enough is another big energy waster. Green says a smart faucet like U by Moen can be programed to alert you when the water reaches your desired temperature. So rather than letting the water run and run while waiting for it to heat up, you know exactly when it's ready. "I live on the top floor of a multi-family building in NYC and it can take very long for the water to heat up, especially as I'm an early riser, so I love this feature." 
4) Heating and cooling
A full 50 percent of all energy usage goes toward heating and cooling our homes, much of which is lost through drafty windows and doors (see more on those below; be sure to fix those before investing in a high-efficiency HVAC system). 
If you are in a brownstone or single-family home, you can retrofit your existing system or replace it entirely, such as trading in your gas-fired furnace for electric. (And then you can run that off your solar panels.) 
You can also create separate zones, such as one for each story or maybe the sleeping area versus all the rest. "That way the downstairs doesn't start heating until everyone is up," says Green. Likewise during the day the temperatures can be adjusted to each floor's use. 
NYC will give you rebates if you install a smart thermostat such as Ecobee or Nest by Google, which can be programed by your phone and work with your smart home assistant.
The idea is on hot summer days you can arrive home to a cool environment without having the air conditioner on longer than necessary. The thermostats also respond to voice commands, so you can heat your space before you roll out of bed in the morning and keep the temperature cooler during the night. 
Whether or not you can employ a smart thermostat in an apartment depends on whether you can control the heat in your own unit, says Bergman, acknowledging your options here are more limited than for individual property owners.  
That said, there are still ways to reduce your carbon footprint, even in a co-op. Green has had several clients add mini-split units, which work like a heat pump but without the usual elaborate mechanical system. "Some are more efficient than others so you want to look at the SEER rating," she says, (the higher the better and preferably more than 18). These work by having the unit that blows hot or cold air on the inside and a condenser that has to be on the outside (hence the "split"), which can prove challenging but Green has found solutions that pass board approval, including mounting the condenser just below the window so someone could still service it.  
She also suggests putting ceiling fans in bedrooms and living rooms as a great energy-efficient way to keep you cool in the summer and also keep the temperature more even in the winter. "There are really beautiful ones that look like 1930s industrial design or modern origami bent metal."
5) Air sealing and insulation
The combination of air sealing (or filling in any gaps) and insulation goes far in saving on heating and cooling costs, especially in older buildings. 
Windows are a good place to start. Green often finds there's a lack of insulation around the old window-frame jams, which explains the drafty winds coming in during the winter or hot air coming in during the summer—or the insulation is totally black because it's been filtering your air, says Amy Failla, principle architect at Baxt Ingui Architects.
So making sure your windows are properly sealed and insulated can make you feel more comfortable and save energy and improve indoor air quality.
You can also replace the windows entirely, especially in brownstones. "If you have to replace them anyway, the uptick from regular windows to high-performance windows is not that much and you'll be maximizing their efficiency," says Zakrzewski. He recommends using triple-glazed windows and high-performance frames "because they are a game-changer in how they operate compared to a double-hung" and will give you more energy than it gives out. (He compares them to a radiator that actually gives out heat.)
If you live in a landmarked district, you'll need to get the windows approved (an intensive process to say the least), though there are ways to get a very similar look to the what's usually required, says Failla.
You can retrofit a brownstone with new insulation on the inside (for landmarked buildings) or even on the outside. "That way you not only save energy but avoid having to do maintenance on the facade," says Zakrzewski.
For the most airtight seal yet, consider following some passive house principles. Failla and Zakrzewski both work with these types of houses.
According to Andreas Benzing, president of NY Passive House and founder of A.M. Benzing Architecture, the passive house movement is driven by comfort and indoor air quality, and energy savings is an important by-product. "You have to make the building airtight and then mechanically ventilate it such that you basically have fresh air every three hours," he says. 
To date Benzing counts about 70 Brooklyn brownstones that meet passive house standards, including in historic districts. (Failla did the first passive-house certified, landmarked brownstone in NYC, shown below, which also went on to win design awards.)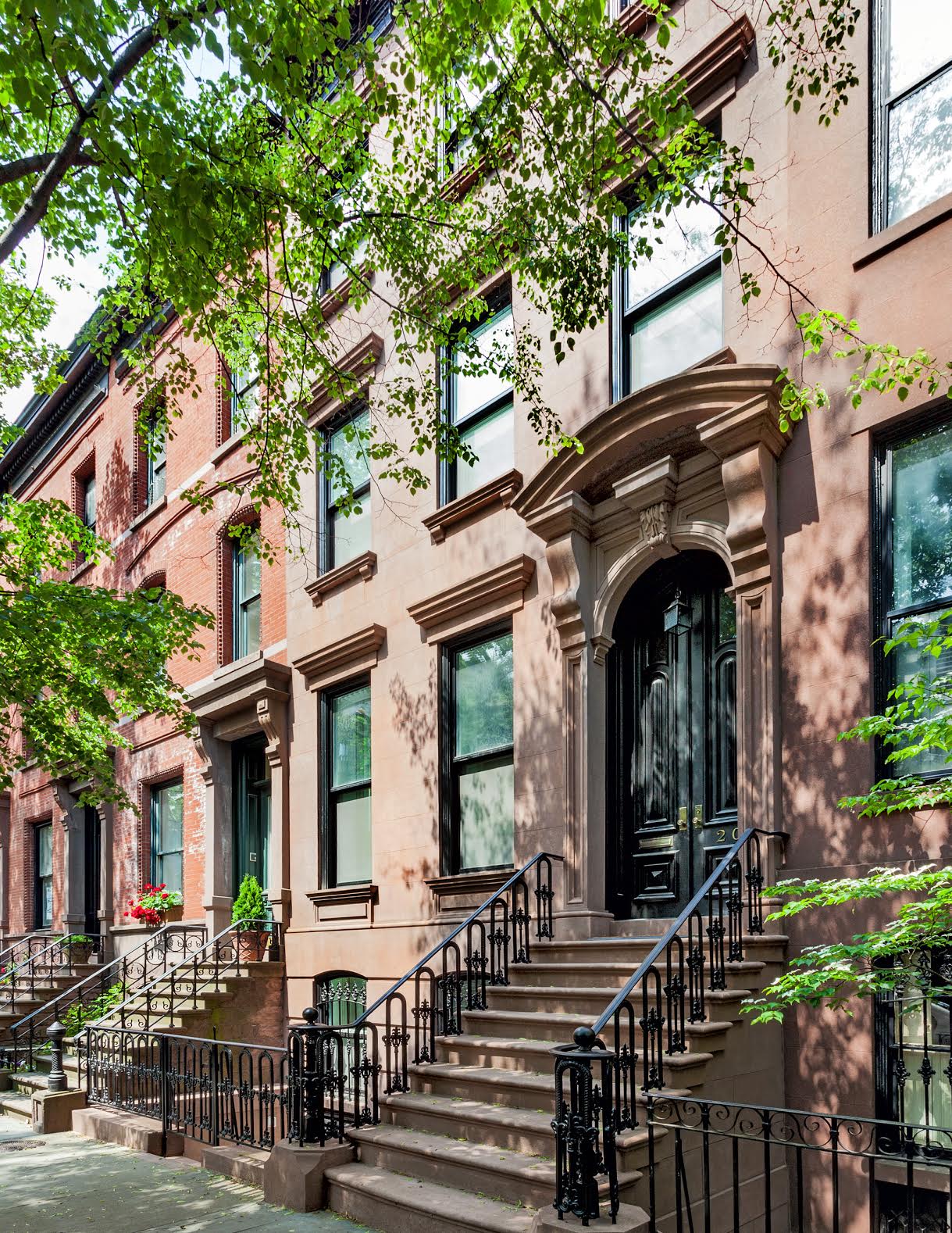 Of course, insulation can be a source of greenhouse gases, and Failla says this is becoming more of a focus than ever. So rather than finding insulation with the best R-rating (e.g., thermal resistance) and thickness there's a shift toward the material with the best carbon rating. "There's not a good protocol for it so you have to do your research," she advises. 
Once again this is where working with knowledgeable pros can be helpful in sourcing sustainable materials.
One option that's been around for a while is cotton-fiber insulation made from post-consumer denim, freeing some 300 tons of jeans from landfills each month. This recycled material has no VOCs, boasts high noise-reduction and a class-A fire rating and is considered to be as thermal as cellulose or fiberglass (though it does cost more than those).
6) Renewable energy
Anyone can select green energy options such as wind turbine or solar panels through Con Edison, but why stop there? 
Solar panels are an option for most owners and even renters can tap into community solar power grids (such as by Daroga Power).  
One company took it upon themselves to streamline the solar panel installation process for owners. "We had seen these custom canopy structures approved by the DOB but we wanted to make them repeatable and not just one-off engineered," says Gaelen McKee, president and founder of Brooklyn SolarWorks. So they came up with a light, modular structure that can be installed on a roof without a crane. "You can get double the panels on the same size roof." They do about 30 installations a month (nearly all in Brooklyn), explaining that in Manhattan it's harder to find roofs that are not shaded by skyscrapers. 
Sun Run and Venture Solar are other local companies. 
If you are on the top level of a condo and own the rights to the roof, you can approach the board about getting solar just for yourself, says McKee. If it's a shared space, you tie that into the common meter and every member can get a percentage.
"Solar is amazing but it does require a hefty upfront investment," says Green. 
Some companies allow you to lease or finance the installation cost over a period of months. Even better, there are federal, state, and local credits and rebates that will offset the initial cost by as much as 60 to 70 percent. And the average payback on your investment in terms of energy savings is between four and six years, according to most estimates. 
About 25 percent of Brooklyn SolarWork's systems are in historic districts. "Landmarks is not anti-solar, they are pro-preservation," says McKee. So as long as you can prove the panels are not visible from the street "or minimal visibility if it's the only option," it can happen though expect it to go through the approval process.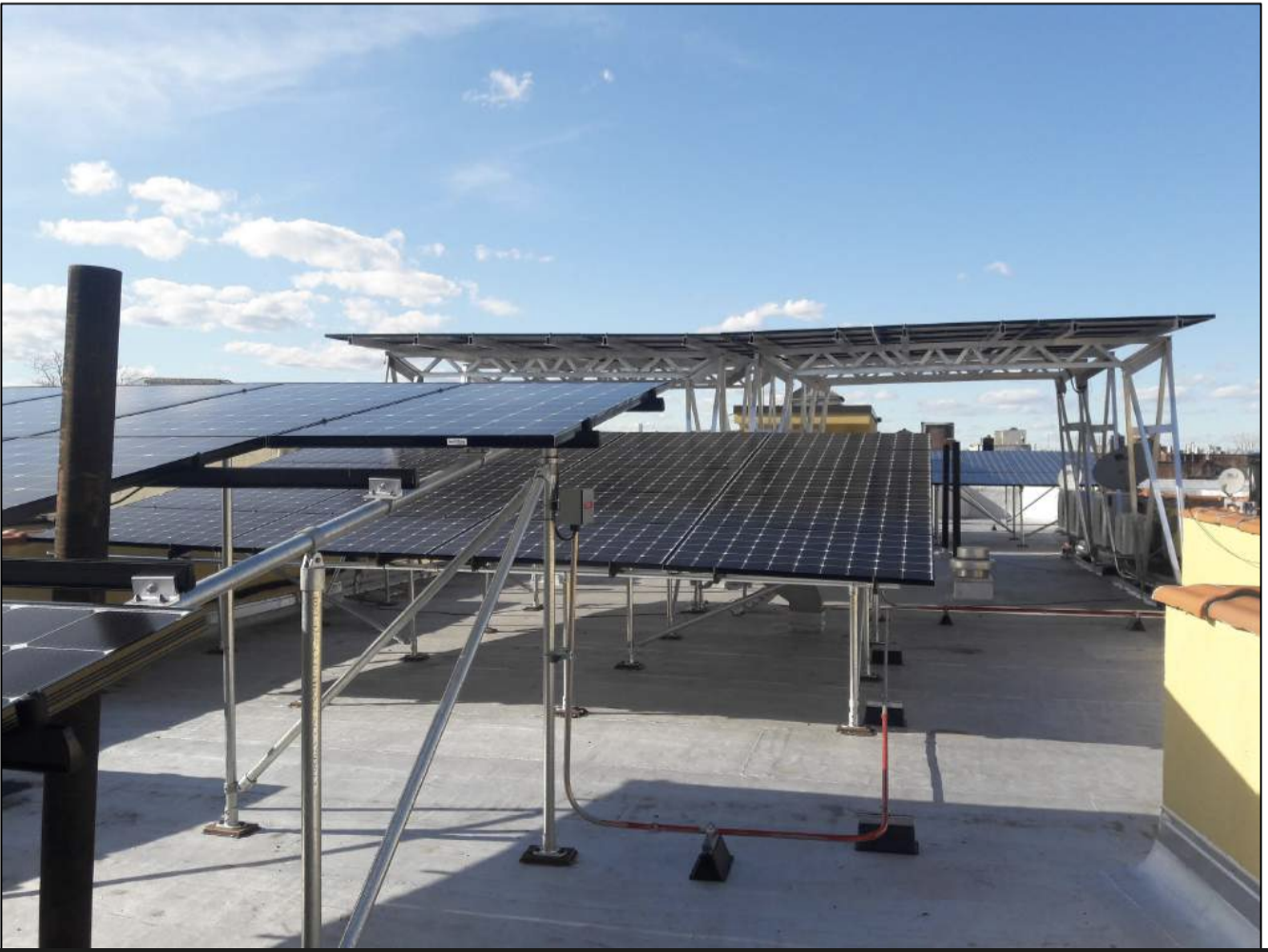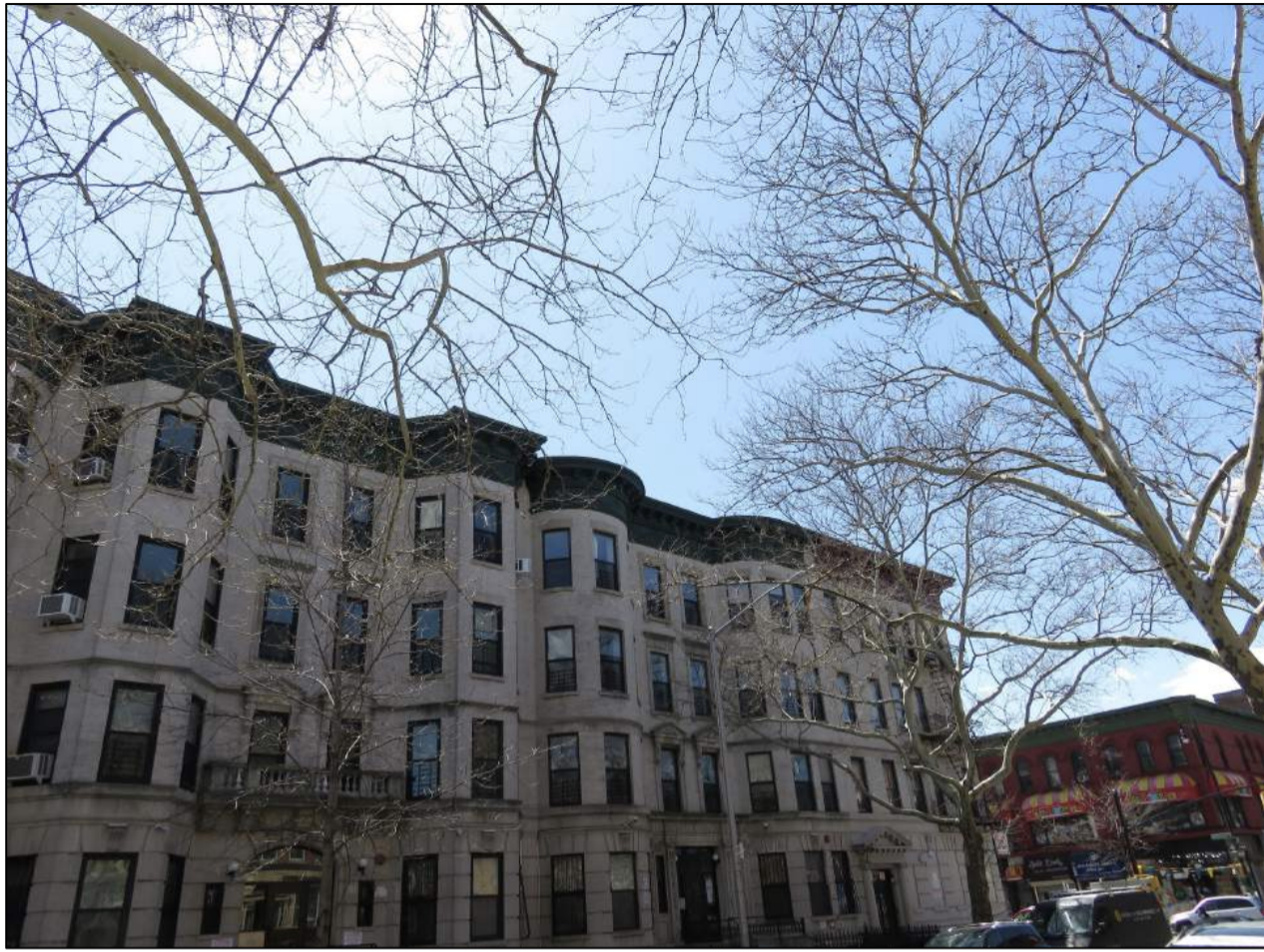 7) Reclaimed materials
Repurposing materials is about the greenest thing you can do, says Bergman, because most of the "harm" has already been done. In other words, the tree that had to be cut down or the stone that had to be quarried might have happened forty or fifty years ago and you won't be depleting more natural resources. He explains that's the whole idea behind the "circular economy," where you just keep reusing what's here in one form or another. Keeping materials out of the landfill where they will release carbon into the atmosphere is another objective.
"Reclaimed wood is one of our go-tos, and it has even more character than new wood," says Green. 
Faillo says a lot of beautiful wood comes out of townhouses, some of which might be historic, and they will either use it or donate it to a millworker. "We work with a lot of reclaimed joists to build shelving or cabinetry or to use as flooring or wall materials," she says. Beautiful wood flooring might get repurposed as a wood ceiling. "It just adds so much warmth to the project and coming up with creative ways makes the project more interesting and fun." 
Green recently discovered an organization called Renovation Angel that will come in and disassemble everything for you at no cost, and then sell it and donate all proceeds to charity.  "So you end up saving on the cost of the demolition by your contractor," she says.
Other suggestions: You can schedule the Salvation Army to come and pick up appliances and other items from your site or take them to Habitat for Humanity, says Green. 
Big Reuse is another local organization with a mission to deal with the "nearly 7,00,000 tons of building materials" that are thrown away by the NYC construction and demolition industry annually. 
8) No or low VOCs
Unfortunately a lot of what is used in a renovation (or in everyday living) can emit gases that can be mildly irritating or majorly harmful (as in carcinogenic), depending on the item and also your home environment. 
Paint, adhesives (those used for wallpaper and flooring), and furniture are all culprits, as are mattresses and sofas and chairs—basically anything with foam and certain fire retardants. The off-gassing occurs over time too.
Bergman suggests checking Green Seal and Greenguard for sustainable materials, though it can be confusing unless you know what you are looking for.
Doing a Google search for "Greenguard-certified furniture" however turned up lots of targeted results, including from Pottery Barn, West Elm, and Crate & Barrel, so apparently there's enough consumer demand for transparency here (especially when cribs are one of more VOC-prone pieces). IKEA also releases its own sustainability reports. 
As for paint, it's easier than ever to go green, with many of the name brands going the low or no VOC route and natural paints (chalk and milk) being zero VOC.
"A lot of our contractors tell clients right up front that if you don't use Benjamin Moore paints you will have to pay a 20 percent surcharge because they are all low or zero VOC and the paints will go on in one or two coats so there's less labor and less material costs," says Green. 
She also puts a standard note on all her firm's drawings stating they only use low VOC materials. 
After all, concerns over wellness can often be the tipping point for individual owners and families, says Bergman. As in, it's great to reduce your energy bill and to reduce consumption overall to reduce greenhouse gases, but even if you don't care about climate change (ahem) you probably do care about your health and wellness.
Either way it's a score for sustainability.
Brick Underground articles occasionally include the expertise of, or information about, advertising partners when relevant to the story. We will never promote an advertiser's product without making the relationship clear to our readers.