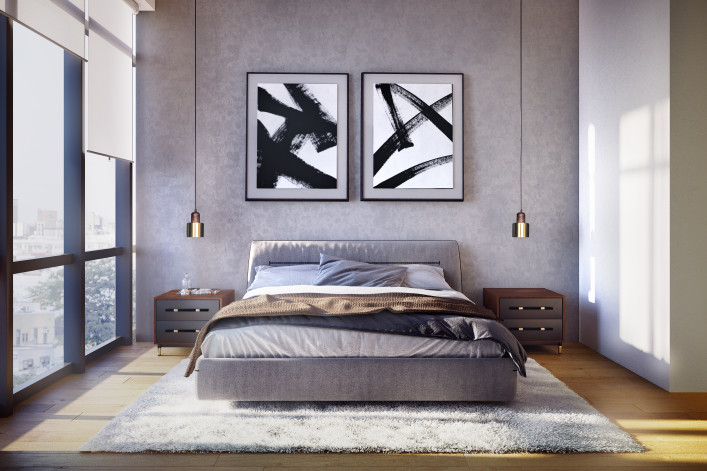 Photo by MAQU for Whitehall Interiors
It's safe to say that no NYC apartment renovation today would be complete without incorporating the latest in smart technology, but how can you tell the hype and hyperbole from what's truly form and function? 
"This is a conversation we have with all clients, no matter the situation," says architect Adam Meshberg, founder of The Meshberg Group. "It's still a premium but the tech is getting better and better and also less and less expensive." For him, shade, lighting, and thermostat control are the absolute minimum in any home renovation.
Just imagine waking up, saying "good morning," and having all the lights turn on and the shades go up and the radiant heat going in the bathroom—without even rolling out of bed. 
Of course, convenience isn't the only reason to integrate smart tech into your remodeling plans. 
"Smart technology is absolutely vital for clients looking to make a more eco-friendly swap and has a significant and measurable sustainable impact," says interior designer Laurence Carr, founder of Laurence Carr Design. For example, a smart thermostat can automatically detect when you are not home or are asleep to adjust the temperature, saving you money and the environment. 
It's an especially important consideration if you're planning on selling someday. Smart tech boosts resale value, especially key when you're competing with new developments that have all the bells and whistles.
Take for example 5 Court Square, a new boutique building in Long Island City with a long list of smart features: keyless door locks, shades, lighting switches, thermostats, smoke detectors, and even a washer/dryer—all of which can be programed on Google Assistant. "These are a good way to differentiate the product, and we are the first building of its kind in the neighborhood," says Eric Benaim, CEO and founder of Modern Spaces, which is marketing the project. (Whitehall Interiors was the designer.)
Given that smart technology is most definitely here to stay, Brick Underground enlisted those in the know to weigh in on what's worth getting and how to make the most of it. 
Consider smart tech from the get-go
Even with today's wireless innovations, it's important to work smart technology into the design phase of a renovation.
"You'll want to ensure the wiring can accommodate all the desired hardware and systems," says Meshberg, who brings in companies like Cloud9 Smart and Cole Audio to help implement the desired systems, having them do the specialized circuitry in conjunction with the electrical engineer's general power layout.
"Their expertise in this area is above ours, and their fee represents a tiny percentage of the overall renovation cost." (Plan on between $35 and $75 per square foot depending on how many systems you go with; premium finishes and materials will also up the final cost.) 
Chris Smith, COO of Cloud9 Smart, puts it this way: "The question is whether your architect or contractor wants to hire a lighting specialist, an audio specialist, and a security specialist, or they could work with a technology firm that handles it all from A to Z, even after the renovation is complete."
The key is to start early enough in the process. "We are often brought too late to the table and a number of options are now severely limited because of wiring infrastructure or physical space or other decisions that have been made," says Smith.
He also suggests steering clear of "bleeding-edge" (brand new) systems in your own home and making sure you know what you are asking for. "When someone says they want to able to turn on their fireplace from their phone, we simply say 'no.'" 
Should your remodel fall short of any wholesale electrical upgrade, at the very least you can make your existing setup more tech-friendly by including outlets with built-in USB ports for charging phones and tablets. 
Invest in a reliable network
Make no mistake: The network is the backbone to these systems, and you get what you pay for. 
You might be able to get away with the default cable router in a smaller apartment, but Smith says the problem with city living is that everyone else around you is also running a router, and that "crowding" can slow it down and lead to interruptions. 
Instead, you can create a more robust network by installing a mesh system such as Eero or Google Wi-Fi (both start at $99) to prevent any dead zones, choosing one or a bundle based on your square footage. 
Wired mesh networks are even more secure and reliable—and the only kind Smith will install (even in a 1,500-square-foot apartment). "If you are a DIY customer, the mesh system works really well. But we offer smart options that aren't available unless you go with our wired network, which is more expensive but is of a much higher quality." Plan to spend between $5,000 and $7,000 depending on the size of your home and the complexity of your systems.
Meshberg says his clients never balk at the cost, realizing what can happen when the server goes down. "I have these systems myself and trust me it can get annoying when you lose control of the TV and the heat and the lighting."
Plus Cloud9's wired networks are designed to be serviced remotely, without having to schedule (and pay for) a site visit. "No one wants us in their living room, so it just makes more sense," says Smith. 
Create a smart-home hub
The more smart systems you embrace, the more apps you'll have to juggle. 
That's why Carr's "automatic first recommendation" is to purchase a home assistant (such as Google Assistant) so you can virtually control your entire home from one system, using voice commands. You'll need to use only devices that are compatible (they're listed on the product website).
On a more advanced level, Lindsay Barton Barrett, broker at Douglas Elliman, sees Control4 as a popular choice, while Meshberg recommends Crestron Home or Savant. 
"This kind of interface will have an app that talks to all the other apps in the home," says Meshberg. That means it will talk to your lights and shades and music server and security cameras. "It will talk to anything really, including your hot tub." 
It will also let you do anything you can do from your phone but with touch screens built into the wall at strategic places, such as seeing who is at the front door. Because as Barrett points out, it's hard to do multiple things on your phone at once.
Fair warning: "Problems do arise when certain lower-end systems don't work well with others," says Meshberg, which is the case in his own home. "I can use the main interface to control my Sonos app but have to rely on a different app to control which room the music plays in." 
For Smith it boils down to your comfort level with a having a multi- or one-app ecosystem. "A lot of customers find it really useful to have one command and control center without having to learn all the different interfaces and methodology." 
How you program these control centers should depend on what's easiest, whether that's a voice command or a touch screen. "Saying 'turn on the lights' feels natural but not so much having to keep repeating 'channel up, channel up, channel up' for the TV," says Smith. That's where a more advanced hub will give you more flexibility.
Choose the systems that matter most
Barrett says people tend to go full tilt when renovating their own homes, but your own budget and lifestyle should dictate your choices.
Smith tends to treat lighting and shading as one category and audio-video as another. "Many people just want one or the other, and they don't necessarily have to be integrated."
The good news is you can go a la carte, keeping compatibility in mind if you do want the systems to interface (and be controlled by your smart-home hub). 

1. Lighting: There are plenty of systems (including Casetra by Lutron and Insteon) that are easy to install and don't require any rewiring. You can also get bathroom mirrors with LED lighting that you can adjust with a voice command, such as "makeup mode." 
Meshberg prefers to build a Lutron "brain" using wall-mounted keypads that control the lights in a fully customized way. Rather than turning each set of lights on and off you can create different moods in the house, whether its "morning" or "dinner" or "bedtime reading." His favorite feature? Having an "all off" button" at the front door, so you never end up leaving lights on when you leave. "And this system minimizes the wall clutter (or "acne") of lots of switch banks, and you don't even need to get out of bed to use it."
Smith says there are lots of changes happening around light fixtures, with the exact same one giving off a bright white light or a warm dim light, a tune-able light that can change the type of white, or even a colored light. "Those come in four different price points and we go room by room and area by area to pick the right ones for each." 
2. Shades: Carr is a proponent of motorized shades (such as by Hunter Douglas or Serena by Lutron) in helping to optimize energy consumption. "You can schedule them to automatically shut during the sunniest parts of the day to keep your HVAC system from turning on." The smart shades can also be set with your alarm clock to help promote a balanced circadian rhythm. 
Smith believes lighting and shading (including drape tracks) should be the same brand because they tend to work together. For that reason he integrates the lighting control system with the shading control on the keypad, such as "on/up" and "off/down" or even "dim/halfway" or some such.
"Once you have automated shades, you'll wonder how you ever lived without them," says Benaim. 
3. Climate: Assuming your building allows you to control the temperature in your own apartment, smart thermostats are hands down the most popular home device, having been around for a while now.
Benaim says he is addicted to his own smart thermostat. "If it's hot outside and I'm out all day I want to be able to turn on the air conditioning so it's cool when I get home." 
"What's great is they adjust to whether you are away or asleep and have features that let you know when you are running at your highest optimized levels," says Carr. "They also generate a monthly report with your energy usage and tips, which can be quite eye-opening and help shape your future energy usage." 
Smith warns not to choose a system purely based on brand name but rather on the desired functionality. Some smart thermostats may not interface with other devices, Ecobee is one that does. 
Barrett also has found Ecobee to be the choice for homeowners who want to have each room sense a different temperature. 
And if you have both radiant flooring and forced-air heating, Smith and Meshberg like to create a special climate system that allows those to be controlled by the same app that controls all your other systems. "That makes it so much easier to control all the important elements, especially when you are on vacation or have out of town guests." (Talk to your architect.)
4. Audio-video: Here is where you may be tempted to spend the big bucks on customization—and where you definitely want to plot out the placement and control early on. 
For the most part, people want to conceal the big TV hanging in the living room, says Barrett, who had a house in Brooklyn with a massive mirror over the fireplace that was actually a TV. 
Smith points out other "elegant" ways TVs are now designed to be hidden, such as by looking like framed art when they are turned off, or having them pop out from a piece of furniture. Meshberg often keeps them out of sight behind sliding or lift-up panels. "As we change these things around, they begin to look and feel more like design elements as opposed to an imposition to the aesthetic," he says. 
The same goes for speakers, which Smith says can now be invisible by blending into the wall surface, or look like small aperture lighting in the ceiling. He and others interviewed here point to Sonos as the industry standard.
The truly tech-savvy can install lots of little micro-LED panels for a "video wall" that can show you an image of the outside, as if it were a window. (Picture what you see in Time Square.) "Most clients have no idea that these even exist," says Smith, who sees them becoming more common in residential use and thereby less expensive, similar to how plasma TVs were replaced with LED models. "As an industry we see the whole idea of the TV as just being a TV as on its way out and the TV as a canvas where it can be wallpaper and media and work and art all at once or at different moments as the future." 
5. Security: This may not be so important if you live in a doorman building, but "safety is very personal and even people in apartments have alarms and cameras," says Barrett.
Many systems are now wireless and don't necessarily need to be installed when renovating, but you should at least explore all the available options. 
Keyless smart locks (such as by Latch) are one such option (and are being used in some newer buildings), as are video doorbells, both of which can be controlled by an app. Barrett says she just installed August Home for her own residence and it has been helpful in a way she didn't imagine. "The kids were home yesterday while I was at work and I was like, 'Oh, my daughter just left.'" 
Then there are all-in-one integrated systems with security cams and motion sensors for doors and windows. Two to consider: Ring and SimpliSafe. 
Your architect (and tech specialist) can advise you of any professional-grade security systems with CCTV if that's what will give you peace of mind. 
6. Kitchen appliances: Opinions are divided, with some finding smart fridges gimmicky, others game-changing.
"We've all heard about the refrigerator that buys milk when you run out but I'm not seeing them in renovations," says Barrett. (Meshberg echoes that sentiment.)  "People care so much about their kitchen and most of the high-end brands like Gaggenau have not moved into this direction." She also points out that it feels so "not New York" in that we like to shop every day and go out to dinner all the time and don't want to be seen as so predictable. 
Carr however is a fan of smart refrigerators (she mentioned LG ThinQ in particular) for allowing you to keep a running inventory of products so you "never forget about that bag of spinach in the back of your vegetable drawer before it goes bad" and avoid over-buying food to prevent any possible food waste. They also keep track of energy consumption so you can adjust as needed. 
There are plenty of other brands that are entering the arena in a range of prices, including Thermador and Wolf, and not just for refrigerators but also dishwashers, cooktops, and coffee makers. 
(Benaim decided not to include smart refrigerators at 5 Court Square either, though the Bosch washing machine made the cut. "It's nice to be able to start a load while you're out rather than have wet clothes sitting there.")
And remember: You can even make any appliance smart by controlling the outlet. "We had a client who wanted his $5,000 espresso maker to turn on automatically before he went downstairs," says Smith. A smart outlet was a simple solution.
7. Faucets: Looks aren't the only thing that matters when updating these everyday essentials.
Carr encourages using smart faucets for every sink in the home, mostly as a way to promote water conservation by only releasing water by your movement or voice command. "Additionally, it has been proven that your kitchen sink has twice the amount of bacteria as your toilet seat, so touchless smart faucets save you from spreading additional germs."
Smart showerheads, such as by Moen or GROHE, will heat the water to the ideal temperature in seconds. Others emit different colors depending on water usage. 
8. Toilets: Long popular in Japan, smart toilets are just starting to catch on in the U.S., and not just for having heat-controlled seats (though that's certainly a perk). 
As with sensor faucets, these "intelligent" apparatuses are considered more hygienic, with seats that automatically flip up and hands-free flushing. A water spray (aka bidet) cuts down on toilet paper usage too. Some models also mist the inside of the bowl after each use to keep it cleaner (Toto uses what they call the Tornado flushing system). 
9. Water leaks: If you are in a brownstone or townhome, leaks and burst pipes can wreak havoc—especially while you are on vacation.
That's when a smart water valve installed on your main water line can save the day by monitoring your entire plumbing system, from hidden pipes (the usual culprit) to toilets and faucets, and alerting you, and even shutting off the water supply, in case of an emergency. 
There are also sensor-based devices that detect leaks when placed in common spots such as under the washing machine and in kitchen or sink cabinets. These are perfect for apartment dwellers who don't have access to the water line (and no installation is required). 
10. Safety detectors: Having app-enabled smoke and carbon monoxide detectors is a no-brainer.
Why wouldn't you want to be alerted if there is a fire or carbon monoxide leak in your home, 24/7 and no matter where you are? You can also temporarily silence the smoke alarm from your phone—no more swatting at it with a broom. 
What's more, smart detectors like Google Nest Protect will tell you exactly where the problem is, and even interface with other smart devices like lighting to help you evacuate in case of an emergency. 
Brick Underground articles occasionally include the expertise of, or information about, advertising partners when relevant to the story. We will never promote an advertiser's product without making the relationship clear to our readers.