Best of Brick
6 great alternatives to marble and granite for your NYC kitchen renovation: quartz, quartzite, porcelain, soapstone & more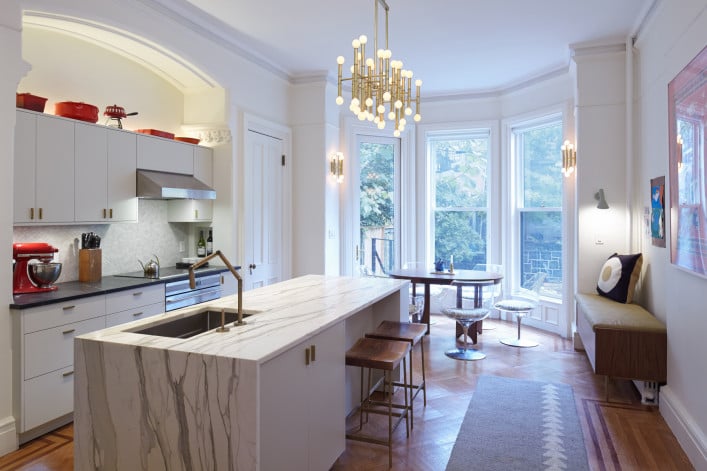 Lenzlinger Architecture/Meret Lenzlinger 
There are people who love marble and absolutely nothing, not even the risk of marks from spilled red wine and hot-pan scorches, will keep them from putting it in their New York City kitchen.
For those with less appetite for risk, durable granite would seem to be a safe alternative, but it is not impervious to damage and tends to discolor over time—and interior designers are not sold on it.
"Granite works perfectly well but I've yet to find one that I like," says Meret Lenzlinger, principal at Lenzlinger Architecture (formerly LOCAL Brooklyn). 
Kelly Giesen, founder of KellyG Design, agrees. "I won't do granite." (Note: The only exception for each might be Black Absolute, a nearly solid black, though be prepared for water stains.)
It's not just about the aesthetics but also longevity. "A huge concern of my clients is that they 'never want to renovate again,'" says Jorge Fontan, founder of Fontan Architecture.
Instead, they are turning to natural stone like quartzite as well as manmade materials like quartz and porcelain, which are gaining popularity thanks to improved technology. These synthetic surfaces are also nonporous and better at resisting heat, stains, scratches, bacteria, and fading—no sealing required. "Anything that is porous requires sealing but the reality is people do it once when it is first installed and never do it again," says Fontan.
So if you are in the market for a new countertop for your NYC kitchen, here are top picks from industry insiders that deliver on design and durability.
---
[Editor's note: An earlier version of this article was published in November 2019. We are presenting it again here as part of our holiday 2019 Best of Brick week.] 
---
1) Quartz
This man-made, nonporous material beats granite on all counts. 
Lenzlinger says Caesarstone has been the go-to for so long now (she put it in her own apartment a while back), in part because it is so easy to maintain. Silestone is another popular brand. 
Though she leans more toward neutral options without all the veins ("they just look fake"), One Quartz Surfaces is her choice for a realistic marble effect.  
Jen Spano of Studium Tile (one of Giesen's regular sources) recommends Compac, a Spanish line that has veining throughout so even the sides of the counter will look like stone.    
Most quartz comes in either two centimeters (three-quarter inch) or three centimeters (one and one quarter inches) thicknesses, similar to most natural stone. But there are a few products that do only one thickness so be sure to check before buying, says Spano. 
Even though quartz is touted as being heat resistant, Spano advises people not to put anything directly out of the oven on the surface. "Surfaces that have resin can sometimes, though not always, react with the heat." Like granite, the damage may not happen right away but could develop with repeated heat exposure over time. 
Being scratch resistant does not mean you should cut right on the surface, as any scratches will be difficult to repair. 
The cost of quartz is about the same as natural stone, starting at about $100 per square foot depending on the quality and color. Even if you are not saving on the initial purchase you'll be paying for peace of mind in knowing the material is built to last. It also doesn't require any sealing.
2) Sintered stone 
This is an engineered surface, like quartz, made by using high heat to bond a mineral blend. The result is nonporous (like quartz) with the added plus of containing no resin, so it can take the heat of a hot pan from the oven. You could also cut right on the surface, but "if your top is that strong, then your knives are going to get ruined," says Spano. 
Giesen used Neolith from (her source is HG Stones) for the first time in a kitchen renovation a couple years ago for a client who loves it. "She said she would have ruined her countertops several times by now if they had gone with Calacatta Gold marble." (Neolith costs around $40 per square foot, though budget was not an issue.)
After steering clear of "all those faux knock-offs," Geisen is a convert. "I look at stone all the time and I'm very picky because marble is my favorite surface, but her kitchen came out beautiful and I've used Neolith again since then." 

There are only a couple patterns to choose from, and one has a little heavier veining pattern than the rest, but Giesen says they are set up perfectly to be book matched and are really a nice solution. 
Another product Giesen likes but has yet to use is Dekton. "It's pretty and a good alternative to stone for the right person," noting that it does have a steeper price point. 
According to Spano, Dekton is more expensive because it has a lot of extras, including outside use. Her advice? It might be worth the investment for a smaller kitchen but probably not for a super spacious one. (Unless you are Thomas Keller, who used Dekton for his French Laundry renovation.)
She says Geoluxe is not as pricey as Dekton, even though it can also be used outside. The colors are also more muted and softer, providing "a nice canvas for a busier backsplash or kitchen design." 
If you are in the budget for marble, there won't be any sticker shock with these super sturdy alternatives.
3) Solid surface
Fontan recommends Krion by Porcelanosa-USA, which is considered a "solid surface," because the polymer-mineral material is the same inside and out. Other, similar products include Formica and Corian, still the most familiar of the "solid" surfaces.
According to company representative Alexandra Russell, Krion is a "new generation" solid surface that is made up of 75 percent minerals and 25 percent acrylic resin and has the same porosity as glass. She would not recommend putting a hot pan directly on the surface as a regular habit (it might not cause immediate damage but could affect the surface if done so repeatedly over time). 
Though Corian, Krion, and other solid surfaces are not as scratch resistant as other options, they can be easily buffed with a Scotch Brite pad.
One big advantage is that you can achieve a virtually seamless look because the joints fuse together well, says Russell. 
They are also less costly than other options, starting at around $40 per square feet, and come in two thicknesses, either half inch or three-quarter inch.
4) Porcelain
Porcelain may not be an obvious choice for kitchen countertops but it is heat, stain, and even scratch resistant. 
Both Fontan and Lenzlinger are fond of Xtone by Porcelanosa. "It's available in a ton of different marble looks and the print is super realistic, even if you are doing a waterfall edge and want the veining to be continuous." says Russel. Depending on the dimensions of your countertop, the 5-by-10-foot pieces can be fabricated so the seams are minimal, she adds.
Because it is a thinner surface (at a little under half inch inch), porcelain needs to be overlaid on a substrate, increasing the cost. 
"But what's great is that you can piece them together and miter the edges to look three or four inches thick," says Lenzlinger. 
Another plus: Thinner surfaces are great for backsplashes because you can easily cut them for outlets and openings and you are not paying for the substrate or mitered edges. "We are doing that now for a client and using Corian for the countertops," says Lenzlinger. 
5) Quartzite 
Lenzlinger for one says she is increasingly turning to quartzite, a natural stone with a similar look to marble. Her favorites are Taj Mahal and White Macaubus. "They are gorgeous."

Though some quartzite can be as hard as granite, it's important to ask your stone source for recommendations. (Hers is Jerry Tudisco at European Granite & Marble Group in Brooklyn.) 
In general, the lighter the color, the less hardy it will be, though all quartzite is considered to be as heat resistant as granite. 
But because it is a version of sandstone, it may still retain some of those soft-stone properties, meaning it could be susceptible in some areas but not others to scratching and staining. There's also no way to determine from one stone to the next. 
As Tudisco puts it, "Every stone has a different story and will not have the same composition, so each one can perform a bit differently." 
Regular sealing can help protect the surface (the exception to all the others listed here). 
6) Soapstone
Soapstone is harder than marble and though softer than granite it does not stain like those materials. It is also impervious to damage from heat, even from an oven-to-counter pot.
As a softer stone, it is prone to denting and scratching but can be easily fixed by sanding and then applying mineral oil. "The ability to absorb abuse is to me a key consideration," says Lenzlinger.
One drawback is that soapstone is only available in limited (darker) colors, says Spano. It develops a patina over time too, which is what many people tend to like about it.
The final verdict? 
If you really, really love the look of marble, you might not be satisfied with any manmade replicas. In that case it might be worth living with the upkeep.
"People rave about marble because they've seen it in an old church or country kitchen in Tuscany, and that stuff has been heavily used, dinged, worn off and no one thinks that's terrible," says Lenzlinger. Why expect marble countertops to remain pristine for 20 years? "That's a whole other aspect to me that's important."
That said, she only recommends marble to clients who truly understand the parameters. 
Or she will suggest just using marble on the island and another, more durable surface on all the rest, as shown here and also at the top. "This is an especially good idea for someone who is a baker because marble is fantastic for rolling out dough," says Lenzlinger.

Giesen had a client who had her heart set on marble but felt her kids would ruin it when she wasn't looking. So they did a natural stone on the backsplash and a white Ceasarstone on the countertops. "That was her way of getting a splash of marble in the kitchen without having to worry about it."
"For some people the look of natural stone is more important than the durability, because either they don't use their kitchen that much or they've had marble before and are fine with it," says Spano. It ultimately comes down to what your threshold is and what look you are going for. 
After all, Fontan posits that with faux surfaces being all the rage, natural stone is likely due for a major comeback, though for sure marble is the one surface that never truly goes out of style.
Brick Underground articles occasionally include the expertise of, or information about, advertising partners when relevant to the story. We will never promote an advertiser's product without making the relationship clear to our readers.