Products + Services
What you need to know about soundproofing the windows in your NYC apartment or brownstone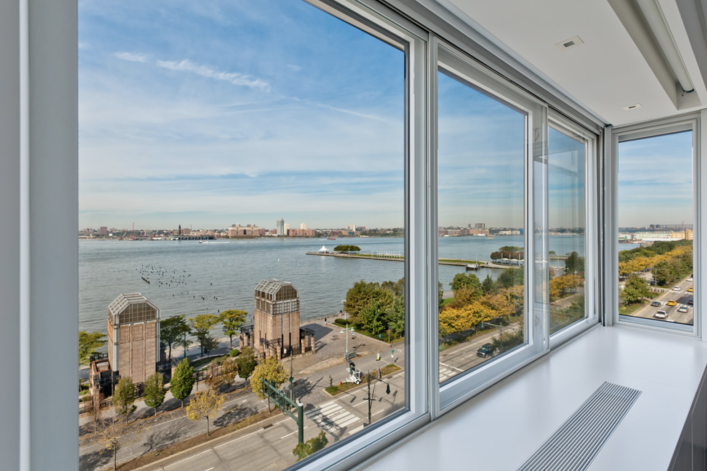 If you are permanently working from home these days, you may be looking for ways to block out the daily barrage of honking horns, blaring sirens, garbage trucks, and jackhammers (among other common noise complaints). 
Soundproofing your apartment or brownstone windows is even easier than you may think—in fact you can do this with no construction or window replacement required. How so? By installing state-of-the-art soundproof interior windows that go inside your existing windows. New York City is home to two vendors: Both CitiQuiet and Cityproof will measure, manufacture, and install the windows for you. (The initial consultation is free.)
These companies report fielding more inquiries than ever. Josh Lentin, a partner at CitiQuiet, sees the uptick in demand due in part to more New Yorkers working from home.
And besides improving your own quality of life, adding soundproof windows can help boost your purchase price at resale.
"As a seller, you only have one chance to make a great first impression," says Kimberly Jay, a broker at Compass. "Noise is something that can definitely turn off a buyer even if the apartment is renovated to perfection or well priced. Just like staging, adding soundproof windows can reduce time on the market and increase the selling price."
Just be prepared to wait—demand for soundproof windows is up and of course they are subject to the same supply chain issues as other home improvement products. 
Read on for how to turn your home office (or bedroom or nursery or entire home) into a quieter sanctuary.

How do soundproof windows work?
No window can block out all the racket, though soundproof interior windows (aka acoustic inserts) come pretty close.
The windows, which are mounted directly inside your existing window frames on a sliding track or other mechanism,  reduce noise through a combination of laminated glass—basically an invisible noise-absorbing material sandwiched between two panes of glass—and a buffer zone of dead air that's created between the exterior and interior windows.
"We work with different thicknesses of glass depending on the application," says Michael Damelin, president of Cityproof. The thicker the glass (from 1/4 inch up to 3/4 inch at Cityproof and 1 inch at CitiQuiet), the more soundproofing they provide—anywhere from 60 to 95 percent.     
And thanks to the tight seal created in the installation, these interior windows block up to 99 percent of outside dust and dirt and help eliminate drafts, lowering heating and cooling costs. 
Indeed, many people discover soundproof windows for eco-friendly reasons (and to slay frigid temperatures). Indow for example is a Portland, Oregon-based company that has been chosen to participate in The Clean Fight, a nonprofit project designed to connect energy efficiency companies with building owners in NYC. (They help with the precise measurements but you do the DIY, snap-in-place installation.)
Operability is another selling point for Michael J. Franco of Compass. 
"These windows can be opened from the inside to then allow you to open the original windows," he notes. That can be important if your radiators crank out the heat 24/7—or if you just want the occasional breath of fresh air. This also allows you to clean and maintain your outside windows.
How much do they cost and how long do they take?
Pricing depends on the size, style, and thickness of the laminated glass and can therefore vary, and by a lot. Damelin says smaller windows using 1/4-inch thick glass could be as low as $750 to $800 each, but larger openings with thicker glass can cost in the thousands. 
According to Lentin you are mostly looking at a starting price of around $1,000 for sliding windows and removable picture windows, which are easier to make and install. Double-hung windows start at around $1,500. The more noise reduction you desire, the higher the price too. For example, the same size and style interior window could range from $1,600 for 60/65 percent noise reduction from and around $2,300 for 80/85 percent noise reduction. That's your all-in investment, including installation. (No taxes on these either.)
Indow acoustic grade inserts run $39 per square foot and the company offers volume discounts for orders of $3,000 or more. "Even our standard grade window inserts reduce a lot of noise and run $30 per square foot," says Martin Lewin, senior fit specialist.
As for lead times, the usual one to three weeks before the pandemic has shot up to more like two to five weeks (longer for double-hung models). Indow has a lead time of about 12 weeks, down from 15 weeks in August 2021. (Progress!)

Where can you put them?
Because the custom windows are made to your precise specifications, they can conceivably go in any space and on any window (including skylights and blown-out brownstones!). They can also go inside terrace or patio doors. But you don't have to soundproof all the windows in your home to achieve serenity. Be strategic. 
"Pre-pandemic, it was about sleeping—people who live across the street from a supermarket and hearing the delivery trucks backing up at 3 a.m.," Lentin says. "Now everyone is doing podcasts in their home and need to soundproof for that."
All joking aside, Damelin says now that people are working more from home, they are soundproofing not only home offices and bedrooms but the living room and dining room and other spaces as families jostle for work and study areas. 
Not that you have to spend the same on every window. He says thicker glass is typically used for bedrooms and home offices, and that might be where you prioritize your budget. You may also want to step up the thickness of the glass to compensate for a slim buffer zone (which is determined by the depth of the existing window sill, or pocket) as that also plays into the total noise reduction. Of course, the quality of the exterior window also matters, so you may want to invest in thicker interior windows for dated single-pane models.
You can also get soundproof boxes that go around your window A/C units, which let in a lot of street noise. The boxes can be opened when you need to run the unit and closed the rest of the time. 

Do co-op and condo boards need to approve them?
Technically, the answer might be no. There are no permits required because there is no construction. "It's like putting blinds up in your apartment," Lentin says. 
Even still, Damelin says many boards generally require documentation reflecting the scope of the work along with proof of insurance and Covid-19 requirements, as with any service provider gaining access to the premises. (You know your board, so act accordingly.) 
And unlike when replacing your existing windows, you won't have to move out of your home for installation. A few years ago one of Jay's buyers purchased a unit on the fourth floor of a co-op overlooking busy First Avenue.
"They loved the space and renovation but the unit was a bit loud due to both the location and older windows. They installed CitiQuiet windows, which reduced the noise to almost nothing and they couldn't be happier in their home," she says.
Are they allowed in landmarked buildings?
Damelin says Cityproof (in business since 1960) has worked in many landmarked buildings and historic district brownstones.
"Because every window is custom made, we are able to match important horizontal and vertical lines of the exterior window so the interior windows are invisible from the outside and inside," Damelin says. And one of Indow's case studies is a couple who added its window inserts to their one-room, loft-style apartment in a landmarked Brooklyn building, which was a converted warehouse with giant single-paned windows. 
Your architect will likely include the specs in the design plans, but they are not the kind of thing that the committee is concerned about. The same would not be said about replacing the exterior windows, in which case there are strict requirements about what types of windows are allowed in the particular neighborhood.
What options do renters have? 
Both Cityproof and CitiQuiet have installed windows in rental units, but only with written approval from the landlord. That includes if you are renting from an owner in a condo. How that plays out really depends—Damelin says he has seen lots of different arrangements. Sometimes the landlord pays and increases the rent; other times the tenant pays and the landlord agrees not to raise the rent when the lease renews. And while the interior windows can be removed when the lease is up, more often than not the landlord sees them as an improvement to the apartment and requires the tenant to agree to leave them. In those instances you may be able to split the costs. 
Some management companies have even taken the lead by incorporating soundproof interior windows in their (high–end) apartment renovations, such as at 2 Cooper Square and 95 Wall.
What if I want to replace my existing windows? 
If you are doing a large-scale renovation, you may want to upgrade your windows from a single-pane design to a dual- or triple-pane design.
Co-op (and to a lesser extent condo) boards will however have more of a vested interest in controlling any exterior window replacement. Kay recommends speaking with the managing agent of the building to find out if a specific window company has been approved to replace windows and what type of windows are permitted. (This might also be covered in the alteration agreement.)
Some buildings require the exterior to be uniform, including windows, in which case Brown Harris Stevens broker Leslie Singer says you will at least know right off the bat what's allowed. 
What's more, some boards require you to incorporate soundproofing into any renovation (this is usually for internal purposes to avoid disturbing your neighbors). So that can weigh in your favor in getting the sign-off.
"It's not unusual for co-ops to ask you to put in new floors with subflooring for soundproofing," Singer says. Why not soundproof the windows too?
If you are in a brownstone, you have leeway to choose your own style. For instance, Pella Lifestyle Series windows offer an optional Sound Control package, reducing outside noise by 52 percent more than single-pane windows. (You can head to Grand Central Station for Pella's New York on Mute pop–up to see how its windows block out common  city sounds.) Their triple-pane windows work in two ways: insulating gas between the panes dampens outside noises and using panes of different thicknesses deflects different frequencies. Insulating window frames also help—wood is 1,750 times better than aluminum. Expect to pay a premium for these performance windows (to the tune of $3,500 each). 
But there are usually strict requirements in a landmarked building or historic district brownstone, but any experienced architect will know the drill. And if replacement windows prove too costly or a hassle to pull off, you can always go with soundproof interior windows. 
Brick Underground articles occasionally include the expertise of, or information about, advertising partners when relevant to the story. We will never promote an advertiser's product without making the relationship clear to our readers.