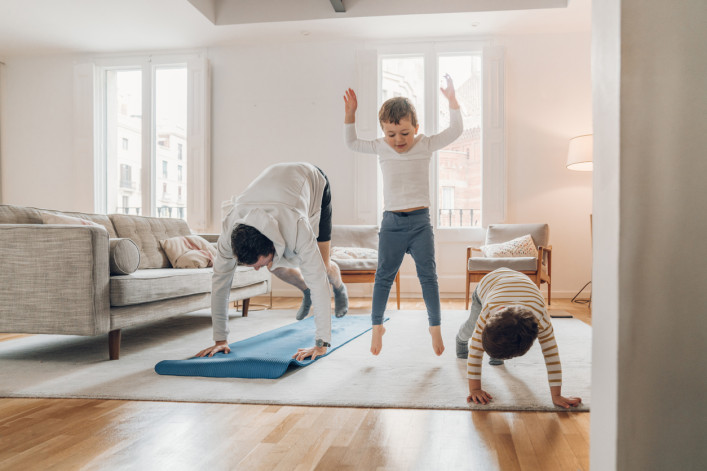 New York City apartment living puts you in close proximity to your neighbors and that means noise is frequently an issue. And sometimes it means you or your family is the source of the noise that's annoying neighbors.
This can be a concern for NYC parents who know how much roughhousing—and let's face it, fighting—happens with siblings. Or perhaps you're a musician or a dancer who needs to practice at home—or just someone living your life out loud within walls shared with strangers.
It's no fun living next to unfriendly neighbors who ask you repeatedly to turn the volume down or worse, get the board involved. If this sounds like you and you're looking for a new place, it's worth thinking about some of these issues before you rent or buy somewhere new. Consider a ground or first floor apartment, layered soundproofing, and amenities for rambunctious kids in order to keep the noise in your apartment at a more neighbor-friendly level.
Read on for what else you can do to keep the sound down.
Ground or first floor apartments and lofts
If you think your living room activities are going to disturb the neighbors, the standard advice is to look for a ground floor apartment. Pierre Cadourcy, an agent at Douglas Elliman, says ground floor units are his "go-to" when clients are concerned about this issue. When your floor isn't someone else's ceiling, you're less likely to get neighbors complaining. Private access to outdoor space is often an additional benefit to these types of apartments and Cadourcy says in some cases you have access to a cellar or subcellar that can double as a play space.
Christopher Totaro, an agent at Warburg Realty, can vouch for the first floor, perhaps above a lobby, and especially in a loft building as a good choice if your life tends to be lived at higher than normal decibel levels.
"Sound tends to travel down rather than up, and with high ceilings, you are less likely to disturb your upstairs neighbors," he says. He points out loft buildings were converted from warehouses or manufacturing facilities in the 1800s and 1900s and are incredibly sturdy. "The walls between the neighboring building can be 2 inch-thick brick," he says. 
Smaller scale buildings with fewer residents
The property that will give you the most privacy and soundproofing is probably the townhouse but Cadourcy says the next best thing is a building with just five or six floors.
"A smaller scale building, a boutique building, with fewer residents and fewer residents per floor—that reduces the noise level in the entire building," he says. Fewer neighbors can result in fewer complaints. Another tip is to look for a corner unit, he says. "You are sharing fewer walls with neighbors" so it's the same logic, he says.
A duplex or triplex apartment, if it is within your budget, can also be a solution—Cadourcy just listed an apartment at 19 Murray St. that was previously rented to a couple with four children. "You have two living rooms, one on the lower floor and one on the top floor and they loved it because they said if the kids were noisy they can always be upstairs."
Construction standards don't tell the full story
Construction standards change over time, so there is no real guideline on looking for newer or older construction to protect the neighbors, says Mihal Gartenberg, an agent with Warburg Realty. Even so, if you're buying or renting, there are ways to evaluate the construction.
Prewar construction has a reputation for being solid and long-lasting but an apartment in a brownstone might not have the soundproofing of a new construction.
When considering a new development, ask lots of questions about the materials and brands that have been used and have a sense of the answers you want to hear. For example, you'll want walls of double-layer drywall packed with as much insulation as they can hold. Ask if there are other sound dampening materials or techniques employed in the building, and make sure the doors are solid rather than hollow wood—it's a good sign of a contractor's attention to detail. 
Layer up the soundproofing
Soundproofing is a multi-step process, Totaro says. Vibrations from jumping, dropping, and even heavy steps will likely be heard below if you're living in the majority of buildings in NYC. Make sure the construction is solid and invest in carpeting and rugs with sound-dampening padding, especially if you have concrete or tile flooring. Cadourcy says he's seen acoustic floor tiles used. "It's not cheap but it seems to work very well," he says.
If you are planning to renovate, that can be a good opportunity to add soundproofing, though the costs can vary significantly and may end up being quite steep. For example, underneath a wood floor you can add an underlay material to absorb noise and vibrations. 
Take advantage of child-friendly amenities
Some new developments in New York City have amazing amenities for children and as the pandemic wanes they will again become a good resource for anyone with kids wanting to burn off noisy energy. Gartenberg says that often the playroom is a padded room with all sorts of structures children can climb on and jump off.
Check out what's in the neighborhood of your new place as well, such as pools, playgrounds, and commercial playrooms. "If you can run the kids out of energy outside the home, this could also be an excellent fit," she says.
Brick Underground articles occasionally include the expertise of, or information about, advertising partners when relevant to the story. We will never promote an advertiser's product without making the relationship clear to our readers.