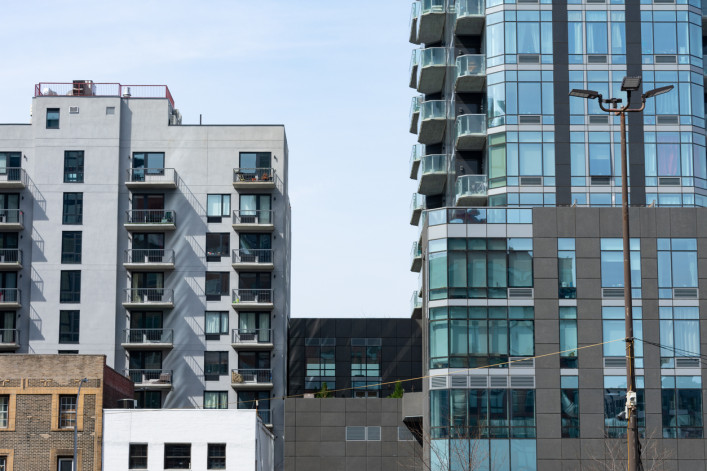 You don't always know what you're getting when you buy a new development condo. Unlike prewar construction—which has a reputation for being solid and long lasting, new construction comes with an element of risk. And you might not know how to ask about what's in the walls and floors and other places that you can't see but can cause big headaches down the road.
It comes down to getting comfortable asking questions—a lot of questions, for example, about materials and brands used, in order to get a sense of how a place will hold up over time. Here's what you should be looking for.
---
[Editor's note: A previous version of this post was published in November 2020. We are presenting it again in case you missed it.]
---
1. What's the developer's track record?
When you are considering a condo in a new development, the reputation of the developer is crucial, says Andrew Gerringer, managing director of The Marketing Directors, which works with developers to design and sell brand new apartments. He says there's flexibility on everything from price, closing costs, storage and garage space, to a possible decorating allowance or appliance and finish upgrades. 
So before you make a deal, you need to do your homework and find out if the developer is involved in any lawsuits. What other buildings have they completed? What is the quality of those buildings? Have buyers generally been happy? You can also check out Brick Underground's guide to finding out about a developer's building history.
"A lot of it comes down to the builder and developer," says Chris Poore, a broker with Brown Harris Stevens. Many of the clues to the quality of the work and finishes will be in the offering plan, which Poore says spells out everything about the construction. Do some research on the brands being used—it will all be in the plan—as will the systems being installed, and the hardware and other materials. 
2. What type of drywall has been installed?
Drywall is the name of the plaster panels used to build interior walls—also known as sheetrock. Double layer drywall increases the sound barrier between the rooms and is the standard in new construction. Vickey Barron, a broker with Compass, has experience as director of sales for new developments like Walker Tower in Chelsea and 100 Barclay in Tribeca and says the use of purple sheetrock is a signifier of the best category construction. "It's mildew resistant sheetrock that's a little more expensive than the standard," she says.  
Roger Krulak, CEO of the Brooklyn design-build company FullStack Modular, says no new residential buildings are constructed with single-layer drywall but he points out you want "as much insulation as your wall design can accommodate." 
3. What's the quality of the finish in the kitchen and bathrooms? 
The finishes in the bathrooms and kitchen will often hold the clues to whether a developer has cut costs, Krulak says. While there are plumbing codes that need to be met, you'll typically see developers talking up their copper pipework. "It has anti microbial qualities that are worth paying attention to in these times," he says. Copper piping (as opposed to PVC) will also have more soundproofing and durability.
Take a look at the tile work. Assessing the quality of the tile isn't that easy but you can get a sense of the quality of the labor by looking at the caulking and grouting, says Ryan Serhant, founder of the brokerage SERHANT. "You want it to be clean caulking with no residue, and you're looking for clean grouting with no smudging or residue," he says. This will tell you whether the contractor or subcontractor was paying attention and not simply trying to work fast at a low cost.
Don't be afraid to step into the shower and pick up the shower handle too. That's what Barron does when she is assessing a new development and she says the feel of the fixture can tell you something about the hardware being used—a handle with a bit of weight is typically going to be better quality. 
"I'm not saying you can't buy that apartment because the handle is the weight of a piece of paper, but the money spent on that construction and those finishes cannot be compared to something where they spent five or 10 times the amount of money on every fixture and shower handle," she says. She likens it to the difference between a dress made out out of cashmere versus polyester.
Pro Tip:
Looking to buy a co-op apartment? National Cooperative Bank offers competitive rates and easy pre-qualification. With 40 years of lending to buyers in New York City, NCB is the bank for co-ops. After all, Cooperative is our middle name! Call us at (646) 201-4714 or email Brittney Baldwin at [email protected].  NMLS #507535. Equal Housing Lender. 
4. What kind of hardware is used in the cabinetry? 
Before you get hung up on the type of appliance package being offered, take a look at the kitchen cabinetry. Developers may call it custom but Barron says to look at those hinges and pull out the drawers. Do the drawers slide nicely or are they sticking? If there are plastic connections and parts, it's very likely they are going to wear more easily than metal.
Barron points out Hafele mechanisms are considered by many to be the gold standard for handles, track systems, and cabinet hardware. 
5. What are the heating and ventilation 
systems?
Ductless mini-split systems are the best HVAC systems, according to Krulak. They're efficient and run on electricity. He says these systems typically give the most temperature control in your apartment. He points out an increasing emphasis on energy efficiency is shifting design away from the four- and two-pipe systems, which have been used in the past. 
If you do encounter the pipe systems and want the Ferrari versus a Hyundai, Barron says you'll want a four-pipe system, which gives you more flexibility and control than a two-pipe system. 
She points out that doesn't mean you shouldn't buy an apartment with a two-pipe system, but these are the questions you need to ask that will affect the way you live in the apartment. "If you don't ask, you might assume it's a four-pipe system when it is not—and the four-pipe is a quieter, more expensive, better system," she says.
In a larger apartment, Poore suggests making sure the HVAC has multiple zones, allowing you to set different temperatures in different areas depending on usage.
6. What kind of baseboards are installed? 
The baseboard can tell you something about the quality of the construction. At the top of the range is what's called a reveal or floating baseboard—where the wall appears to float one or two inches above the floor. This creates a clean, modern look. 
"If the developer is spending money to do a reveal between the floor and the wall, then they are spending money elsewhere. If it is just a two-by-four that they stuck to the wall and painted white, then I'd really be curious to know where else they were trying to save money," Serhant says. A good-quality, 10-inch baseboard with some molding at the top might not be as expensive as the floating baseboard but is another sign that there's been attention paid to the construction. 
7. Are there enough electrical outlets? 
There are certain codes that must be met when it comes to electrical installation and Barron says developers can go above and beyond and install more than the minimum number of outlets. She says she recently took a client into an apartment where there there was only one outlet for the entire kitchen counter. "In terms of meeting the code, the developer was OK, but by standards of luxury they were not," she says.
8. 
What type of windows are installed and do they have UV filters?
The brand of windows being use will be listed in the offering plan. Triple-pane windows will give more soundproofing and help conserve more energy than double pane. You might also want to ask about UV filters, especially if the apartment you're interested in is south facing. 
Another consideration: Whether the windows are "tilt and turn" for easy cleaning, Barron says. She points out that aesthetically, windows that have a recess of six to 10 inches on the facade often look more elegant than those that are flush to the facade. When the windows are flush, it's more cost effective for the developer but feels a little more "underwhelming" from the outside, she says. 
9. What's the weight of the doors? 
When you're viewing the apartment, open and close the doors and get a sense of their weight. "If they are hollow you are going to hear everything," Barron says. A better quality, hinged door should feel heavy to close. Take a look at the hinges too and consider the hardware that's being used.
Barron says this is particularly important if the apartment has pocket doors. "I just went into a place and they are using the least expensive track on the top of that pocket door—those are things you want to consider when you are buying a place," she says.
10. Is the flooring engineered or solid wood? 
The difference between solid wood and engineered flooring really comes down to the number of times you'll be able to sand it in the future. Solid hardwood has long been the gold standard but engineered flooring has come a long way in the past decade or so, Barron says.
At 100 Barclay, Barron says engineered floors allowed the developer to create more consistency across all the apartments. This type of flooring is also less messy to install, increasing its popularity in new construction. 
Poore points out with a solid wood floor, you're more likely to be able to change the stain or color of the wood multiple times so you want to find out ahead of time if that's possible. 
Krulak suggests looking at the tightness of the joints to see if it is a good quality installation. 
11. Is the garage in your building self-service or attended?
If you want to accommodate a car, it's important to know this because it affects the size of your assigned parking space. An attended parking garage doesn't mean someone is always on hand to park your car for you. It could just mean there's a designated person in the building with a key. Not only are parking spaces in an attended garage narrower, also less space will be provided for you to maneuver your vehicle.
It is not uncommon for developers, particularly in Brooklyn, to pack in the parking spaces in their garages and treat them as if there were attended parking when in fact there are no attendants. Measure the space to see whether you'll be able to comfortably park your vehicle in the space you are allocated. 
Brick Underground articles occasionally include the expertise of, or information about, advertising partners when relevant to the story. We will never promote an advertiser's product without making the relationship clear to our readers.