Products + Services
6 interior design services that will take your NYC apartment from meh to magazine-worthy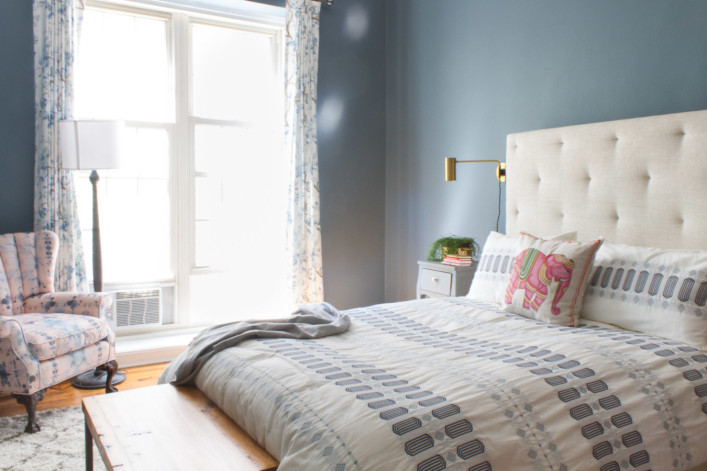 To many New Yorkers, interior design is an intimidating proposition made more complicated by the fact that our apartments are small and every piece of furniture has to work extra hard to justify its place in our space. And, too, this: How to even find a decorator—one who doesn't charge a fortune, at that? Fortunately, a slew of home design services are cropping up to help with the decorating—and they work beautifully, quickly, and affordably. 
HOMEPOLISH
The promise: Beautiful, affordable interior design by the hour
How it works: Fill out some basic info about your budget (anything from shoestring to $100,000-plus), your project (new space, renovation, furniture layout, etc.) and the space (living room, bedroom, kids room, the whole home), and then choose your level of service. Homepolish provides two types of designers—junior and senior—at different rates. The company's hand-picked designers all boast a blend of great experience, talent and communication skills. After entering your credit card info, Homepolish matches you with a designer, who comes to your home to discuss your project. After the consultation, your designer will submit a brief plan of action, including a budget and an estimate of time.
You can take that initial advice and get to work on your own or, for more hands on help, choose one of Homepolish's packages: a "single day session" includes three hours of professional design, sourcing and layout services. The "design package" is billed by-the-hour. As a bonus, when you buy a package, you gain access to Homepolish's "Swatch" program, which supplies 5-30 percent discounts at a range of retailers, like ABC Home, Crate and Barrel and Design Within Reach and more.
What it costs: The initial in-home consultation is $50 for a junior designer and $80 for a senior designer. The single day session is $300. The design package is $100 per hour for the junior designer and $130 per hour for the senior designer (with a 10-hour minimum).
What makes it unique: Face-to-face contact, in your space, with your own designer.
The promise: Interior design simplified. Interior design as it should be. Interior design demystified. Interior design for the way you live now.
How it works: The process begins with an initial one-hour consultation with one of Décor Aid's interior designers (who have less than three years working in the field), senior designers (more than three years in the field) or master designers (industry vets) to discuss your space, plans and needs. Your consultation includes on-the-spot tips and suggestions regarding furniture placements, color, accessories and more.
Based on the consultation, the Décor Aid team will create a detailed plan for your space, including an estimate of cost and a timeline for the project. Décor Aid designers bill by the hour and work with budgets and projects both big and small so, depending on how much you want to invest, you can book just a consultation, a small room refresh, a major renovation or even an hour or two of shopping trip with one of their pros (with access to Décor Aid's designer-only outlets).
What it costs: $100/hour for an interior designer, $150/hour for a senior designer and $250/hour (plus a 20 hour minimum) for a master designer.
What makes it unique: Decor Aid designers who work exclusively for the firm and the company doesn't hire anyone inexperienced. Plus, live in-person service and the company handles all purchasing and deliveries and passes along all trade discounts.
The promise: Beautiful interior design. All online. Starting at $79.
How it works: Take an online survey to pinpoint your style then upload snaps of the room(s) you want to decorate.  Next, choose from a selection of designers who match your style (each provides a style statement and a range of boards showcasing favorite objects so you can see how your aesthetics match up ) and consult with him/her by phone about your vision for the space. Five days later, your designer will turn in two design concepts. Pick the one you like best and fine-tune it (you get up to two revisions) until it's just right.
What it costs: Billed as "a small refresh for any room" the Havenly Mini ($79 per room), includes the initial phone consultation, two custom concept boards, two revisions, personalized product suggestions from well known retailers like West Elm, Restoration Hardware, plus Havenly's own unique sources and complimentary buying service. The Havenly ($199 per room) comes with everything in the Mini, plus additional revision time with your designer, final room visualization (aka a floor plan with furniture placement) and $50 towards your furniture purchases over $200.
What makes it unique: Quick (the whole process takes about two weeks), affordable, and easy for do-it-yourselfers.
The promise: Affordable online interior design
How it works: Take a style quiz, fill out a questionnaire about the room you want to design and choose between one of Laurel & Wolf's two design packages: classic and premium, which offers more experienced designers and 10 percent off items purchased through the company's Buy For Me (aka complimentary purchasing) service. Once you've chosen and paid for the package, a minimum of three Laurel & Wolf designers will "bid" for your job by submitting an initial style board (a general plan of how each envisions the space). Based on the style boards, you choose a designer that best matches your vision for the space. You and the designer will connect online to discuss your needs, and then he/she gets to work planning your space. Finally, the designer will submit a final style board, including a shopping list of items to buy, a floor plan and instructions.
What it costs: Classic: $299 per room for Classic; Premium: $499 per room
What makes it unique: Flat-rate service (there are no hourly or additional fees) and from start to finish, the entire design process is conducted online (meaning you can design your space in your pajamas!)
The promise: Affordable, fun and easy. For less than the cost of a dress, you can have an interior designer—curated and trained in the Domino aesthetic—custom-design a room for you.
How it works: Based on a style quiz, you're matched with a Havenly (Domino's design and technology partner for its interior design services) designer specially trained in Domino's signature aesthetic (a stylish but not overly-decorated mix of high and low-end merch) and product. As with Havenly, client and designer have a one-on-one consultation by phone or email to discuss the project and budget.
The designer then creates a personalized plan that's delivered within 5 days. All items in the plan— including Domino product, plus special merchandise hand selected by Domino's merchandise team and editors in keeping with the publication's signature high-low style— can be purchased via one consolidated dashboard and includes furniture, accessories and recommended placement.
What it costs: $185
What's makes it unique: Each design project is eligible to be featured on domino.com and in Domino Magazine.
DECORIST
The promise: The easiest way to beautifully design your home all online
How it works: Begin with an online style quiz that includes placing virtual furniture in a virtual space. Using that info, the site determines your design style. From there, you choose a designer level—Decorist offers three: classic (designers at the beginnings of their career), elite (designers with five plus years of experience) and celebrity (top designers like India Hicks, Celerie Kemble and Darren Brown)—and choose or have the site match you with a designer. Upload pics of our space and communicate with your designer about vision and budget.
Your designer will send you two design concepts and, based on your feedback, a final room plan including a customized room layout, clickable shopping list and detailed how-to instructions for putting it all together. Shop for the merchandise on your own or via the site with their Order For Me purchasing service.
What it costs: $199 per room for a classic designer, $499 per room for an elite designer and $799 per room for a celebrity designer
What makes it unique: Access to big name designers
Related:
Design apps to spruce up your place in 2015
Perk up your space with these 3 web shopping secrets from a Manhattan designer
A Jersey City condo makeover that doesn't break the bank
Brick Underground articles occasionally include the expertise of, or information about, advertising partners when relevant to the story. We will never promote an advertiser's product without making the relationship clear to our readers.