Review
We shopped Industry City's high-end furniture outlets with an interior designer to find a couch that would last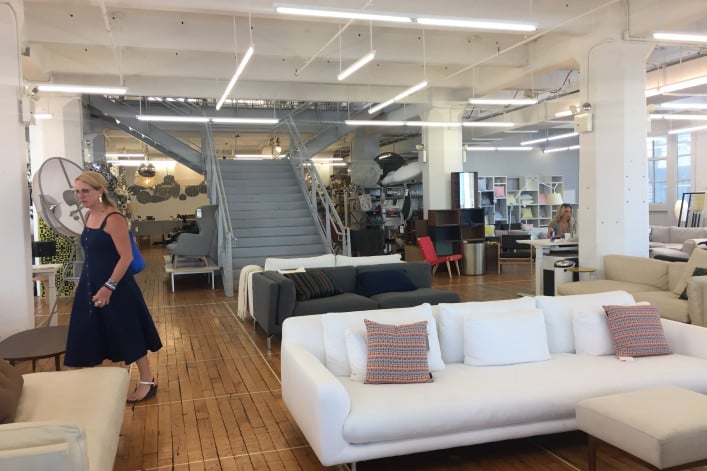 A lot is happening over at Sunset Park's Industry City. The massive, six million-square-foot complex is home to designers, manufacturers, eateries, and the Brooklyn Nets training facility. It's also got lots and lots of furniture stores.
In fact, the waterfront complex has become a one-stop shop for discounted high-end furniture, with brands such as Design Within Reach, RH (Restoration Hardware), ABC Home & Carpet, and Mitchell Gold + Bob Williams all opening outlet stores at the complex in recent years. (DWR was the first, in 2015, RH arrived in June of 2018; well-curated antique and vintage furnishings store City Foundry is set to open soon in Building Five.) 
I've been in the market for a couch for a while now. My husband and I have lived with hand-me-downs, IKEA creations, and street finds for years now and we're ready to spend more for a well-made piece of furniture. This convenient concentration of furniture vendors (offering deals, no less) seemed like a prime spot for an efficient shopping excursion. The problem is, neither of us really knows what that really means, aside from steering clear from anything that has a  leg looks like it would fall off in about a year.
So I recruited someone who does know what she's talking about to guide me on a surgical strike-style shopping trip in search of my perfect sofa: Jamie Alexander, founder of interior design firm Design-Bite and an architect, who I spoke to for Brick Underground's story on smart interior design for buildings with floor-to-ceiling windows. 
Alexander accepted the challenge with gusto, clearly not intimidated by the prospect of sorting through variables of style, color, and fabric further filtered by my particular needs. (I tend to get overwhelmed and lose focus quickly.) 
Pre-gaming our shopping trip
Like a true pro, she arrived at my house the morning of our outing with tape measure and blue painter's tape in hand. She surveyed the space to be filled, and made quick work of determining the maximum length of a piece and possible orientations accounting for traffic flow. She smartly taped off where the end of a sofa would be and put a chair in its place to get a better sense of what it would feel to have a piece of furniture there.
It was clear I was in good hands. Alexander typically charges $150 an hour and a 20 percent fee on all furniture bought through her. She's able to get some store discounts.
On the drive over, we talked about furniture quality and pricing, meaning what's well-made and "worth it" versus overpriced and just ok. She said brands such as Ligne Roset and George Smith have solid, long-lasting pieces that could almost be considered family heirlooms. She revealed that she and her husband invested in a B&B Italia sofa as their first non-IKEA-type furniture purchase. She may have even used the word "obscene" when talking about the price tag, but also noted that they've had the sofa for 17 years. Its steel frame and cover have withstood two kids, a dog (and all the abuse that comes with that) and she is only considering getting a new cover. 
Key takeaway: Where a piece of furniture is made will impact its quality. Ligne Roset furniture is made in France; George Smith, England; Restoration Hardware and Room & Board, USA; and West Elm, China and Vietnam. 
For couches, the type of cushion fill (like foam or down) and its density will impact longevity. (Too much down can start to look saggy and shabby; a foam core helps pillows keep their shape.) And a well-made, solid frame could last a lifetime. (Alexander had good things to say about all the brands at Industry City.)
Bonus insider tip: Alexander also explained that typically, stores get shipments of furniture in the early part of the week, so that items can be processed and put on the showroom floor in time for the weekend (when most people will be shopping). She had called ahead and asked for each store's "look book," a rough document with images and prices of the newly-arrived pieces—perfect for swooping in and snagging something before it's gone. While requesting one is an "in the trade" move, she says it couldn't hurt to call and ask for it.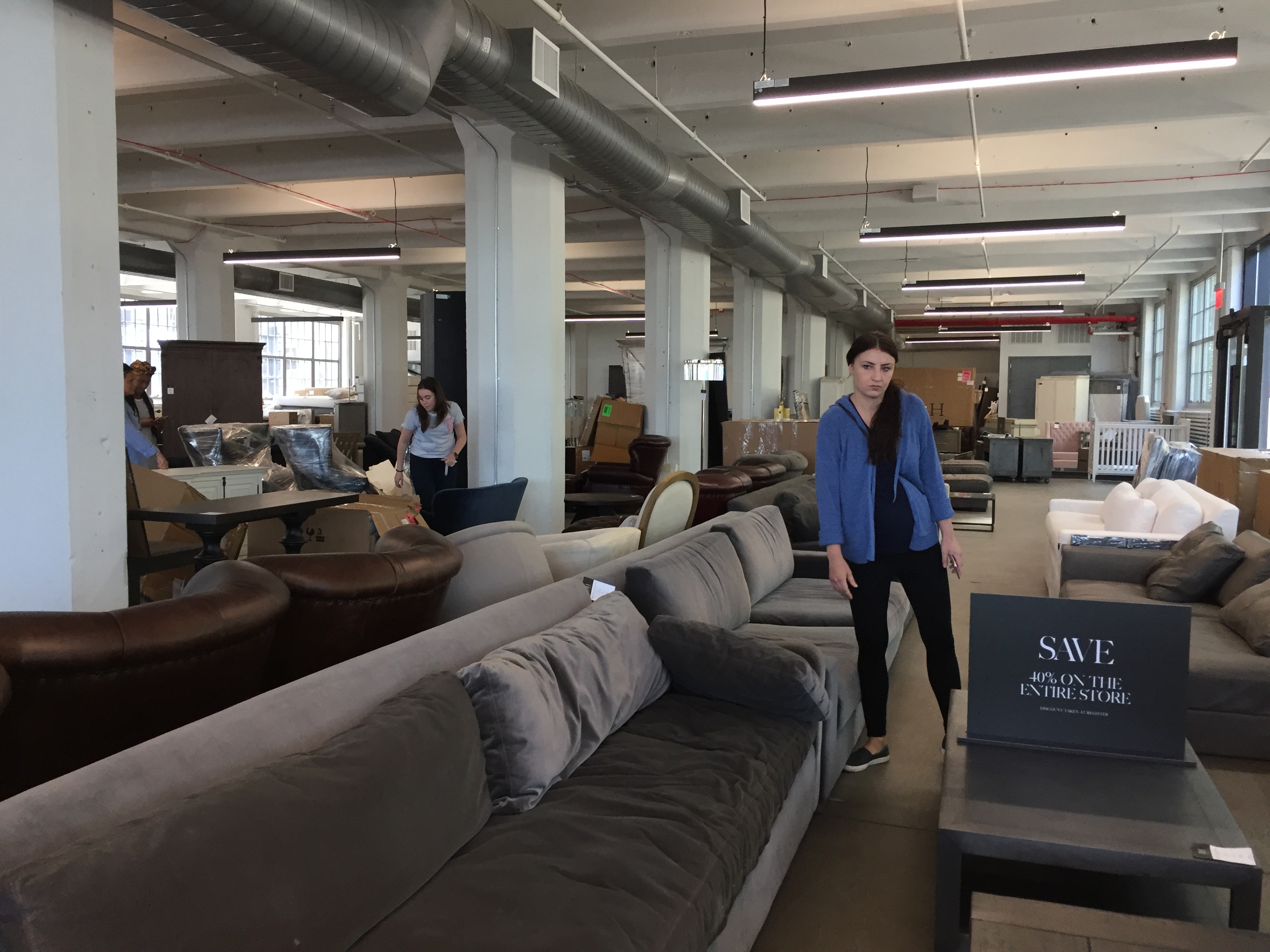 Sure enough, furniture was being unwrapped on the floor when we walked in. 
One of the nice things about all of the furniture showrooms at Industry City is that they are huge, thanks to the complex's industrial pedigree. RH furniture, known for generally being oversized, still looks gigantic in the space. It's nice, and neutral, but a quick survey of the floor confirmed that most pieces would be impossibly big for my space. A smaller, black velvet sofa with a sleek profile and silver chrome legs caught my eye and Alexander whipped out her measuring tape (a common occurrence throughout our trip), only to confirm this sofa was also too big for the space—it just looked petite in comparison to everything else around it. 
Key takeaway: Never trust your eye. Always measure. Knowing something is way too big makes it easier to move on.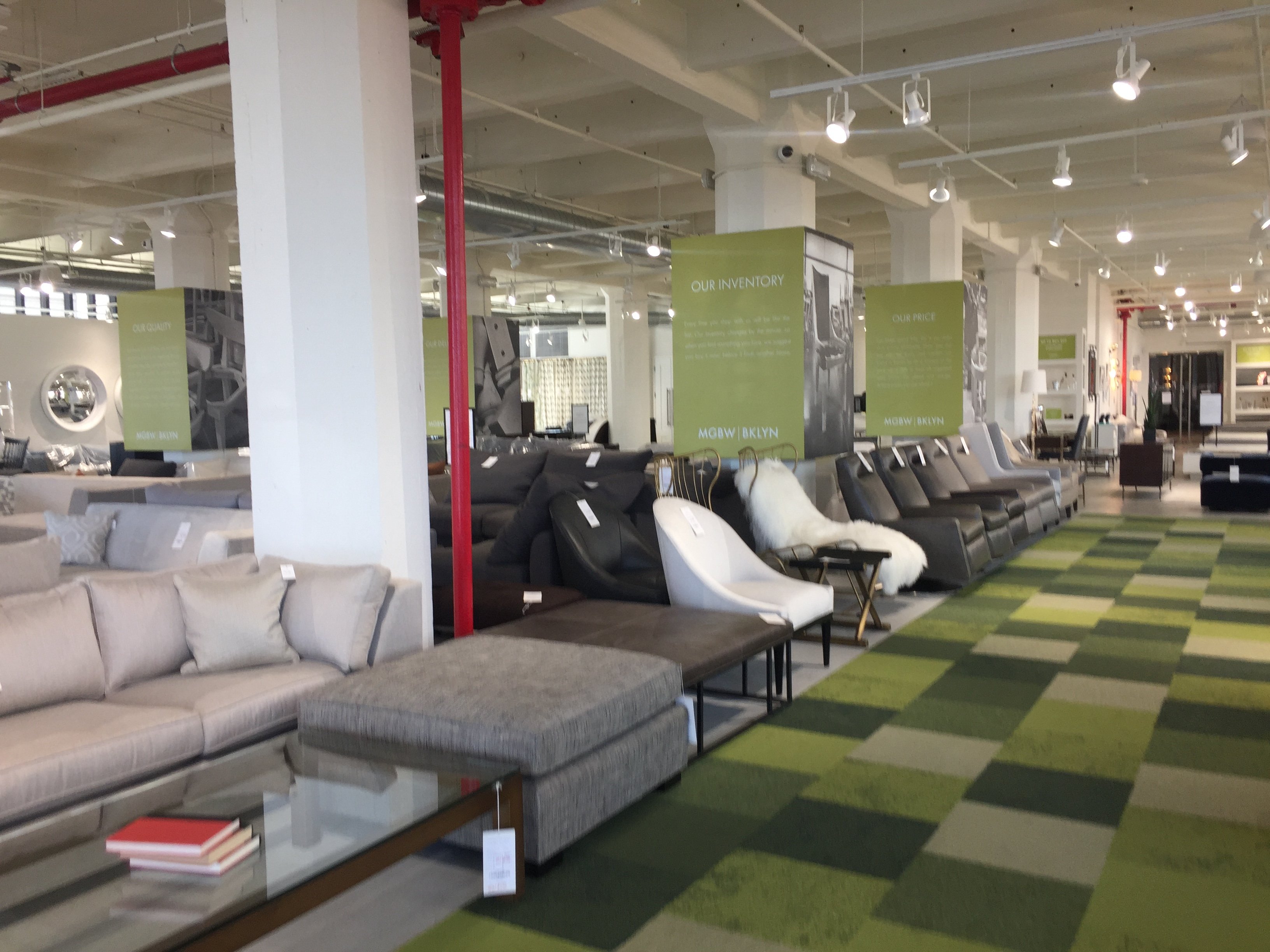 As we entered Mitchell Gold + Bob Williams, Alexander told me these sofas had hardwood frames made in North Carolina. She categorized them as "transitional" in style, and "nicely-tailored." 
We saw a more compact sofa in a nice, neutral upholstery, and Alexander noted the sofa had two different arms (something it might have taken me a while to notice), an indication that it was, in fact, part of a sectional. I wasn't sure that bothered me, especially because it was priced fairly reasonably, and the store was offering an additional discount. (I have trouble walking away from a great deal.) Some further inspection revealed some stains, and it was time to walk away. 
Key takeaway: It's an outlet, which means furniture can be there for any number of reasons: Slight damage, floor samples, or returns. So you might find some quirky stuff, like an orphaned piece of a sectional without its buddies, but if it works for you, you could get a quality item at a significant savings.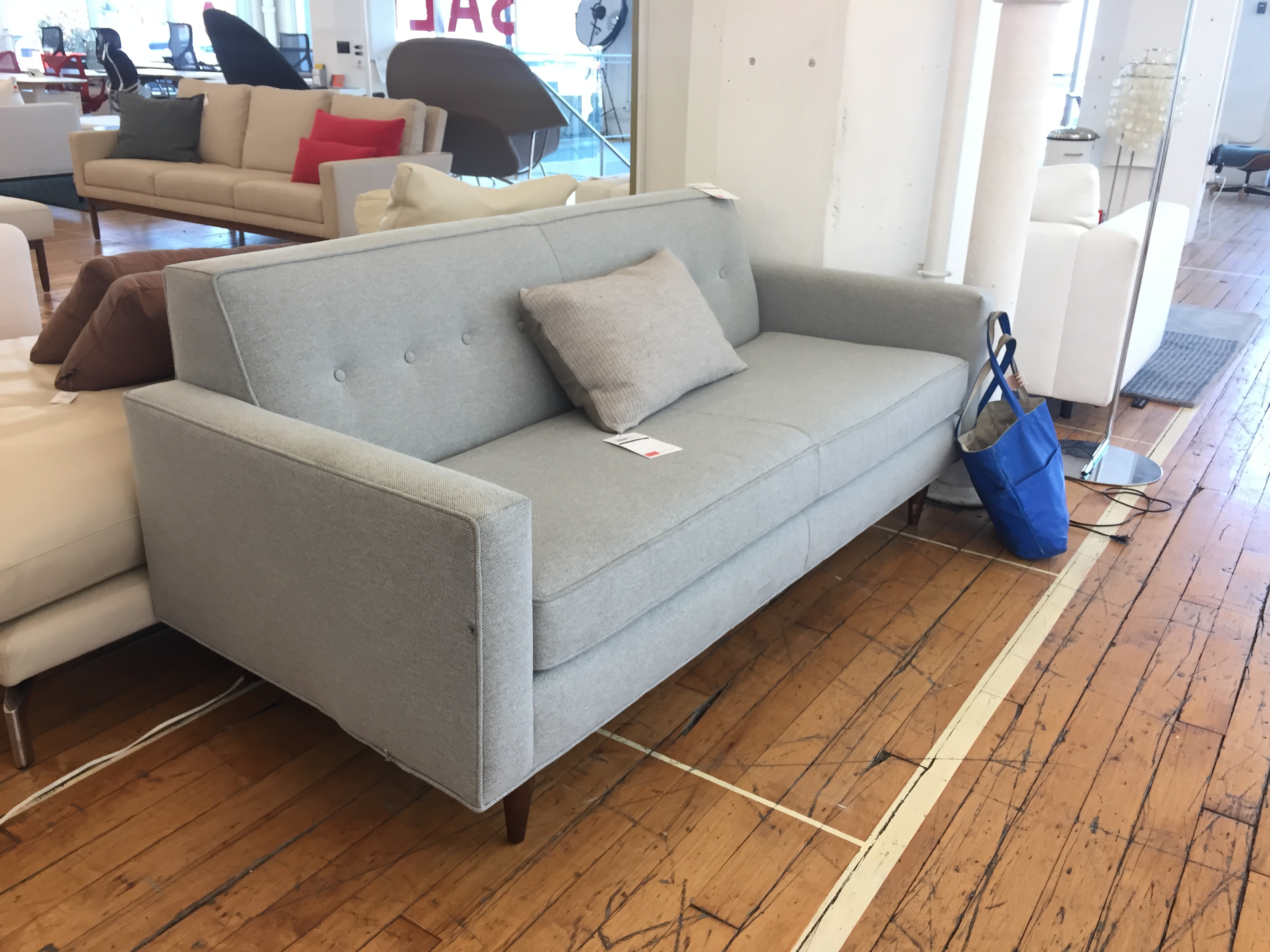 Design Within Reach has always felt kind of out of reach to me due to its prices and its too cool vibe. But Alexander seemed to be a big fan, noting the brand was a pioneer in offering well-made, relatively affordable high design furniture, and I was getting more comfortable with the idea of investing in something. 
We did, in fact, find a nice sofa, very well-priced ($1,400). Alexander spotted the tag that noted a fabric pull on the left side of the sofa, and then astutely pointed out that in one configuration we had discussed, no one would ever see the flaw. (Genius!) But it was in a light color (not practical for our household), and it seemed foolish to box myself in on placement. 
In passing, Alexander pointed out a smaller sofa with a lovely external wood frame, noting that the element would provide some visual interest when viewed from behind (which is how our couch would be used)—a situation a lot of people don't really deal with because most sofas are pushed against a wall. 
Key takeaway: If it's relevant, think about what a piece of furniture looks like from all angles. Alexander also noted that DWR has especially nice upholstery (the brand uses Edelman leather) and the outlet turned out to have some pretty good deals. For example: a king-size bed frame with storage underneath, likely on the floor due to a scuff on the headboard, which Alexander was confident could be fixed.
I'm also in the market for a new bed and mattress, and a discussion with Alexander yielded yet another insider tip: She recommended Bronx-based custom mattress company Charles H. Beckley, which supplies its horse hair-stuffed mattresses to the Ritz-Carlton. (Pricing is elusive, which is never a good sign. But what is a good night's sleep worth?)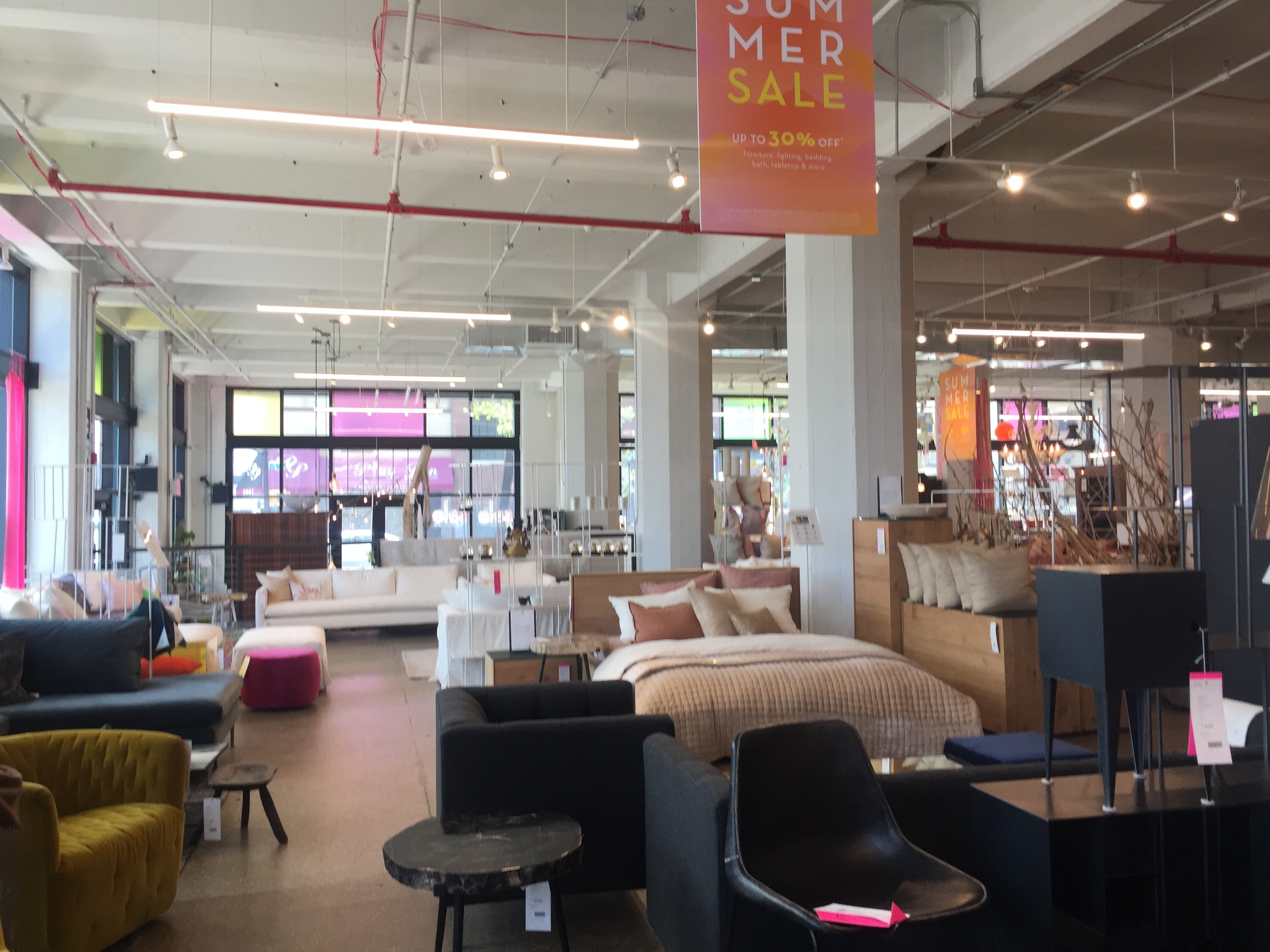 Located at the far south end of Industry City (but still a short walk from the central grouping of buildings) ABC Carpet & Home is an outlet, with discounts on furnishings and rugs, but it also serves as a showroom for its private label, dubbed "Cobble Hill" (of course) which is sold at full price. 
It's perhaps the most aesthetically-pleasing of the Industry City outlets, what with its essential "ABC-ness," a mix of Eastern, boho, and modern influences, piles of oversized rugs, velvet pillows and poufs in shades of deep pink and mandarin. (It's also got really nice light.) 
The floor samples of the private line, prominently-positioned, were upholstered in a very seductive rose and smokey purple velvet, neither of which would work in our space. But they were comfortable.
Alexander sensed potential, and after getting a spec sheet from a lovely sales assistant named Haley, it became clear that the apartment-sized version of the "boutique sofa" was close to a perfect fit to my required specs. We perused the impressive gallery of swatches and I found what was almost an exact match to the fabric we'd selected for a sofa from another retailer, and then, heartbreakingly, told it was no longer available. (They didn't have one that I could take home, but promised to send one out that day.) We could even order a matching ottoman, which we'd planned to do. 
I think both Alexander and I initially had limited expectations of ABC, but it seemed the sofa stars were aligning.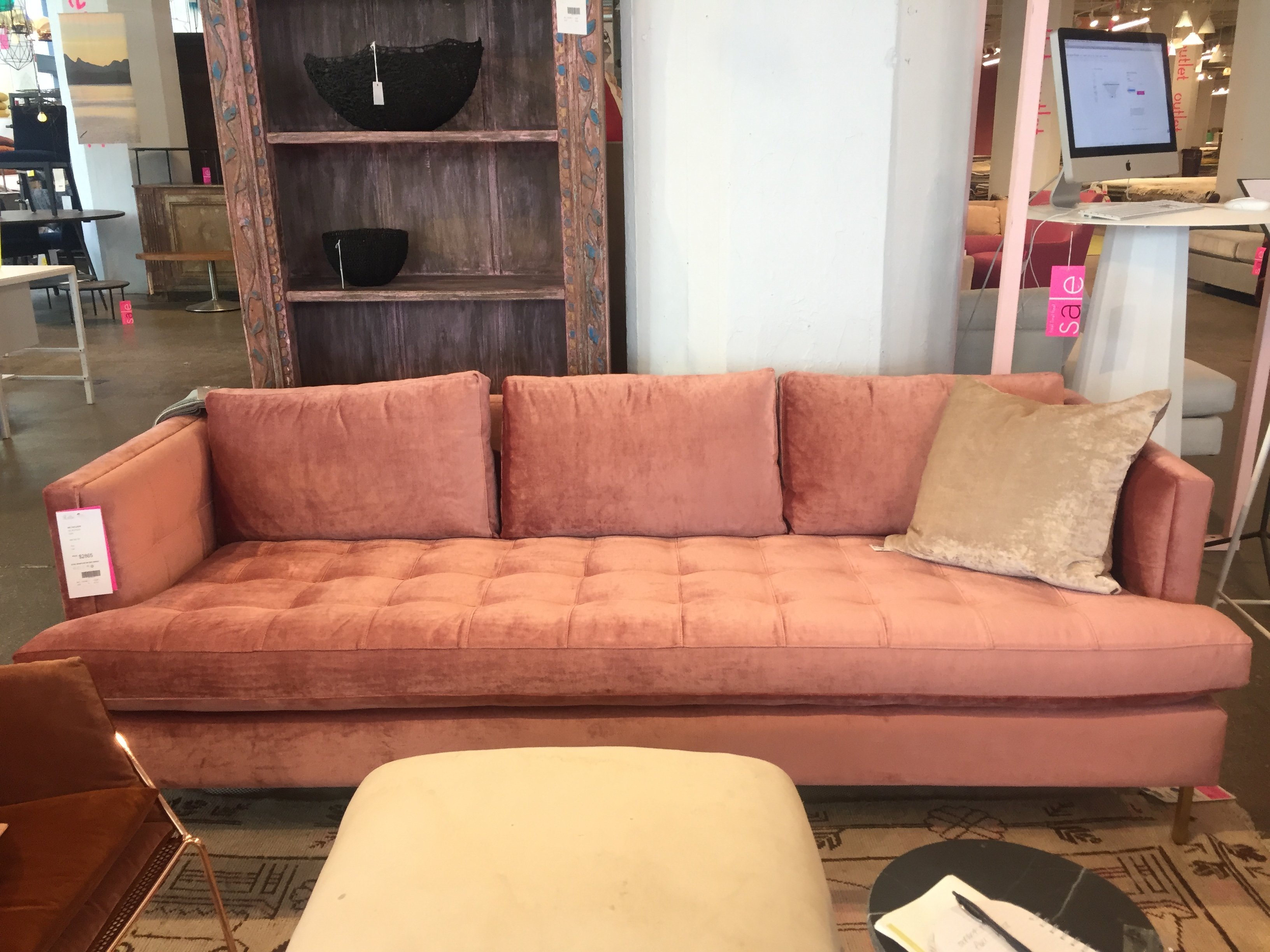 Epilogue
To seal the deal, my husband had to go and sit on the sofa. (He did the next day and declared it "comfortable.") The swatch arrived the next day via express mail; this was a stark contrast to my efforts to get a swatch from another retailer, which involved ordering it online twice, calling once, and still never receiving the sample. 
Because I sweat major purchases like this, I pulled up the couch from the other retailer we'd been considering, which was about half the price of the "Cobble Hill." Of course, it was now available in the fabric we were told was discontinued. And on sale. 
I panicked, and sought the advice of my design guru. She broke it down for me. Here's what she said to talk me off the ledge:
1. The cheaper sofa is made from engineered wood not solid hardwood. 
2. It has wood legs not metal (She likes the metal better). 
3. The cushions have no down content, just foam and fiber.
4. She suspects the upholstery fabric content is similar. 
5. She can't tell me that the ABC one is worth two-times more, but it is better made and will probably be more comfortable and hold up better in the long run. 
Dear reader, we bought the ABC Carpet & Home sofa. It arrives in 10-12 weeks. (It even comes with a free "survey"—that is, they come to your place and measure the doorways to make sure it will fit, giving you the option to cancel the order before it goes into production.) 
Key takeaway: Shopping with an interior designer is a luxury, but totally worth it. 


 
Brick Underground articles occasionally include the expertise of, or information about, advertising partners when relevant to the story. We will never promote an advertiser's product without making the relationship clear to our readers.