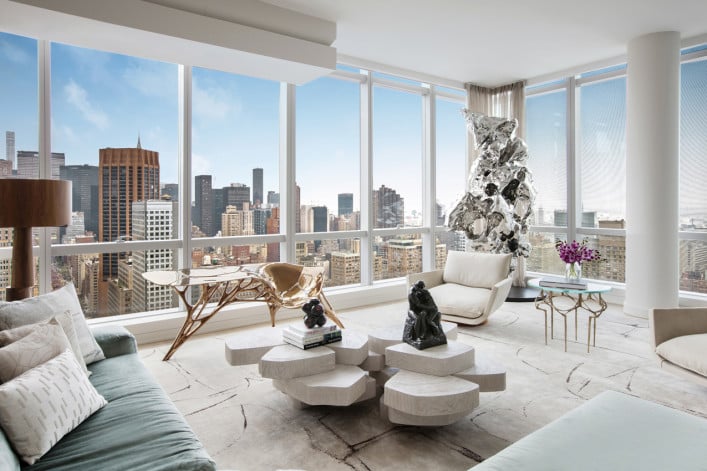 One of the special things about living in New York City is that in many areas, especially if you live on a higher floor, you can have a pretty spectacular view. It might not be the Chrysler Building perfectly framed by your living room window, but it could very well include some water, bridges, or a swath of the Manhattan (or another borough's) skyline.
Apartments with floor-to-ceiling windows maximize the impact of those views. Initially a wow-worthy selling feature in pricey projects by architects like Richard Meier, who is credited with making glass residential buildings popular in New York City, floor-to-ceiling windows are now common at a broader range of prices, which means these days more New Yorkers are living with them.
But as desirable as floor-to-ceiling windows are, living with them can present challenges when it comes to furniture placement, privacy, and even temperature control.
Brooklyn-based interior designer and architect Jamie Alexander, who has clients in Meier's On Prospect Park in Park Slope, as well as in the more recently-constructed glass-walled condos along Brooklyn's Fourth Avenue, says despite the challenges, she's never seen buyer's remorse, even from those who didn't completely think through all the issues a glass wall or two could present. "No one's ever regretted it. There's no way to create more light if you don't have it," she says.
To find out the best ways to showcase your walls of glass and the views they provide, and deal with the issues they can present, Brick Underground surveyed a few interior designers who have done it. Here's what they advise.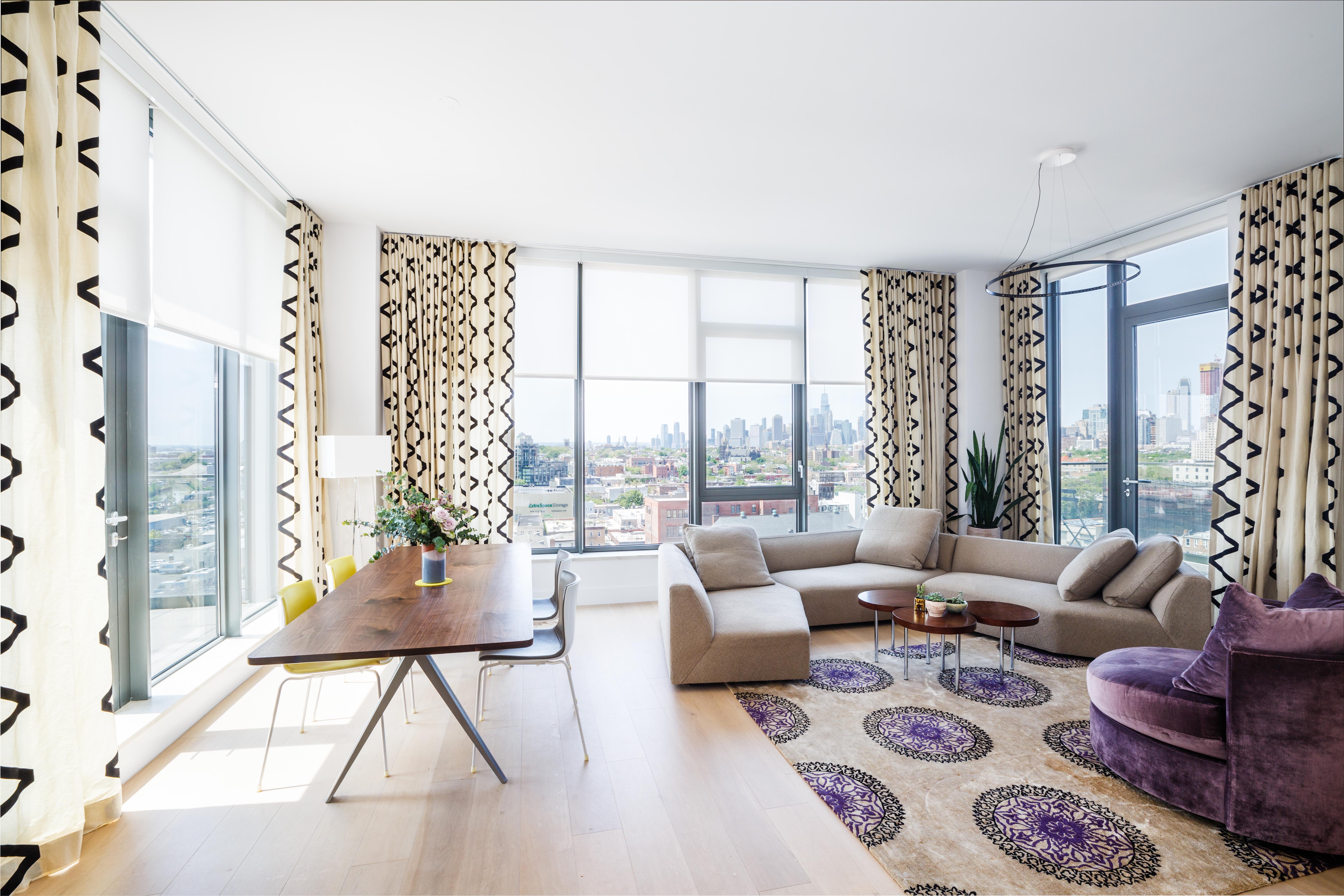 Accentuate the view
Of course, if you've paid the money for those windows, you're going to want to make the most of them. That means framing the view well. Alexander likes to use drapery in a bold pattern or texture. "That can take a gorgeous view to the next level," she says.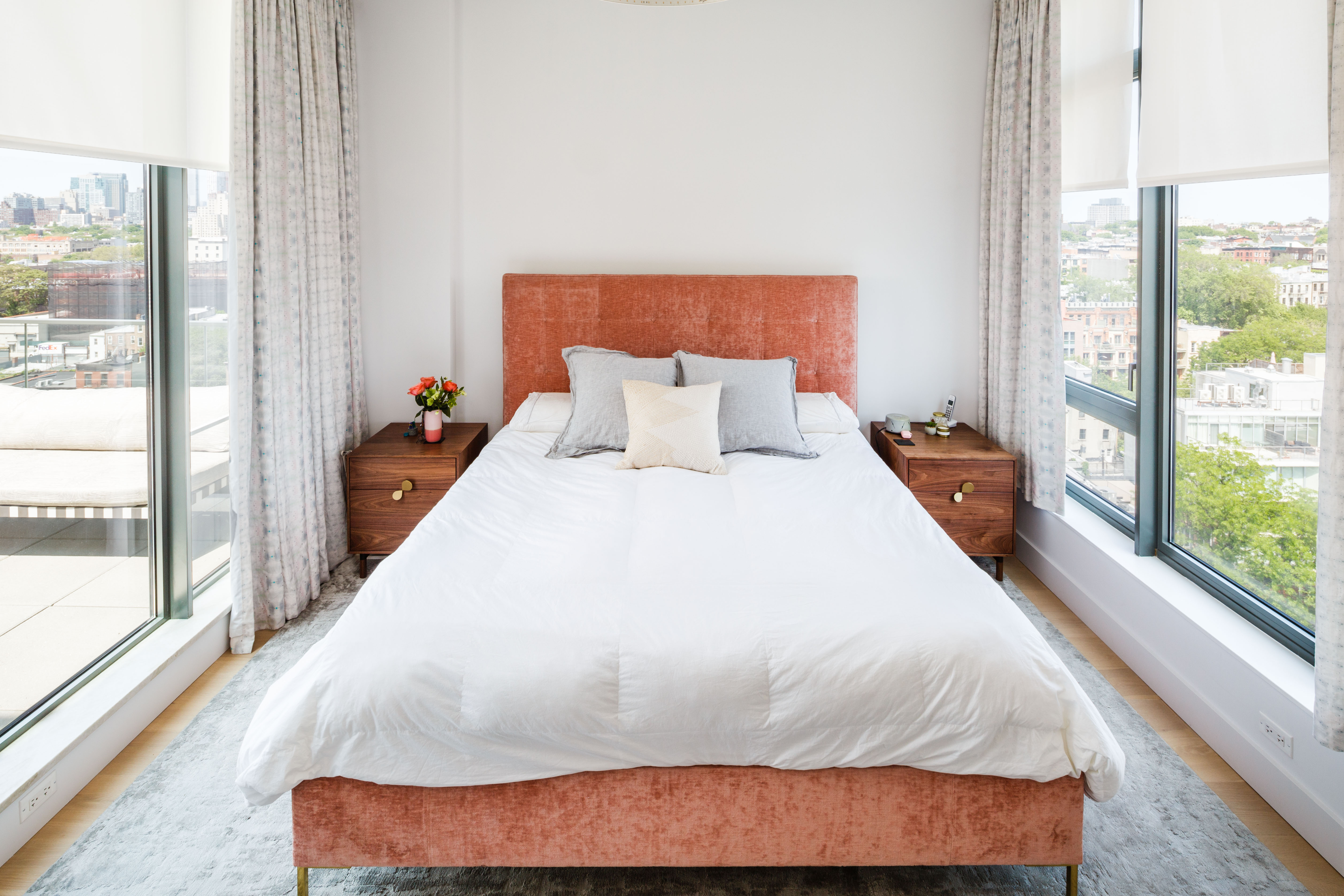 But lose it—and the light—when you need to
Having really big windows means a clear view out, but of course, it also means a clear view in—especially at night. "Living in an apartment with floor-to-ceiling windows can also feel like living in a fishbowl," says Alexander. You'll want to be able to close the drapes easily, and blackout curtains or blinds are essential for any room where someone sleeps.
"In bathrooms or other areas where privacy is a concern, we often do a film on the window or have a door built in that serves as a shield," says Jessica Iwaniec, design director of Pembrooke & Ives, which designed the interiors for the model apartments at The Park Loggia. 
Think about UV rays, and glare
All that light does have some downsides, including fading everything from fabric to fine art, as well as annoying glare on any kind of screen. Solar shades, which allow light in but block glare and protect from sun damage, will help with this. They come in varying degrees of opacity, so installing them doesn't mean losing your view. Iwaniec likes Lutron solar shades.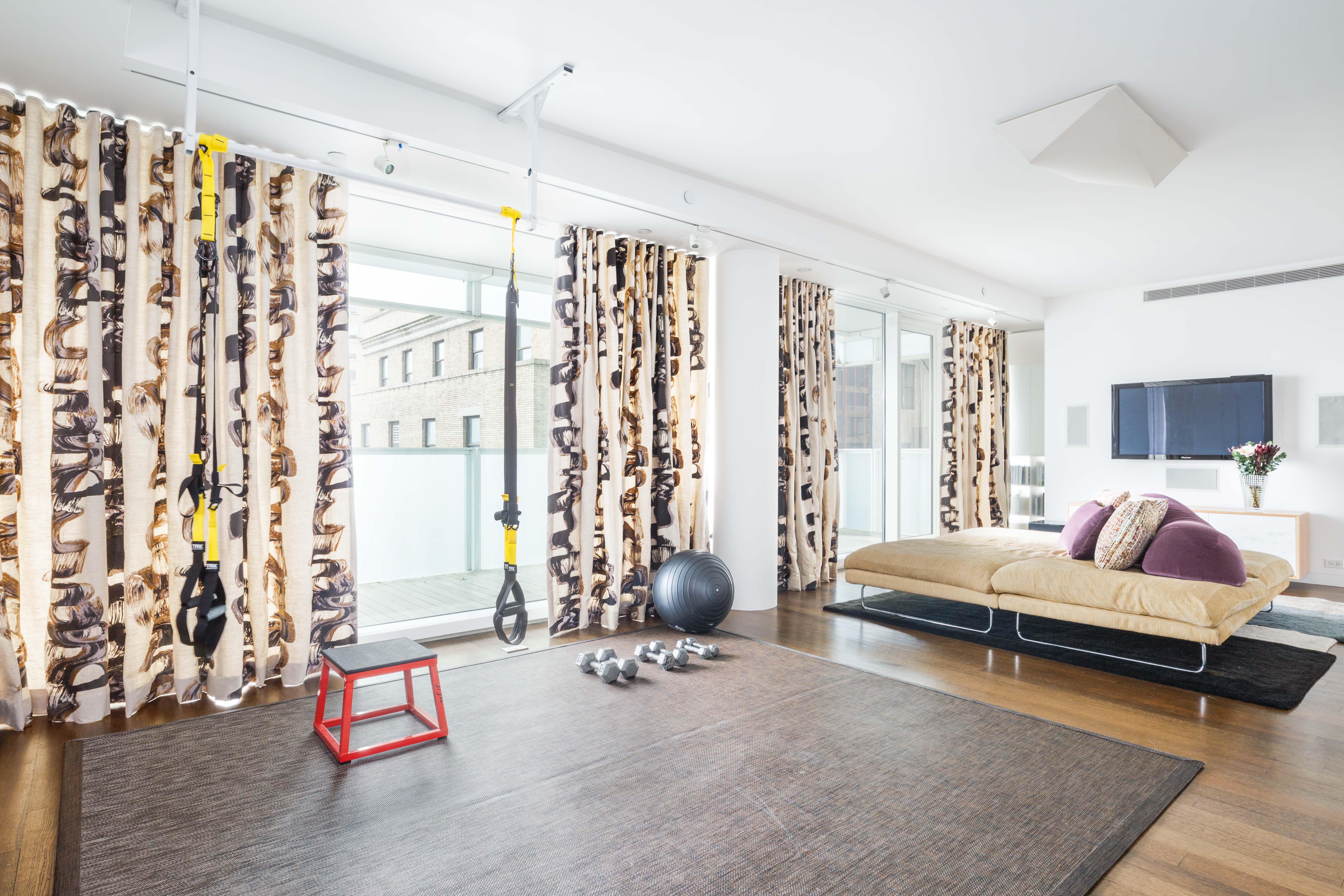 Don't skimp on window treatment installation
It may be tempting to try to save some money on what will likely be a hefty expenditure, but there are a few reasons why you shouldn't.
For one, it's rare that ceilings and floors are perfectly parallel. "[Professional installers] will measure in a way most non-professionals won't," says Alexander. Correct measurements will ensure the fabric is finished properly on the bottom.
Secondly, the weight of the fabric is not insignificant, and you want someone who knows the proper hardware needed for the job.
"It's not cheap and you want to get it right, because it's a very expensive mistake if you don't," says Alexander.
Quality fabric is important, too—you don't want it to stretch. Iwaniec recommends Hartmann & Forbes for window treatment materials.
Strategic placement of furniture and showpieces
A wall of windows in some ways means one less wall to put furniture against, which can be challenging when it comes to the placement of pieces. For example, the spot where you might instinctively put a sofa in a living room without a glass wall may not work if one wall is transparent. Putting a desk in front of a window will cause eye fatigue if you're looking at a computer screen.
A solution Alexander suggests is to float a more sculptural sofa in the living space, and place smaller, occasional pieces such as console tables along a window. She's also had success running a dining table in line with a glass wall, with a mirror positioned on the opposite side, creating a dramatic "glass room" of sorts.
To create a gracious and airy feel, Nancy Ruddy, co-founder of architecture and design firm CetraRuddy, which designed the Upper West Side building Dahlia, recommends positioning furniture about two feet from the windows, so sofas and chairs aren't right up against the glass.
"Arranging furniture so it is well-proportioned and centered in the room helps also, and you should be careful not to block key sight lines," she says.
Iwaniec points out that since you're likely dealing with a fair amount of fabric in your drapery, it's important to allow space for the "stack" created when the curtains are open.
One opportunity a large window creates is that it can provide a dramatic place to showcase a piece of art or decorative object.
Flexibility of use (and residents)
Alexander points out that sometimes a room needs to accommodate more than one purpose, which may be in conflict. "Day and night may be different scenarios," she says. (For example, a bedroom where you need to sleep, or an office where you need to work, but where you also want to enjoy the view.)
Here, she often enlists custom-made furniture that can serve multiple functions, as well as furniture that swivels, or is easy to move. "Flexibility becomes part of the lifestyle," she says.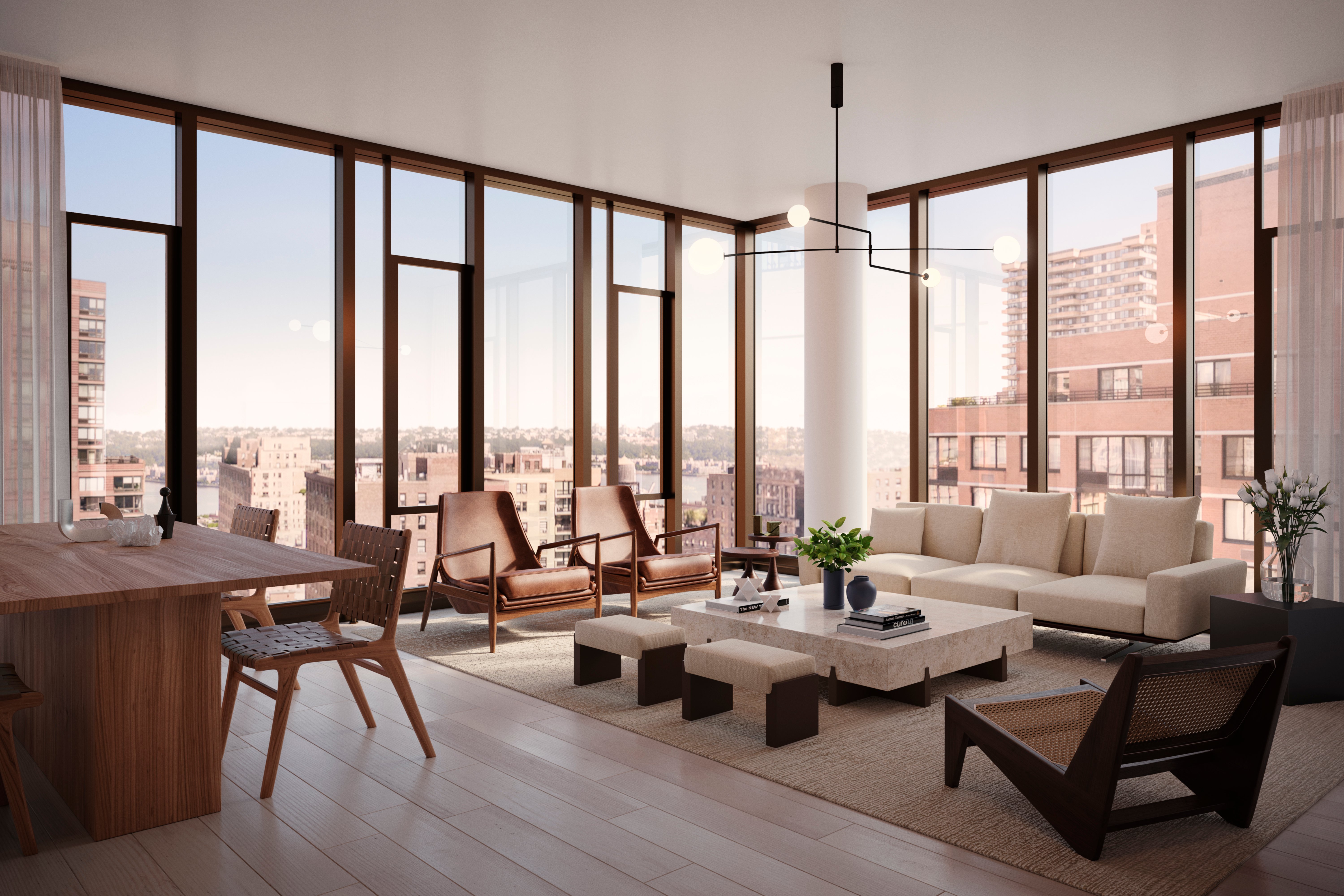 Budget for heating and cooling
While not really an interior design consideration, apartments with floor-to-ceiling windows get hot in the summer and cold in the winter. Glass just doesn't insulate as well as brick or plaster. Expect your energy bill to go up. One of Alexander's clients told her, "I never thought I'd spend so much heating and cooling my apartment."
However window treatments will function as both an aesthetic element and help with climate control.
"Well thought-out window treatments can add a sense of depth to floor-to-ceiling windows, enhance privacy when desired, and help manage temperature," says Ruddy. "At Dahlia, we integrated attractive window shades into a Crestron home automation system that also controls lighting and HVAC—making it easy to tailor your environment to the mood or time of day."
Brick Underground articles occasionally include the expertise of, or information about, advertising partners when relevant to the story. We will never promote an advertiser's product without making the relationship clear to our readers.