Products + Services
9 reasons to add smart lighting to your NYC apartment or brownstone
You can turn on or off all lights with one button or voice command
Save on energy costs and use environmentally friendly LEDs
Costs range from $30 smart bulbs to six-figure custom installations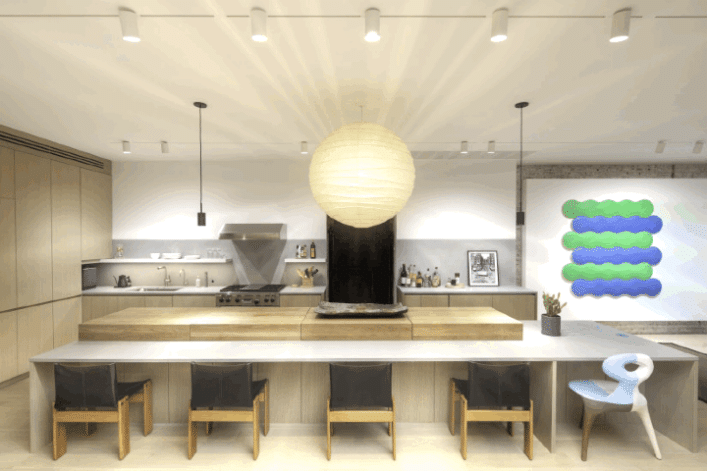 Courtesy of Lucifer Lighting
Have you been tinkering with updating your New York City apartment or townhouse with smart technology? Of all the smart functions, lighting is often what drives many people to hop on board the tech bandwagon, and for different reasons—energy efficiency, wellness, and convenience topping the list.
More recently, however, smart lighting has taken on a new cachet. "People are looking for bells and whistles, and ultimately smart lighting is the new luxury," says Alyssa Knowlton, an agent at Corcoran. 
Danielle Morreale, another agent at Corcoran, adds that lighting is often integrated into a broader system with other features such as window shades and radiant flooring that you can control from your smartphone—and program everything so you wake up or arrive home to a cozy scene. "It adds that luxurious piece to your life."
Sure enough, Christopher Piechota, founder of Christopher William Lifestyle Technology, a NYC-based design and installation firm, says that smart lighting is often part of a whole smart home integration but is just as often the sole driver. And you don't need to embark on a full-scale renovation to implement the technology.
He says Crestron and Lutron are the main players in the field (he has also worked with Lucifer Lighting, shown at top), all of which integrate with smart home assistants, including Josh ai, "a terrific proprietary system that's not driven by big tech and solely for the home." 
It's worth noting that smart lighting has become a popular feature at new condo developments, too, including at One United Nations Park and 7W57. "It's part of the whole in-unit amenity package," Morreale says.
So if you've been considering whether to embrace smart lighting, here are some reasons that might nudge the needle toward yes. 
1. You can control everything with one button or command
Tara King-Brown, a broker at Corcoran, says most of her clients are installing these systems to program recessed lights and fixtures so when you are leaving the home you can just click the all-off button—or give the "all off" voice command to your smart home assistant. (And not for nothing, brokers love being able to click the "all-on" button when showing properties.)
Vickey Barron, a broker at Compass, agrees: No one wants to run through a townhouse to turn on and off all the lights—you just want to be able to push one button.
2. It's eco-friendly and saves on energy costs
Because smart lighting works with LEDs, it uses as much as 90 percent less energy than incandescent bulbs and lasts as long as 25 years. 
Smart bulbs do draw energy even when off, but experts say that's minimal in comparison to what you will save by using LEDS and by being able to program the lights to only come on when you need them—and to shut them off remotely if you ever forget to do so in the mad dash out the door (or as you fall asleep).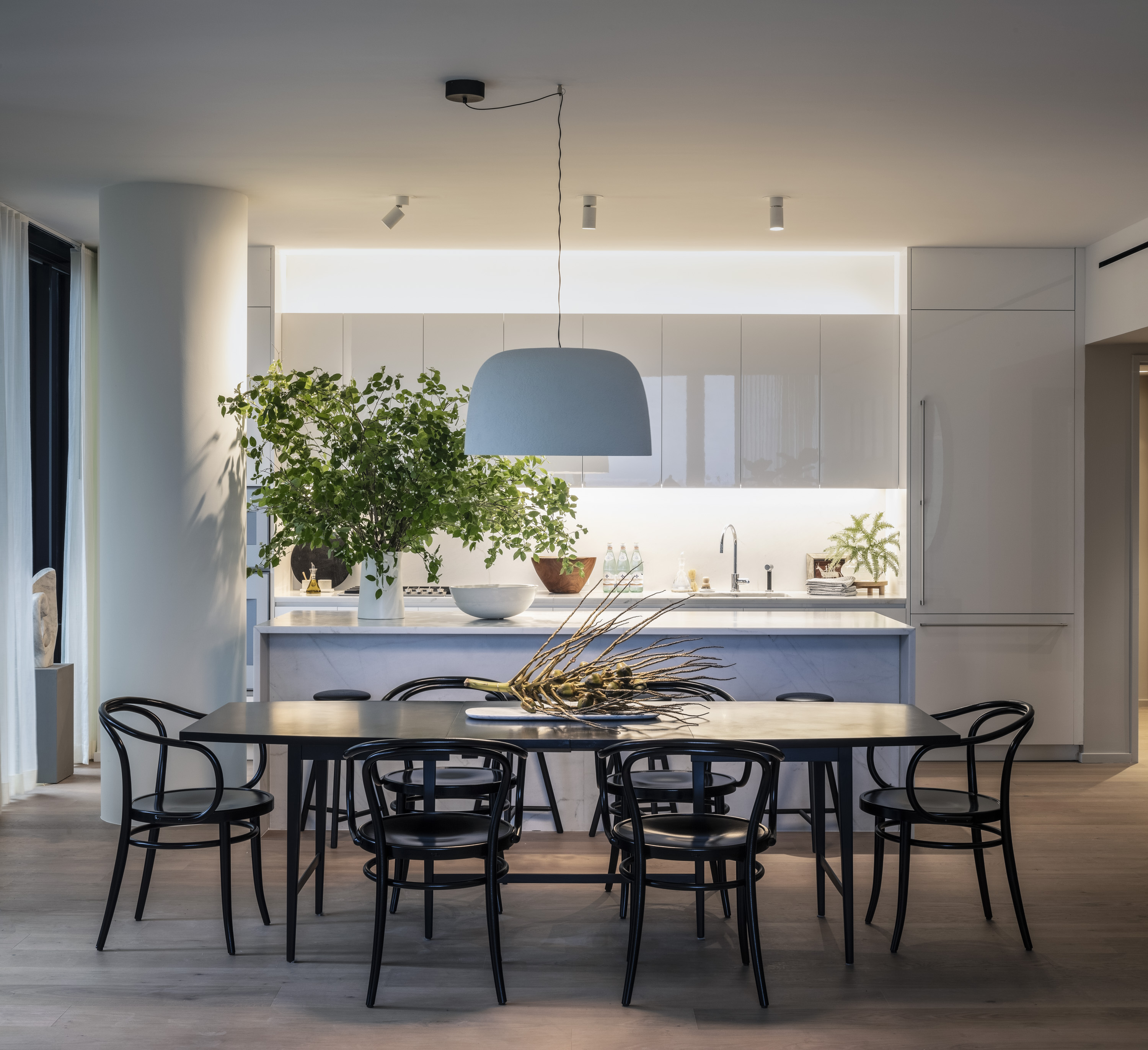 3. You can use it to define multifunctional spaces
A big way lighting in general is being used these days is in helping people navigate multi-functional spaces now that homes have taken on more roles, Knowlton says. "So being able to use smart lighting to change what that room or area is being used for is an interesting angle." 
That's especially helpful now that people are spending more time at home and using every square inch of their apartments. For example, Morreale says a home office that does double duty as a media room could be programmed for brighter "work mode" by day and "prime time" with moodier lighting at night.
"So smart lighting allows you to fine-tune a space depending on who is occupying it at any given time," she says. A shared bathroom for instance could go from dazzling when the kids are getting ready for school to serene and spa-like when Mom needs her quiet time.
Or take a cue from one of Piechota's clients, who wanted only the lights down the hallway to turn on at 4:30 a.m. when he woke up so they wouldn't wake up his wife. Call it considerate lighting. 
4. You can create a comfort zone with color temperature
According to Piechota, the true goal for lighting these days is moving away from the heavy yellows of halogen and fluorescent bulbs and delivering light that approximates the change of outdoor sunlight inside the home. So imagine the light gradually increasing in the morning and then waning in the afternoon and evening—all achieved by programming that can be tweaked to suit your own preferences and the seasons.
That's the idea behind the lighting in the common areas of the newly launched UWS condo conversion 212 W72, where (per its website) soft lighting in the double-height lobby and passageway leading to the residences is designed to "transport residents from the vibrant activity of city life to the peacefulness of home." And architecture and design firm CetraRuddy used warmer lighting in the lounge (above) and fitness center, too. 
5. You can play with different hues
Morreale says people have been using colored lights to add different vibes to each room. This is especially popular in a kid's room or play area—or in the primary bathroom where you can afford to have some fun. (Check out the example by Amy Green Design in Brick's guide to greening your renovation.)
Better yet, you can transform your spare bedroom—or entire studio apartment—into a home workout space (we see you Obé!) by using the wifi-controlled, compact, and freestanding LIFX Color smart light that features "billions of colors as well as a huge cool-to-warm range of whites." (Get this: It will only set you back thirty bucks.) The company also makes smart switches, downlights (for recessed lighting), and lightstrips (for mounting under a cabinet or kitchen island).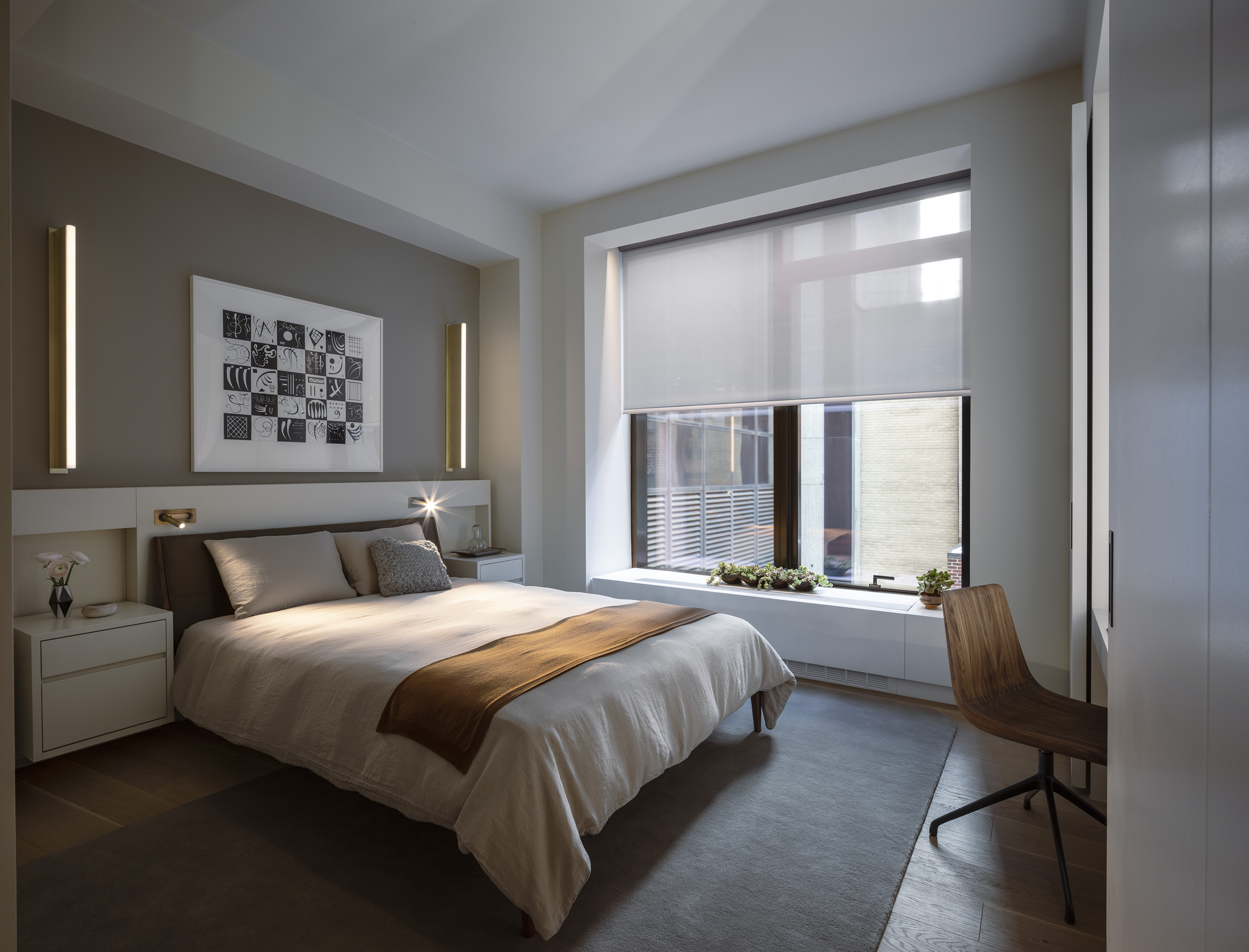 6. It can help you get your ZZZZs
Morreale is seeing more and more families who like to program the lights to come on and the shades to go up in the morning to get their children out of bed and alleviate that busy school-day routine. 
The same goes for having the shades lower and the lights dim close to bedtime to ease that transition time, for both children and adults—and to promote better sleep. Studies show that certain types of light help regulate circadian rhythm. 
Barron sees the whole wave of lighting for health and well-being (such as "human-centric lighting" by Ketra) as becoming more popular with buyers, too. 
After all, hotels have introduced designated "wellness" rooms where the lighting is designed to calm you down at night. (For example, all rooms at EVEN Hotels, which have three locations in NYC, feature mood-changing LED lights.) And people are always looking to replicate a hotel experience in their own home.
You can also find lots of smart sleep lights, such as by Casper (for $129).
7. There's a solution for every budget 
You don't have to go whole hog on smart lighting. There are plenty of affordable solutions out there these days. 
You can start by swapping out all your bulbs with smart bulbs (such as by Phillips). 
Barron pointed out that Lutron for example offers an à la carte option in case you just want to control the lighting in one or two rooms instead of the entire home. Or you can buy and easily install stand-alone dimmer switches with smart technology embedded in them and "occupancy" sensors that turn on and off when someone enters or leaves a room. "There are also adapters for outlets so whatever device you plug into you can control the same way you would with a more complicated system."
Another tip: She says Lutron's battery-operated shades work well and the batteries last a decent amount of time. (Pricing starts at $399; battery life is anywhere from two to five years depending on usage.) 
Morreales is seeing an uptick in LED lightstrips as design elements on a wall (almost as artwork), under cabinetry, or in closet build-outs where maybe the owner wants to highlight certain details or a sizable shoe or handbag collection. "It's a nice touch that's maybe just for yourself but helps elevates the space."
8. It can be part of a complete smart home system
That said, if you want to go whole hog on lighting, you can do that too, but it will cost you. The entry point for smart home design and installation can be in the five figures (Piechota says $50,000 to $75,000 is his baseline) and go well into the high sixes depending on the size of your space and the scope of the project, such as adding HVAC, audio/visual, and security to create a complete smart home.
"If we are dealing with an owner who has moved into a new development or has recently undergone a gut renovation, we can do 'after-work' or 'after-market' solutions where we replace manual switches and shades throughout the home with wireless ones and give the experience without having to open up walls." Or he can do a patch-and-paint work as well in case there's any rewiring that needs to be done (requiring pulling a permit). 
For an apartment on Central Park South, he's currently exploring a "soft upgrade" where part of the infrastructure is being replaced to realign the lighting and make the experience more appealing, with a welcome button at the entrance that resets all the lighting (and in this case music). 
At the other price extreme is a recent project at Beckford House & Towers on the Upper East Side, where a family devised a multi-featured smart home for their five-bedroom apartment. "It was basically a white box when we arrived so we were able to carry out the owners' vision." 
Should you decide to go this route, Piechota says he will work with you to program the lighting and other elements exactly to your specs—and then after a two-week trial run make any necessary adjustments. 
9. It can boost resale value
Tech is here to stay and it's only going to continue to evolve, so investing in any smart home system is going to instantly add value—especially for younger clientele (or really all New Yorkers, who are nothing if not on the cutting edge). 
"When buyers enter a property with a Lutron or Crestron system or any kind of lighting upgrade, that wow factor becomes a really good selling point because it's something they don't have to do themselves, it's well-planned and well-constructed, and allows them to have a seamless experience in the home," Morreale says.
Or as Piechota sees it, "Because of the inevitable turnover in NYC, we like to say we are preparing for future homeowners five to six years from now." 
Besides, now that NYC is becoming the new Los Angeles, wellness is where it's at—and smart lighting is one way to get you there. 
Brick Underground articles occasionally include the expertise of, or information about, advertising partners when relevant to the story. We will never promote an advertiser's product without making the relationship clear to our readers.