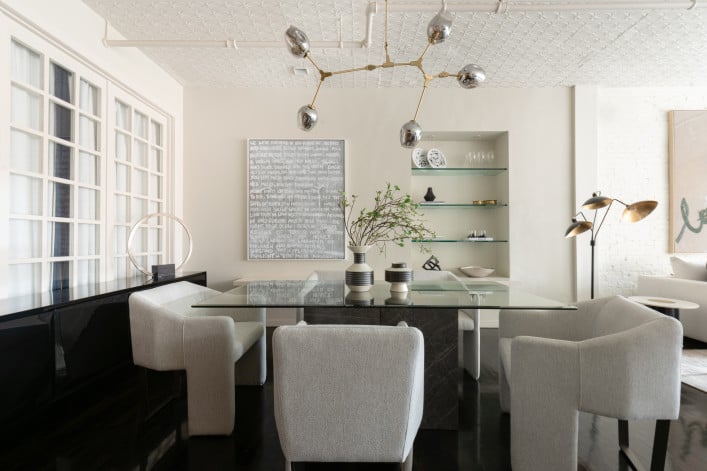 What if you could wake up a tired space with the flick of a switch? By swapping out the lighting in your New York City apartment or brownstone, you can do just that. The right fixture (or LED bulb!) can instantly transform a room, taking it from drab to dazzling—and without you having to do major work. 
Using the best lighting is key for sellers who want to showcase a space and make it appear fresh and updated, because bad lighting can definitely date your space. Brokers and stagers told Brick they typically have to tweak what sellers have.
"Replacing fixtures is an easier fix than painting a whole room or refinishing the floors," says Allison Chiaramonte, an agent at Warburg Realty. You'll want to banish so-called romantic mood lighting—buyers like bright rooms. 
Tara King Brown, a broker at Corcoran and lead sales agent for the luxury condo conversion 100 Barclay in Tribeca, says lighting makes the best impact from a buyer's perspective and translates directly into a higher sales price.
But good lighting doesn't necessarily have to cost a fortune. "There are so many ways to do it inexpensively with stylish pieces that look like they are from a higher-end retailer," says Michael J. Franco, a broker at Compass. He shops Wayfair and Overstock to stage his listings. 
And even if you're not moving, or don't plan to be moving anytime soon, it's one of those projects that offers owners lots of bang for the buck.
"Done correctly, lighting pulls together the bones of the place in a way that you can't otherwise accomplish," says Maryana Grinshpun, principal of Mammoth Projects, a Brooklyn architecture and design firm. It's especially important when trying to make a good first impression. "Lighting is the first thing your eye lands on, so when you are creating a narrative, it's the easiest way to open the story," she says. 
Know that there are two types of lighting: functional (or ambient), often in the form of recessed lighting or a series of pendants; and statement lighting that doubles as decor. The idea is to invest in both. You'll want a variety of fixtures that serve both purposes.
"The blending of lighting at different levels, such as recessed lighting, pendants, and table lamps, is what makes a space feel complete and allows you to create different moods," says Ashley Quinn, vice president of creative services at Interior Marketing Group, which specializes in staging. For sure it allows you to anchor and delineate the dining and living areas in an open floor plan. For example, parking a floor lamp in a corner next to an armchair creates a reading nook.
Read on to see how different types of lighting elevates each of the NYC apartments and townhouses featured below—some of which are on the market.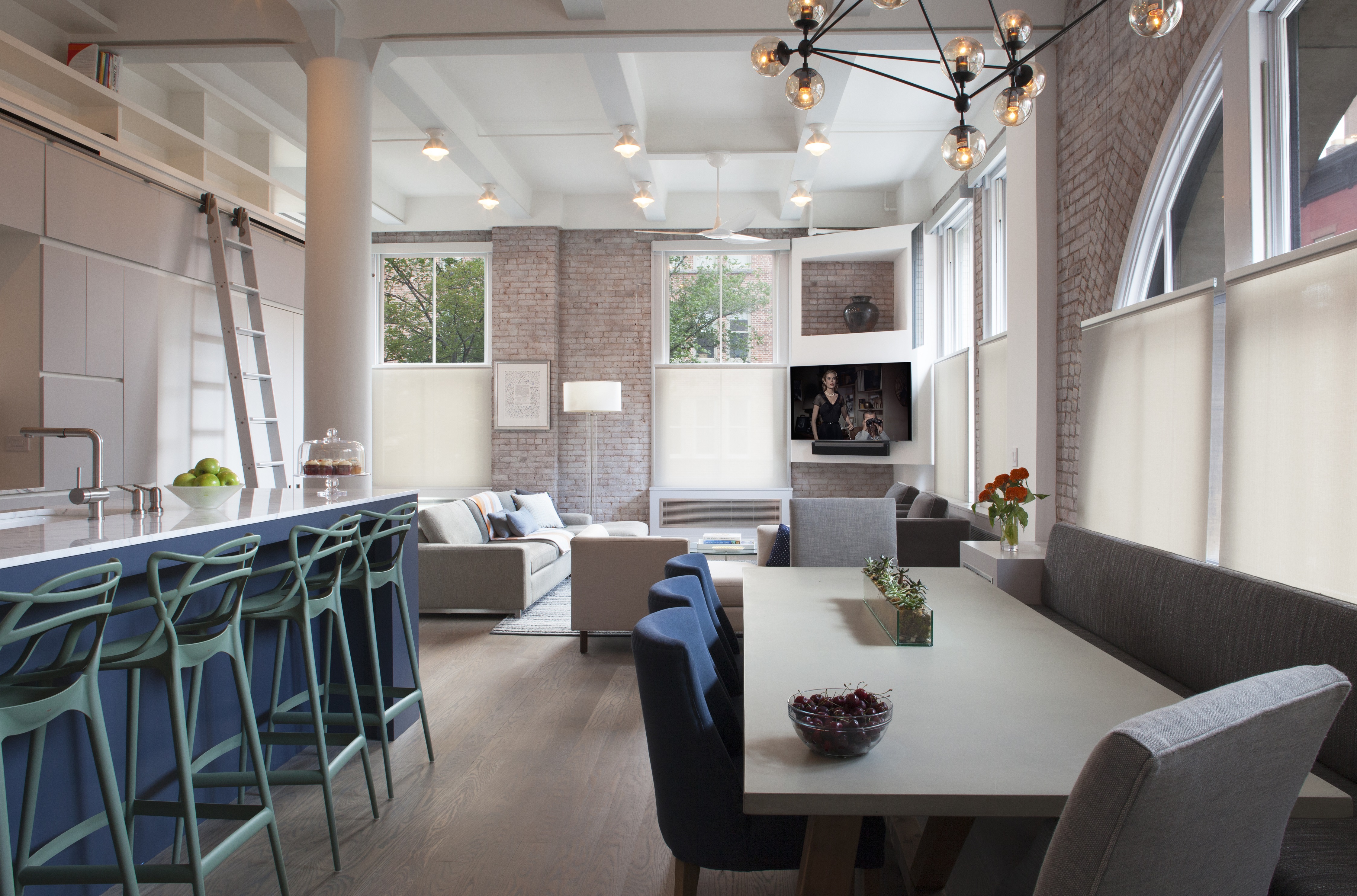 The pros and cons of recessed lighting
Many designers and architects are fans of the way recessed lighting can provide more consistent and homogenous lighting, but never as the only light source—and only when executed correctly (meaning not too many or too close together). 
Problem is, in most prewar and post-war apartments and new developments, you aren't able to install them without having to drop the ceilings, and that's usually not an acceptable compromise. (Especially if you want to raise your ceilings and expose the beams.) Or you might not want to invest in that work when selling, as not everyone loves the look. 
Compass broker Vickey Barron, who is the exclusive sales rep for Chelsea ultra-luxury condo Walker Tower, reports that many buyers ask for the recessed lights to be removed in favor of installing "beautiful fixtures." 
Those high hats (in common parlance) don't always jibe with the loft look either. Matthew Bremer, founder and principal of NYC architecture and design firm Architecture in Formation, added cross beams to the slab ceiling in a West Village loft (above) because he "wanted to keep the raw industrial feel, and the surface-mounted fixtures are a favorite within our studio—simple, timeless, refined. They also bounce the light down very evenly." (The fixtures are Alabax by Schoolhouse Electric, $179 each.)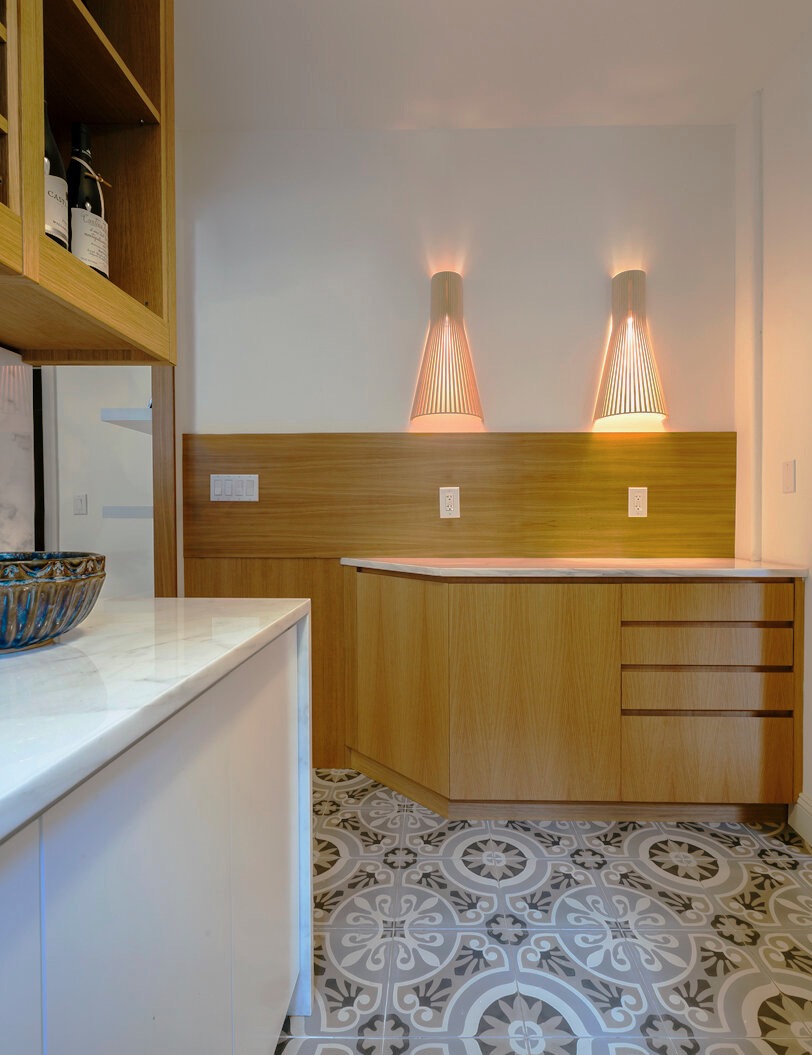 Besides, recessed lighting is just one option for ambience—track lighting, floor lamps, and especially sconces are others. "I am getting requests for sconces all the time now because they offer functionality and work as wall sculpture," says Daniela Schneider, founder and design director of residential staging firm Quadra FS.
Grinshpun says sconces were the solution for the owners of a Brooklyn Heights apartment combination (above) who were unable to drill into the concrete ceiling above the new kitchen work area. "I love how they direct light in both directions," she says.
On the other hand, Corcoran broker Tara King Brown recommends recessed lighting when your budget and building allows, so long as it is dimmable—she sees it as a worthwhile investment both for everyday living and for resale. "When showing, you want to scale up or down depending on the time of day and have it be cohesive to the experience of the space." It's also nice to be able to adjust the brightness of different lights, for example when having drinks on the sofa versus prepping for dinner at the island.
Quinn agrees: "One thing is for sure: If you are going to install recessed lighting, make sure they are well spaced and dimmable." (And make sure the dimmer switch is LED compatible if that's your goal.)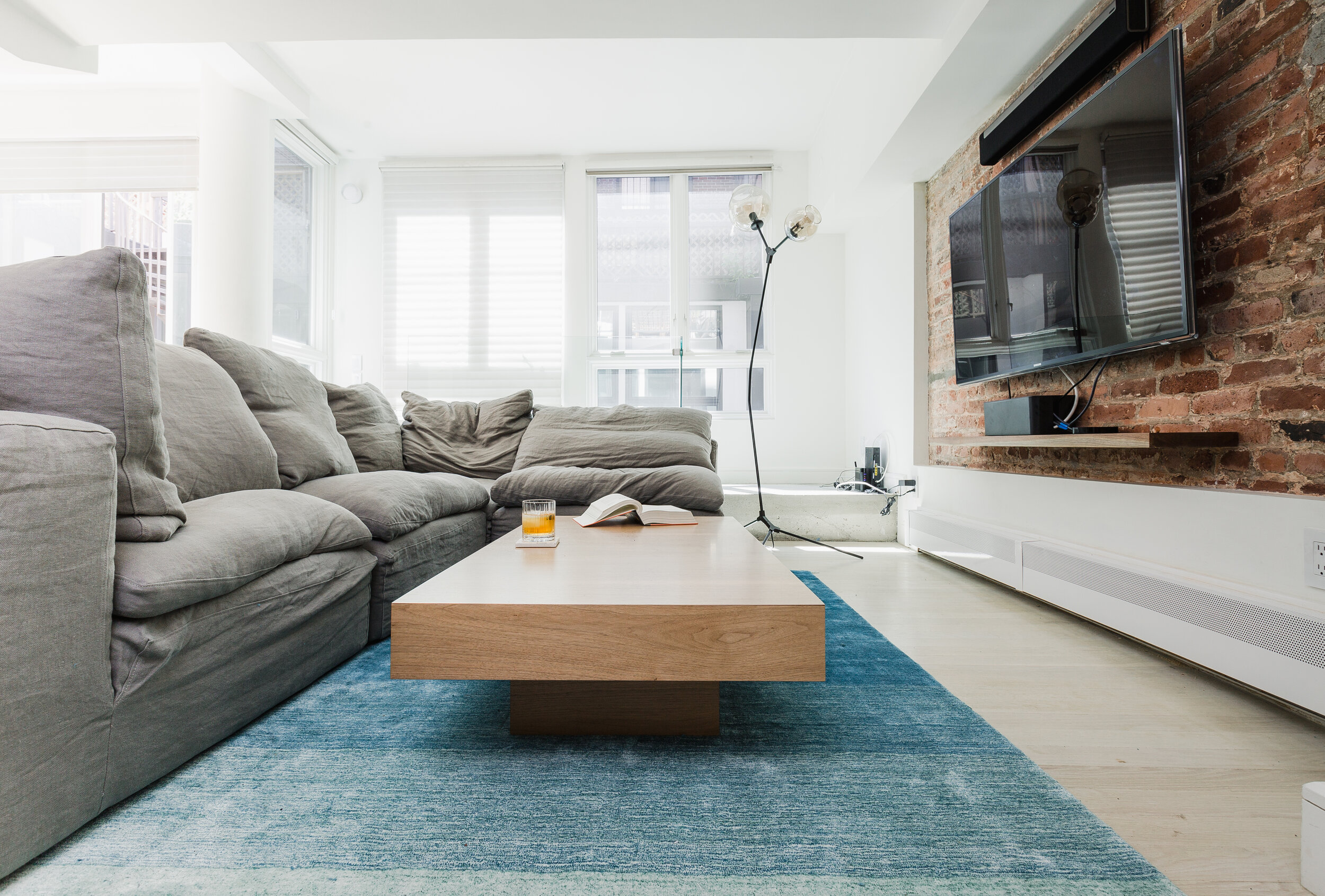 Adding lighting without opening up the ceilings or walls 
Assuming your ceilings are not super tall, you can rely on lighting that doesn't require any fancy wiring—just a nearby outlet. 
Grinshpun says a lot of clients end up investing in floor lamps when they can't or don't want to muck with the ceiling. Such was the case in a Jane Street duplex (above), where she found a sculptural replica that cost around $150 compared to thousands for the original. (Proof that even high-end renos have a spending cap.)
Floor lamps are also handy when staging. "Many apartments do not have ceiling lights in the living area, so I will bring in some attractive torchieres, especially when showing at night," Franco says. 
If you happen to have any existing junction units (or "J boxes" in common parlance), you can hardwire new fixtures to those. Problem is, everyone Brick spoke to says those are rarely in the right place. If that's the case, or if your apartment doesn't have any such wiring in place, you can use a so-called plug-in, pin-up pendant instead. These are now available in all price ranges from sources such as Color Cord Company ($20 to $227), West Elm ($79 to $199), Rejuvenation ($190 to $390), and Lumens ($95 to $5,525).
One of Quinn's tricks is to pull power from a remote wall outlet and strategically hide cords behind curtains or pedestal sculptures. "You can then swag the wires from the ceiling and make it look like an intentional part of the design," she says.
Schneider too says she swags pendants all the time when staging in homes with concrete ceilings. "It's less permanent and an easier decision to make; it also does less damage." (For ideas on how to swag in style, check out this article by Architectural Digest. You can also swag your light fixture from an existing junction box according to Domino.)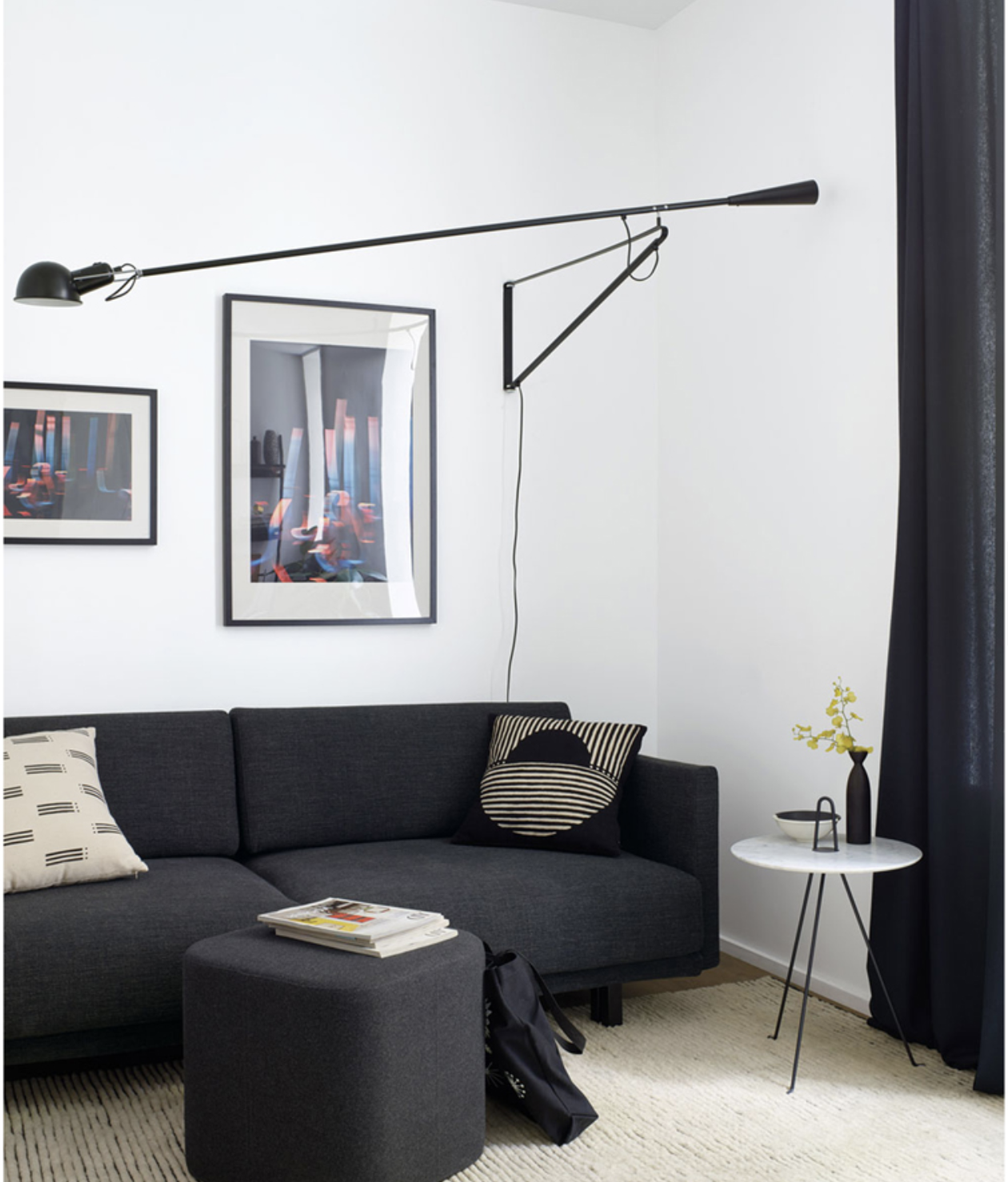 Plug-in wall lamps and sconces are other easy solutions (and from the same sources as the plug-in pendants, above). Yaiza Armbruster, principal of NY-based architecture and interior design firm Atelier Armbruster, used an articulating task lamp-inspired fixture in a project collaboration with Design Within Reach. (The Lampe Gras Model 214 is similar to the customized one above, at $640). Besides being easy to install, this is a space-saving trick for when there is not even enough room for a floor lamp next to the sofa.

Setting the tone in an entry with statement lighting 
When asked where to use lighting to make a statement, nearly all the pros here mentioned the entryway.
"If you have an amazing light fixture in the foyer, it sets the tone for the rest of the showing," Franco says. 
Barron likes how stylish lighting in a grand foyer makes a big impact—take for example the striking glass ball pendants in an apartment on Greene Street in Soho (above), designed by IMG.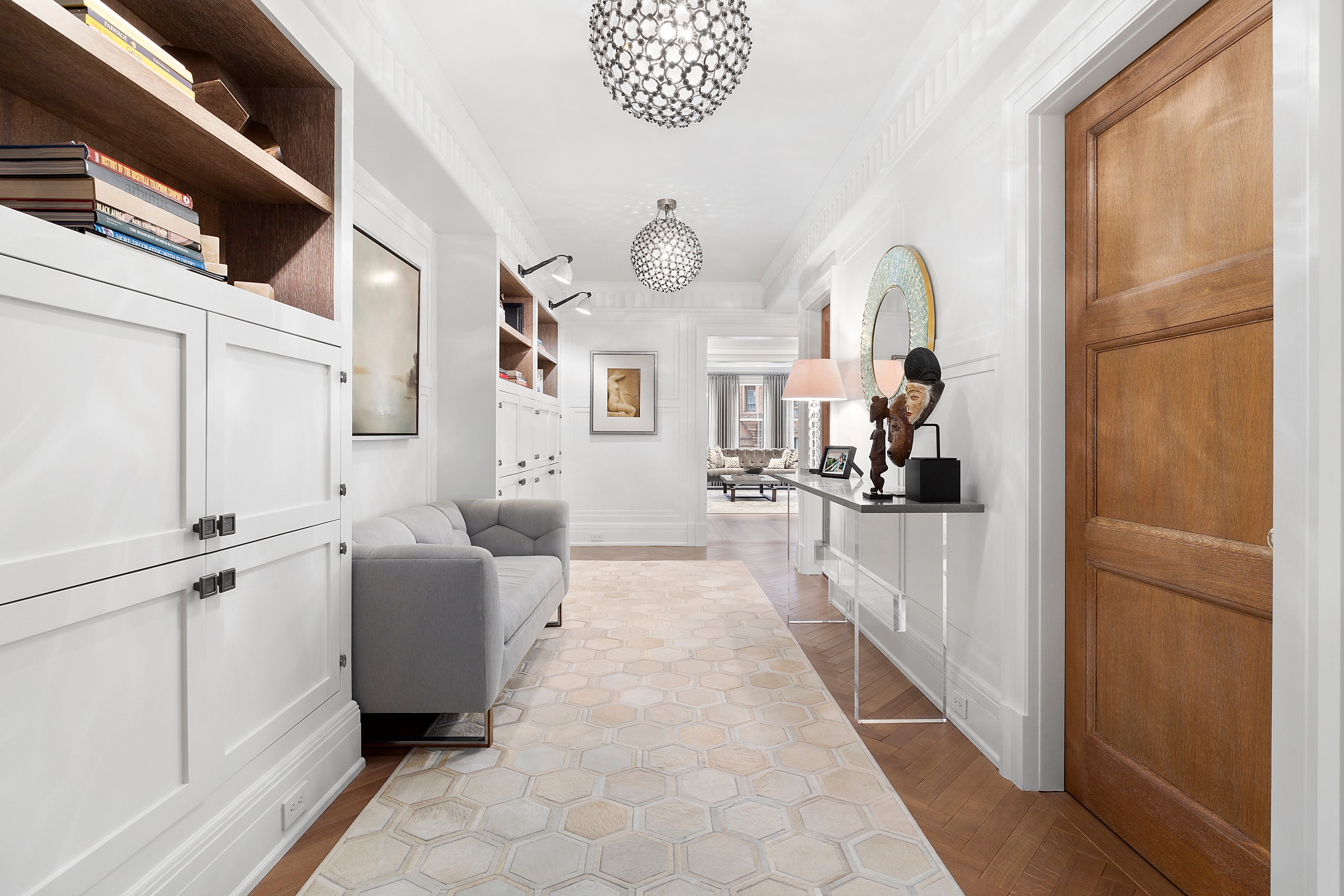 Franco says the globe pendants in the expansive entry of a listing at 15 West 81st St., #4E (above) are getting rave reviews. (The sellers are open and willing to leave these and all the other pricey fixtures.) 
And if you live in a Brooklyn brownstone, you'll want to add wow factor to the parlor area too. Grinshpun chose the three-pendant AIM Pendant Light by FLOS ($2,810 or $895 for the plug-in model) for a Windsor Terrace brownstone because "these spaces are often too big for just one thing but this fixture moves across the space and unites two disparate sitting areas." 

Using lighting to define the dining area in an open floor plan
According to Chiaramonte (and her fellow agents here), having a knock-out fixture over the dining table is practically a must these days—and a big selling point at a current listing for 25 Murray St., #4K, where the sellers are open to leaving it as part of the deal. She finds that buyers are much more cognizant of having these statement fixtures being functional in throwing off enough light too.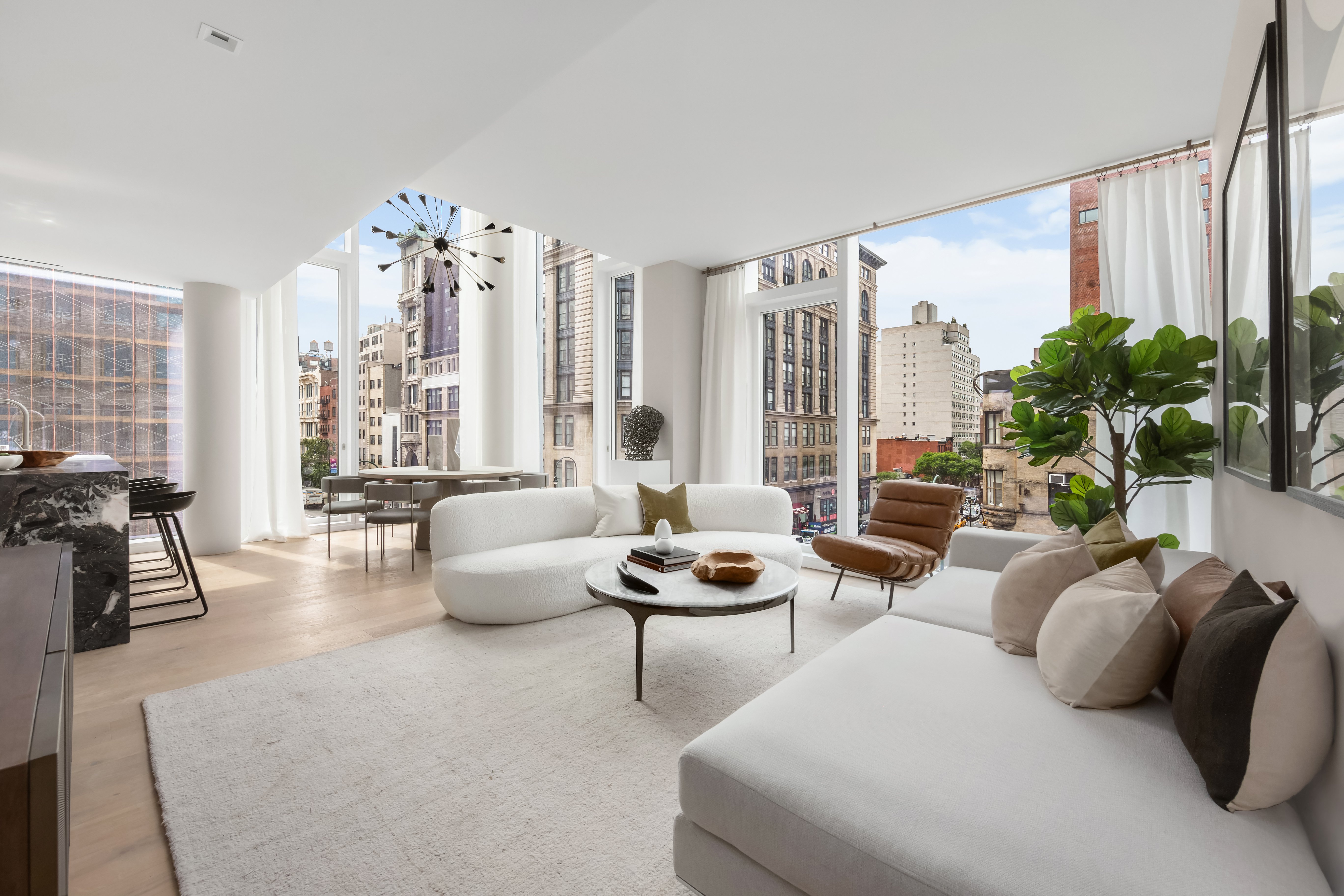 Schneider agrees that if you choose to go for only one statement light, put it over the dining table—or the kitchen bar if that is where you eat and entertain. Such was her approach to staging an apartment for sale at 101 West 14th St, a new development in Greenwich Village, where the modern take on a '70s space-age motif (trend alert!) has been a popular feature.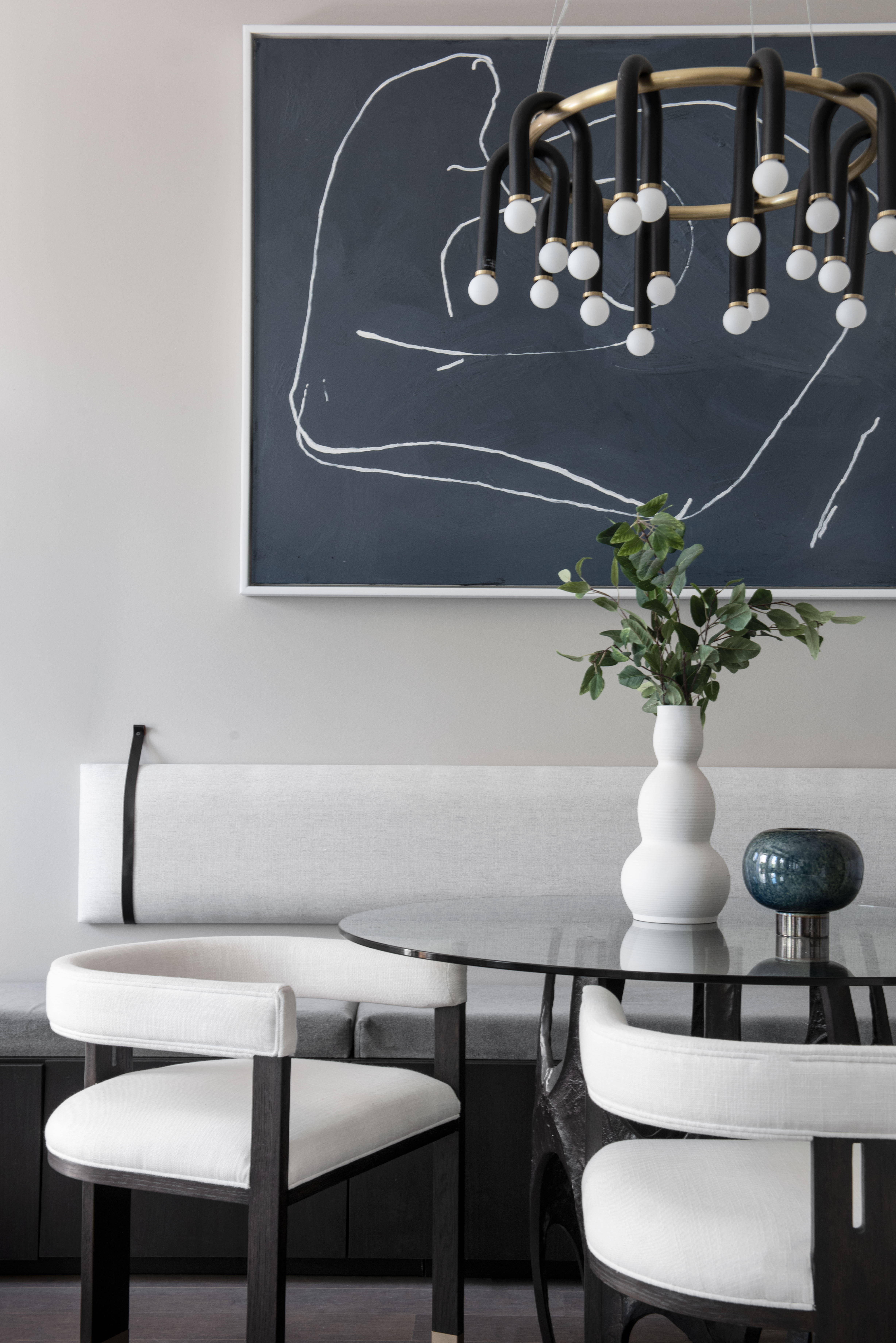 Even smaller dining spaces benefit by having an eye-catching piece that's proportionately sized. For an apartment at The Broad Exchange Building in Fidi, IMG anchored a banquette that's tucked into a corner (above) with a swanky light fixture—it complements rather than detracts from the artwork behind it.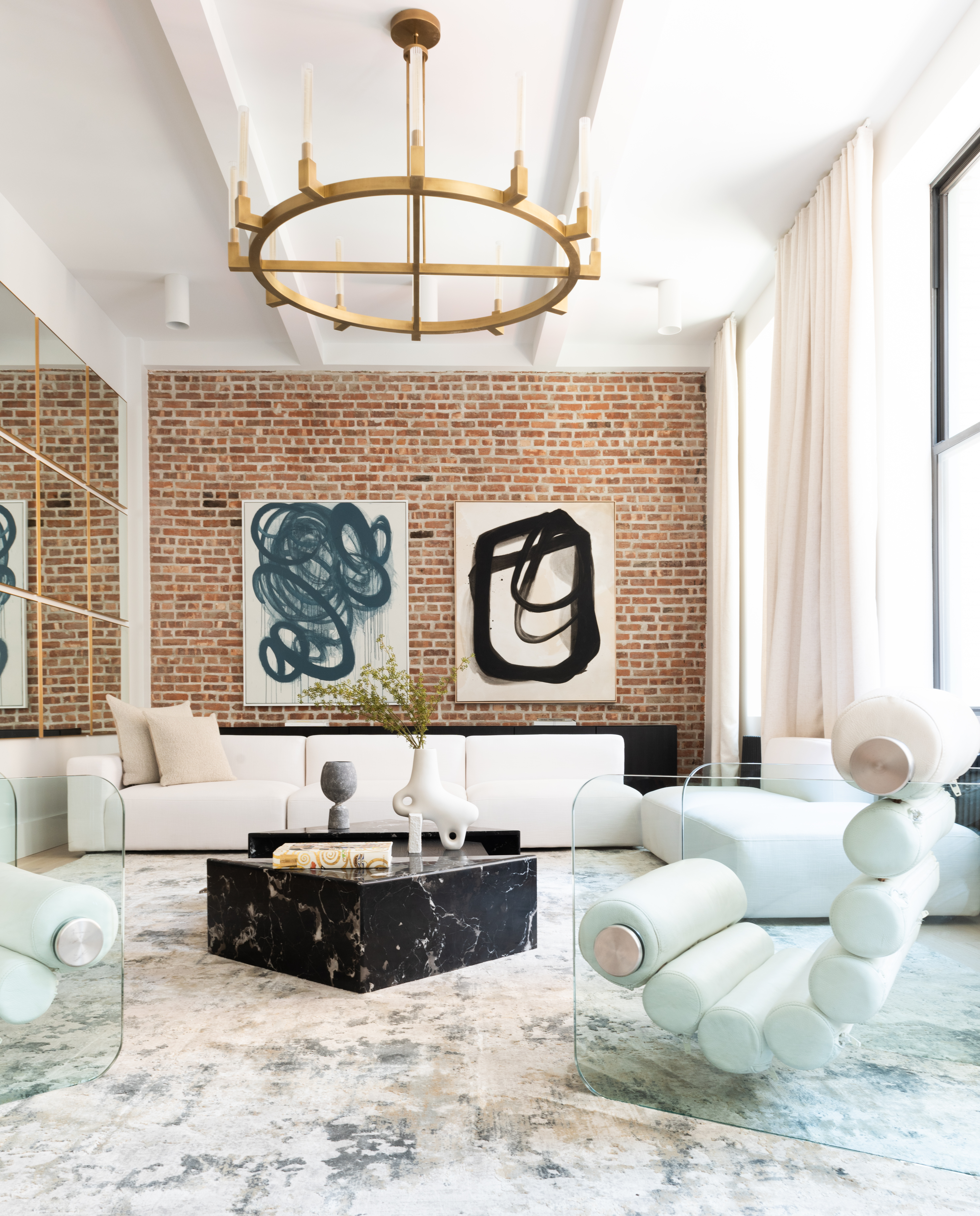 Likewise, in a big loft you can have something fabulous in the center of the living area, Barron says. And sometimes even stagers will use what's already there—including at an apartment at West 20th Street in Chelsea (above). "It was such a great fit that we were able to design around it," says IMG designer Nolen Borne. "The metals really spoke to the industrial nature of the space."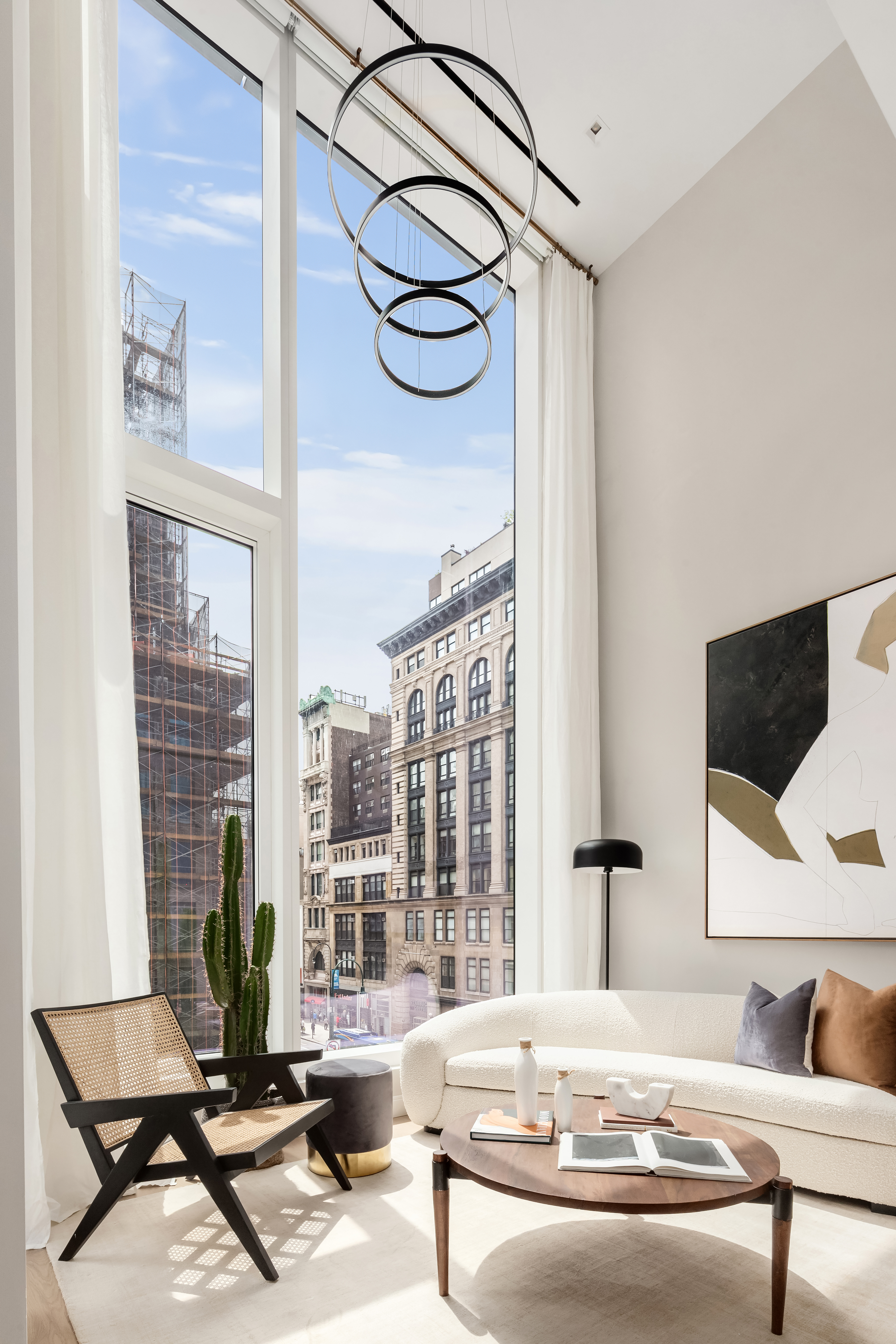 And when your living area comes with double-height ceilings, Schneider recommends filling "all that aerial space with something amazing." So she chose a chandelier with LED rings (above) that distributes even light and appears to be floating in space for another apartment at 101 West 14th St. "We have never had so many likes on Instagram! Everyone wants to know where it is from." (No such luck—some things are trade secrets.)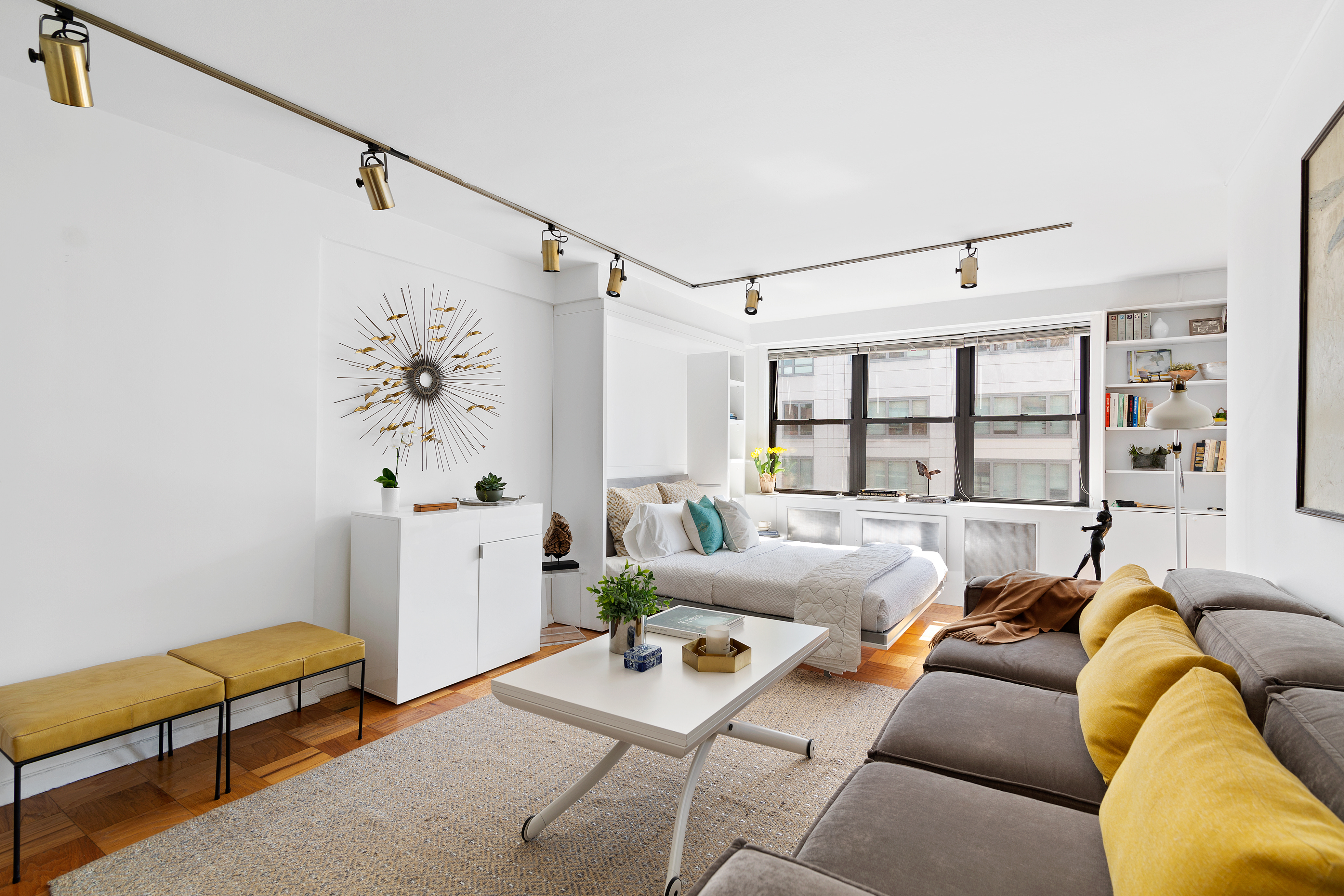 At the opposite extreme, you'll need lighting that doesn't overwhelm a smaller footprint like the alcove apartment at 330 Third Ave. (above), listed by Barron. There gallery-style track lighting illuminates the pulled-down Murphy bed by night and extra seating in the same spot by day—and keeps the pathways open (as you might bump your head on a pendant). "Track lighting has come a long way and is a good alternative to recessed lighting in an apartment with lower ceilings," she says.

Using statement lighting in the stairwell
The stairwell is another deep vertical space—and sorely overlooked according to Quinn. "We love to add dramatic, double-height light fixtures to stairwells wherever possible. Not only do these fixtures provide functionality, but they also help accentuate ceiling heights and both visually and stylistically connect each floor," she says.
For Grinsphun, adding a sculptural fixture in the windowless stairwell of a Vestry Street duplex (above) that led to the basement level both created a point of interest and kept it from feeling like a cave. Though incredibly pricey, having that focal point also meant the clients didn't have to tear down the less-than-attractive railing. 

Coordinating lighting in the kitchen 
The kitchen needs lighting that is both workhorse and welcoming. "Kitchen island pendants are a low-investment, high-return way to add functional lighting and style to the heart of the home," Quinn says.
Or you can splurge on scene-stealing pendants that hold their own against the statement piece in the adjacent dining area, such as in a Timothy Godbold-designed apartment at 100 Barclay Street that is an exclusive listing by Corcoran broker Tara King-Brown.
When coordinating lighting in a single space, if you want each fixture to be unique and define the aesthetics and function of the different areas, Grinshpun says you'll want to make sure that you tie them all together. You can achieve that by choosing the same material or palette. "Larger spaces tend to be able to handle more complex lighting ideas like clustering groups of smaller pendants together, but again, the clusters must complement, not compete with other fixtures nearby," she says.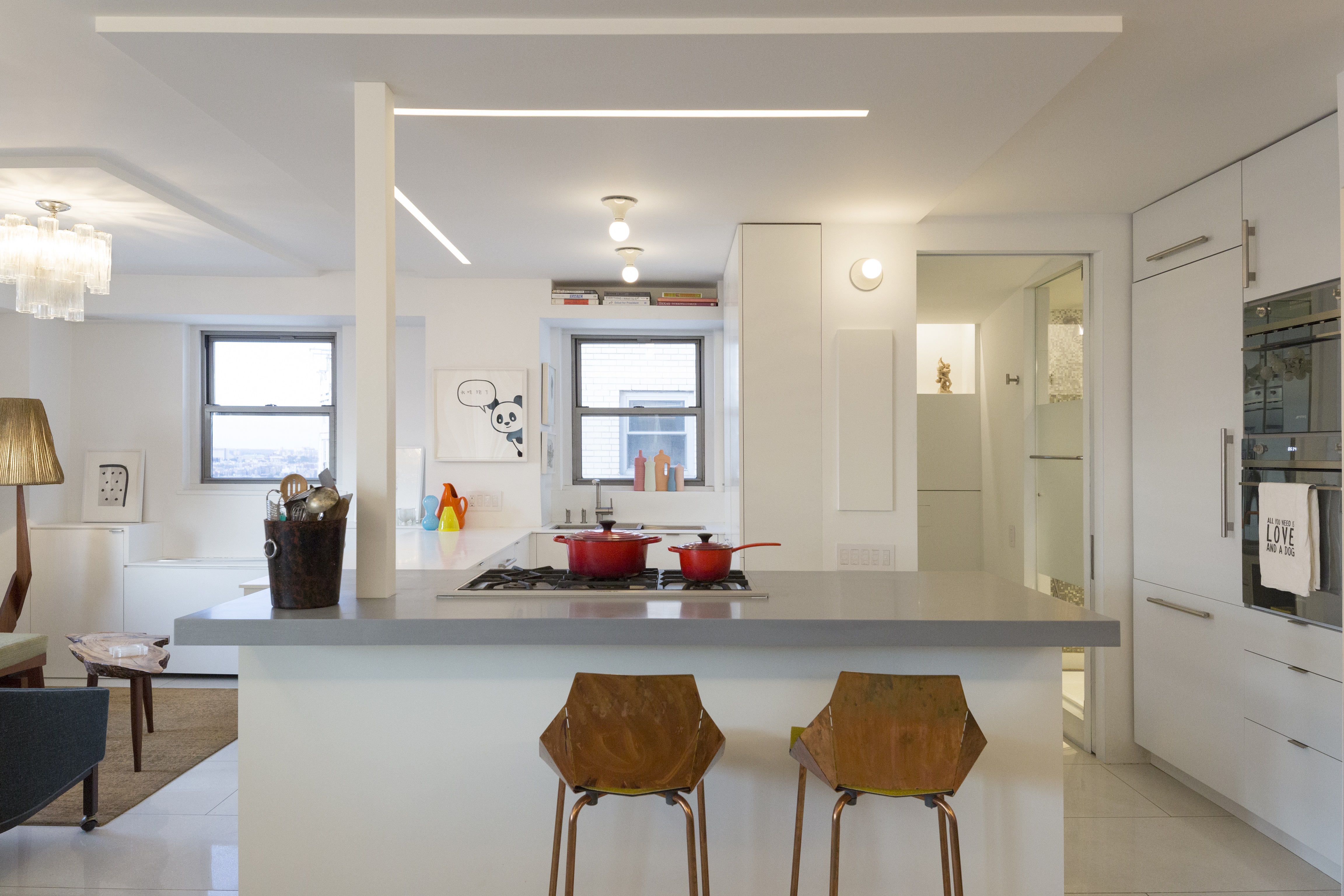 When renovating his own Grand Concourse kitchen, Bremer wanted "hyper-functionality and great task lighting as well as graphic punch." So he combined linear TruLine LED strips by PureEdge Lighting (these sink 5/8 inch into the drywall) with surface-mounted Teti sockets ($105 each) from Artemide, which are a step up from the hardware store variety. (Armbruster happens to be a fan of those ten-buck options, punching them up with oversize bulbs.) 
And here's a salute to salvaging: Bremer saved the vintage 1960s Venini chandelier from the wrecking ball when a previous client was ready to send it to demolition—and it happened to fit nicely with his white brick modern building. (Note the dropped sections of the ceiling to accommodate the wiring.)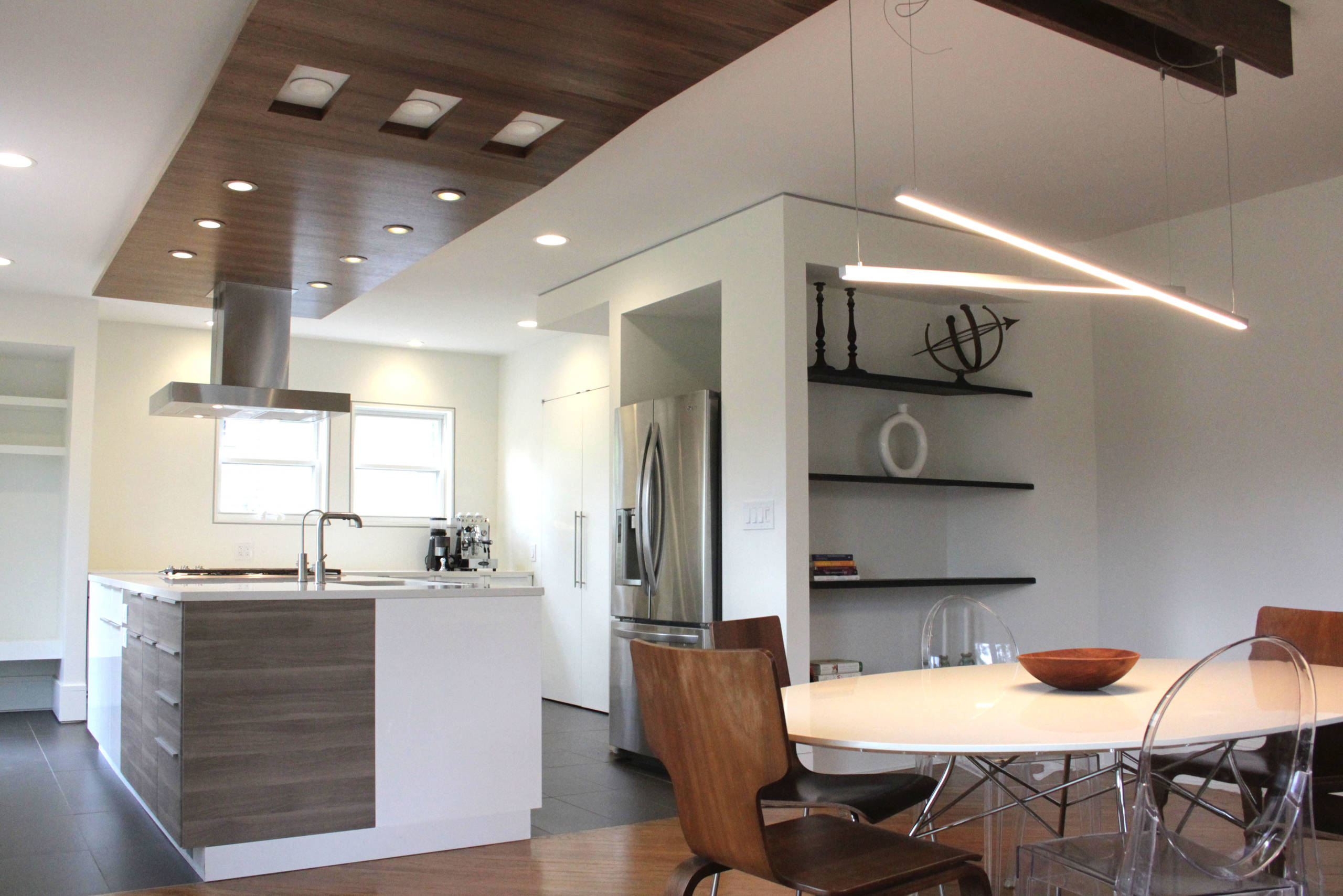 Niv Ben-Adi, principal of Atelier036 Studio of Architecture and Interior Design, likes to integrate lighting into custom millwork on the ceiling, such as in a Brooklyn kitchen (above) where it visually unites the cooktop with what is now the everyday dining area; there he installed two types of down lights and a slim LED pendant, "with two angled beams adding a playful element."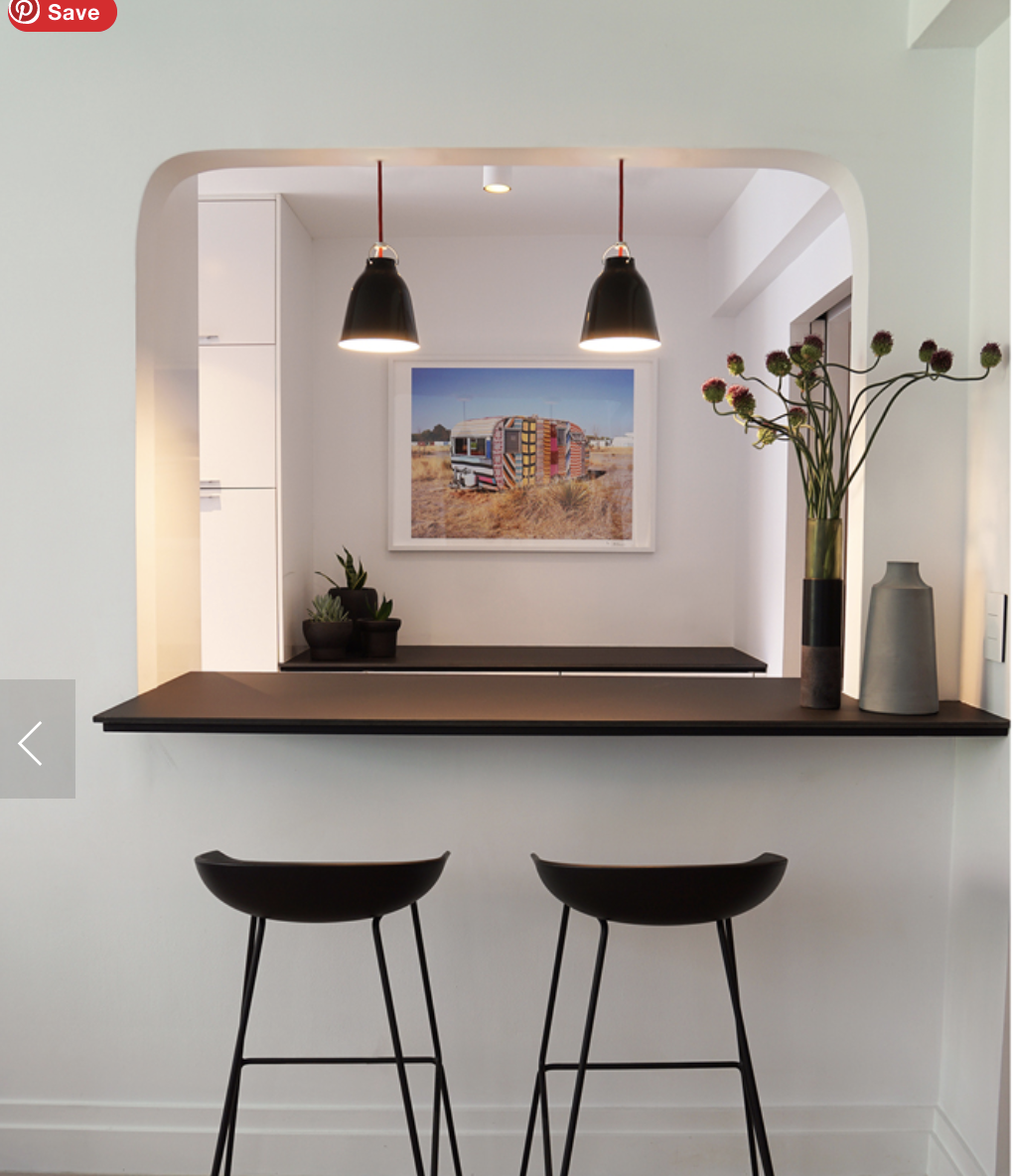 Armbruster created a pass-through bar area for clients who like to entertain and wanted a way to connect with their guests from the galley kitchen. It also doubles as a casual secondary dining space. "You can opt to just turn these lights on and not everything else, to create atmosphere." (The Caravaggio pendents are by Fritz Hansen.)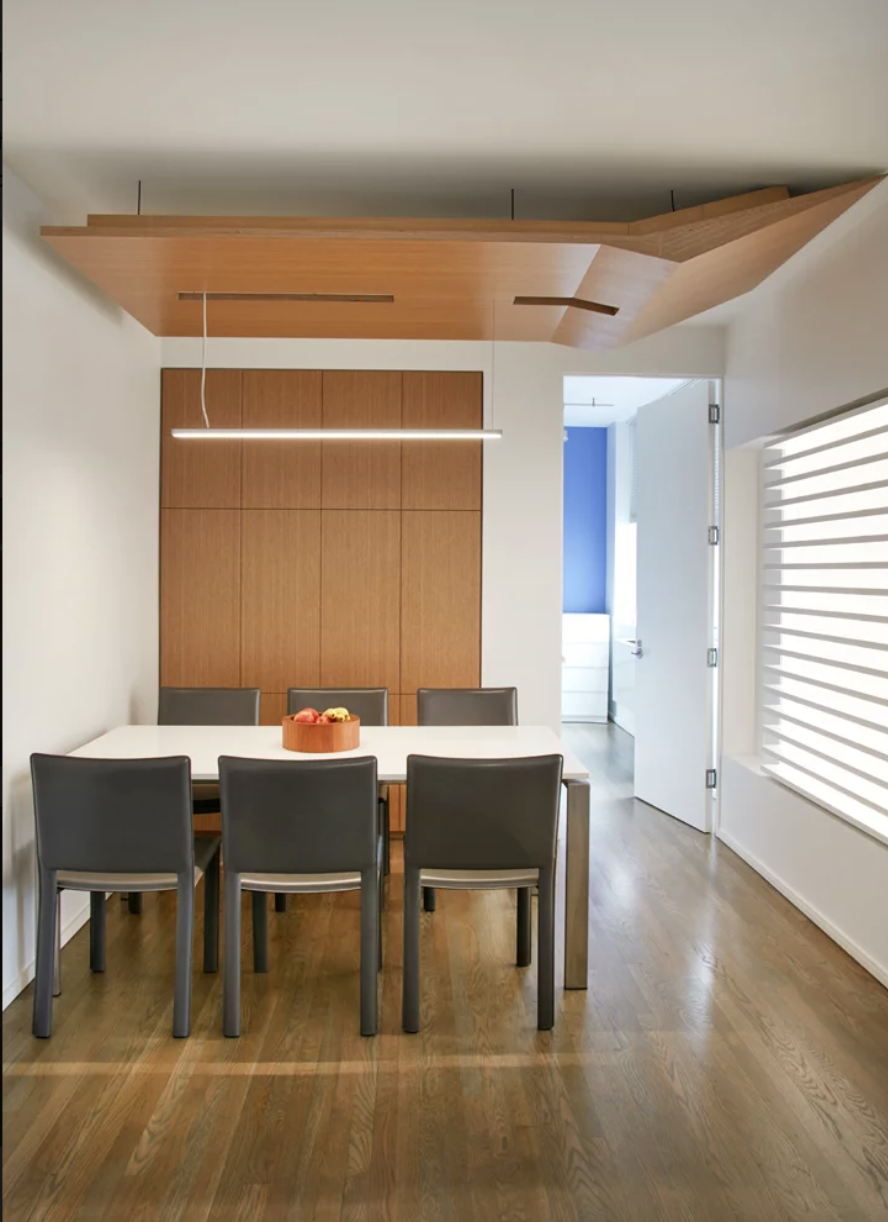 Ad
ding lighting to mimic a window
You may not be able to knock out a new window in your interior apartment, but you can use some savvy lighting as a next-best-thing solution—and not only for boosting buyer interest.
After relocating the kitchen to the other side of a modest Brooklyn apartment, Ben-Adi designed a dimmable 5-by-5-foot custom light with flat LED panels, building horizontal slots to create the illusion that it is an exterior light coming into the newly formed dining space. He also added custom millwork above the table (raising the dropped ceiling to the bare minimum), which reflects the "window" light onto the table. "The idea was to create an interior escape. The family says they love sitting there and feeling like they are in a bubble." 

Updating bedroom lighting 
The primary bedroom is yet another place where people are putting statement lighting. And lately, the bedside dropped pendant has become a thing. 
King-Brown likes how the pendants at her listing at 100 Barclay (above, with an asking price of $6,475,000) "give it a hotel feel."
Grinshpun says some New Yorkers are investing more in their bedside lighting because of the importance of light quality to sleep. But she also sees it as a more minimalist approach—a dropped pendant takes up less space in a room and doubles as decor. "The piece might be more expensive but ultimately you save money by not buying as much stuff. It also ends up looking more designed." 
Secondary bedrooms are also hot spots for cool lighting. If you have kids, their bedroom and/or playroom are great opportunities to crush it—literally! Armbruster used IKEA KRUSNING pendant shades ($295 each; HEMMA cord sold separately or you can use a plug-in and pin-up cord) in a townhouse at The Standish in Brooklyn.
"When they were assembled we crunched them ourselves, as instructed by the directions. It was fun because it allowed us to manipulate the fixture to how we wanted it to look." Hanging the lights at different heights makes them look like clouds floating in the (painted) blue sky. Note that with such eye-catching lighting, you don't need much else in the way of wall decor.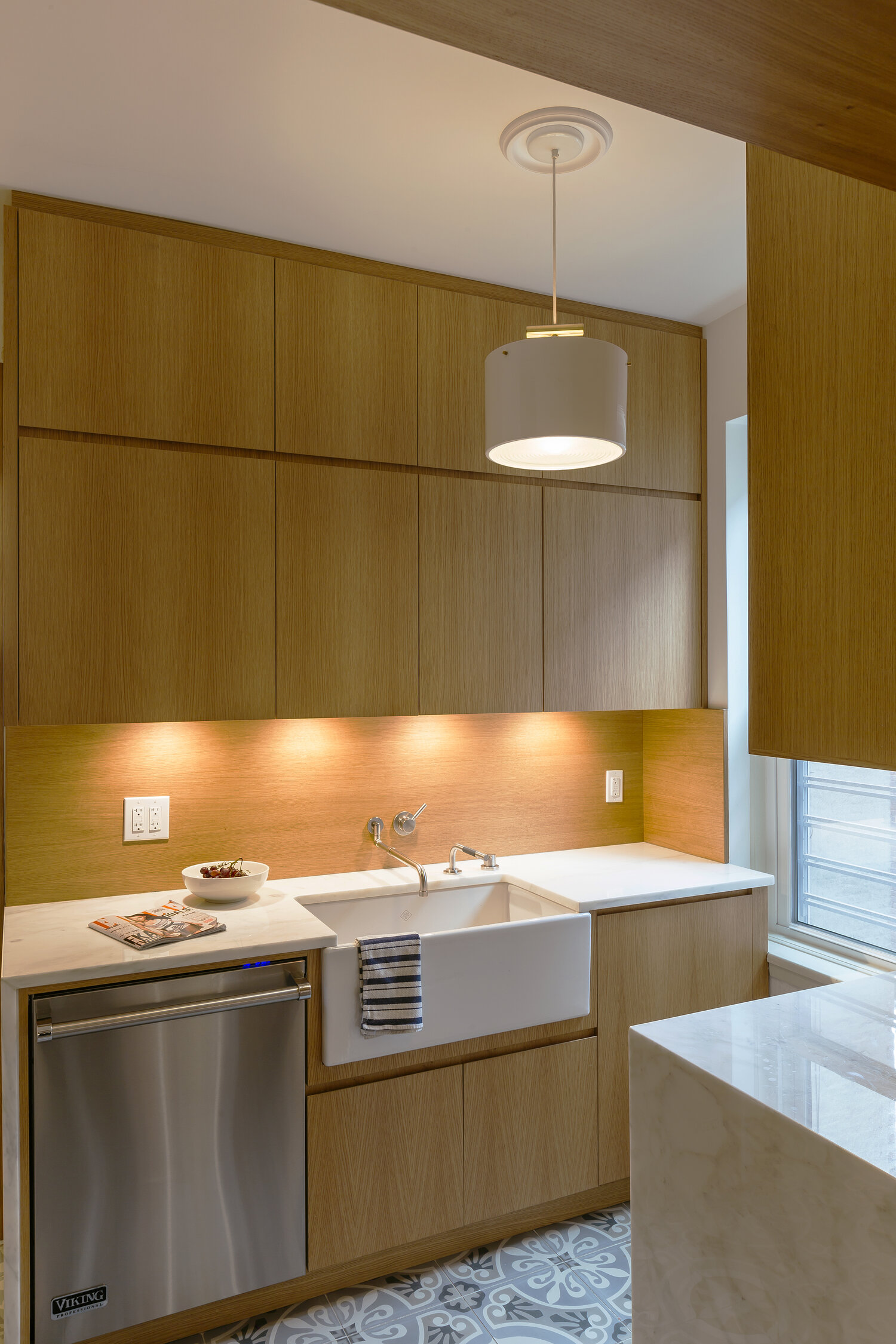 Swap out your bulbs—and invest in smart home tech
Start by swapping out your incandescent and halogen bulbs with LED—Grinshpun says these are the industry standard at this point.
Then take it one step further by having the same color temperature of the bulbs throughout, for a coherent look and feel. "Even if clients aren't replacing the fixtures for budget reasons, I will at least have them replace the bulbs." Quick lighting lesson: The lower the kelvin, the warmer the light—2,700 kelvin is typical and most flattering for residential use as it mimics candlelight. But if you have a really big, bright space and want it to look sharp, she recommends going with 3,000 to 3,200 kelvin. "These will punctuate that crispness and look very edgy.  Anything warmer can look frumpy." Same if you want to showcase your art collection.
Changing your under-cabinet lighting can also change the dynamic of your kitchen (or bathroom). For the same Brooklyn Heights kitchen (above), Grinshpun replaced a linear tape light—which provides uniform light that's ideal if you are really short on functional lighting for a prep area—with "puck" lighting that creates a scalloped effect and provides more texture.
And whether or not you are replacing or adding new lighting, consider investing in a smart home system such as Lutron or Crestron Electronics. Most of King-Brown's clients are installing these to program recessed lights and fixtures so when you are leaving you can just click on the all-off button." (Brokers love being able to click on the all-on button too!) 
Barron sees the whole wave of lighting for health and well-being (such as "human-centric lighting" by Ketra, which allows your interior lighting to shift according to your circadian rhythm) as becoming more popular with buyers too. "It becomes its own story in any apartment that already has it installed," she says. 
Can sellers take lighting with them? It depends
Generally speaking, the standard contract of sale covers anything that is attached, including light fixtures (and window treatments) so you'll need to stipulate what is going to be excluded from the get-go to avoid any hiccups that might spoil the sale. Plus buyers expect lighting to stay, especially in high-end transactions.
"Certainly there's an understanding that an heirloom piece or a $40,000 Lindsey Adelman design may not be included in the purchase price," Chiaramonte says. 
"We've seen people leave everything and also take everything. Either way, it's a point of negotiation," she says.
Brick Underground articles occasionally include the expertise of, or information about, advertising partners when relevant to the story. We will never promote an advertiser's product without making the relationship clear to our readers.