Design + Architecture
Want to use reclaimed materials and appliances for a renovation? Here's what you should know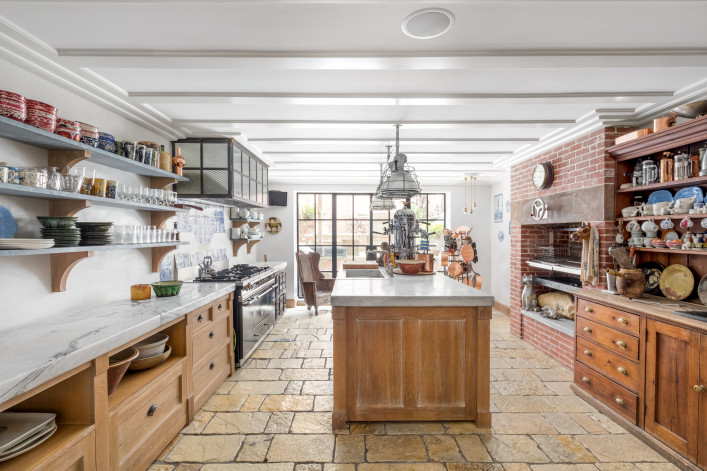 Photo by Evan Joseph for Douglas Elliman
If you are renovating your New York City apartment or house, you may be considering using reclaimed building materials and design details, aka architectural salvage. Architects and designers have been doing this for years but thanks to popular home improvement shows, the trade secret is out. 
The upsides are many: Using reclaimed materials is a more sustainable approach than buying everything brand new—you divert usable stuff from landfills and avoid depleting natural resources. It's a great way to add period details too if you are updating a turn-of-the-century townhouse or prewar apartment. 
And the goods can be more affordable "There are some things that are just so expensive today that getting them from a salvage yard will save you tons, and back in the day they built things to last," says Amy Green, founder of Amy Green Design, a full-service interior design and architectural firm. Plus you can get some totally unique things, like an old-school bank vault door (true story), or use items in an unexpected way—like making a headboard out of plaster cornices.
On the flip side, retrofitting reclaimed joists and cabinets or what have you can be more labor intensive than simply having them built to spec. But "we are in a time when materials are hard to come by, so it's now worth the extra time it takes to retrofit something that's salvaged," says Amy Failla, an architect with Baxt Ingui Architects, which specializes in sustainable and Passive House renovations. The firm recommends using reclaimed materials whenever possible to help the planet and bring character to your space.
Brick Underground spoke to architects, contractors, and architectural salvage dealers to unpack these ideas so you can know what to expect in your own reno project—and where to score some great finds.
What are some local go-to sources?
NYC is a veritable goldmine for treasure hunters across all budgets. The architects here cite BigReuse in Gowanus as a reliable place to shop other people's castoffs. (You might even luck into finding something from your very own former home, like this Brooklynite who sold a co-op with ornate woodwork that she loved and missed dearly —until she found it again).
The Demolition Depot has a massive warehouse and storefront in Harlem with all kinds of pieces from over 150 deconstructions each year—only a fraction is shown on the website. 
Failla is a fan of Historic Houseparts, which is located in Rochester, N.Y. and has a comprehensive online catalog of salvaged items. One of her clients recently purchased a restored, 5-foot-long farm sink with a countertop on both sides, a la Downtown Abby.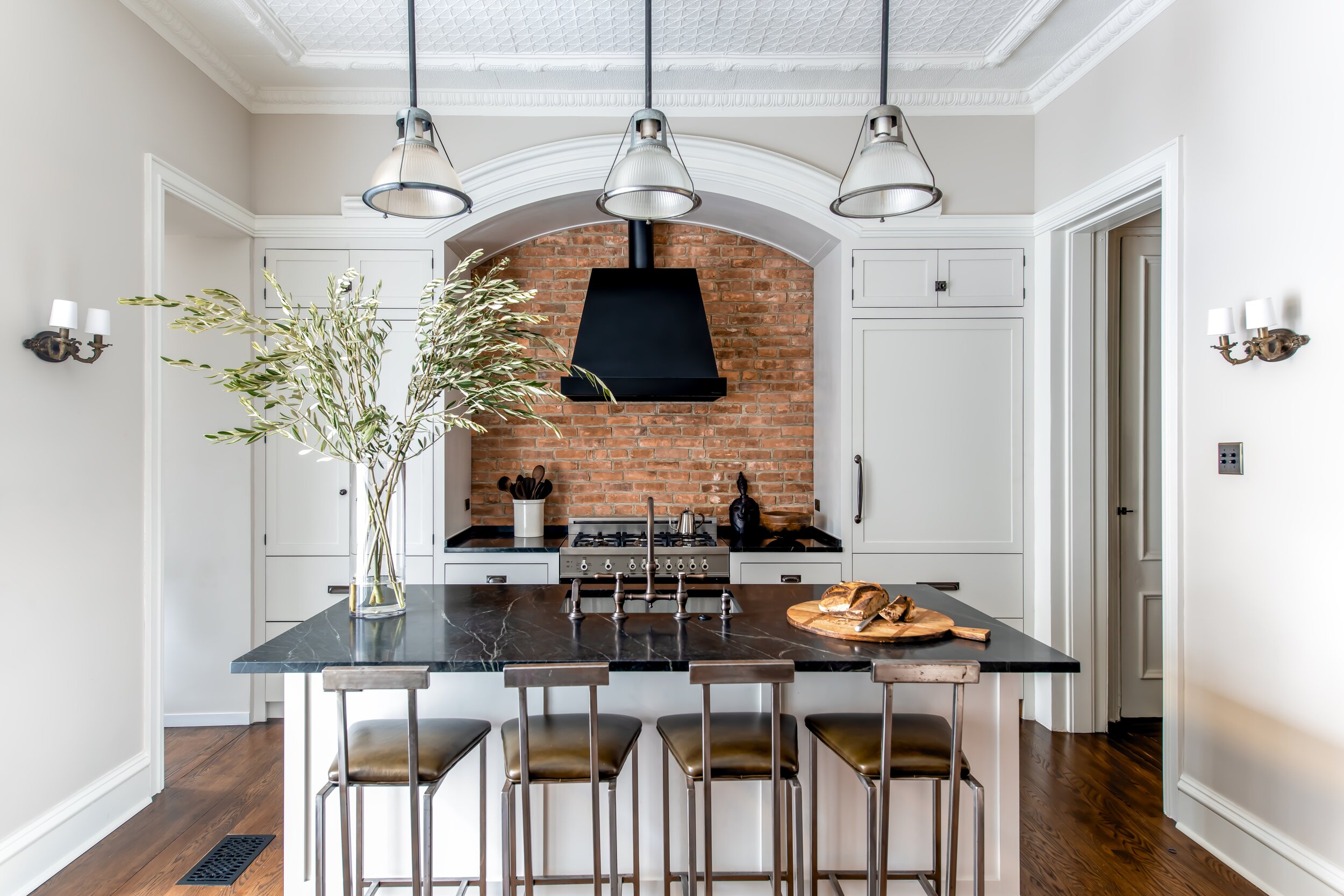 With three locations in NYC, Olde Good Things is prized by all the designers interviewed here for its vast collection of pedigreed salvage—particularly hardware and lighting (see above for a design by Lava Interiors)—from such local institutions as Waldorf Astoria, Plaza Hotel, Alice Tully Hall, and The New York Times building as well as high-end residences.
Co-owner Jim DiGiacoma says they work with architects who will spec original architectural pieces as well as with people who are restoring older homes.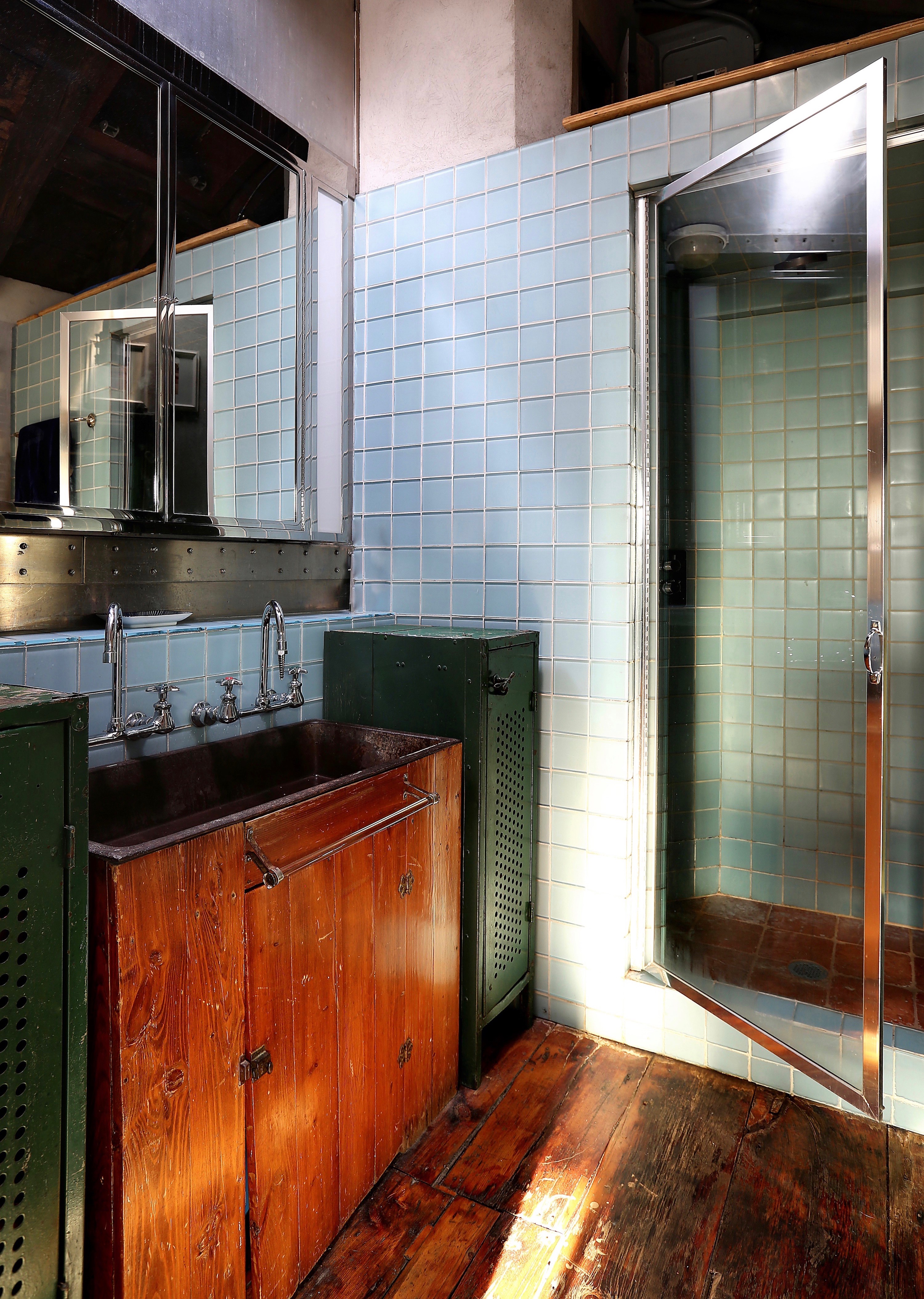 One such architect is Randy Polumbo, owner of PLANT construction (and an artist), who says he often works with Olde Good Things to help locate great architectural salvage to employ in clever adaptive reuse.
"We made a sink out of iron troughs for feeding pigs, a kitchen out of old metal lockers—durable stuff that will look the same in 50 years, needs no paint, and has more soul than most NYC apartments," he tells Brick. In the project above, he used all reclaimed pieces: lockers, vanity, mirror, tile, and wood flooring for an industrial-style loft bathroom.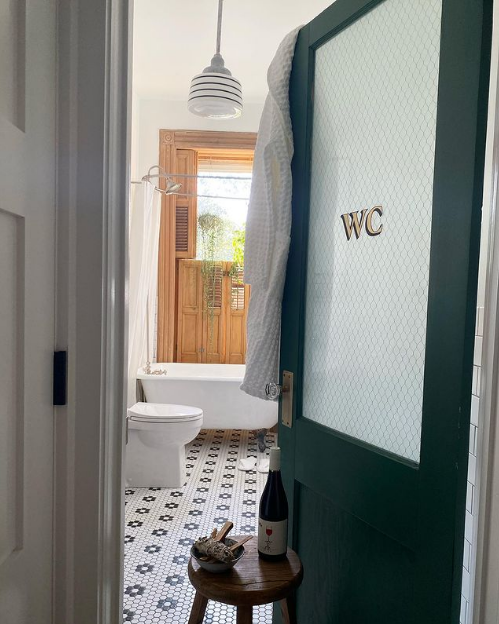 DiGiacoma says they reclaimed a lot of the old industrial, chicken-wire glass windows early on. People will use it to restore older buildings as well use it in kitchen cabinets to give an industrial feel to their interior. (It's also very popular in restaurants—be on the lookout.) The Brownstone Boys used chicken-wire glass in the bathroom (ahem, water closet!) door above.
For sources of reclaimed wood, head to Brooklyn (who knew?). There you will find M.Fine Lumber Co., Sawkill Lumber Co,. and NYCitySlab to name a few architect favorites. Most offer fabrication services for a one-stop shop.   
And don't overlook your own project for salvageable wood joists and subflooring, among other materials (more on this below).
Can you find pre-owned kitchens? 
Surprisingly, yes!
The architects here say they always recommend that their clients donate their existing kitchens to Renovation Angels, a nonprofit recycler of luxury kitchens on a mission to reduce landfill waste, create recycling jobs, and repurpose kitchens and interiors. 
It sends its own "white-glove" crew to remove your kitchen in one day, free of charge. Green says removal alone can save you thousands of dollars in demo costs and you get a big tax write-off (and a 10 percent discount off a new Miele appliance). 
Founder and CEO Steve Feldman says "NYC is a tremendous market because people will buy a $20 million apartment and gut renovate it, and the kitchen may have never actually been used." Even a 10-year-old kitchen could be worth $10,000.
And if you aren't looking to unload your existing kitchen, you can still shop for your new one. According to Feldman, the price is 65 to 90 percent less than a brand new kitchen. Renovation Angels also has a limited stock of open-box appliances.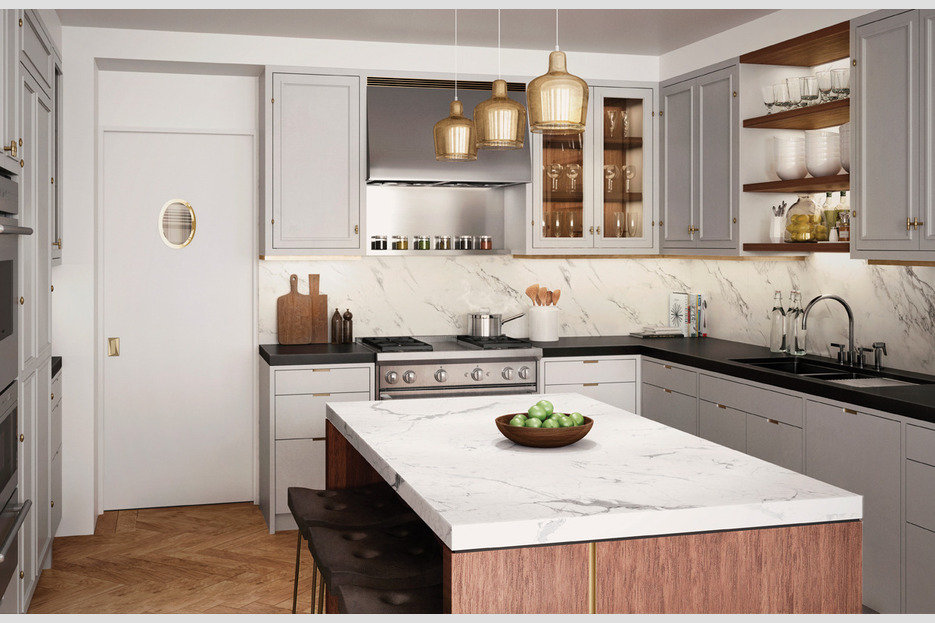 Renovation Angels has a continually updated inventory of donated kitchens (and showroom displays) in a variety of styles and price ranges, and from some cult-favorite brands like UK-based Smallbone that was donated from a West Village townhouse (above) and a custom kitchen from an Upper West Side brownstone (below).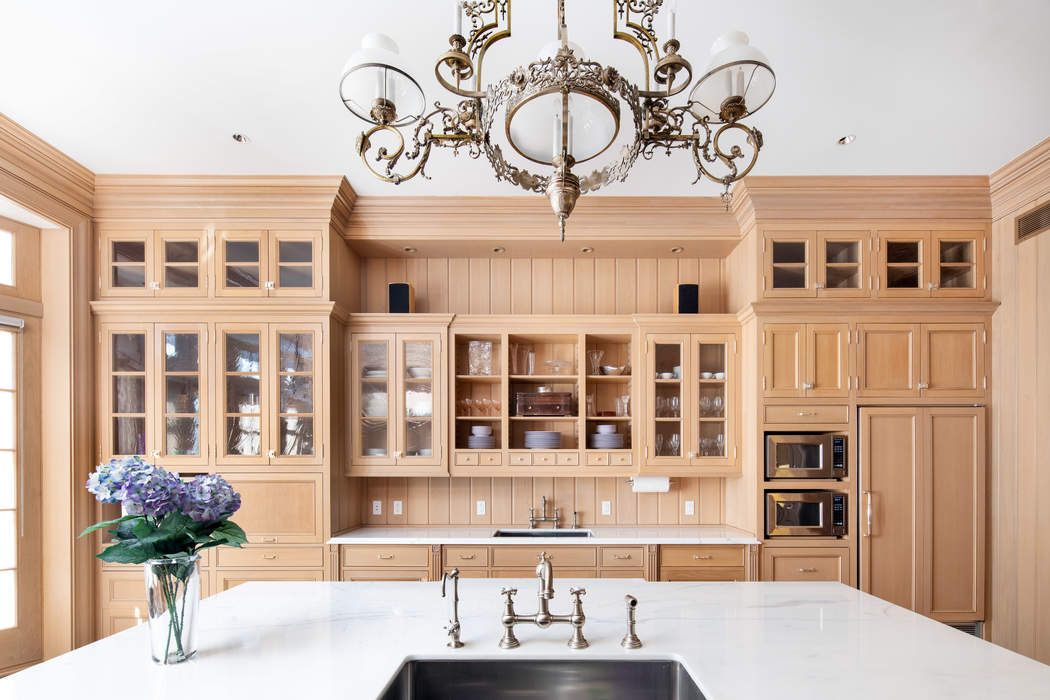 Or if you are the DIY type, you can follow Polumbo's lead.
"My own kitchen is made from an old library table I found in the trash, and the island from a hardware store that closed; it is quarter-sawn oak and very simple. People think I have no kitchen, but you touch a hidden panel and it opens the Miele dishwasher and Gaggenau steam oven," he says.
What if any are the expected cost savings?
That depends on the item and what you are aiming for. 
Certainly pre-owned appliances have a lower purchase price, but if they don't come with an extended warranty you will have to pay out of pocket for repairs. 
Dennis Fisher, owner of Amber Construction & Design, says his high-end clients are more interested in the character of salvaged materials and are willing to spend more on one-of-a-kind pieces.
In one gut renovation of a landmarked West Village townhouse, the discerning owners spared no expense in purchasing a salvaged light fixture for $50,000 (from Olde Good Things) in a sitting area. The kitchen (shown at top) includes a reclaimed sideboard topped with marble that was salvaged from the sidewalk at Independence hall in Philadelphia; the floor is salvaged cobblestones from a street in Italy.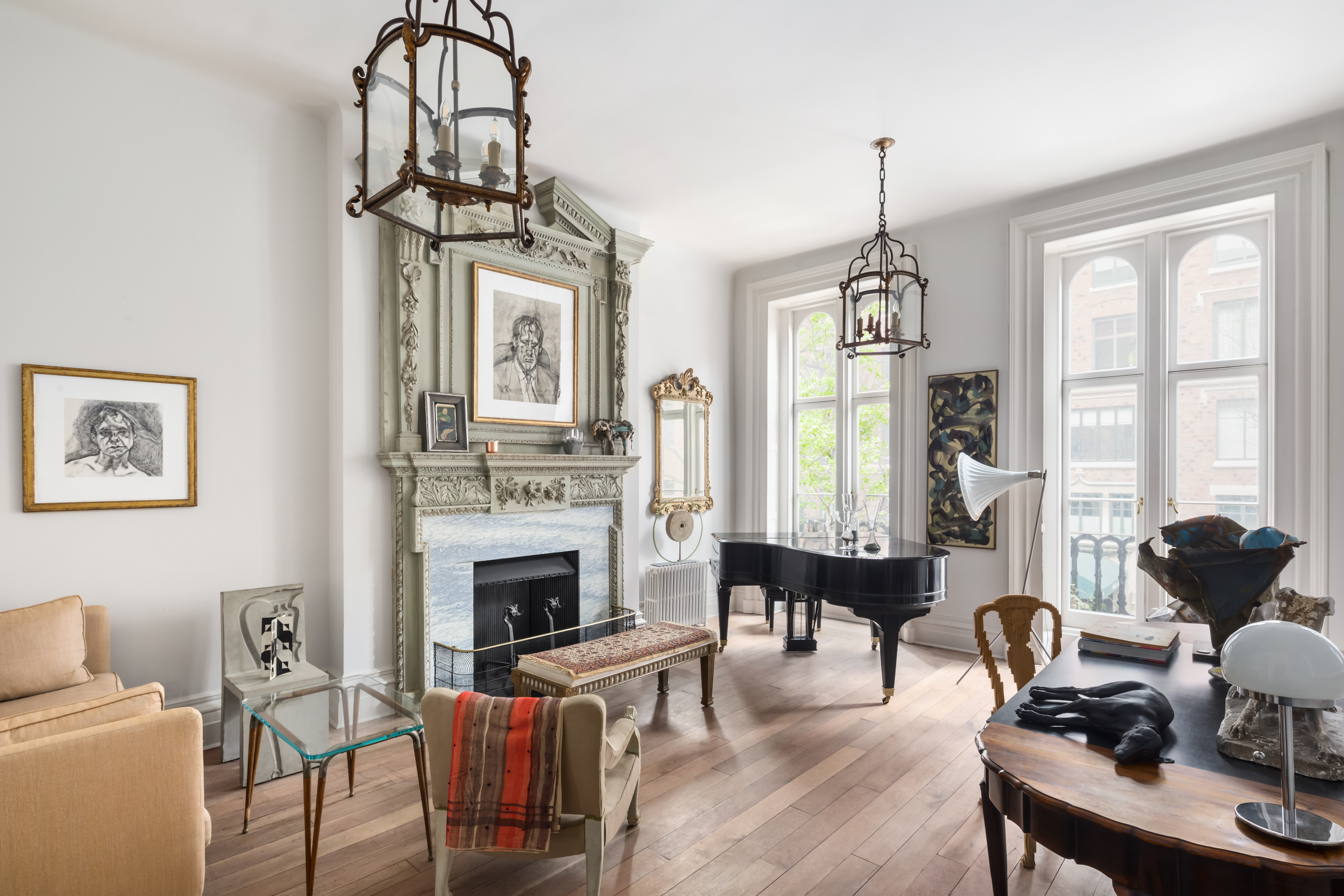 He also installed vintage industrial lighting (also from Olde Good Things) and a mantle (from Demolition Depot) in the same townhouse.
The owners scored an antique Steinway baby grand piano at auction for a song (at $5,000). 
Even still, Fisher says salvaged doors and hardware can represent a bargain. He buys old doors in bulk from Nor'East Architectural Antiques  for about $300 each, hinges included, and then spends another $100 each to sand them down. New wood doors will run you more than double that amount. He also taps into his vast collection of hardware (some bought on eBay), saying you would pay five to 10 times more for new hardware at places like E.R. Butler & Co. or Nanz.
Or you could skip standard interior doors for something more playful. Failla installed studded-leather theater doors as a bathroom door for a client who was game. ("We got so much stuff from Olde Good Things for that project!")
Green says using unique materials such as salvaged flooring from a basketball court or bowling alley creates a super interesting color, pattern, and layout that would have been much more expensive if you tried to recreate the effect rather than just reinstalling what already existed.
"It's all about rethinking and repurposing items," Failla says.
How does reclaimed wood stack up against new wood?
Lumber has plummeted in supply and skyrocketed in price due to the pandemic. So there's even more motivation than before for using reclaimed wood—it does typically cost more than new raw wood, but it's plentiful and you can avoid the current supply-chain delays. 
Plus, "You can't find old-growth wood with that type of grain anymore. You don't get the nail holes or the evidence of it living another life," Failla says. 
And if you work with a source that also does fabrication, that can end up saving you time and money on labor. Green has worked with Mountain Lumber Company, a West Virginia fabricator that sources its own reclaimed wood, on a couple projects. "You'd be surprised how they can replicate a look at a fraction of the cost," she says.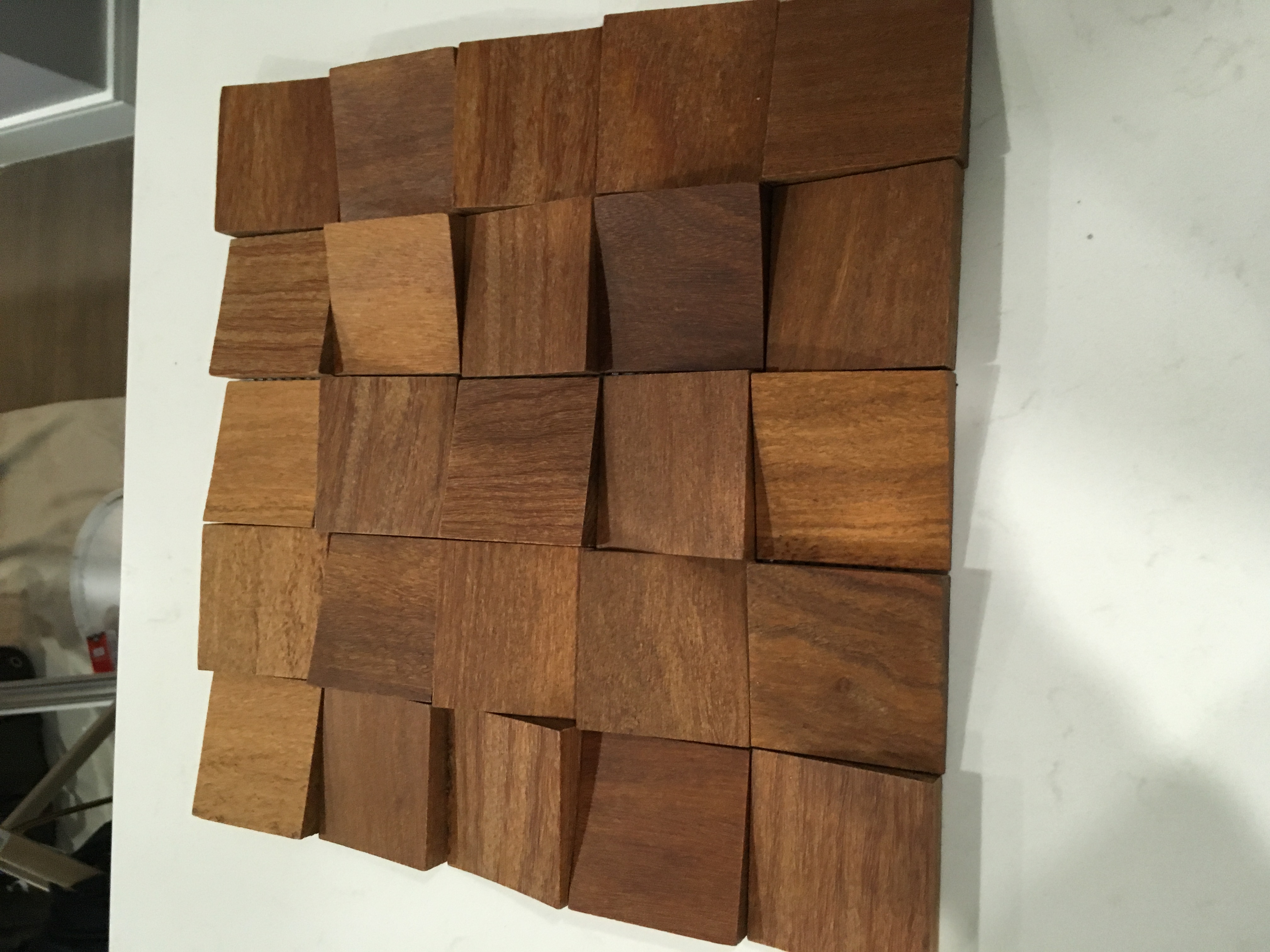 For one project, she had it custom-make a 3D wood wall (sample above) for a client and it ended up being about two-thirds less than the price of the high-end material made with new wood.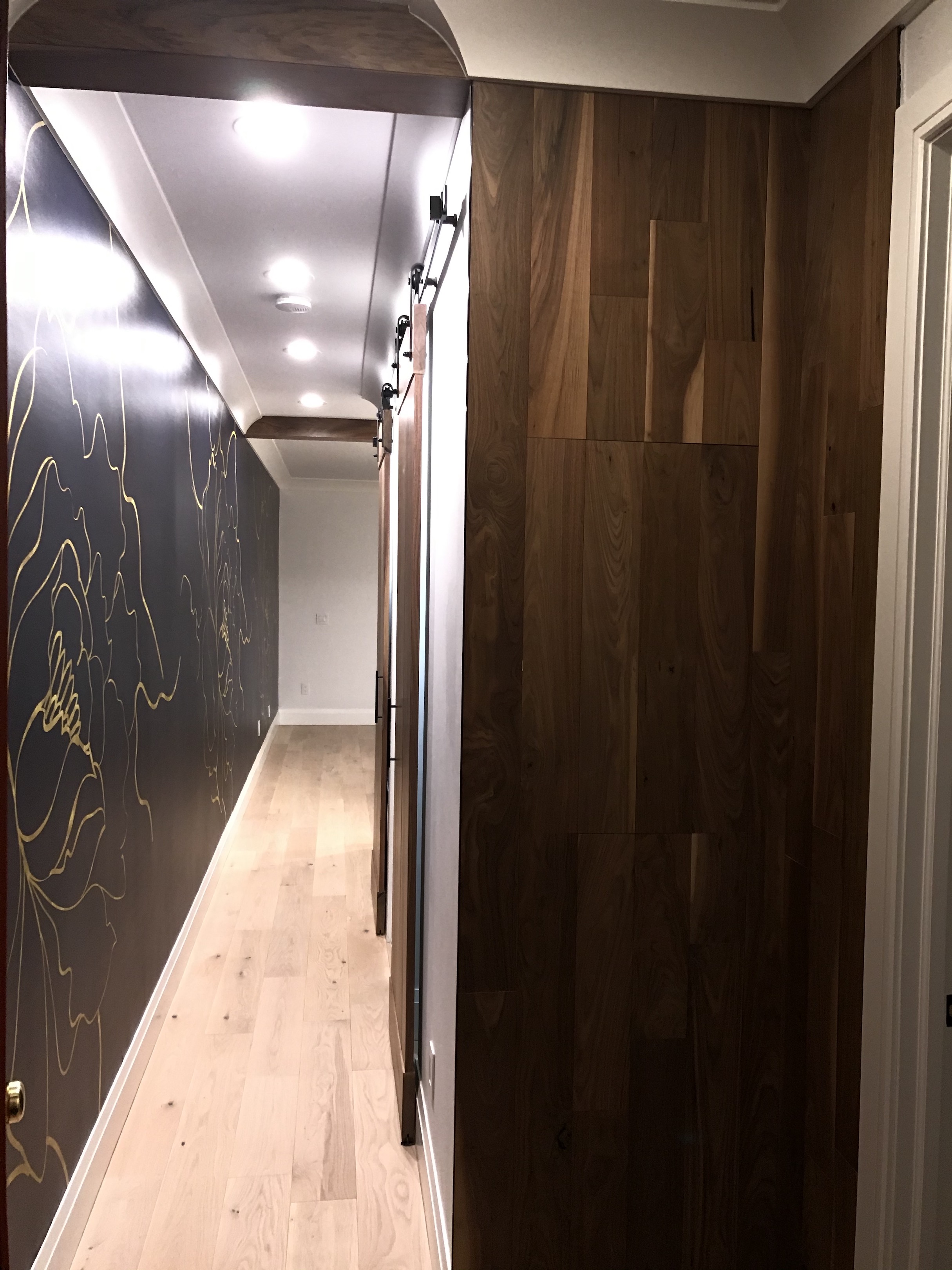 In another renovation, Mountain Lumber fabricated a client's wood flooring, walnut paneling, faux beams to cover piping, and custom barn doors for much less than it would have cost to build with new wood.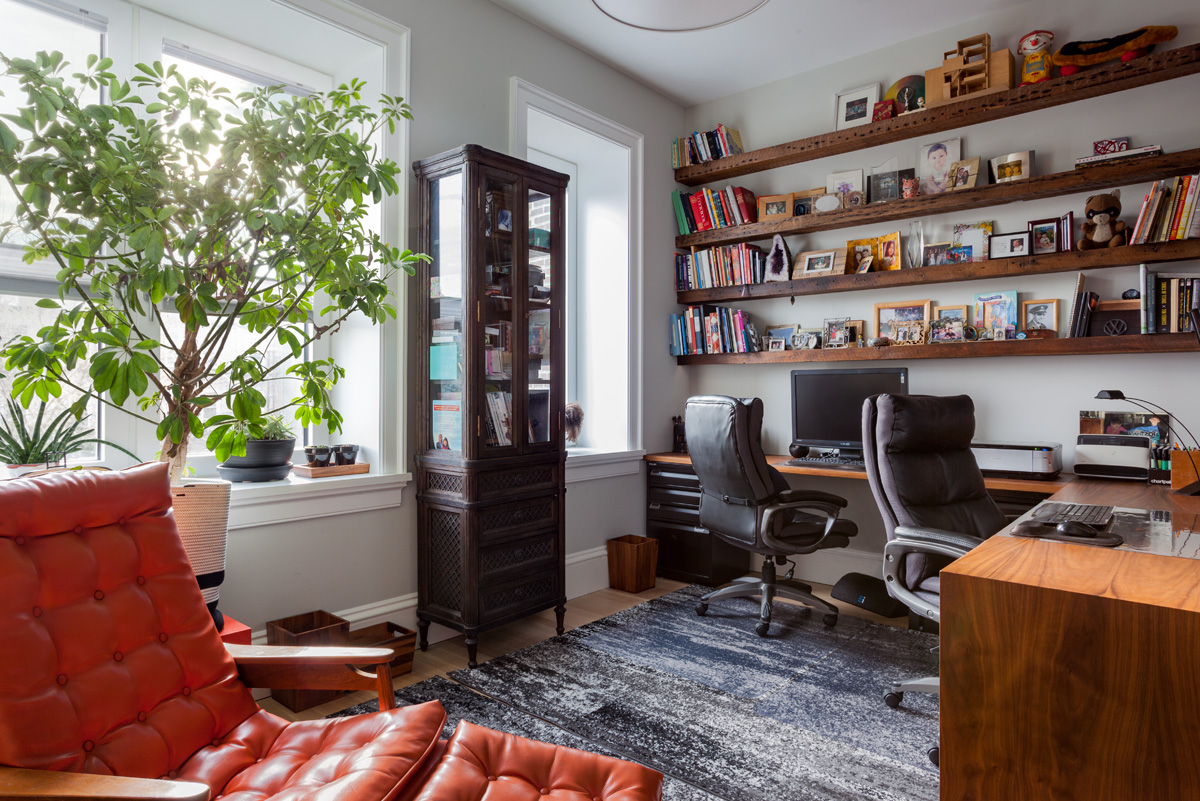 Know that salvaged wood can include wood joists and other structural elements from your own project. Failla says they'll pull down the ceiling joists from projects and clean them up to use as is for shelves (above) or mill them down into other things.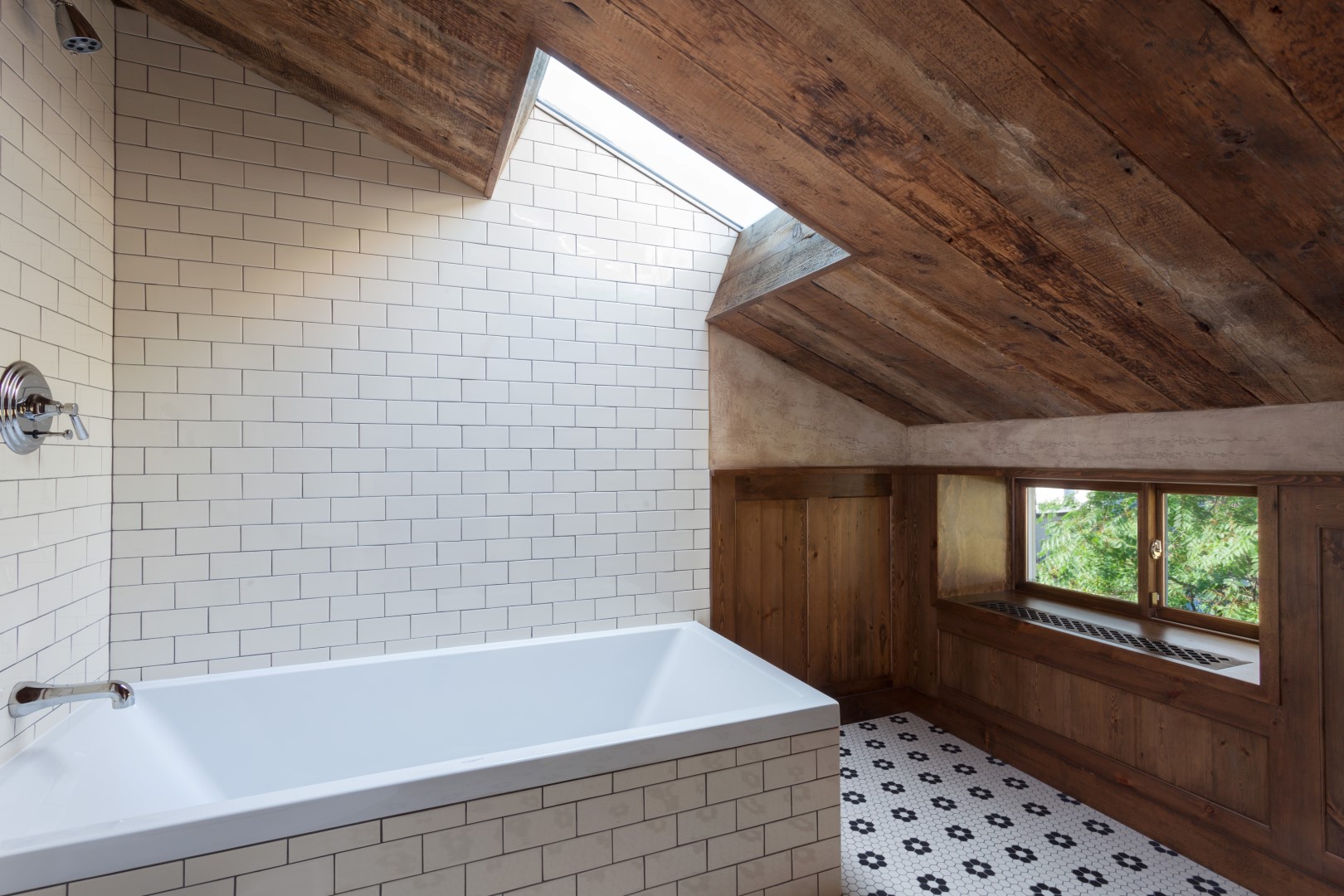 She has also given floor joists new life as cladding for the ceiling, as in the attic of the same Brooklyn Heights townhouse (above). 
Does using reclaimed material complicate a renovation?
The answer is "it depends." Doors are easy, windows not so much.
Failla says she has a couple contacts who can reglaze old windows or take them apart and reseal them. "It's a tough call because original windows are wonderful but expect to feel a draft," she says. In her experience, if you are doing this it is to save the windows, not to save money. You'll spend more on restoring them—and they'll never be as thermally sound. In her experience, owners end up replacing them once the charm wears off. 
Fisher says he often uses reclaimed cabinet fronts and finds those to be no different than custom. Same for installing flooring using reclaimed wood. 
Even retrofitting a kitchen can be a relatively simple process. Feldman says Renovation Angel's own design staff works with your own architect to finesse the different floorplan. (And the upfront savings on the components will offset any extra design/labor fees).
Sometimes being presented with extraordinary salvaged items can help influence the design direction. Polumbo tells Brick he once built an entire apartment out of donated paneling salvaged from the Fifth Avenue home of the late Kitty Carlisle Hart for a writer who desired a quirky, unique place. "We paneled every inch of this small loft, built-in armoires and dressers, even the bed was a giant cabinet with bookcases on the side walls and a window over it. It gave the feeling of being in an old train," he says.
Another client let him build much of his home out of "truly bizarre detritus from the Los Alamos Nuclear Lab, with a heavy dose of art and plants to take the industrial apocalyptic edge off." Anything goes, in other words. 
And by all means, if you are a scavenge hunter yourself, your architect can work your finds into the reno. Both Fisher and Failla say this is pretty much par for the course when working with design-savvy New Yorkers.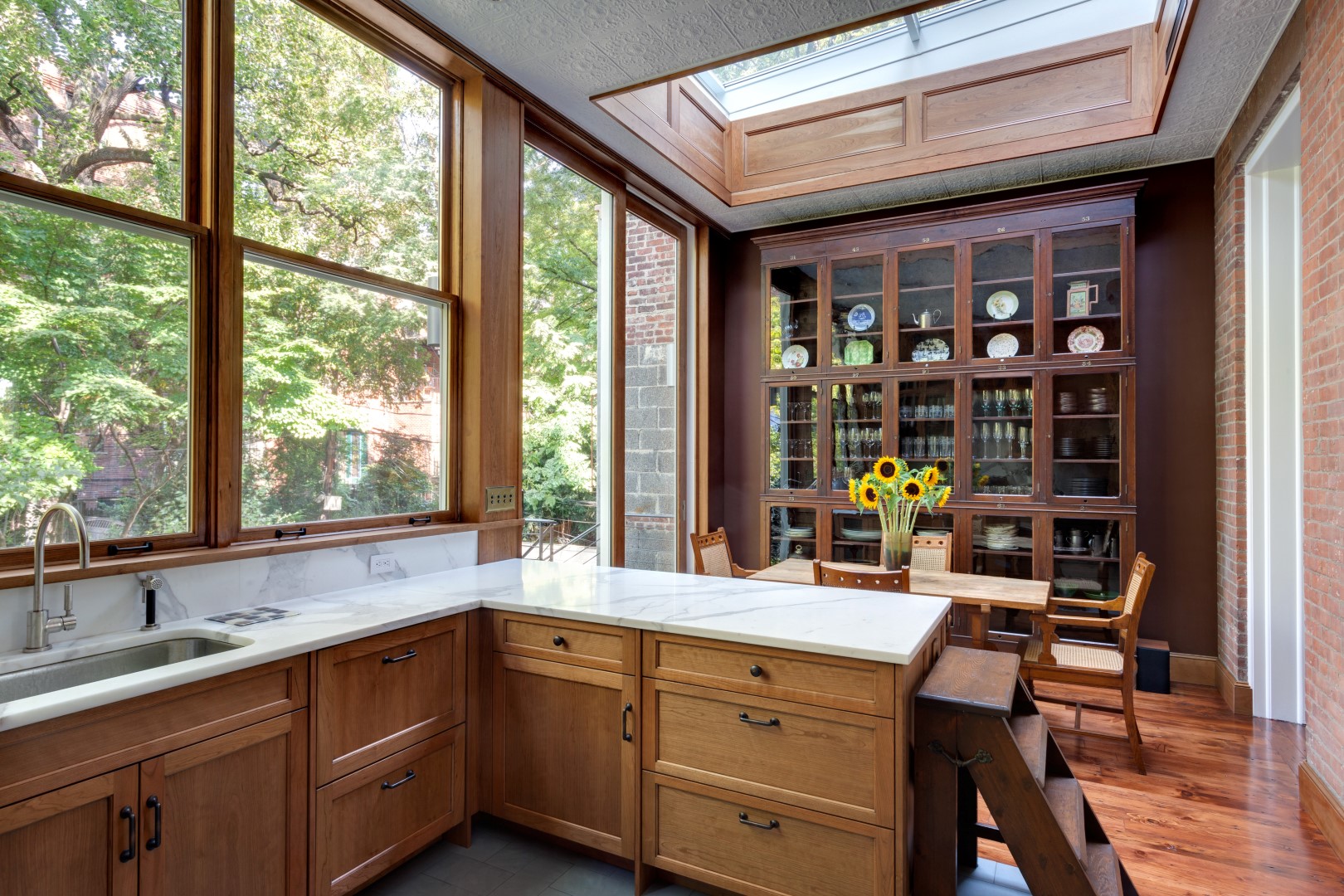 Failla stacked three salvaged units found by the owner of the Brooklyn Heights townhouse (above) to create a floor-to-ceiling focal point in a kitchen nook.
On the other hand, things can get complicated if you decide to salvage something from your own project—especially if it is only discovered during the demo stage (hello change orders.)
Case in point: Failla is converting an 1880s firehouse (Engine Co.16 in Chelsea), which has been owned by a church since the 1970s, into a four-unit condo building with a community facility on the ground floor. 
"We are finding really cool remnants of the firehouse as we go—the contractor sends a daily email progress report," she says.
So besides restoring the original tin ceiling (a painstaking process that involves taking it down, cataloguing each piece, and then working this into each room's design), they are using the "amazing" tongue-and-groove wood underlayment as cladding in the entryway and wall paneling as sound attenuation for a new slatted ceiling. "The slats are 2 inches thick and 12 feet long, which you just can't find anymore—or you pay more for it," she says. 
And they decided to use the painted subfloor as the actual flooring, which requires the wood be taken to an independent contractor to sand it down and will therefore take longer than installing a new floor. "But it is worth it for us and the client because you aren't buying new materials and are therefore being more sustainable."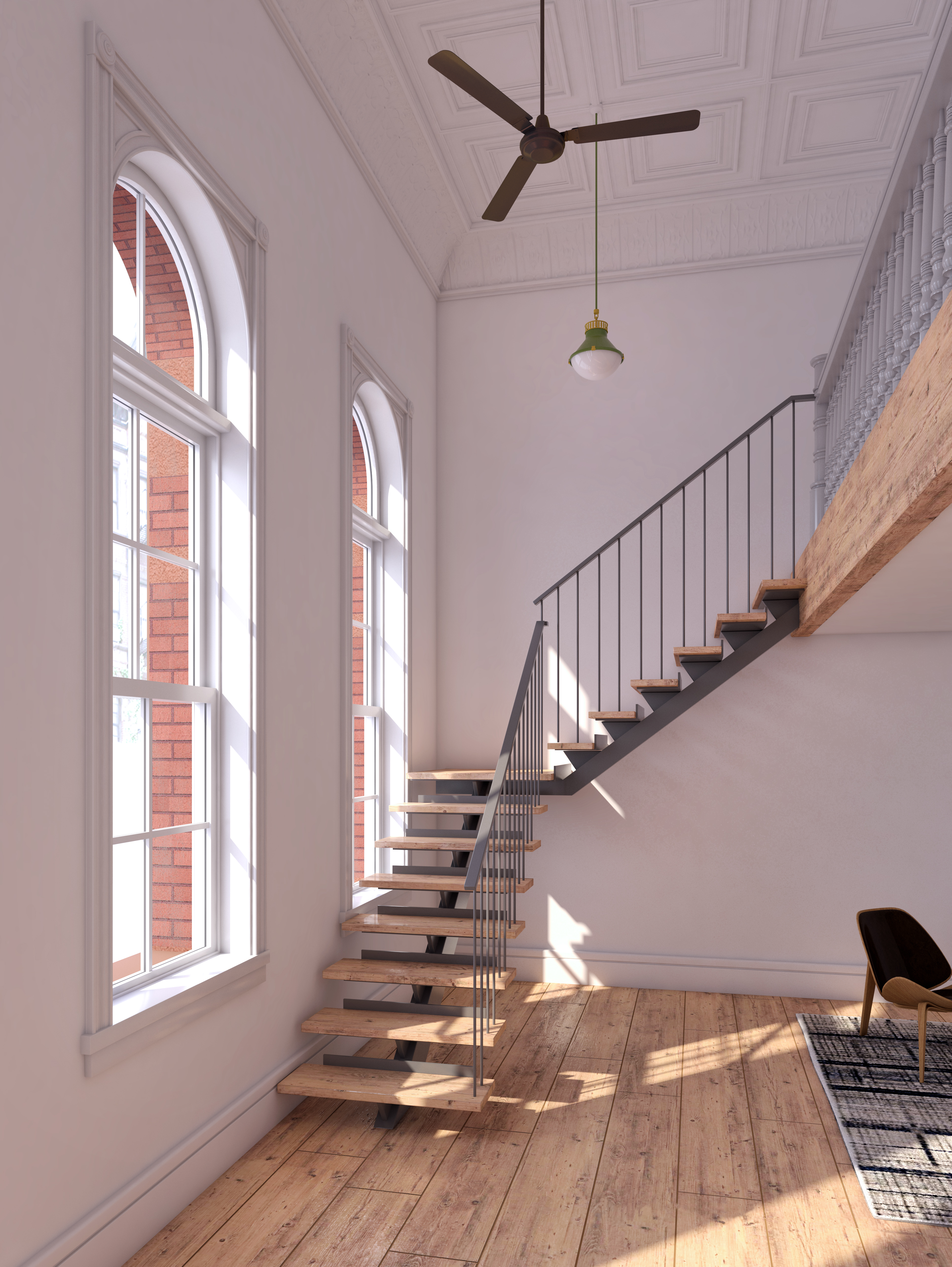 A particular aha! moment was when they realized they could reuse part of an original steel banister at the top of the new stairs in the duplex unit (above), designing a simple and obviously new railing to turn down the stairs—it complements but does not compete with the original (below).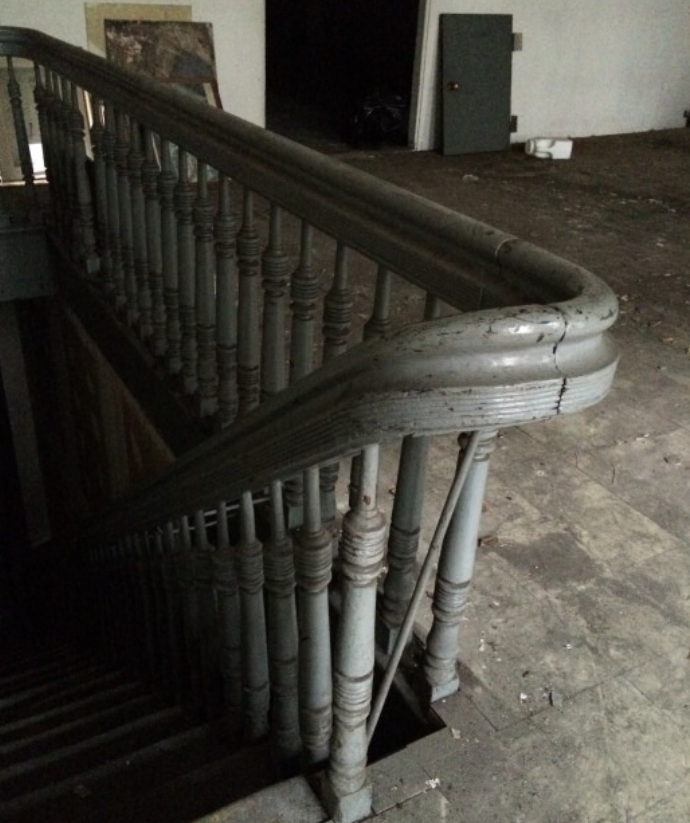 In these cases, Failla says restoring and retrofitting does take more time and effort, with more back-and-forth between the contractor and architect and client. "Anybody else would be like it's too much effort, throw it out, but the owner (who will reside in one of the units) is completely behind the project. It's nice that they are willing to pay us to design it with the newly discovered materials." 
What's more, Failla says they are coming up with fun ideas based on all the salvaged stuff the client is finding—like using corrugated glass panels from Big Reuse as a room divider or a door transom. The client also wants to use reclaimed doors in addition to new ones and salvaged lighting from Olde Good Things.
If you decide to go this route, be sure and tell the contractor you would like to recycle as much as possible to use on the job site or to donate. The same goes for anything you know you don't want to keep—furniture, appliances, decorative items can be donated to places like Habitat for Humanity ReStore or BigReuse, where you can also shop for their replacements. (Yup, one person's loss is another's gain.) 
In the spirit of sustainability, Green says a number of co-op boards have a debris and demolition certification value that rates how many dumpsters of debris you threw out, so that's another incentive to reuse, recycle, and repurpose.
That sort of public shaming notwithstanding, "it hurts our souls to see these things go in the dumpster," Failla says. The challenges of using reclaimed materials "also makes the project more interesting and the work we do more fun and the clients then have a story to tell, especially if we can pull something from their own home." 
Brick Underground articles occasionally include the expertise of, or information about, advertising partners when relevant to the story. We will never promote an advertiser's product without making the relationship clear to our readers.