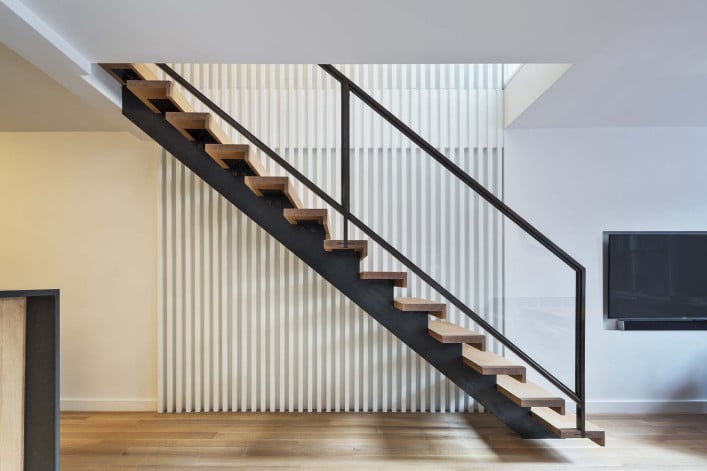 Living in a New York City duplex may be your dream, but dealing with a spiral staircase can quickly become a nightmare. Anyone who has had to cart a load of laundry—or tried to balance a cup of steaming hot coffee—up one of these precarious fixtures can relate. 
"No one is installing them anymore," says Ritu Saheb, founder of Saheb Architecture. There are of course rare exceptions, such as Saheb's architect friend who renovated her own Harlem brownstone. ("She and her husband are very agile.") 

Here's why they're so tricky to navigate: A standard staircase has a maximum rise (by code) of eight and one-quarter inches, but a spiral can exceed nine inches. "So it tends to be incredibly steep," says Andrew Schwartz, vice president of Legacy Stairs and Millwork. Also the run of the tread (where you actually put your foot) is usually nine inches but it's not uncommon for a space-saving spiral to be only seven inches, he adds. Then there's the tight, twisting, dizzying 360-degree turn. 
---
[Editor's note: An earlier version of this post was published in December 2019. We are presenting it again with updated information for February 2021.]
---
Safety concerns with spiral staircases
Spirals bear the distinction of being equally hard on both young and old, which is why Carl Shenton, founder of Shenton Architects, feels obliged to remind clients they can't supervise their children forever. "It's hard enough for adults to figure out how to use these contraptions and for a five year old, it's a whole other story."
Plus you have to consider how you are going to exit that space in case of a fire, Saheb says. For example in a co-op or condo, you have to maintain access to the communal stair (the "egress") from both floors. But you don't have those requirements in a townhouse, where you have the most leeway—and why they often have spirals. 
For these reasons, Richard Gelles, of staircase design company Insensation, steers clients away from spirals, even when they want to install one for the aesthetics. "Unlike a kitchen or bathroom that you may replace in 10 years, a staircase should last the life of the property, and there are many issues with spirals," he says. 
Buyers in general don't want spirals
A spiral staircase can turn off buyers, says Lisa K. Lippman, a broker for Brown Harris Stevens. "Younger adults don't mind them, but if there is any room at all I would do a switchback, which does not take up a lot of space. Everyone prefers something like that."
The larger the unit, the more negative the impact of having a spiral staircase will be. "It's the 4,000-square-foot duplex, where you see a true premium for multiple floors, as opposed to in a 900-square-foot situation," says Jonathan Miller, president and CEO of appraisal firm Miller Samuel. A spiral can look out of proportion in such a grand space. Besides, spirals are "metal death traps for a larger person," he says.
Architect Maryana Grinshpun of Mammoth Projects says linear staircases will look better and perform better, and "you'll have a lot more options in the choice of materials and still be able to keep it relatively inexpensive." (Scroll down for one of her projects.)
You can also enclose them in glass panels without obstructing the sight line, as Reddymade architecture and design firm did when replacing a spiral stair in the loft below.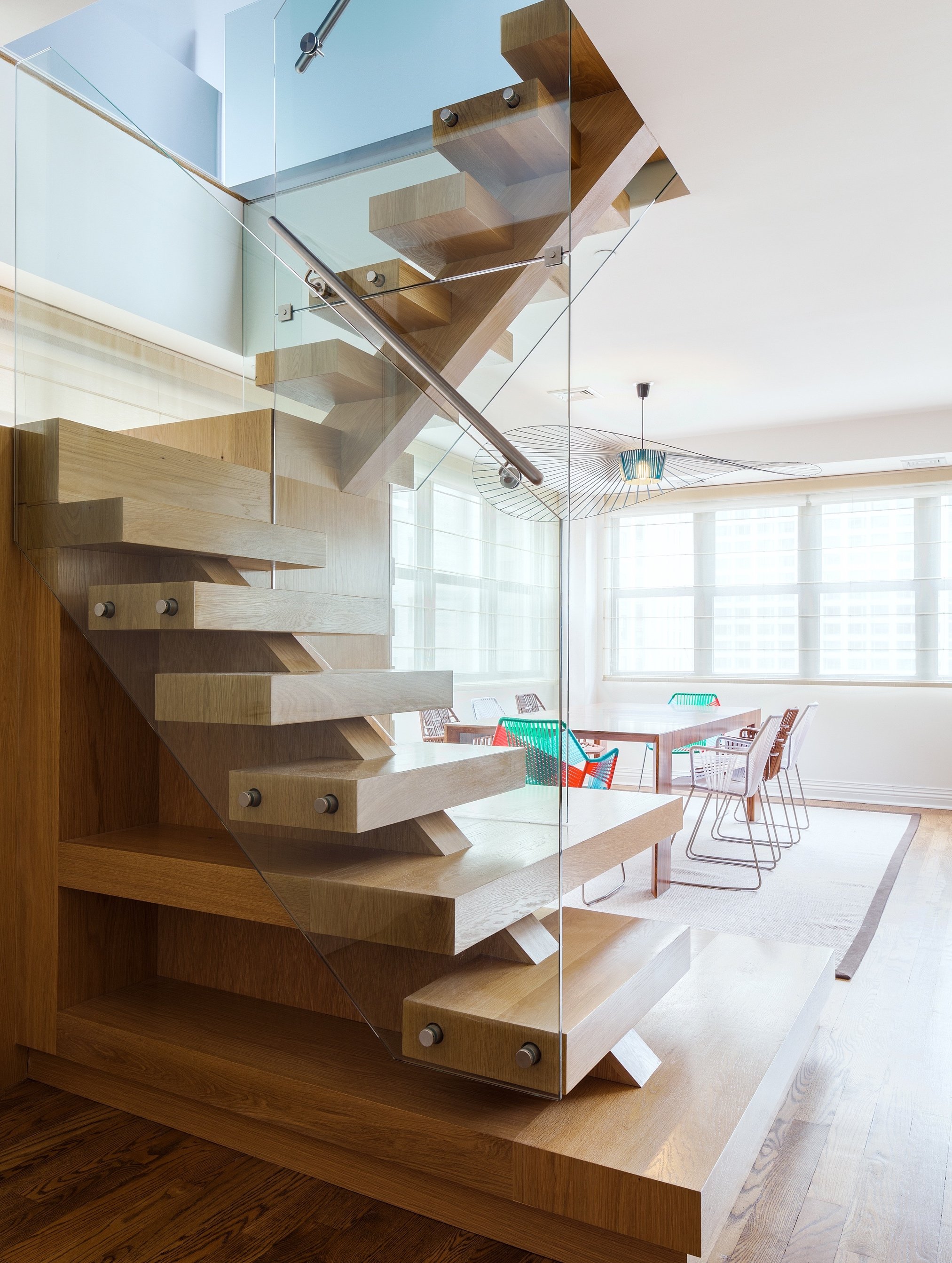 No matter the configuration you're going for, floating stairs (where there is nothing visible between the treads) "help to retain an open feel in the apartment by allowing light to pass through," says Robert Rahmanian, principal and co-founder of REAL New York. 
Brick Underground delves into these and other options below so you can find a staircase that will fit practically any specification—and any budget. 
What you can get depends on your building
Replacing a spiral staircase with something else will typically require you to open up the floor on either end, advises Saheb.
"The layout of the new stairs is determined by the location of the existing structural beams," says Esther Sperber, founder of Studio ST Architects. The best-case scenario then is being able to make the new slab opening in between the existing beams and avoid cutting the steel or concrete structure (always with the building's permission). You will most often need to add some new steel framing to secure the new opening between the two floors, she adds.
Another big issue is how the pieces will be delivered, Schwartz says. Specifically, is there a service elevator? If not, how big is the regular elevator? If it's a walk-up, that can also pose problems, though "almost nothing is impossible." 
The answer to those questions (among others) can help determine your options. Most staircases are prefabricated and then shipped in smaller pieces that can be assembled on site, though the size of those pieces can vary.   
(Schwartz said one custom staircase had to be lifted by crane in one piece onto the roof of a client's West Village home, to the tune of $40,000—almost as much as the staircase itself. Only in NYC!)
Ultimately, which type of staircase you get will depend on your particular layout, which in NYC is often long and narrow—especially in townhomes. But it will also depend on where your doors and windows are located. 
Straight stairs are the go-to choice 
"Certainly if your space can accommodate a linear staircase it is in some ways the best solution," Shenton says. It's architecturally very clean with one straight flight, he adds. 
Shenton even had a client walk away from buying an apartment on another floor when they realized even the most compact linear staircase would not work. 
Just be prepared to sacrifice at least some square footage. The average diameter for a spiral is five feet, whereas to connect a 10-foot expanse between floors with a straight stair, for example, would require a 15-foot run (each step will add about 10 inches on the incline), at a standard width of three feet (plus any railings). 
Even though something has a technically smaller footprint doesn't mean it is the best decision, Grinshpun says, who suggests that you can do something more sophisticated with a linear geometry—"it's essentially a series of boxes"—without spending a lot of money on a circular configuration. 

There's a consensus on this point. "Our response is typically to craft a staircase into an element of the architecture, both in terms of its geometry and its detailing," says Joe Yacobellis of Mojo Stumer + Associates. Often long, linear stairs work well for this, he says, because you can avoid the inefficiency of additional landings. 
Sperber says all of her clients have chosen to install either a straight stair or a switchback (see below for more on those). One such client was a family who wanted something safer for their new child in their West Village duplex. So Sperber installed a stair that was less steep and had glass risers and railing "to maintain the feeling of airiness and openness."
Catherine S. Smith, an agent at Warburg Realty, says straight stairs are indeed the top choice for many clients, including one family that combined two apartments with a floating staircase that fits right up against an existing wall of bookcases.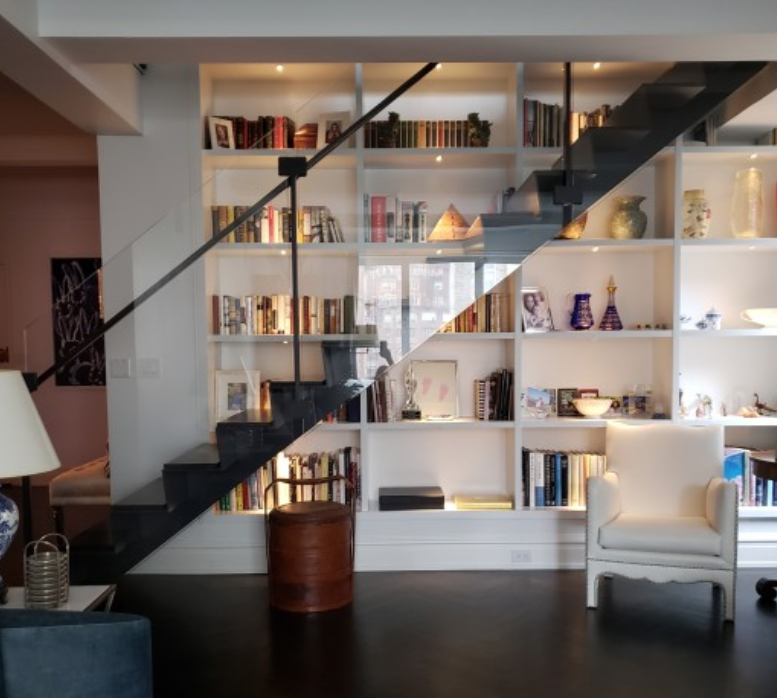 Switchbacks can be the most space-saving option
When a single straight stair won't do, try a switchback. Schwartz and Gelles say it is generally the easiest replacement for a spiral, given that they take up only about six feet across the side-by-side treads. The two straight sections are joined by a landing or return. 
Schwartz recently swapped out a spiral in a Manhattan duplex with a switchback constructed of steel stringers, wood treads, and glass panels. "Mixed media has been a popular design element," he adds. 
They can even fit in tight Brooklyn brownstones (see below).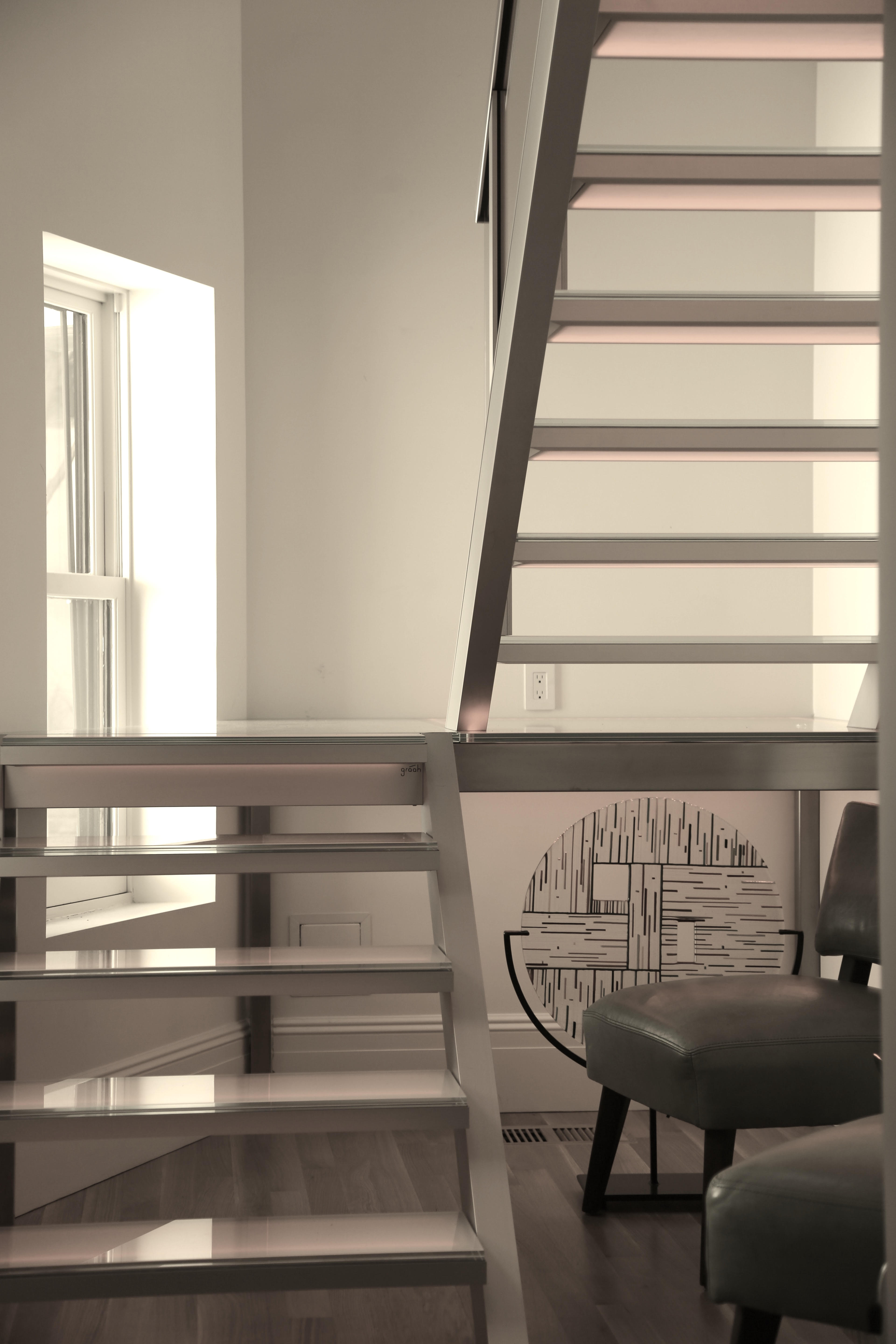 Here's another option from Insensation that's made of steel.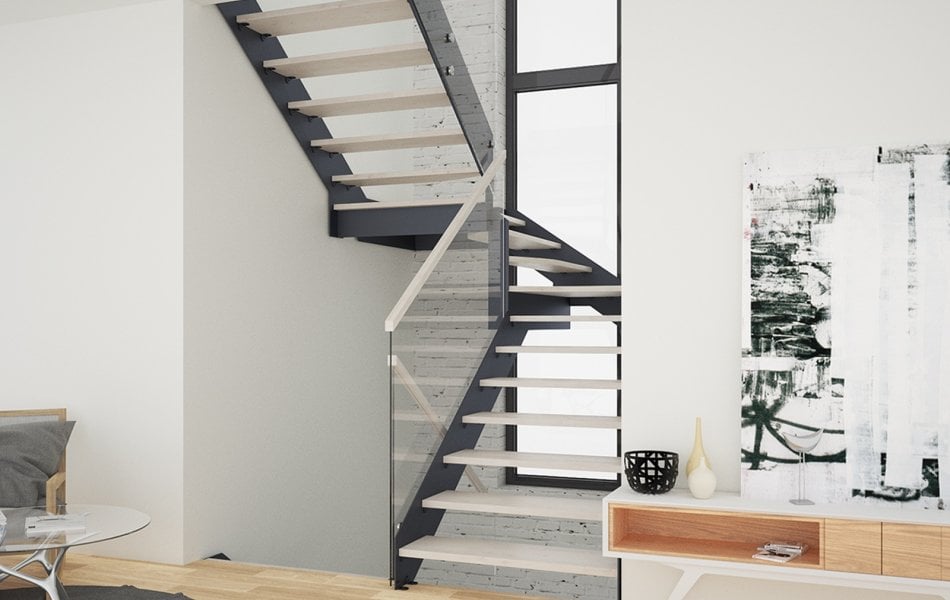 Although a switchback stair does take more room than a spiral, you can take advantage of the space below, says Sperber, who put one in her own duplex. "When my daughters were young we used to call our under-stair storage our Manhattan two-stroller-garage." In another project she used the space before the stair for a large kitchen food pantry.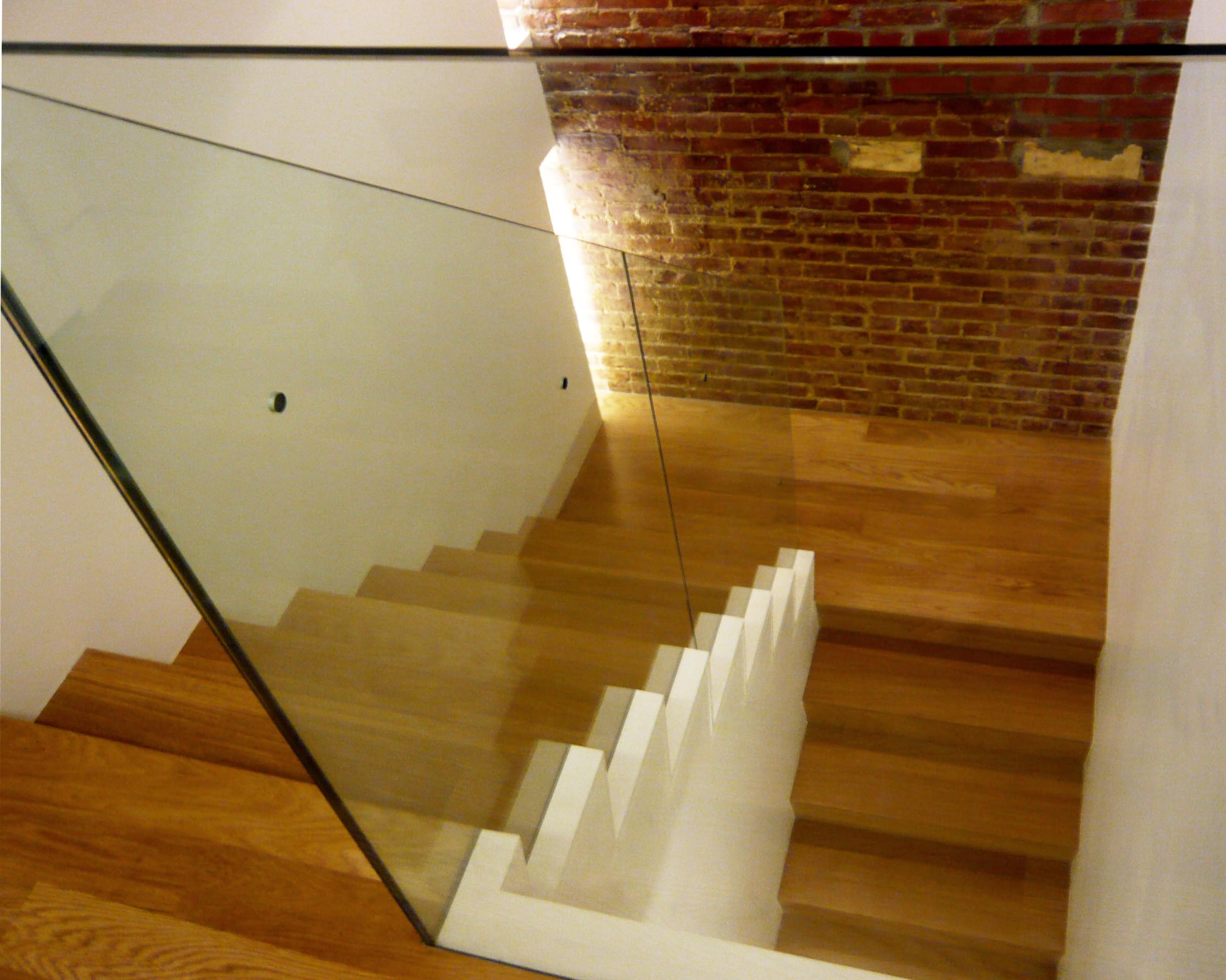 A home office can also tuck under a stair, as in this West Village duplex where a sculptural stair (with a winder rather than a flat return) was designed by Grinshpun. The living area is upstairs, and the master bed, office/guest room/garden access is downstairs.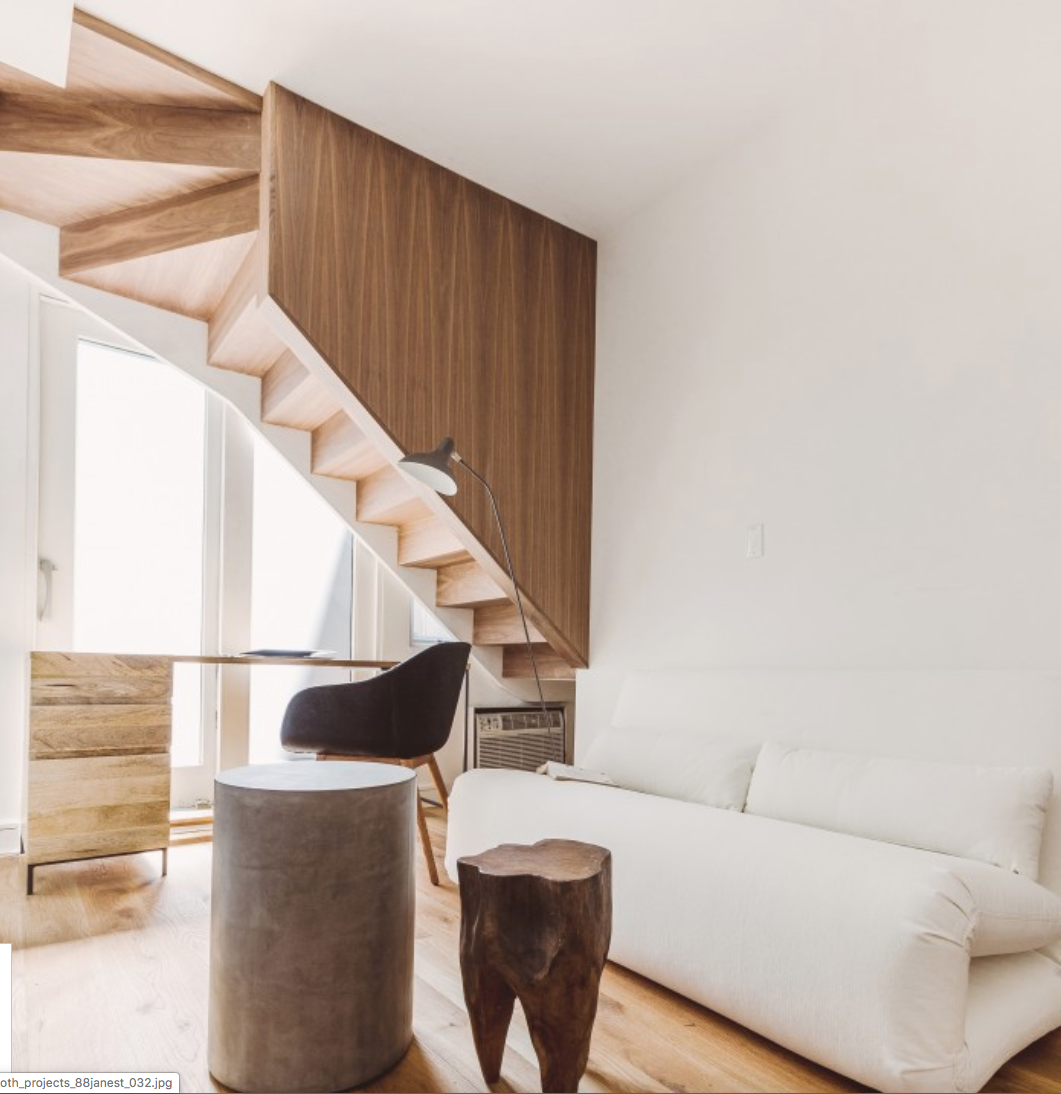 Winder stairs have a similar circular appeal
If you like the look of a spiral but "don't want to have it twist around a center pole that's seven inches in diameter," Shenton recommends a variation of a switchback where instead of a flat return you have a series of pie-shaped treads—or even what he calls a continuous winder stair (without the straight parts). The "load" (or supporting structure) for these will depend on the space, says Shenton. It is easiest when there are walls around it, while a self-supporting one has to have a stringer support underneath that's usually bent steel (read: expensive).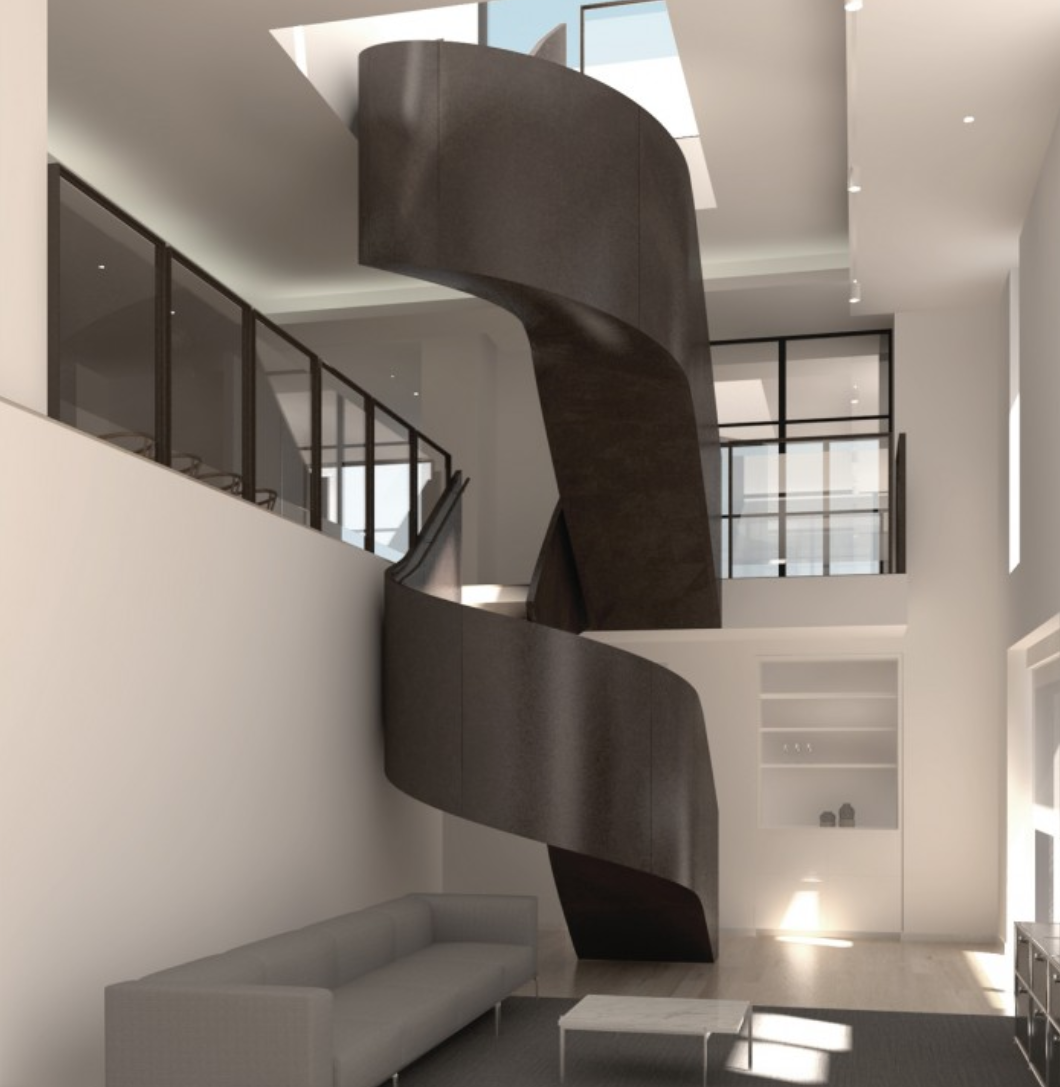 Saheb took out a spiral staircase in a Murray Hill duplex where initially the lower floor was just a basement with a pool table but had been converted to a whole master suite. "We put in a sweeping staircase, which has a wider turn and is visually impactful and increases the sense of coming down the stairs and looks good from the bedroom too." She also cut out holes in the adjacent half-wall to put lighting for the lower steps.  
Certainly curved stairs can make a strong visual statement, such as in this "bachelor" duplex that was renovated by Sperber.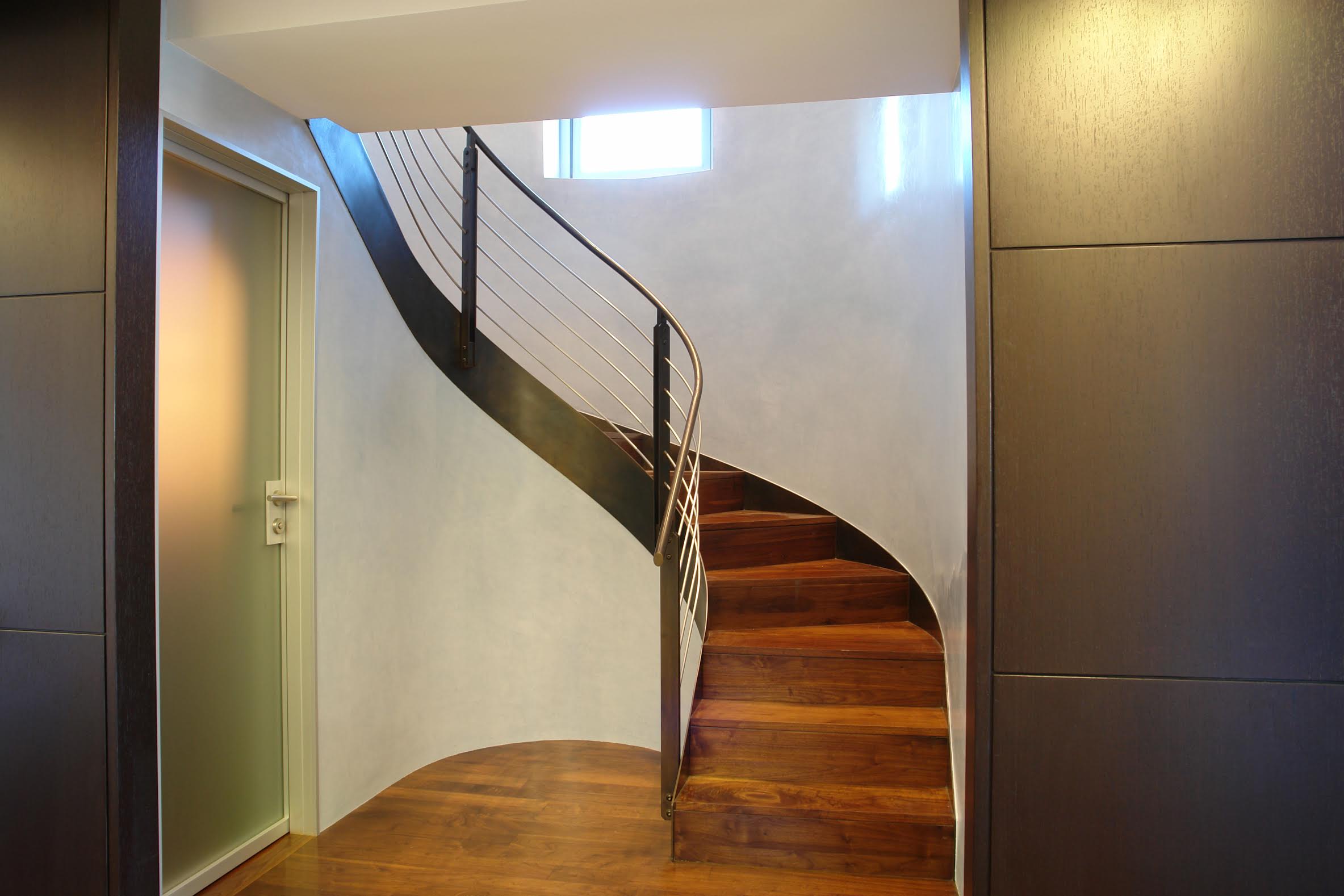 This wood-and-glass winder stair is from Insensation.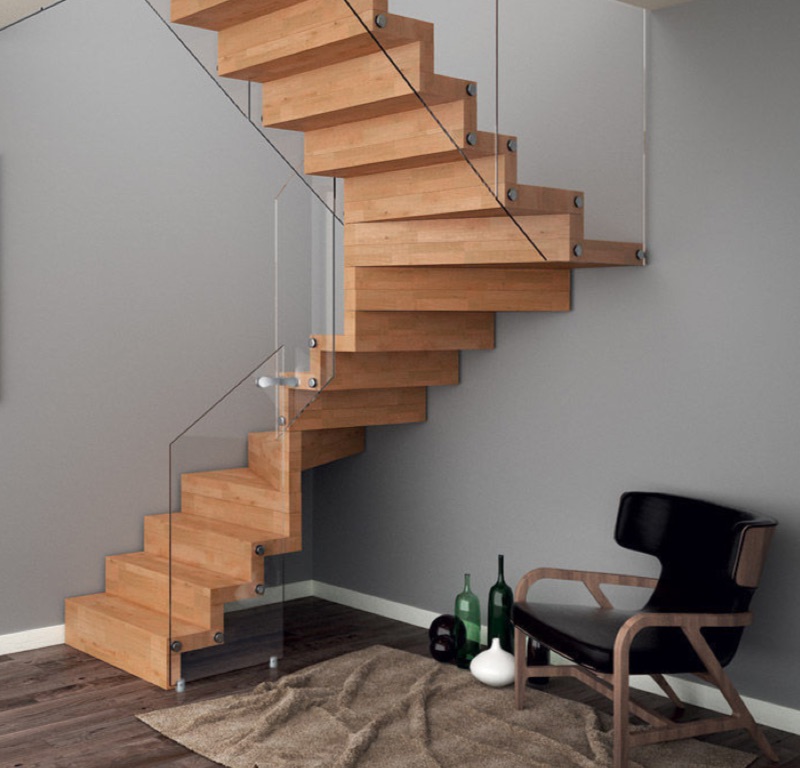 Here is a Helix Drama staircase from Arcways, which also a model that's appropriately called NYC Broadway Drama.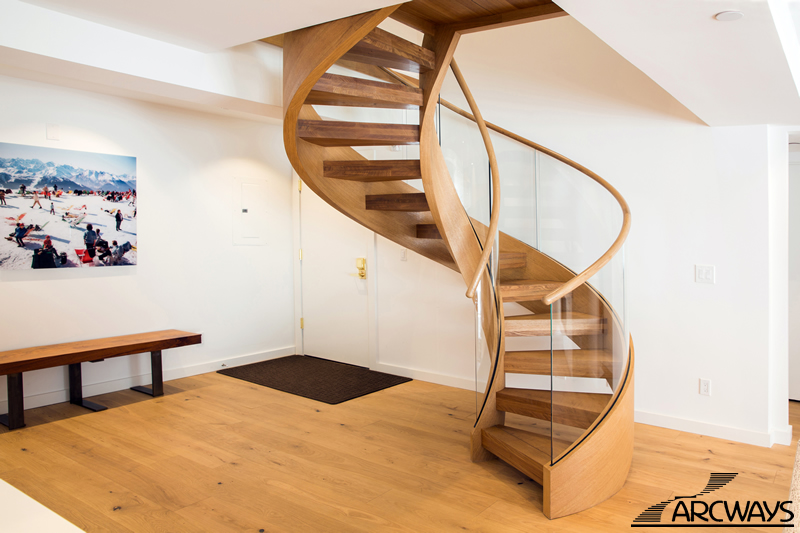 What you can expect to pay
If you are working with an architect, you will be paying for their design and also the materials and construction costs. 
You can also (surprisingly!) buy staircases directly from places like Paragon Stairs, Viewrail, and Atlantic Stairs (as well as Arcways, mentioned above) and have them delivered right to your door in flat packs. There are modular kits that range from very basic prefab to those that are handcrafted and with custom features. 

These staircase companies have in-house designers and engineers that will work with you to build a staircase to spec, in case you are not working with an architect. You'll need a contractor to do the actual installation (and obtain any DOB permits). All staircases are built to meet International Builders Code (IBC) standards but your contractor (or architect) will need to make sure they meet NYC DOB code too, both in the design and especially the installation.  
Paragon offers both custom and modular straight stairs. The Capitol is a single stringer option that ranges from $12,000 to $17,000. The Premium Straight (below) is a kit that starts at $6,000 for wood treads, less for an all-steel version.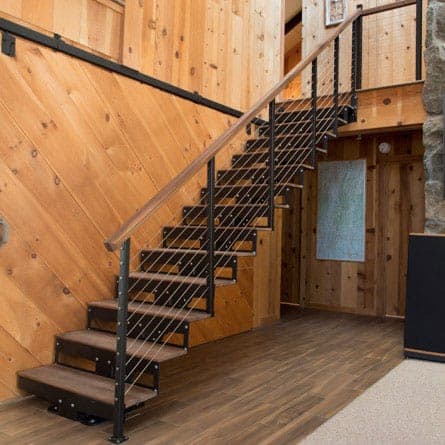 The Flight line by Viewrail has open risers and a single stringer with a choice of wood or glass treads. Prices start at $9,500 for straight, $13,000 for 90 degree (which can work when a straight line is too long), and $15,000 for switchback. Railings can be rod, glass, or cable. All components are shipped together and can be installed in a single day.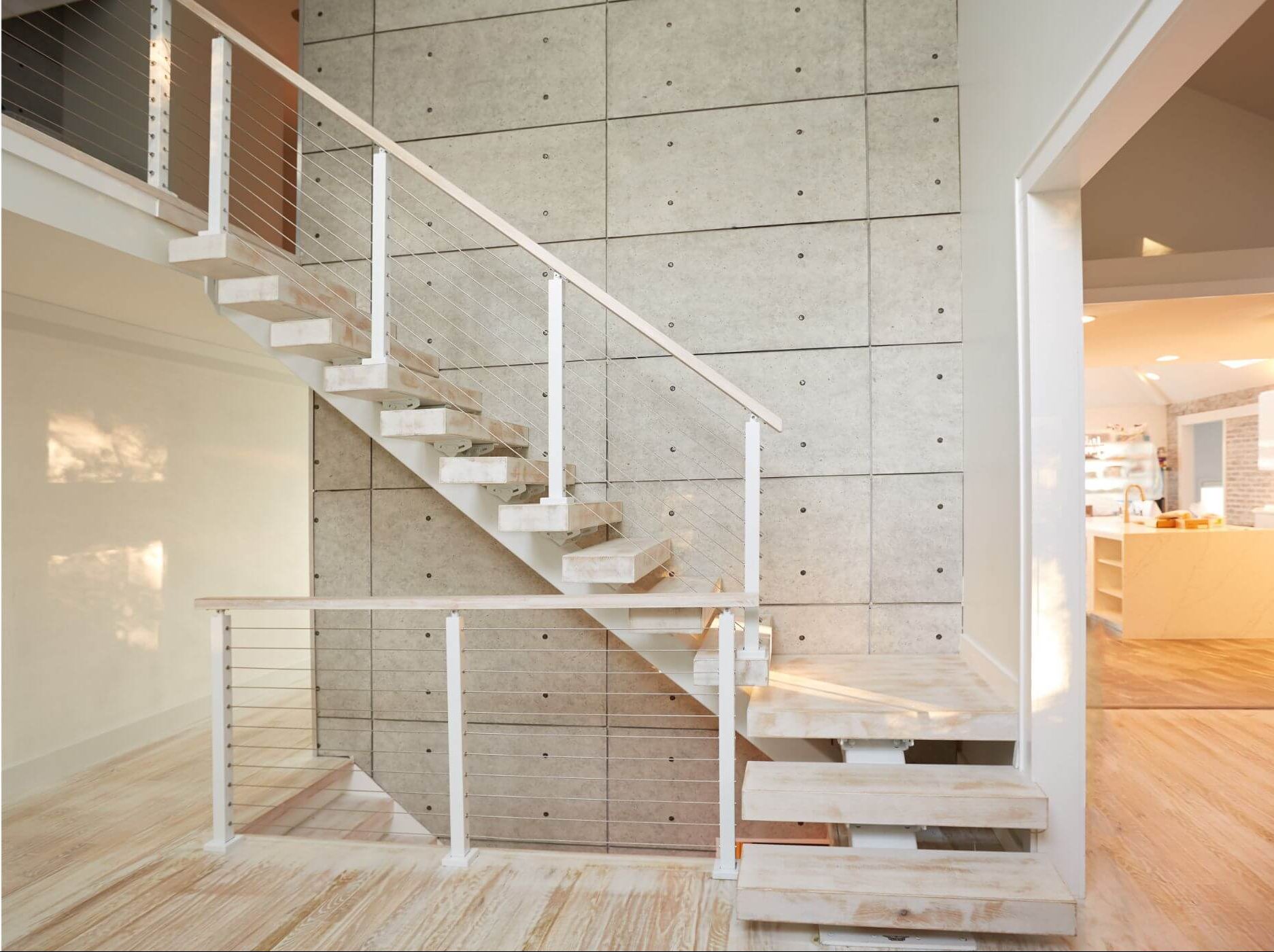 Brooklyn-based Atlantic Stairs is another local option with an entry level price of around $8,000 for their basic, custom designs, per a company spokesperson.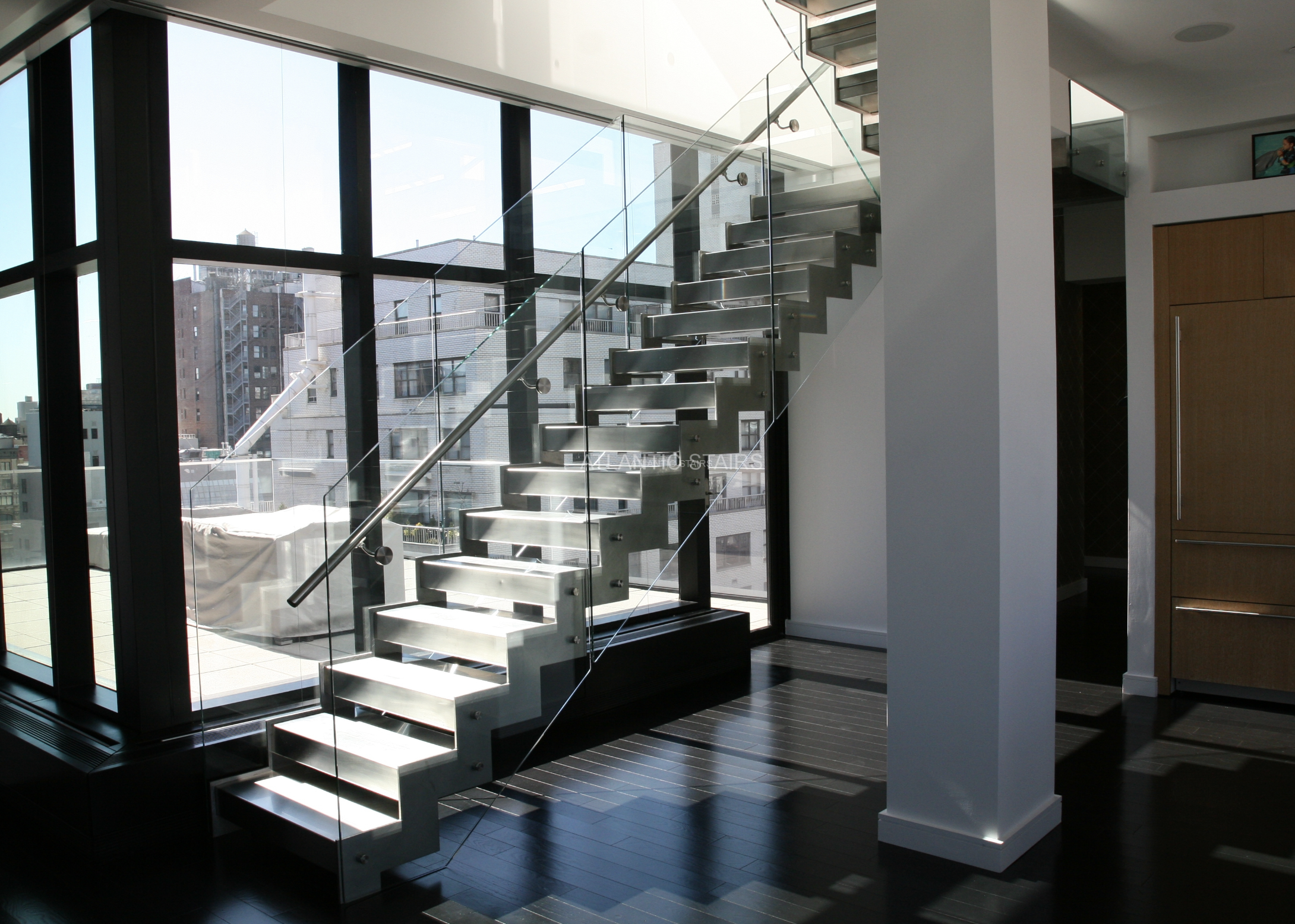 Schwartz says Legacy works directly with owners about 20 percent of the time, with a full comprehensive (design/fabrication/shipment) starting price of $15,000 and with the bulk of projects falling somewhere around $50,000 where an architect and GC is involved.
According to Gelles, Insensation (which works primarily with architects and developers) is mostly known for its Stairplane line of stairs made from anodized aluminum because it is very light in terms of installation, even on the 40th floor of a building. The most popular model has illuminated steps. (These were installed in two duplexes at The Abbey Condominium, which sold in two weeks.) Prices start at $8,000 for steel and anodized aluminum treads and $20,000 for glass and stone and on up to $70,000 when you add lighting.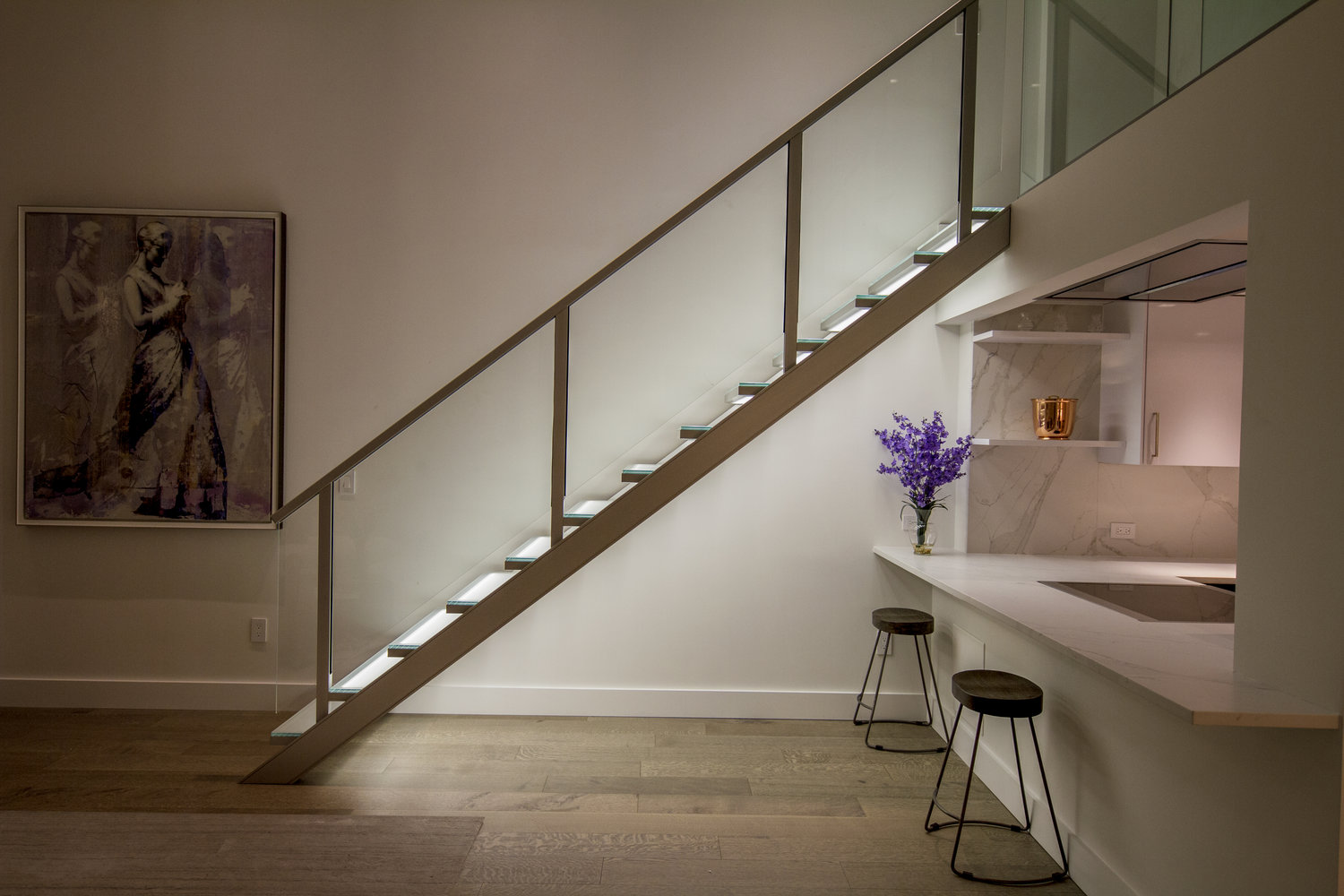 If you are on a strict budget
Basic modular kits are available in a few configurations (including spiral). Most have "scuff-resistant" beechwood treads and come in variable riser heights. Consider the Dolle Rome Modular 12-Tread Stair Kit for $1,5527 and the Arke Kompact White Modular Staircase Kit for $3,510.
When spiral is the only choice
Of course, you can always decide to upgrade your spiral rather than replace it.
That's what Grinshpun says happens in some instances (mostly in townhouses) where there's simply no way around it. "In that case there are quite a few spiral options where you can work in any number of materials you want, including steel and wood," she adds. "Just avoid those cheap, watered-down Apple store versions."
Arcways, Paragon, and other sources mentioned offer spirals in custom configurations. 
And it's not as if spirals can't be cool. Legacy created four spacious spiral staircases, each costing $250,000, for the four duplexes at 565 Broome Soho, which sold between $14 and $16 million.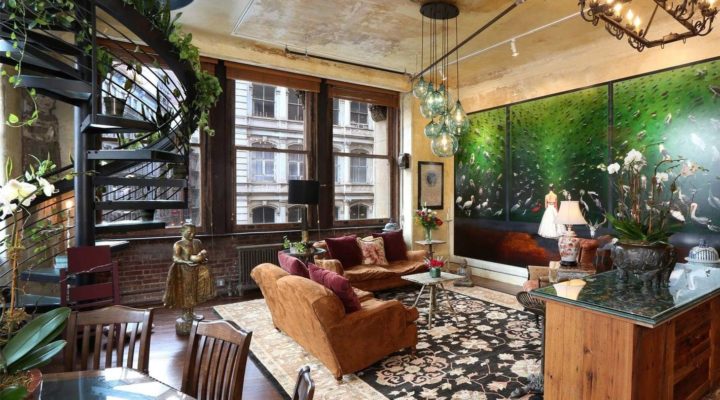 A spiral also often makes the most sense when it leads to a rooftop garden and is used only so often, Lippman says.
If that's the case, why not take a cue from the owner of the West Village duplex shown above. "We added a copper gutter and then her contractor installed an irrigation system so she can grow plants off the railings," Schwartz says. 
Brick Underground articles occasionally include the expertise of, or information about, advertising partners when relevant to the story. We will never promote an advertiser's product without making the relationship clear to our readers.