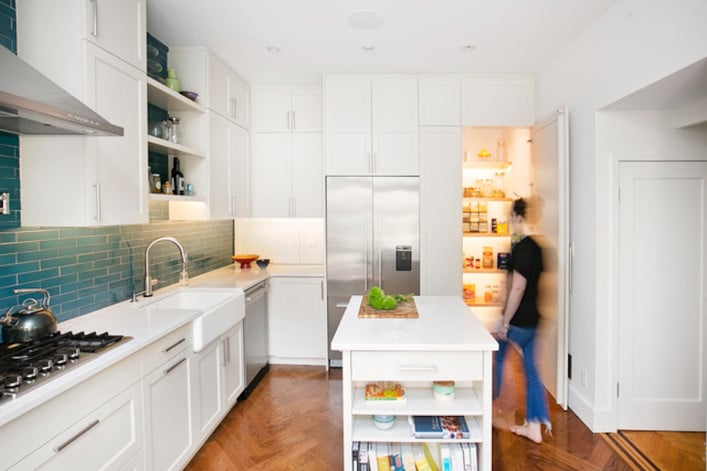 Now that our kitchens are working overtime, having a pantry is more enticing than ever—it's like having a touch of suburbia in New York City. 
Let's face it: You're eating at home more often and making fewer trips to the grocery store—and carting home bigger hauls. Not to mention ordering all those shiny new small appliances (hello Instant Pot!) that promise to expand and ease your meal repertoire. This reality is putting a serious dent in already limited storage.
If all that wasn't enough, being homebound has many New Yorkers craving neat, clutter-free environs. Certainly having a place for all the cans and cartons and boxes will keep your kitchen counters, and your blood pressure, in check. 
"I always advocate having a designated pantry, which in New York City apartments usually translates to a pull-out cabinet system," says Jennifer Morris, principal of JMorris Design, a Brooklyn-based interior design studio. "But a walk-in pantry especially is a dream," she says.
Jeff Etelamaki, principal of Etelamaki Architecture, agrees: "It's important to try and make room for a pantry, even when you think that's not viable, because it actually frees up a lot of space—especially in a design where there's more open shelving. Plus it's super functional and you can organize things by category." 
Rest assured: There are solutions for practically every situation. Here's a guide to creating a pantry in a NYC apartment that delivers on all counts.
Size up your needs
How much space you need for a pantry is largely determined by your shopping and cooking habits. Do you tend to stock up on items and buy whatever you can in bulk? Are you the type to make three meals a day from scratch? If you answered yes to either question, your needs are going to be more substantial than someone who limits their shopping cart and/or relies on take-out. 
Also, who is living in the home? Little kids have big needs in terms of shelf space (lower please!) for an abundance of snacks and beverages. 
Then there's the ongoing trend toward open shelving. "We've had a lot of clients these days who prefer an open feeling in the kitchen and have it not be so kitcheny, because even though it's a separate room it is still connected to the living spaces," says Anshu Bangia, co-founder of Brooklyn architecture office Bangia Agostinho. And if you take the upper cabinets away the storage has to be accommodated someplace else, namely the pantry.
This is why Bangia says taking inventory of your kitchen belongings and foodstuffs is a critical first step. She, for instance, likes to take photographs of everything in her clients' arsenal and then map it out as to what goes where, including space for future purchases of small appliances. "It is a very detailed kitchen design, especially when it's being customized for that space and that client," she says.
Even if you don't do such a deep dive into your wares, you'll at least want to estimate how much square footage you'd like to devote to your pantry vs. deep drawers for pots and pans and other cooking essentials.
Decide on a location
All the pros interviewed here agree that where to put the pantry is often as much about aesthetics as functionality. You want to be mindful of the visual load created by all the appliances and taller storage.
In terms of functionality, Morris says it comes back to the magic flow of how you cook as well as the moment of coming home and putting the groceries away. "So having some proximity between the refrigerator and food storage is wonderful in that moment," she says. Hence the popularity of a pantry that's smack dab next to the fridge—you can put everything away in one fell swoop.
At the same time, Morris encourages giving due consideration to how many people will be simultaneously accessing the space. For example, if the pantry is the snack zone, she likes to include a little breathing room around it so you're not tripping over the kids as they come and go while you are cooking. That might mean putting the pantry out of the range-fridge-sink work triangle. 
Aesthetically speaking, designers like to use the pantry to help balance the vertical elements.
Etelamaki for one likes to put the fridge on one end of the row of cabinetry and then a pantry on the opposite end to help balance out that main kitchen elevation, often with upper cabinetry bridging the two to create symmetry.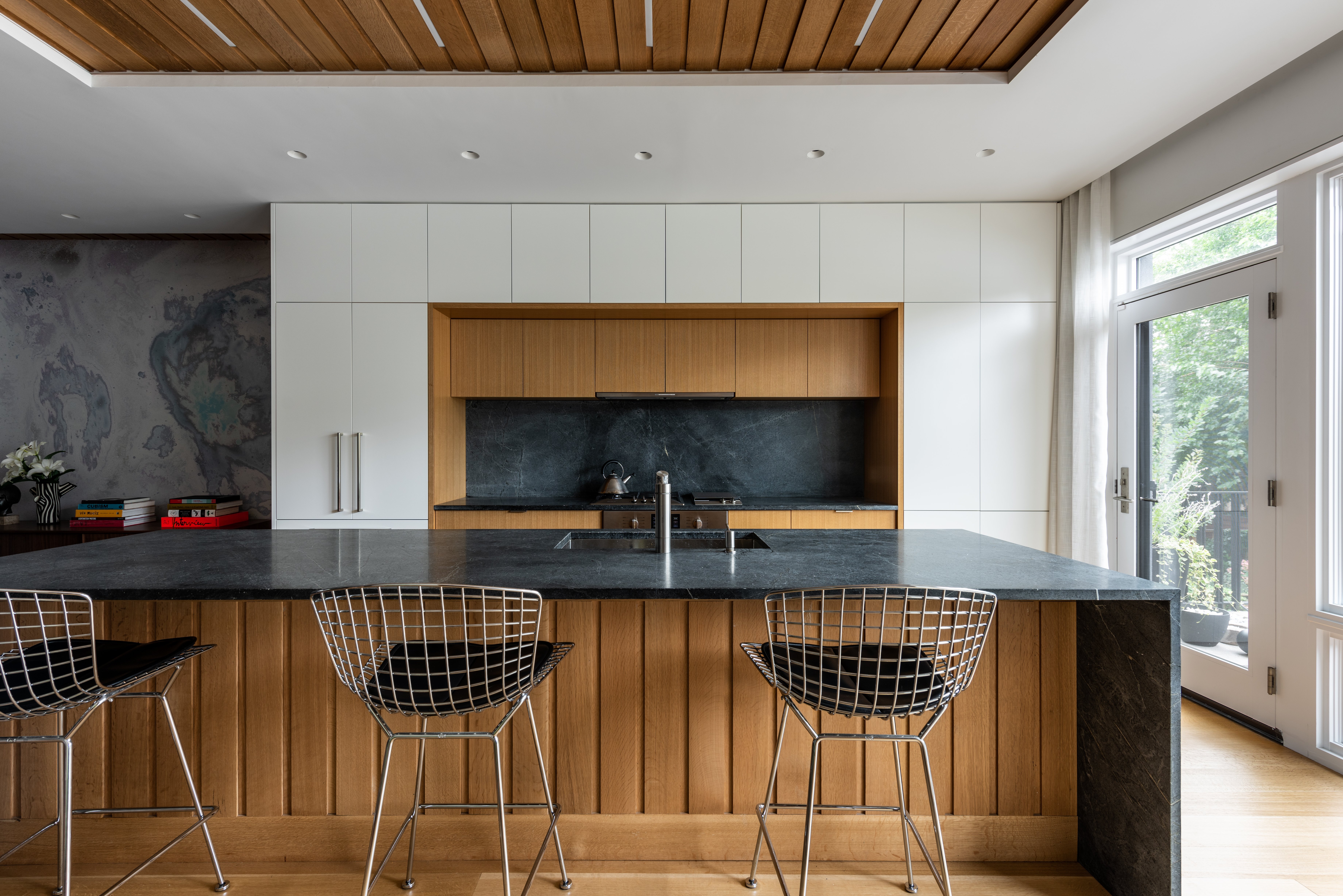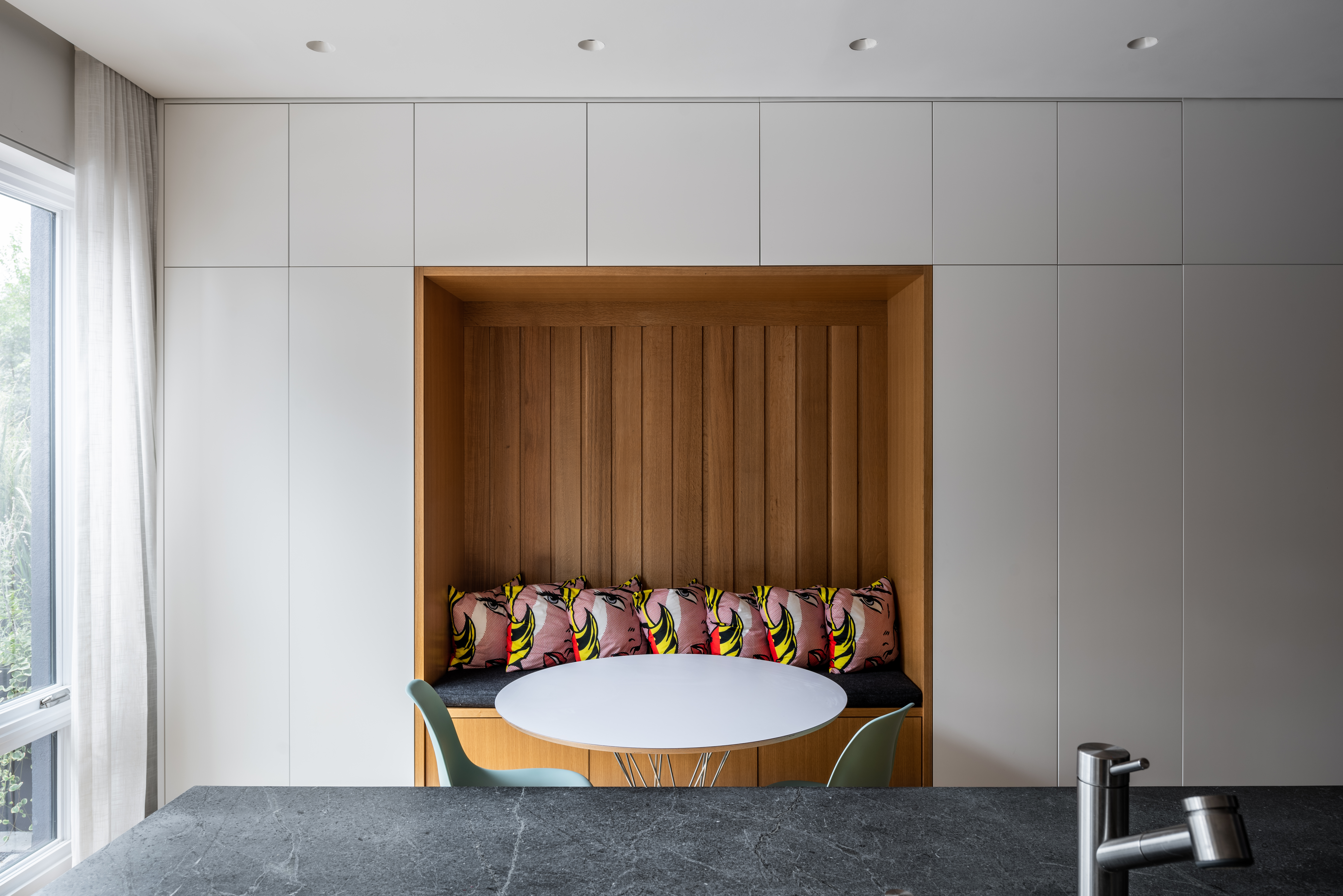 Another way to achieve balance is to group the taller elements together. "This visual massing then gives you the opportunity to explore different options for upper cabinets, such have them float or go to the ceiling," Bangia says.
Take the common scenario where you have one row of base cabinets and upper cabinets along one wall or a wrap-around section of an L-configuration. "Often the fridge is this vertical element that can look a bit skinny, especially a built-in unit with a custom panel on the front and a cabinet on top," Etelamaki says. In these instances he likes to create a "refrigerator tower" by adding another vertical element (e.g., the pantry) to help with those proportions—so a 36-inch-wide element becomes 48 inches or 54 inches. (Note the pantry and base cabinetry in the project below is IKEA with custom elements.)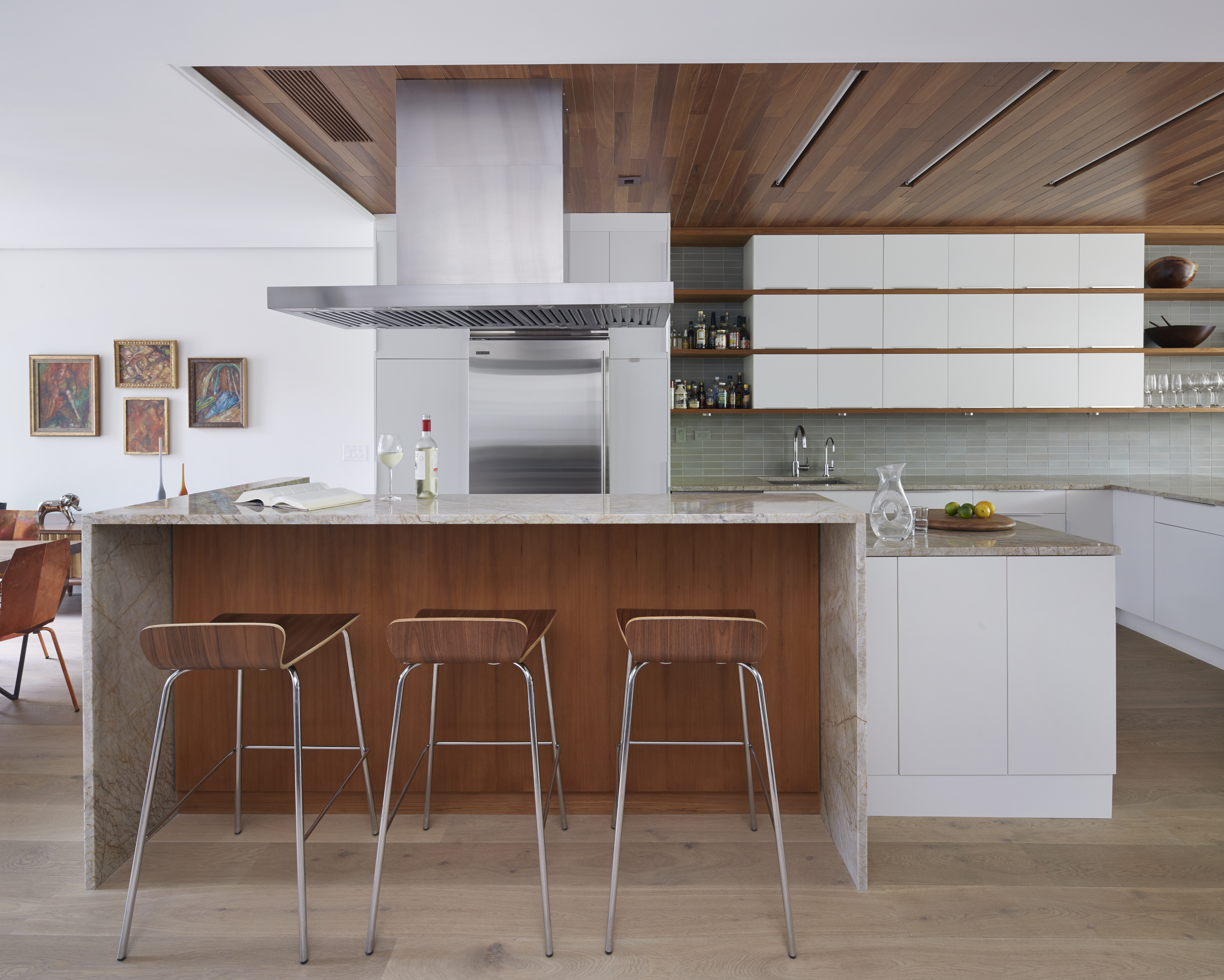 Along those lines, Etelamaki's main preference is to create a "pantry wall" consisting of the fridge and full-height cabinets, usually with the wall being in an L-shape that's perpendicular to the lower cabinetry. "It's cleaner to have that one wall as opposed to the up-and-down scenario," he says.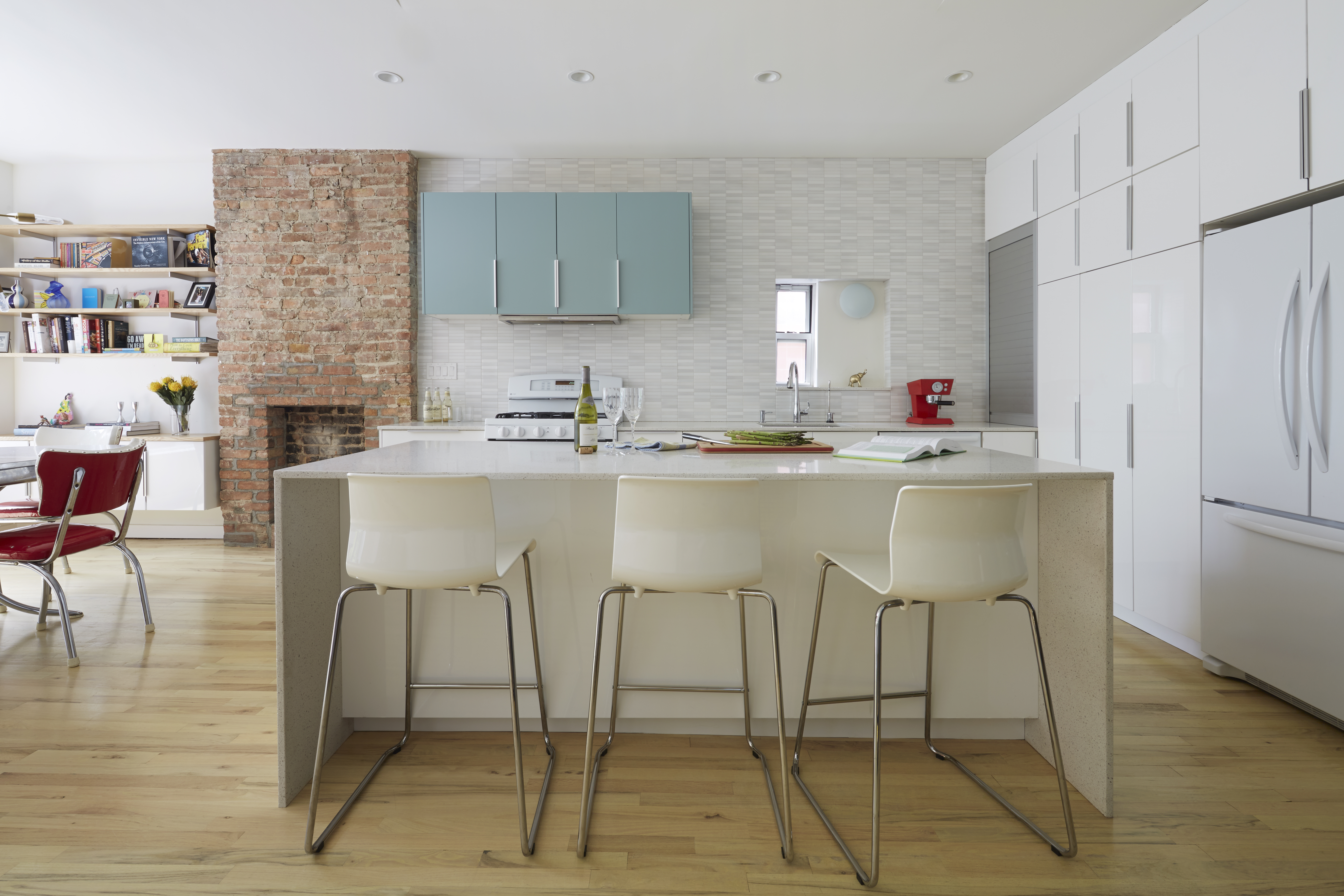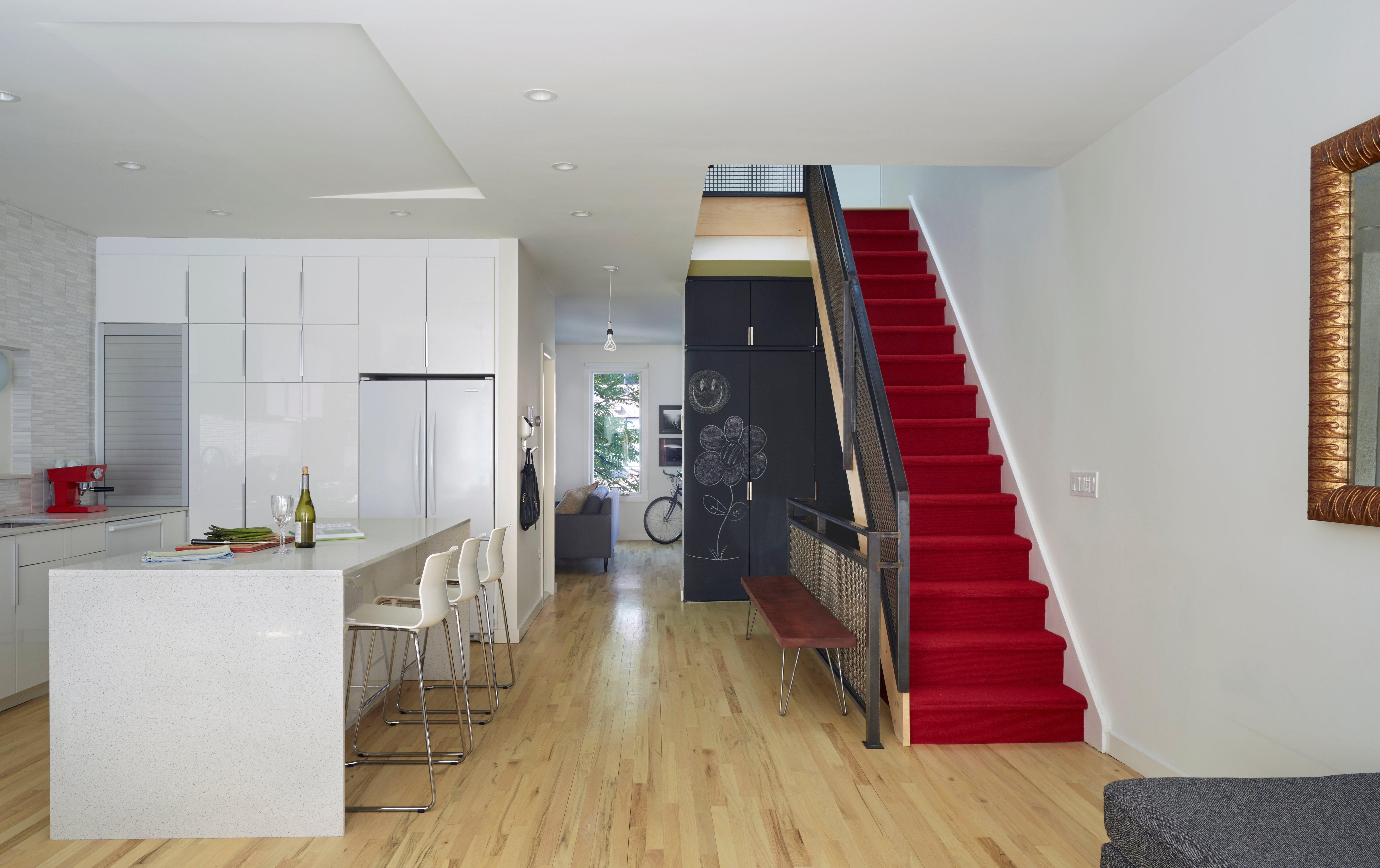 Consider having a "pantry portal"
Taking that idea one step further, Bangia created a "pantry portal" in the transition area between the living room and kitchen of a 13.5-foot-wide Park Slope townhouse. The portal and 10.5-foot-wide kitchen are part of a new extension on the parlor floor to replace the dilapidated kitchen on the basement level. At a slim 10.5 feet wide, there was no room for an island (the clients opted for deeper countertops), which would have also obstructed the view. So figuring out a way to incorporate extra storage was essential. 
Having a threshold between rooms in a typical enfilade floor plan—where the rooms are in a row with the doorways lined up so you can view from one end to the other—is a definite design element but also serves a function by having the fridge and pantry and small appliance storage area in that one zone. According to Bangia, the portal is the clients' favorite element of the entire renovation. (This pantry idea could work in a tight railroad apartment as much as a townhouse, by the way.)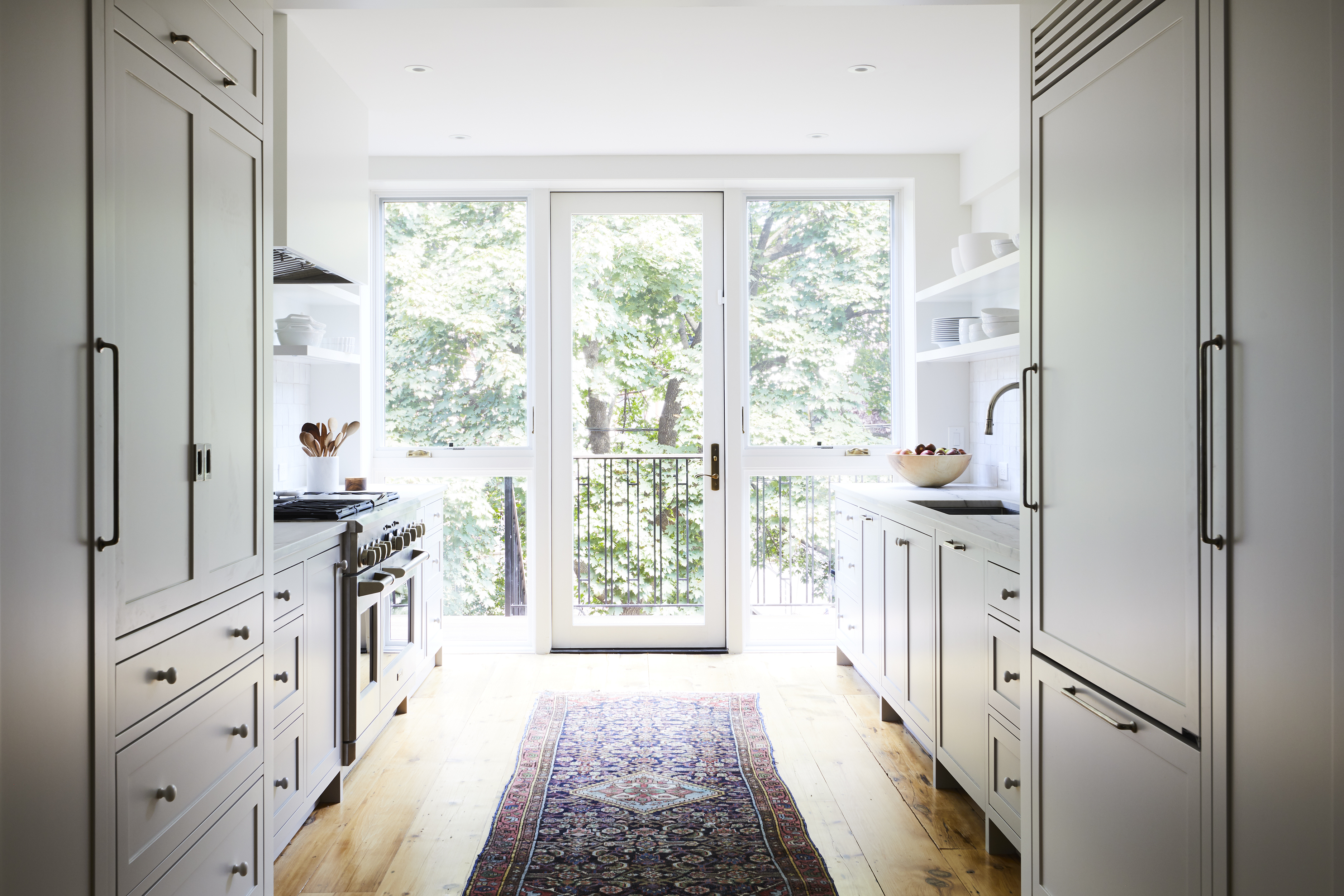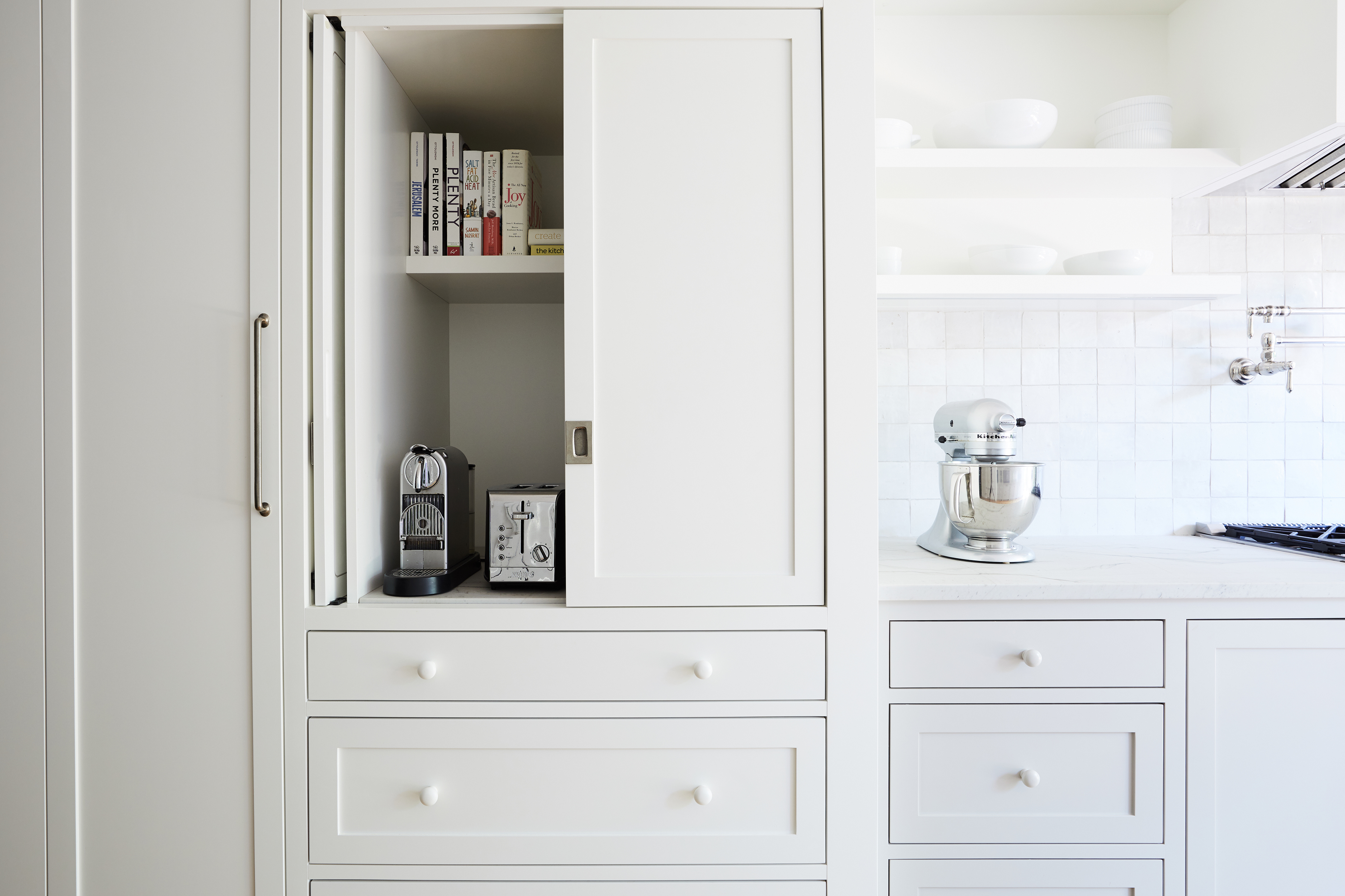 Look for ways to create a walk-in pantry
Pull-out and cabinet pantries are hands down the norm in NYC, even for spacious townhouses. But there are situations that just might let you get a real-deal walk-in pantry.  
Or make that a "slide-in" pantry. For a freestanding house in Ditmas Park (see photo at top) with a relatively small kitchen—there was just enough room for a petite island—and a "funky" floor plan, Morris was able to create a pantry that is deep but just wide enough to side-step into. "The chimney flue jutted into the kitchen such that you would lose so much square footage and depth, so I carved the pantry around it," she says. 
The cabinet to the left of the pantry has a fake panel and then there's a real door that when closed looks like a wall panel; the shelves wrap around behind that dummy panel in an L-shape, which Morris says is the ultimate walk-in pantry scenario.  
She created shelves of different depths to house different items and installed full-length under-shelf lighting that's controlled by a door switch so the lights automatically turn on and off. "Lighting can be an extravagance, but it helps to be able to really see what you have."
For another project in Prospect Lefferts Gardens, Morris converted a space off the kitchen that had a washer/dryer, relocating those elsewhere and then adding shelves for a pantry. Because there is no door, she kept the contents more curated. "It houses all the appliances you don't want out on the kitchen counters," she says.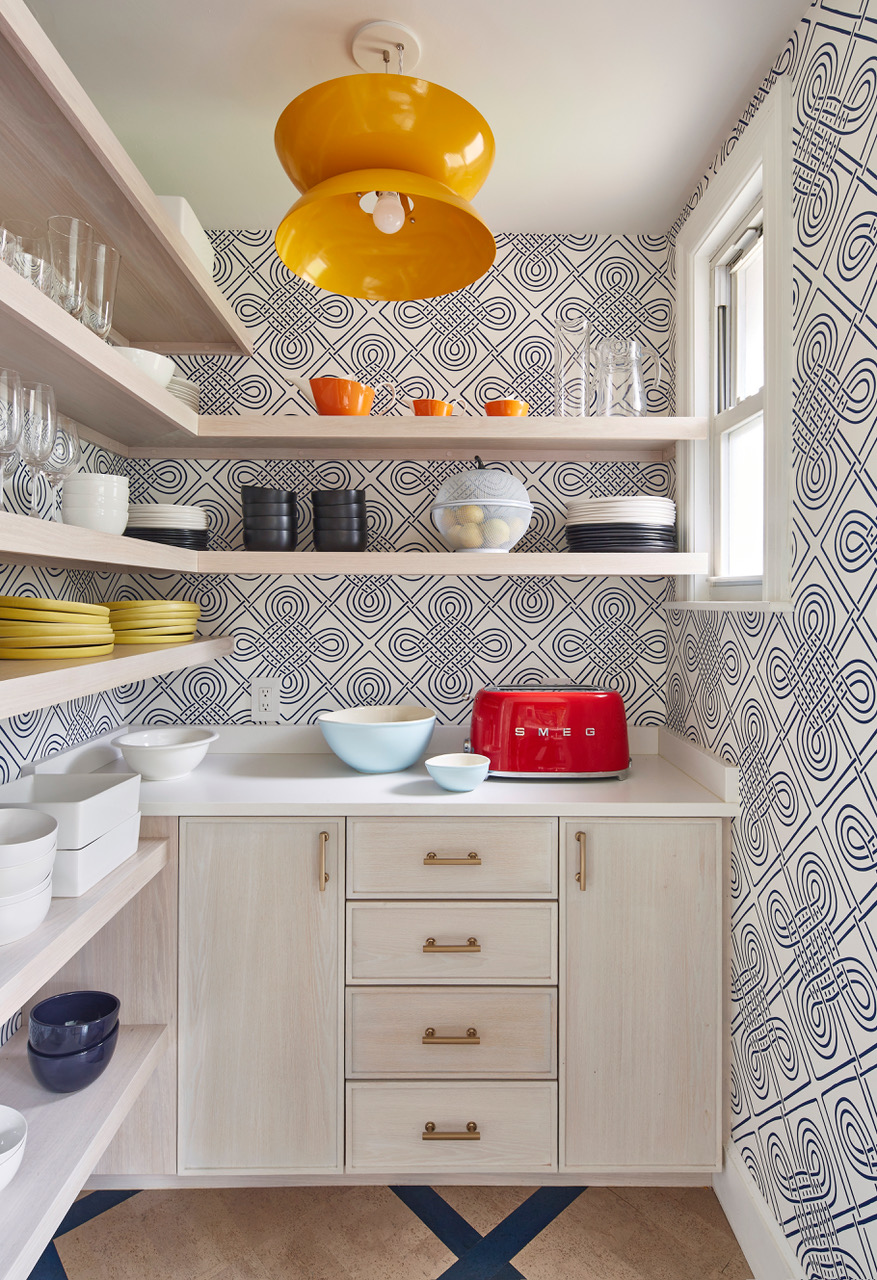 Of course, you could take this same idea—say, converting a closet near the kitchen—and add a door to keep the usual pantry fare and wares out of eyesight. 
Boost the storage
There are a multitude of products to make your base cabinets or drawers more functional. This can be especially helpful if, alas, you simply cannot find the room for a full-fledge pantry unit and have to retrofit what you've got. 
Morris says her clients often ask for separate, slender pull-out spice and oil pantries (such as this one) next to the stove. "You could also put that same system in a regular cabinet, as you would for a pull-out trash can unit, adding a vertical block if need be."
Another of her favorite tricks that can work for storing food as well as equipment: Imagine you have a 12-inch-deep drawer and inside that you mount another set of glides and a thinner drawer. "So that can double up your space—short tuna cans go on the top, taller soup cartons go below," she says. 
Because things always get shifted to the back in a full-depth cabinet, Etelamaki finds the pantry functions much better when fitted out with pull-out drawers and adjustable shelving. Most cabinet companies have some version of this, including specific solutions for narrow cabinets. 
He and all others recommend Hafele for cabinet inserts; other brands mentioned include Rev-A-Shelf and Blum. 
Hafele also makes an all-in-one pantry system that you pull out and then view the whole thing from the side. Prices range from around $400 to over $1,000 for the frame (depending on finish and size), with the basket-shelves sold separately (at an additional $100 per set of two). 
On the other hand, Morris prefers to be able to pull out individual shelves and then have a bird's eye view of the contents, rather than having to crane your neck to reach between the shelves. So you might want to skip the kit and go custom—especially since NYC kitchens are notorious for having awkward dimensions. 
For made-to-order built-ins that marry style and functionality, Etelamaki says Henrybuilt "makes amazing cabinetry that is beautiful inside and out." Bangia too has used their products before. (The Seattle-based company has  a showroom in Chelsea.)
But you don't have to go entirely custom. Etelamaki says IKEA makes "brilliant" pantry solutions (like this one at $475) that are either 15 or 24 inches deep. He will typically use just the carcasses and then add custom fronts. Same for Bangia. 
Or you can buy doors that are made specifically for IKEA cabinets from third-party companies like Semihandmade and Reform. IKEA also offers inserts galore (such as this one that can be adapted for food storage, recommended by Etelamaki). 
If you don't have the cabinet space or the budget for a built-in pantry, you can always explore the many freestanding pantry units at IKEA. The Container Store has DIY pantry solutions by Elfa too.
Whichever way you go, your kitchen will be all the more organized.
Brick Underground articles occasionally include the expertise of, or information about, advertising partners when relevant to the story. We will never promote an advertiser's product without making the relationship clear to our readers.