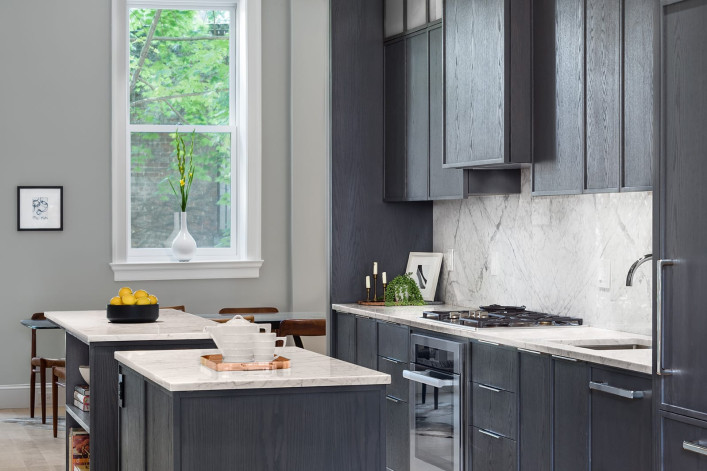 I love the look of a kitchen with black cabinets—and more. How do I pull this off in a New York City apartment?

A kitchen with a black palette is decidedly on trend right now—it came on the scene in the last several years and was deemed the "it" color for kitchens by Architectural Digest. Still, you're right to take into consideration the limitations of a New York City kitchen when considering a dark color theme.
For some, the choice is about breaking with the norm, or being bored with an all-white kitchen. But when going this route, you need to choose the right shade and finishes for your lifestyle (like if you can live with smudges or not). These decisions may seem harder because you're going for such a bold look.
"Using black in the kitchen has definitely become a thing, and it's not just about a black wall or countertop or cabinets," says Carl Shenton, co-founder of Shenton Architects, a design-focused architectural firm, who points out it is also showing up in door hardware, plumbing fixtures, light switch plates, and keypads. He says his clients are the ones who generally propose using black (not him), though he is on board with using the "quasi-industrial" color in an urban environment.
Marc Schlesser, senior designer of luxury kitchen company Cesar NYC, is seeing more owners who are willing to experiment with black and other colors than the usual white, ostensibly after being cooped up during the pandemic and actually cooking in their kitchens. "Owners in the NYC market have always focused on resale value and trying to play it safe, but that's gradually been changing," he says.
Case in point: New condo developments like 196 Orchard and The Zipper Building are sporting designer kitchens with a darker palette. 
Besides, black—or dark gray, which can read black in a softer way—are super versatile, skewing traditional, modern, industrial, or transitional depending on how it is applied.
"When done correctly, kitchens with a dark palette have a warmth to them," says Adam Meshberg, founder and CEO of  Meshberg Group, an architectural firm who designed the condo kitchen in the top photo. "My suggestion when using these colors is to focus on creating a space that is welcoming, beautiful, and balanced."
See the following expert tips and products to create a black kitchen that's stylish, not slap-dash or severe—and not the least bit cave-like. 
An open floor plan is ideal
All experts agree: An open floor plan is the ideal layout for kitchens with darker features. There's plenty of space for the color to breathe, so to speak, and you can balance it with lighter materials in the surrounding areas. 
For interior designer Sean Carlson Perry, black creates visual mass and anchors the space, dictating a prominent stance at the top of the hierarchy  "Adjacent finishes should slightly recede in order to allow the black/charcoal to really sing," he says.
Maryana Grinshpun, principal of architectural and design firm Mammoth Projects, regularly uses black for walls and ceiling paint and as a trim color for hardware and accessories—and sometimes for a monochromatic feel. "Black and all dark colors bring intimacy to the space and always produces a stunning result," she says.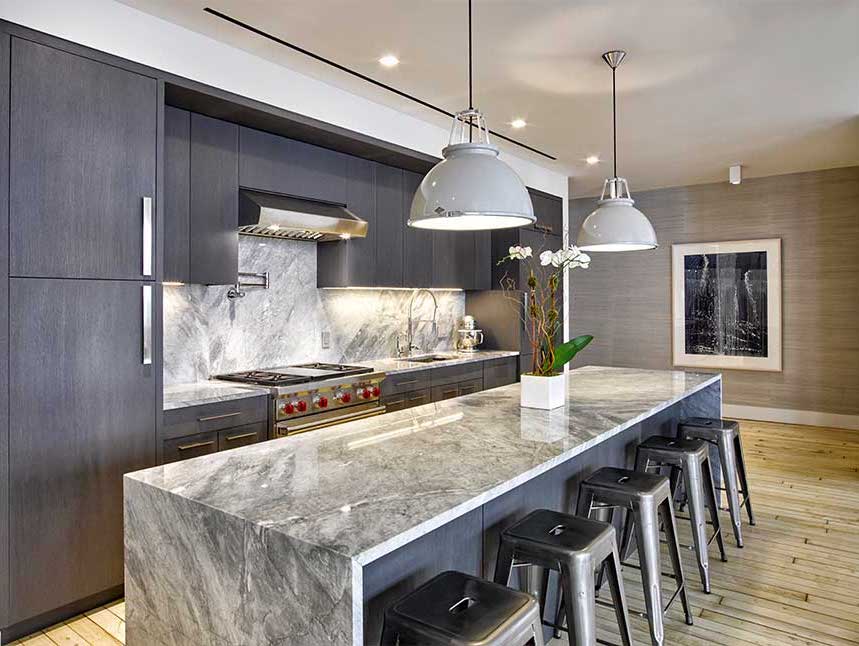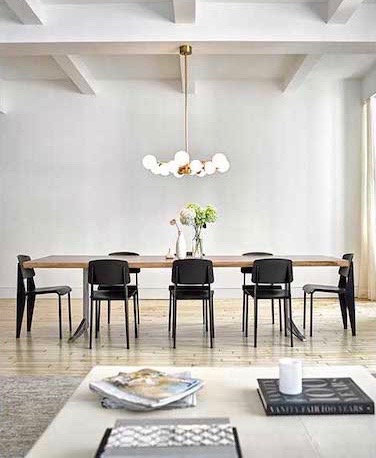 In the projects shown here (above and at top), Meshberg put darker kitchens in a Flatiron loft for a private residence and in a condo conversion of a landmarked Italianate brownstone in Fort Greene, Brooklyn (originally an SRO) to anchor the living and dining areas. 
But even smaller, closed-off kitchens can take on a black palette, as can those with awkward layouts, an example of which follows. You just might want to resist the urge to do an all-black kitchen if there is no window. (More on lighting below.) 
Regardless of kitchen size and setup, Meshberg says an all-black kitchen can be very cold if you don't add a rich green or gray to the color palette. 
Shenton emphasizes the need to visualize what your space will look like before you invest in custom (or even off-the-shelf) finishes. One of his clients originally wanted to go all-black for their Brooklyn townhouse kitchen reno project—until they saw the design rendering and decided to just incorporate some black materials into the overall design. This is where your architect or designer can save the day—and major bucks if you end up hating the finished result.
Be sure to look at the finishes too. Matte black tends to be all the rage for kitchens, though lacquer or gloss can provide a sleeker look, at least when deployed deftly. (Perry is a staunch matte advocate unless it is high-end cabinetry from Valcucine.)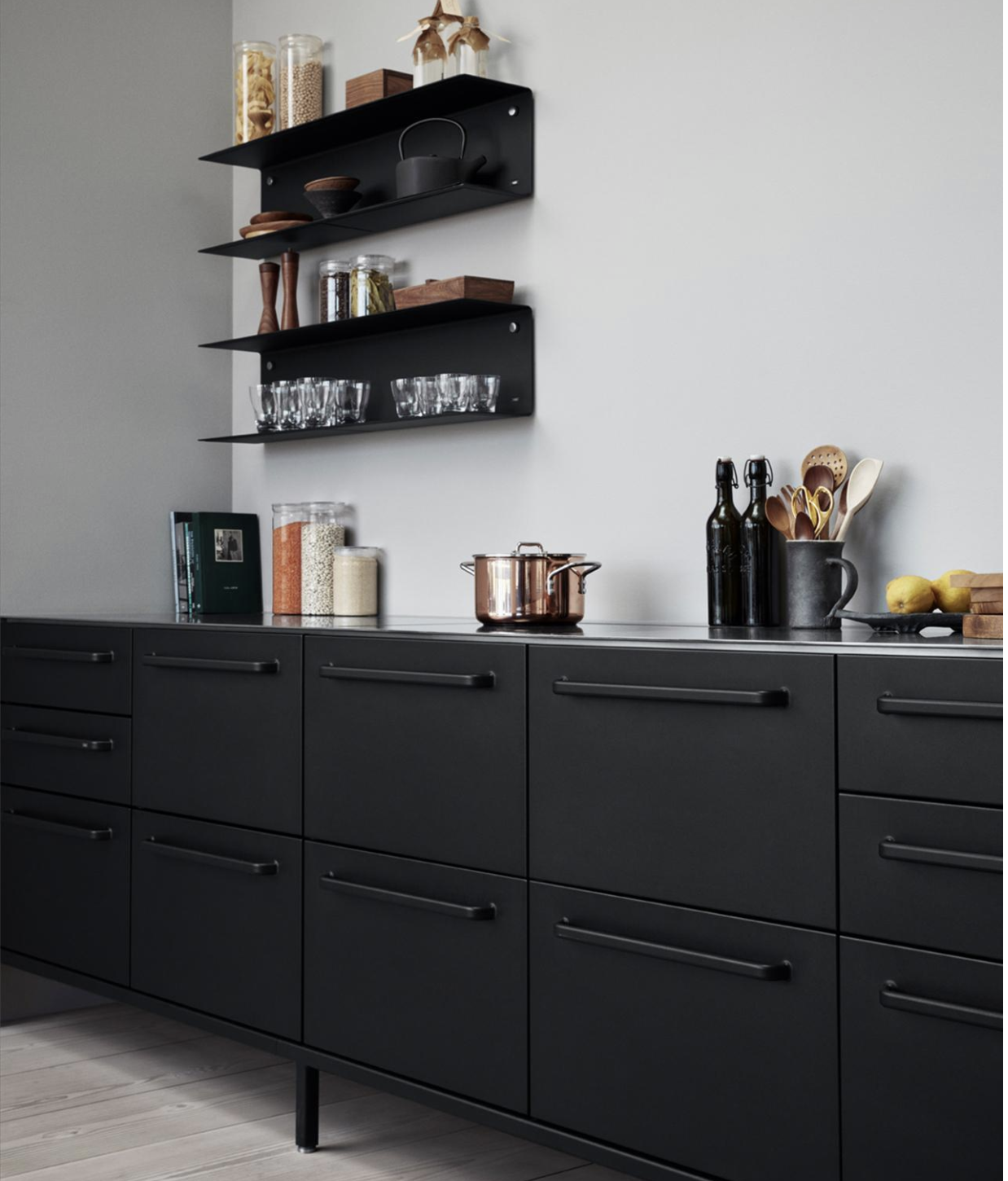 For a modular kitchen that works in any configuration, check out Vipp. You can mix and match their four, ultra-matte black modules to suit your space, adding coordinated range hoods and storage units.
Be intentional with darker colors
Perry says it can be challenging to create any space, particularly one with such a strong color. You best bet is to be intentional and choose a pecking order or ranking for your color choices. "If you really want the darker palette to sing, you have to tone down the rest of the kitchen and the interstitial spaces, " he says. Meaning choose an element such as cabinetry or an island hat you want to feature, use the darker palette to highlight that, and keep the rest more neutral. 
Meshberg's formula for darker kitchens is to pick a marble piece that has veins in it with contrasting colors, and then the cabinets are chosen to mirror and pick up on the color palette of the stone. 
For Shenton, having just a black countertop isn't going to look like much of anything. Instead, he suggests using black with a broad brush. "It's a bold color and you should be using it in a bold way," he says. 
His approach is to use black to add a graphic element to the space. For example, by employing another big trend: wrapping the countertop area and backsplash in stone so it looks like you've carved the whole thing out of one block.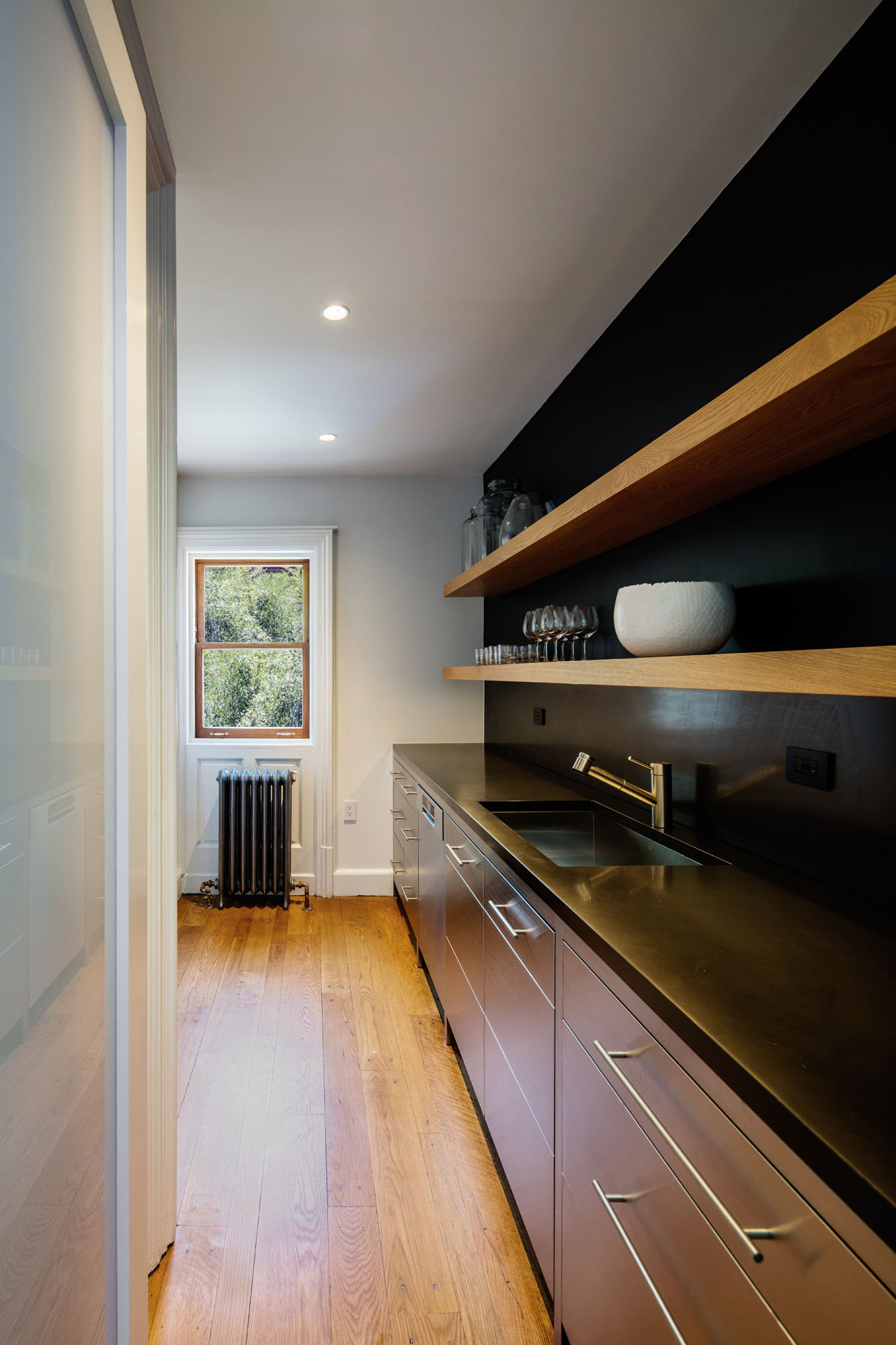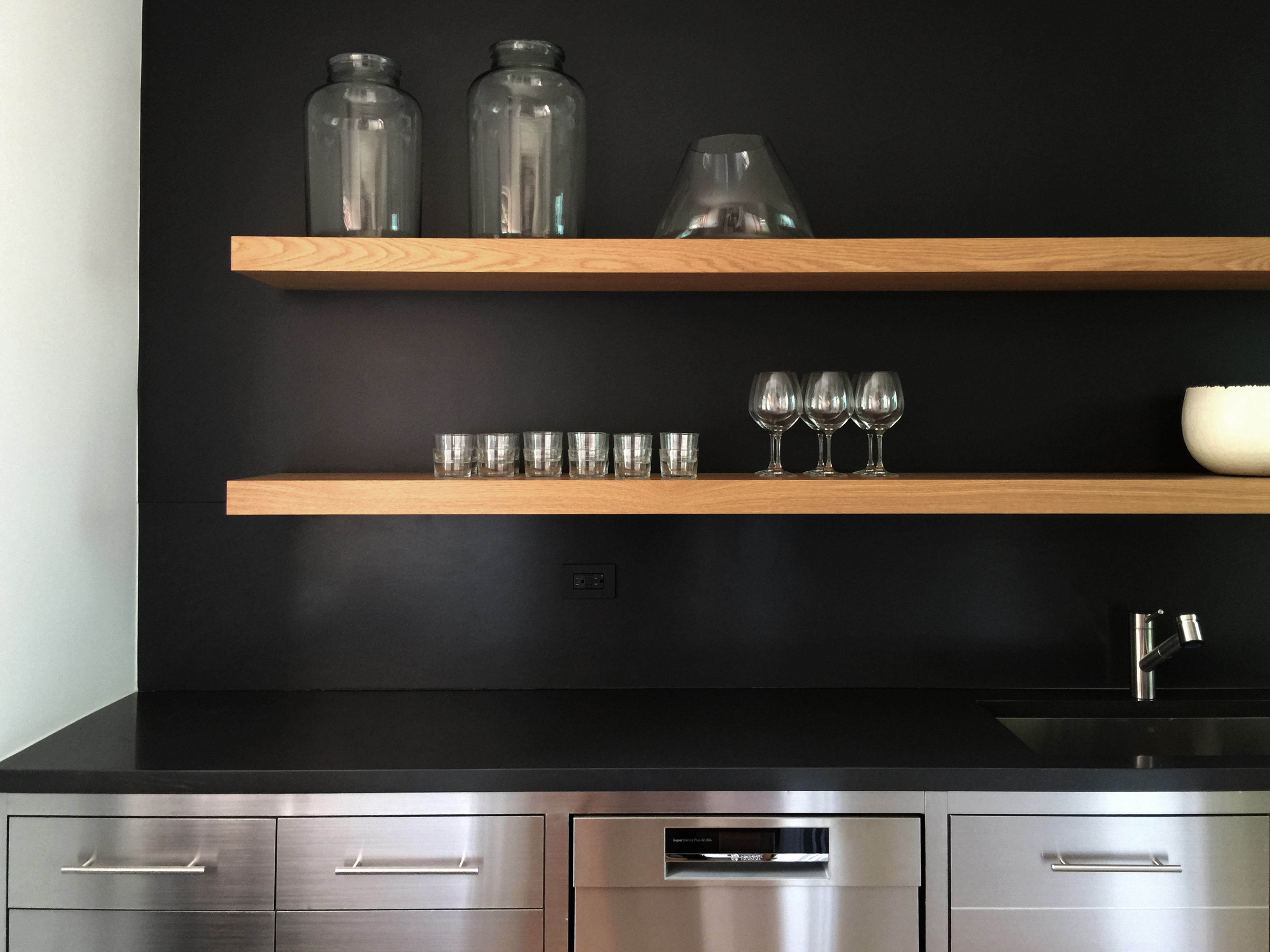 Shenton  replicated this look on a more practical scale in a Queen Anne-style, five-story townhouse in Clinton Hill (one of a pair of side-by-side townhouses built in 1887 by Charles Erhart, a co-founder of the Pfizer pharmaceutical company). The plan was to convert the butler's pantry, "a non-event space off the dining room," into a functional kitchenette for a family that uses it all day, every day. 
So the black countertop turns up the backsplash and then there's an almost invisible line where it transitions to a matching paint color; coordinating switches and outlets (from Forbes and Lomax) makes it feel like everything is carved out of the same material. He's also a fan of the new Alisse keypad from Lutron, which comes in graphite and matte black (in addition to nine other finishes). 
He chose Deep Titanium Corian for this project. "Corian is robust and unlike slabs of stone allows you to achieve a seamless look because of the way it is put together. It's not cheap but it's effective." (He used the same product in a kitchen for a WeWork office.)
Weave the palette into other areas of the home
Consider this: What you don't want is for the kitchen to be the only room with a black palette. What you do want is to use  it as an accent color throughout the home. This is what Perry calls a "visual echo." It could be as simple as putting a couple of black velvet bolsters on lighter colored chairs or a more deliberate use of lighting and storage units. 
Meshberg too likes to pick up the color of the kitchen in the surrounding furniture (such as the dining chairs in the Flatiron loft), hardware, and walls. 
In the Clinton Hill kitchenette, custom white oak floating shelves are a reference to the original (refinished) wood floors and the oak paneling in the adjacent dining room. "It's about tying things together," Shenton says. He added black materials throughout the rest of the brownstone too, including dark tiling and blackened stainless steel plumbing fixtures by Belgian-based By Cocoon in the bathrooms. (The kitchen tap here is by the same company and comes in the same finish.) 
Not that you have to match the style of the kitchen in every room. Shenton looked to the project's historical roots and applied the Victorian-era approach to giving each room its own personality. "We also wanted to reinforce the contrast between this beautiful oak-paneled dining room and then you open the door and enter this pristine kitchenette, so complementing as opposed to copying those traditional details." 
Play around with texture
Having a darker kitchen with all the same materials can be too austere. Instead, the pros here like the yin and yang of warm and cool in creating visual interest and a more inviting feel.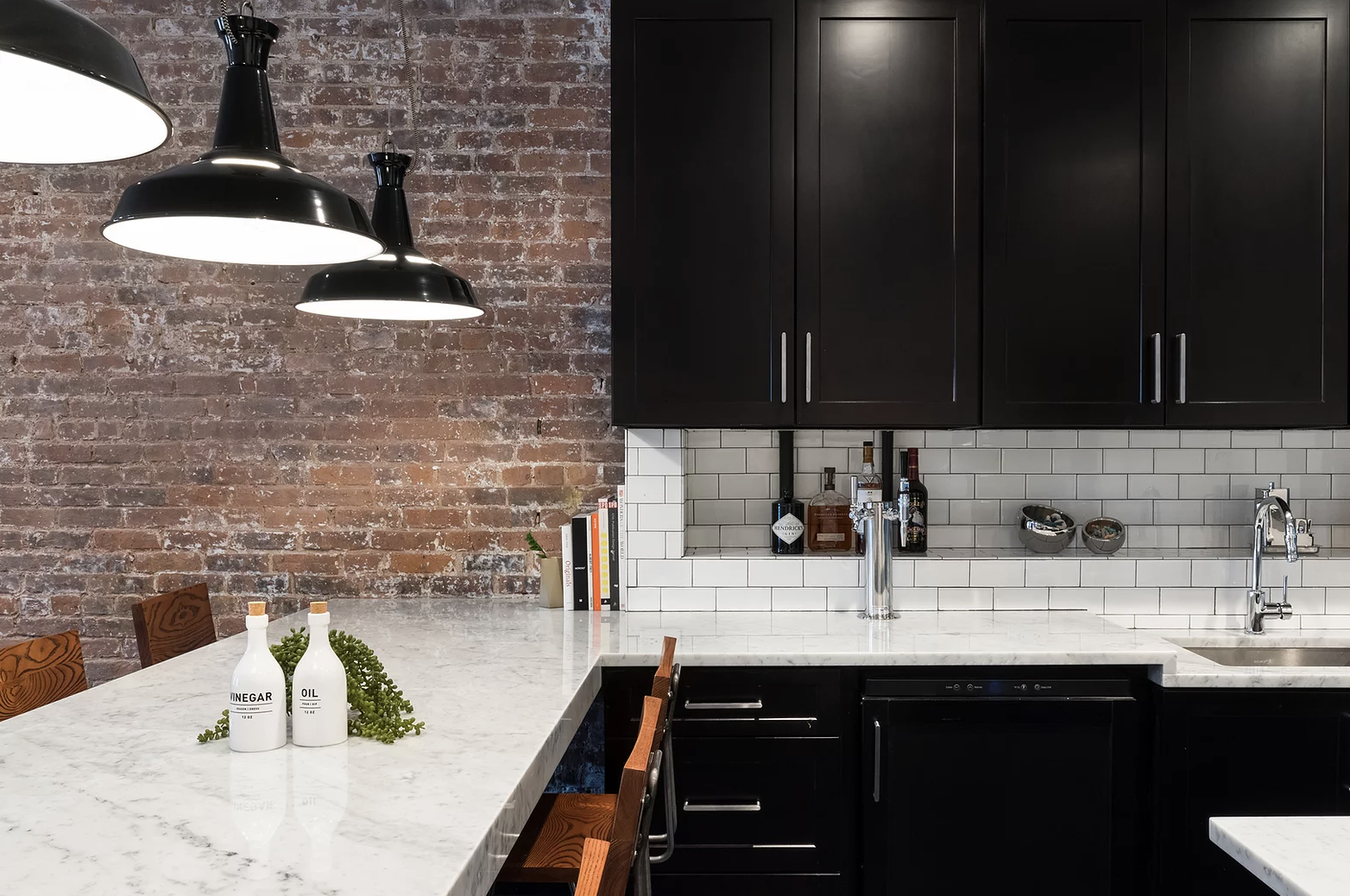 Perry achieves this richness through the choice of materials, such as having a mix of wood cabinetry, exposed brick, marble-look countertops, and subway tiles. To keep within budget, the custom (but low-end) cabinets are stained in a dark charcoal to elevate them, for a cost-effective result. Unlike with paint, the parts with grain take the stain differently than the parts without, for added dimension.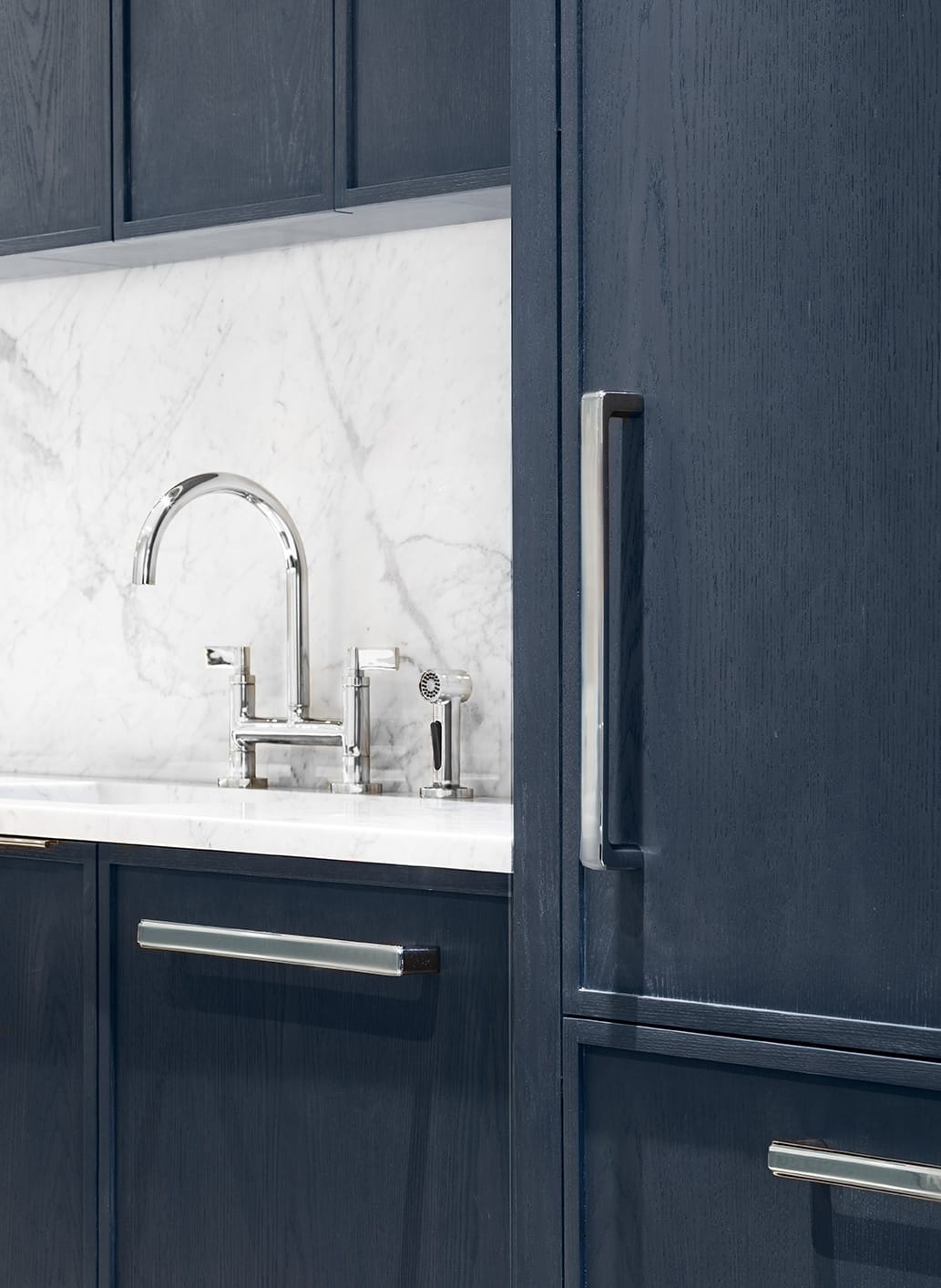 Meshberg also used a dark gray stain on custom (high-end) rifted oak cabinets in both projects shown here. "By using this material you get a natural wood feeling but also the darker color effect, which is just as important," he says. And then you get warm dark wood in contrast to the cool marble surfaces.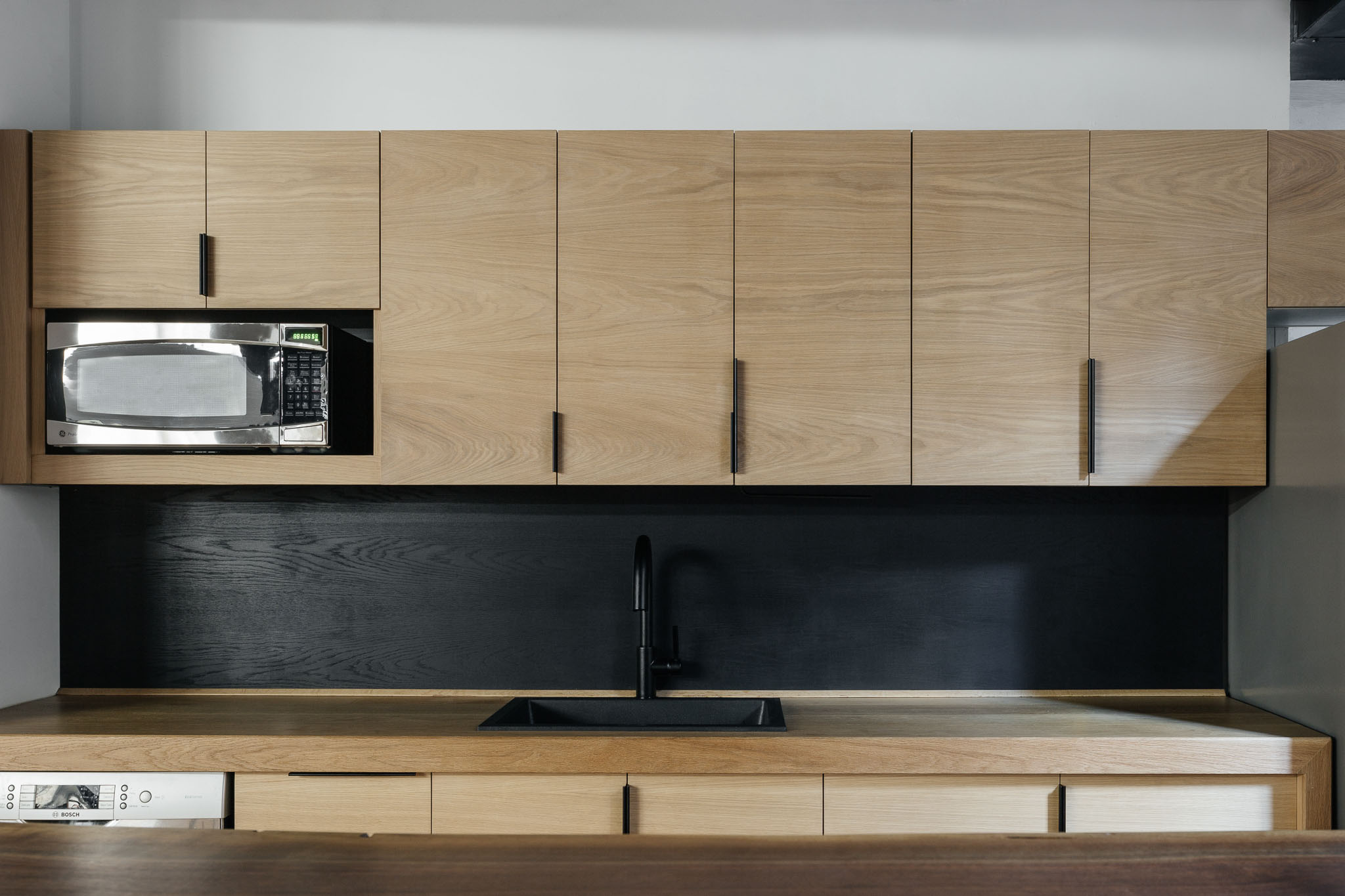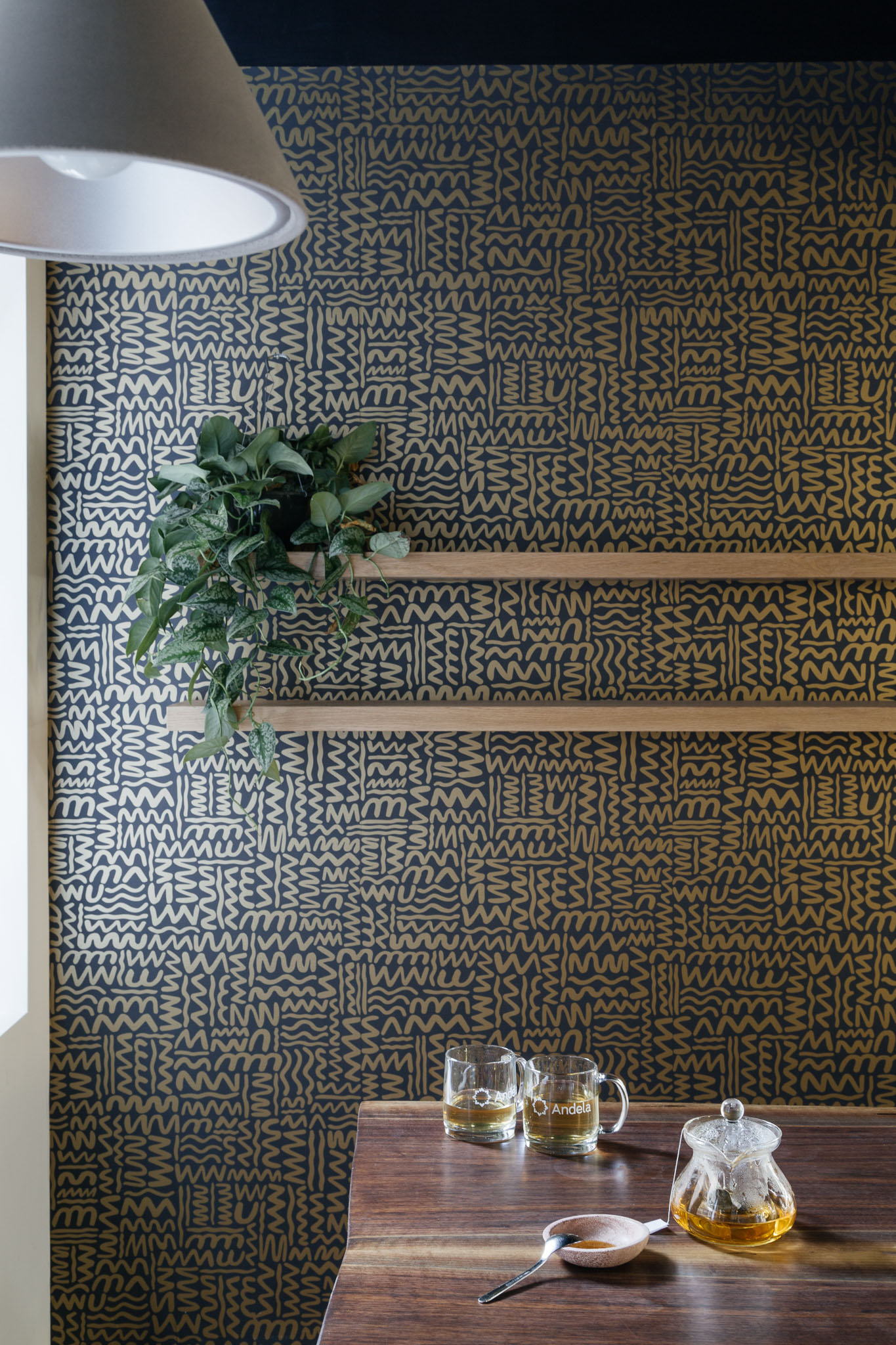 "Juxtaposition is always pleasing to the eye," Grinshpun says. In this Chelsea loft, she stained the same oak used in the cabinetry so you get to experience a natural material while the rigidity of the black gives it structure and order. "Modern homeowners are always on the hunt for 'modern and clean, but not cold', and this is how one can arrive at that," she says. For even more materiality, Grinshpun used a graphic wallpaper and black ceiling paint to carry out the darker palette in the adjacent dining area. 
Consider the practicality of black surfaces
Smudges are a reality in all kitchens, but many (most) black surfaces show everything. "It's a frustration and it's important to mention this potential downside before you find out the hard way," Shenton says.
One of his own clients did Absolute black granite countertops (their decision) and ended up replacing them in the end because they were constantly cleaning them. That's why Shenton is careful to caution owners in the design phase, and to try and steer them to surfaces that can be more easily wiped down (like Corian)—or that mask fingerprints, like a lighter shade of natural stone for the countertop and backsplash. 
Schlesser says has been using a lot of ultra-matte, super smooth laminates from Fenix NTM (the NTM stands for nano-tech material), which are available in black shades like Nero Ingo as well as lots of grays and cobalt blue. They are also anti-fingerprint and anti-bacterial, and micro scratches can be fixed by "thermal healing" (a fancy name for first placing a damp paper towel over the area and then passing over it with a hot iron). He also likes how these laminates can be used for both the cabinetry and countertop, allowing you to create a minimalist all-black island "that reads monolithic." The project above is in a Chelsea brownstone. 
Laminates, you ask? Yep. The formerly mass-market-only material has risen in status and quality now that more companies are moving away from more conventional lacquered finishes and making them in dark colors.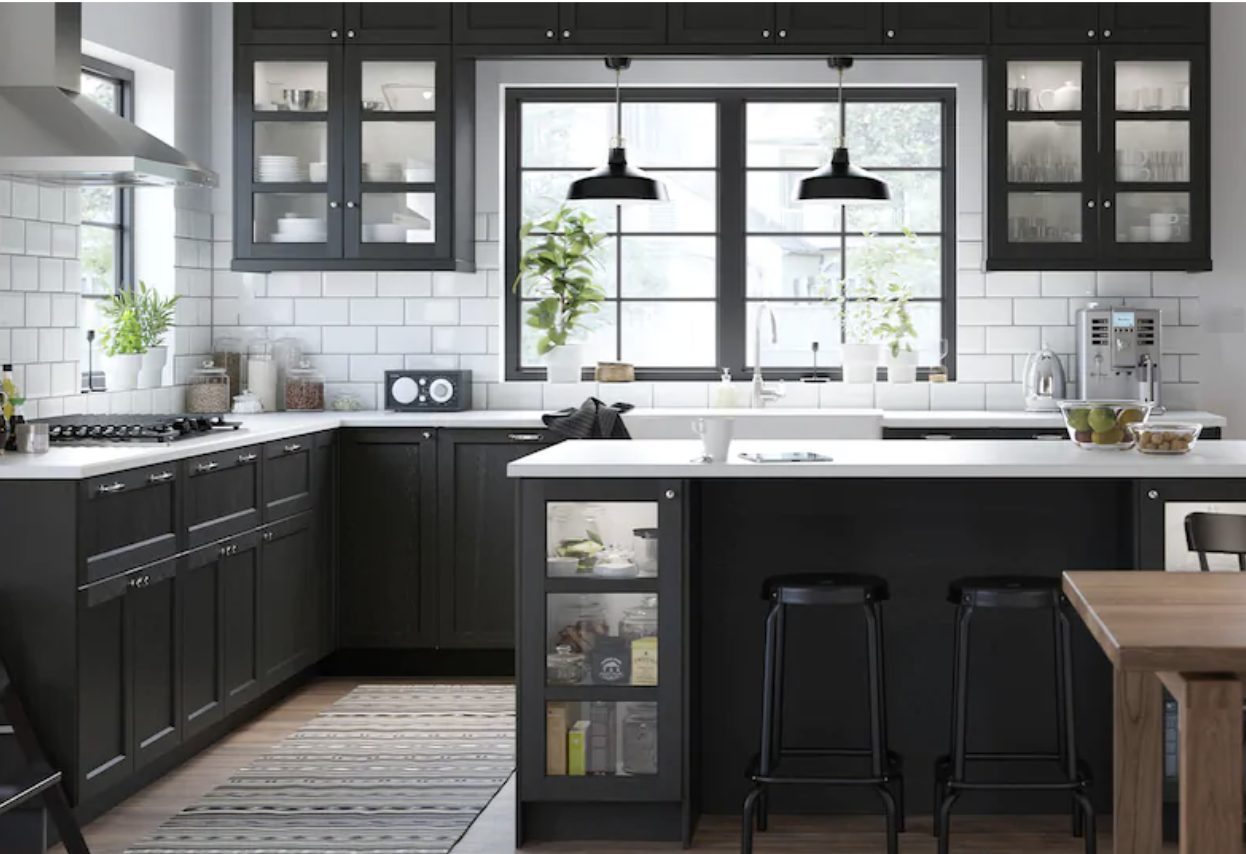 Budget-friendly IKEA has gotten on the black-kitchen bandwagon with its LERHYTTAN fronts that work with its basic SEKTON cabinets.
Don't skimp on lighting
You might think you need a higher intensity light in a darker kitchen, but know this: Meshberg says brighter light can actually reflect too much on the dark cabinets and create a colder environment with sharper contrasts. Rather "it's all about finding the best temperature lighting for your space, including natural light; then you can focus on the type of bulb-shapes and hardware to compliment the space," he says.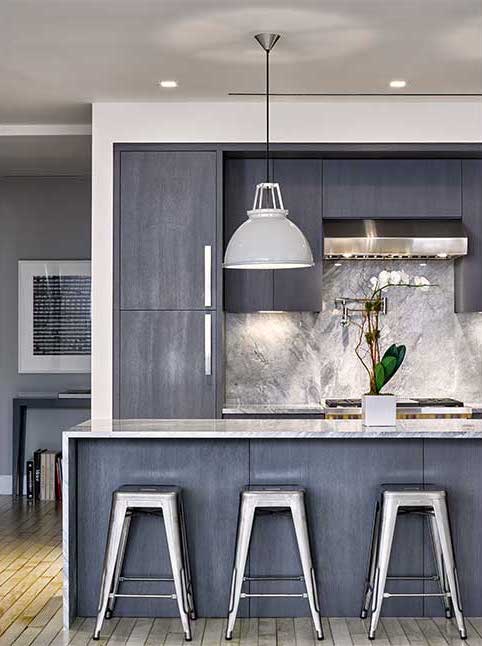 Everyone emphasizes the need for good under-cabinet lighting to highlight the backsplash and countertop. 
In the Clinton Hill kitchenette, for example, Shenton integrated undercounter lighting that runs the full length of the lower shelf in addition to recessed down-lighting in the ceiling.
Schlesser suggests building in more layers of light, such as having ceiling lights with different beams and employing
wall washing or grazing techniques
, where a (usually concealed) light fixture bathes the entire wall in light. Pendant lights add visual interest and another level of light. Having different options also allow you to vary the light depending on the time of day or the desired mood. 
"You can have the nicest kitchen and the best cabinetry but it won't look good without the proper lighting," he says. This is especially true for functional rooms like a kitchen (or bathroom), where it's not just for mood but for practical purposes. In his experience, most people don't think about this but it's important to factor lighting into your project and your budget. 
Complete the look with hardware and appliances
Per Grinshpun, you can either choose fixtures and hardware in the same shade for a minimalist look, or opt to have these features pop. "There's no hard or fast rule on this. Both options work so long as the entire set is coordinated in a single finish," she says. 
Fortunately if you want to go with darker hardware, you've got more options in all price ranges than ever. The legendary paint company Pantone has partnered with rap legend Nas to produce a line of Ultra Black faucets, fixtures, and decorative hardware.
Schlesser says there's been a huge trend towards warm metal finishes and a profusion of patinated gold, brass, and copper, all of which play very well with black and allow you to achieve the style you are looking for. For example, he says Fantini has some really interesting finishes for faucets and the trend is even percolating down to mass-market brands like Brizo, the luxury brand of Delta products.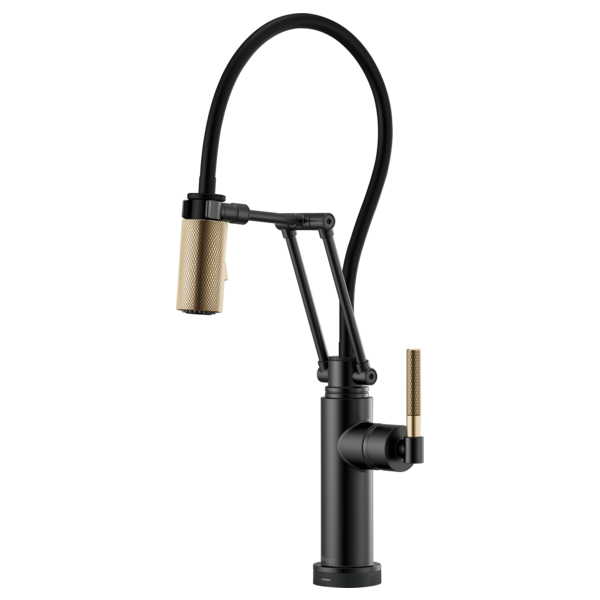 Smarttouch Articulating Faucet With Knurled Handle by Brizo, $1,302.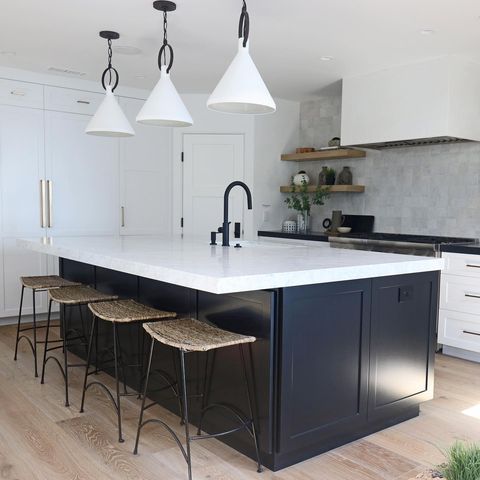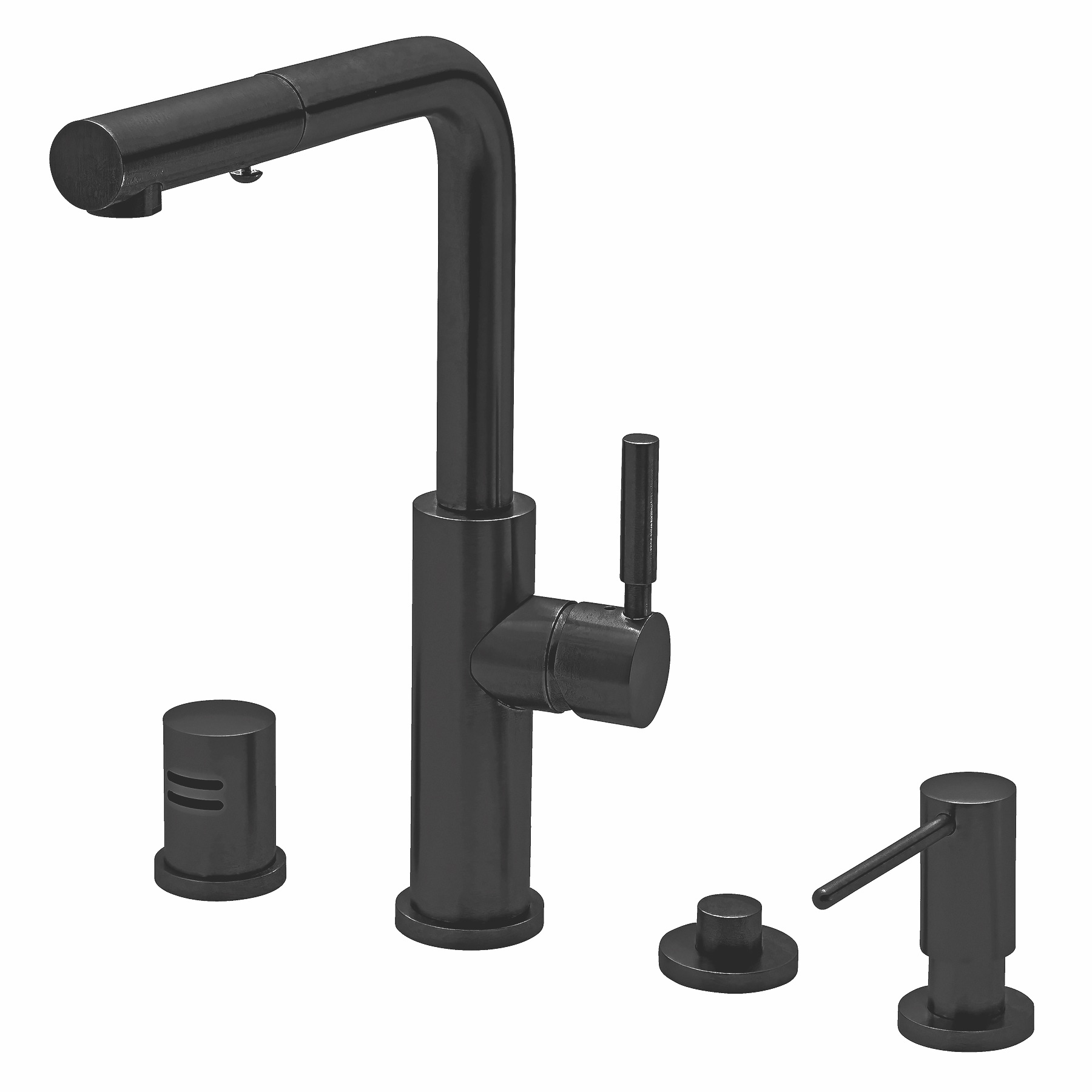 Corsano Pull-Out Kitchen Faucet With Stick Handle in carbon (PVD), $1,534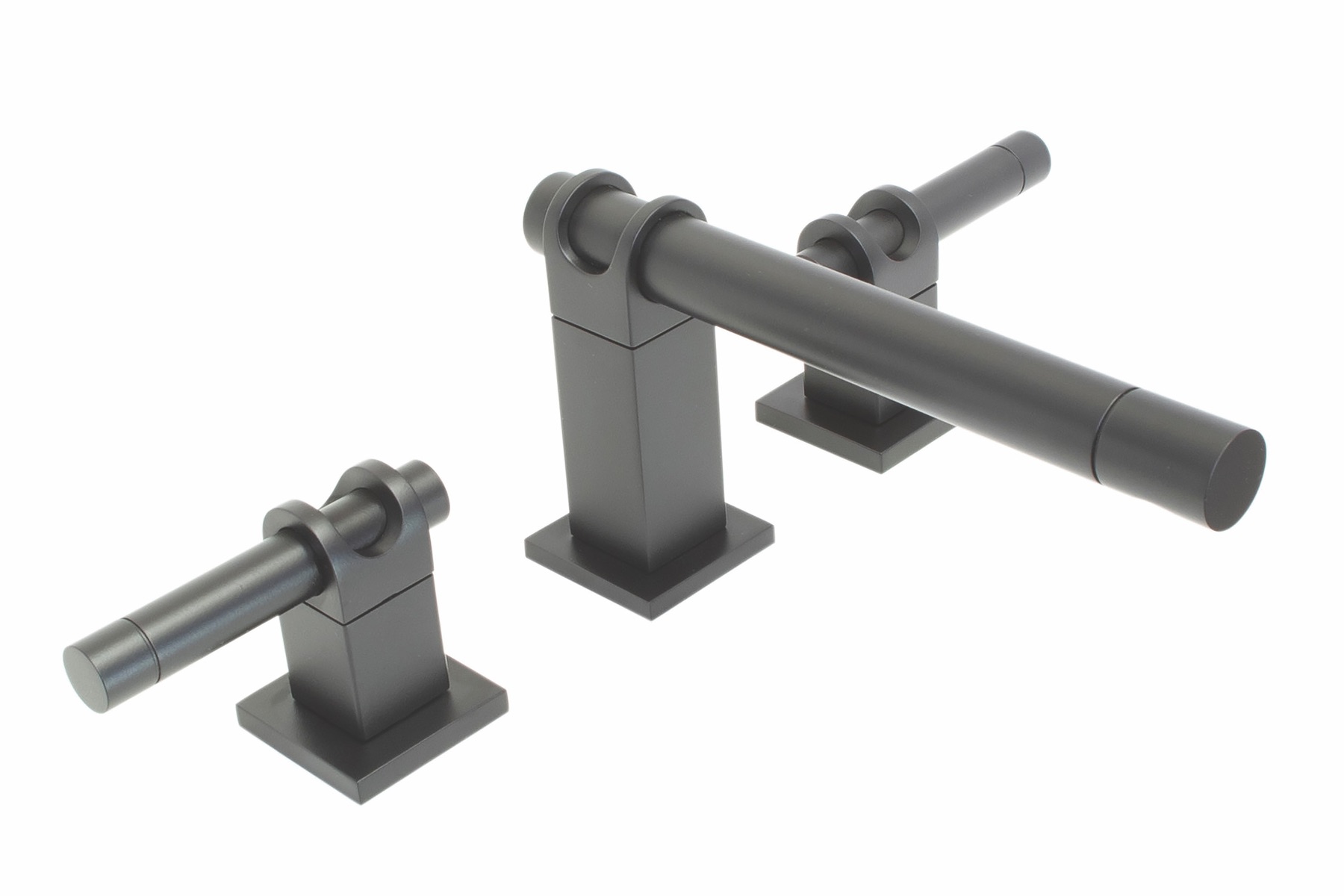 Sonoma Forge now offers it popular faucet The Strap in matte black, $975 to $1,075.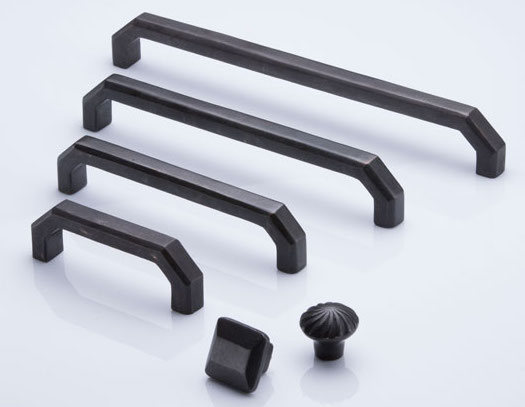 Ashley Norton has introduced its cabinet hardware in matte black and distressed black to round out its solid brass and bronze product lines; it also offers solid wood handles.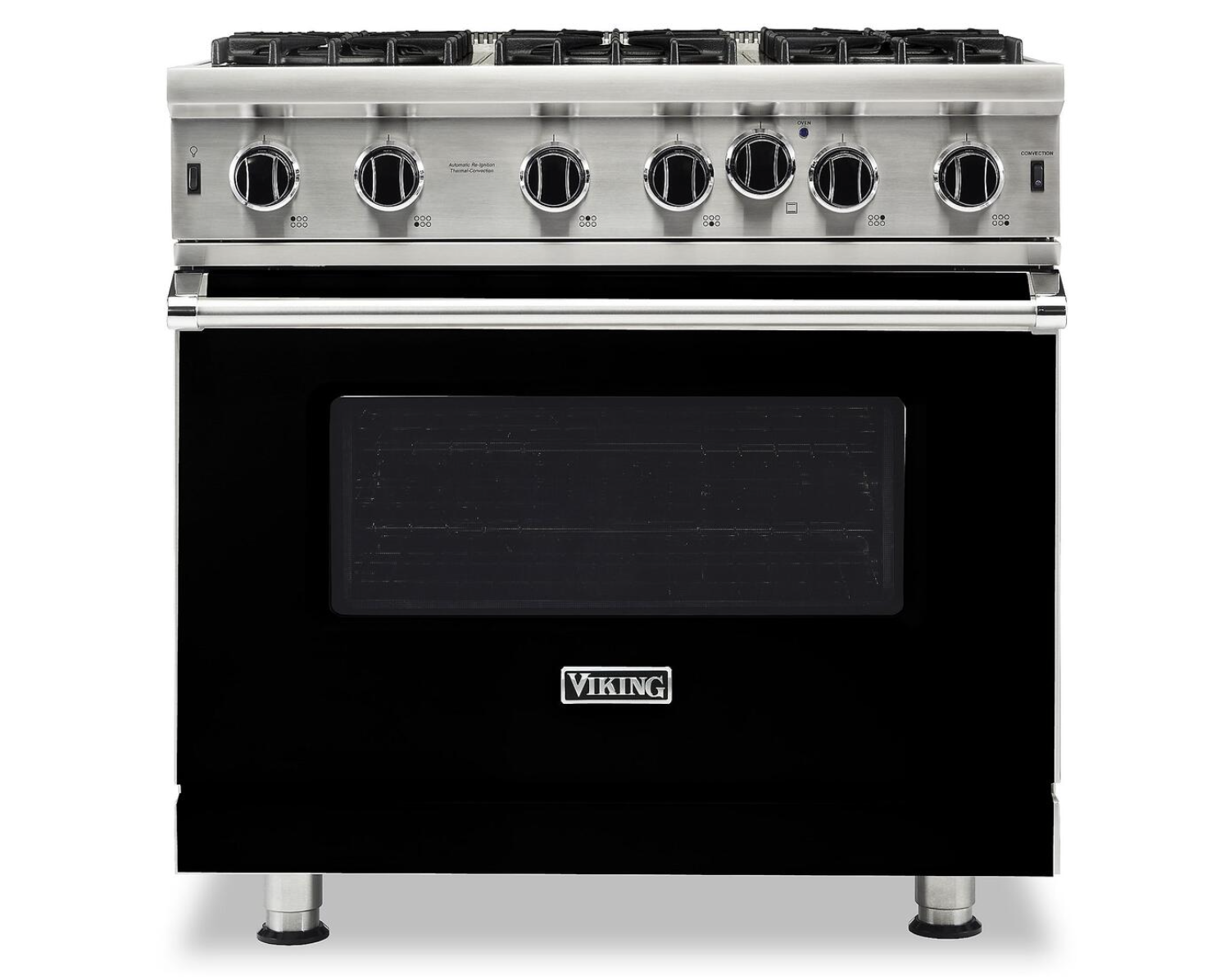 Appliance manufacturers have upped their offerings over the last few years too. Now you can find ovens and/or ranges in carbon steel, blackened steel, and gunmetal gray, including by Viking and ILVE. (Shown above is the Viking 5 Series Freestanding Gas Range in black; $6,339.)
Schlesser is finalizing an installation right now that combines blackFENIX laminate cabinetry with black ovens by Miele. "Miele Obsidian goes very well with dark cabinetry," he says. You can get a 30-inch, all-black unit for $8,899. 
And lest the thought of ruining your kitchen palette with the standard white fridge/freezer interior, the Rise and Noir models by JennAir have a dark interior (also called Obsidian, the catchword of the design world); custom leather panels are also available in shades called carbon and caviar. Pricing starts at around $8,000 for a 36-inch model. 
Brick Underground articles occasionally include the expertise of, or information about, advertising partners when relevant to the story. We will never promote an advertiser's product without making the relationship clear to our readers.