Cozying up to a crackling fire in your apartment is just not a reality for most New Yorkers—wood-burning fireplaces are usually sealed or removed during renovations and they're banned in new construction. Then there are the environmental concerns about wood fireplace emissions contributing to indoor air pollution that are a big turn-off to many. 
Even gas fireplaces, while still technically allowed, present their own hassles in light of Local Law 152 requiring buildings to have their gas lines inspected every five years to prevent gas-related tragedies. And did you know: Even though gas burns cleaner than wood, it can still pose a health risk (and why you should consider giving up your gas stove). 
Fortunately there are safe, healthy, and eco-friendly ways to replicate the look, or at least the warmth, of a log fire in a NYC apartment, which is an especially nice upgrade now that we are all spending more time at home.
These electric and alternative-fuel fireplaces burn clean, avoiding the need for chimneys, flues, or vents. They require much less maintenance, as there's no build-up of soot and ash. They even generate heat, though not nearly to the degree of a wood fire (think 5,000 versus 50,000 BTUs). Most models can even be controlled via Wi-Fi, so you can arrive home to a roaring fire and have it shut down after you've gone to sleep. What's more, they come in a wide range of styles to match your design aesthetic, whether that's a traditional hearth setup or a modern, double-sided unit that can be shared by (or serve as a partition between) the kitchen and living area. 
They come in a range of prices, too. On that note, be aware you'll generally need to hire a contractor to handle the installation work, the cost of which will vary with the complexity of the job. Still, it will be substantially less than the cost of adding a gas fireplace and because they do not have to be part of your permanent construction, can be installed almost anywhere. 
As with all construction, you will want to stay on the right side of your board by obtaining the necessary approvals according to your alteration agreement. An architect will know the drill, otherwise it's worth checking with your property management company or super for the protocol. The fireplace retailers here say they are used to providing specs to submit to boards to alleviate concerns about safety (and quality, as there are apparently counterfeit versions out there).
Ordering can be as short as one week for in-stock models and up to eight to 10 weeks for the rest, with customized fireplaces potentially taking longer. (So order now in time for the holidays!)
Read on for Brick Underground's roundup of fireplace alternatives, with the pros, cons, pricing, and examples of each. Your best bet is to see the different options in real time, as photographs cannot truly capture the flickering flames. The local retailers interviewed here offer virtual or showroom appointments by reservation.
Electric fireplaces 
There are two types of electric fireplaces, one that uses LED bulbs to give the illusion of a flame and another that relies on a combination of LED and water vapor (or mist technology) to simulate flames and smoke. According to Sal Finocchiaro, a partner at NYC Fireplaces and Outdoor Kitchens, electric fireplaces are a budget-friendly option, though not everyone is sold on them.
Pros: These plug-and-play models are basically an electric heater in the disguise of a fireplace, meaning they can be a significant heat source and thereby reduce your heating bills. Many options even allow you to create zones whereby you can control the amount of heat, and you can always shut off the heat entirely while still enjoying the visual glow—a big plus in often-overheated NYC apartments. On average, standard units produce 4,600 BTUs per hour, whereas built-in models that can be hardwired for 240 volts that can produce up to 8,900 BTUs. 
Cons: You won't get a real flame, which may or may not be a deal-breaker. Finocchiaro says water vapor fireplaces tend to be more realistic looking than LED. You'll have to have an electric outlet nearby and depending on how often you use the fireplace, you may see a slight spike in your electrical bill, though not by much (and you'll be saving on heating costs). They won't work during a power outage either. 
Pricing: LED fireplaces can be as low as $1,000, and water vapor models start at around $2,500. Installation is relatively easy for LED models, which can be as shallow as four inches. "You could conceivably insert one into an existing wall but you never know what you'll find there, so it might be easier to just build it out," Finocchiaro says. Water vapor units tend to be around 14 inches deep and will require a new wall.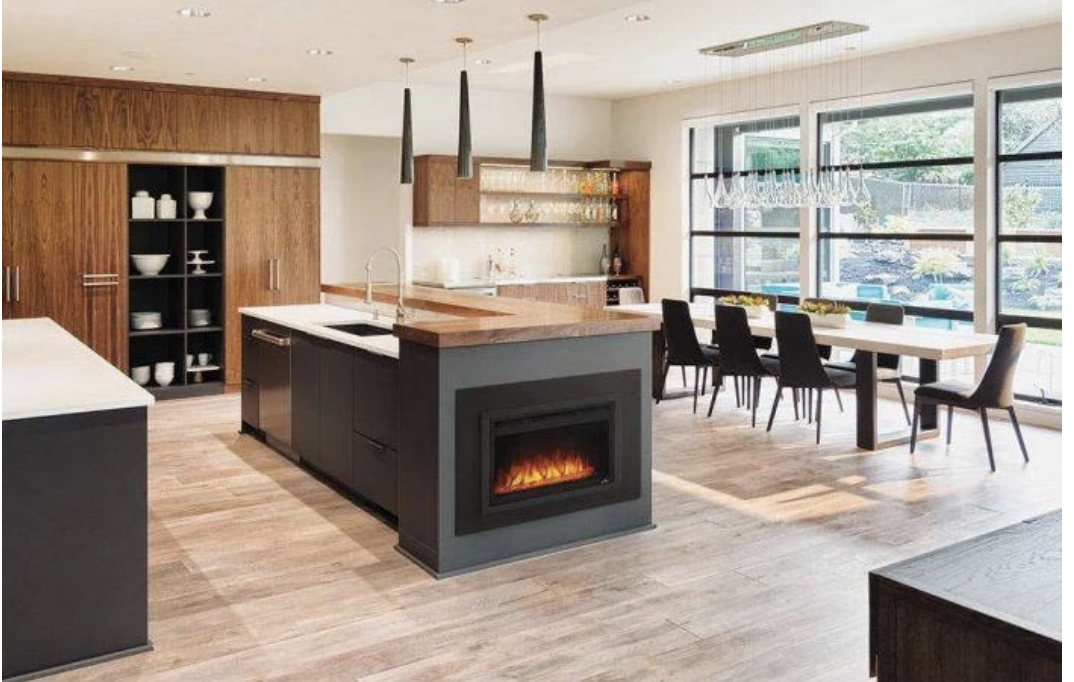 The 24-inch Napoleon Cinema Series is $509. It also available in 27- and 29-inch versions.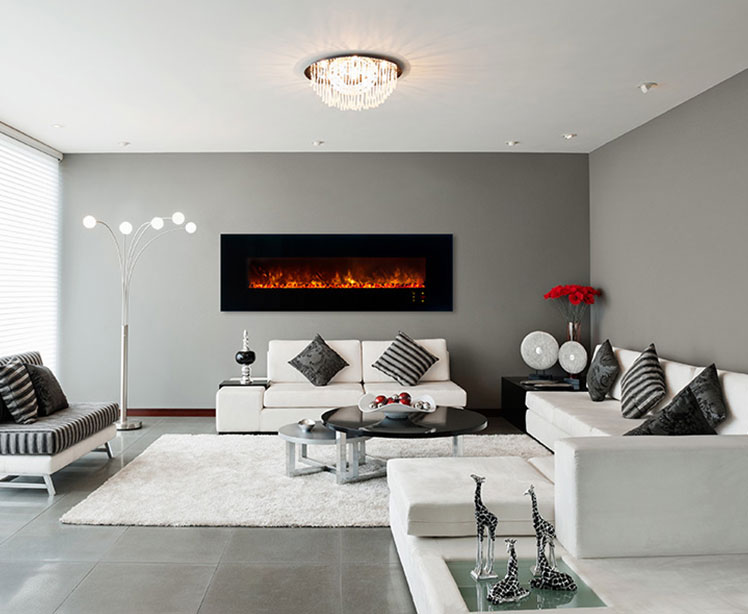 The Modern Flames CLX 2 is available in five widths from 45 to 144 inches; the 80-inch unit shown here runs $1,799.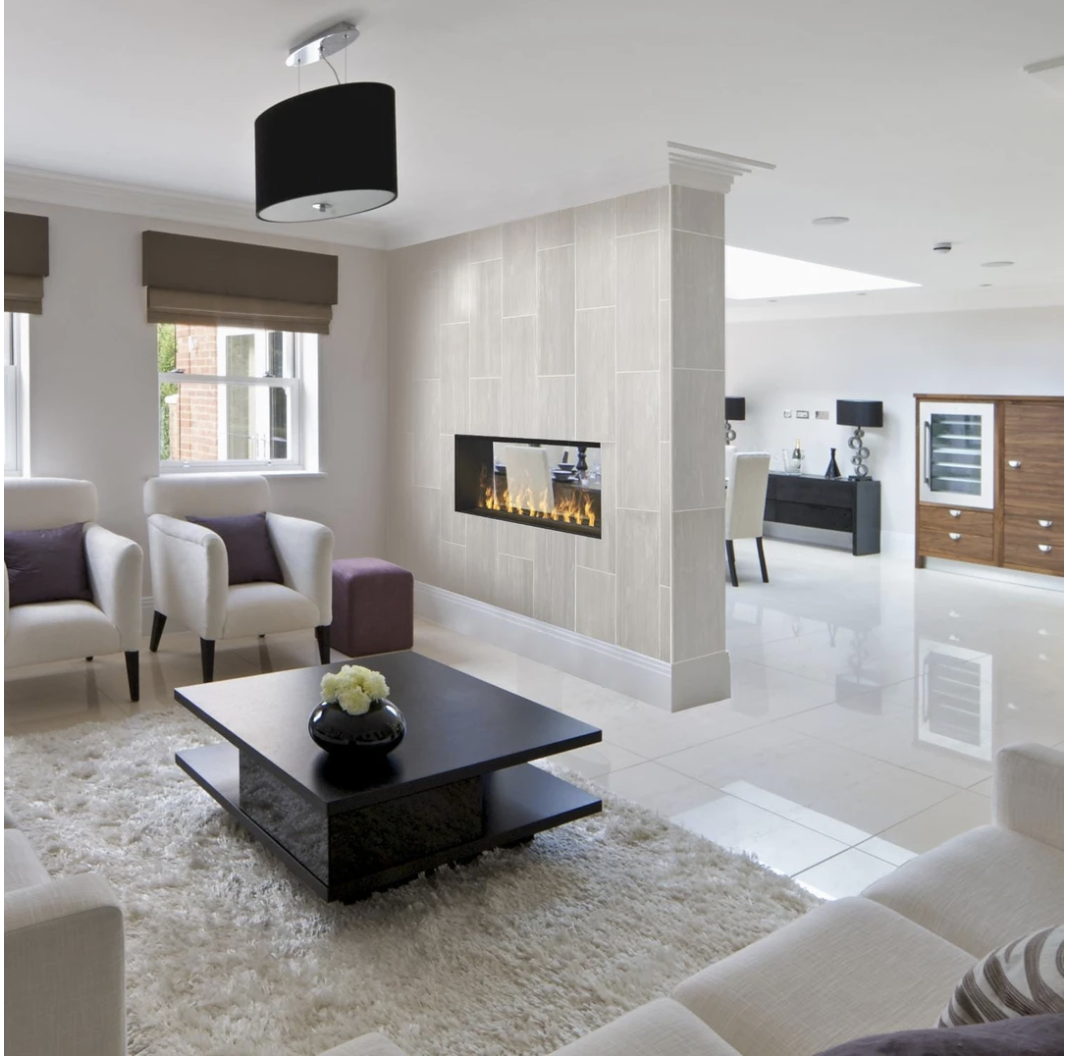 For a water vapor option, Dimplex Opti-Myst offers a variety of standard widths. This 46-inch, built-in model is $3,629.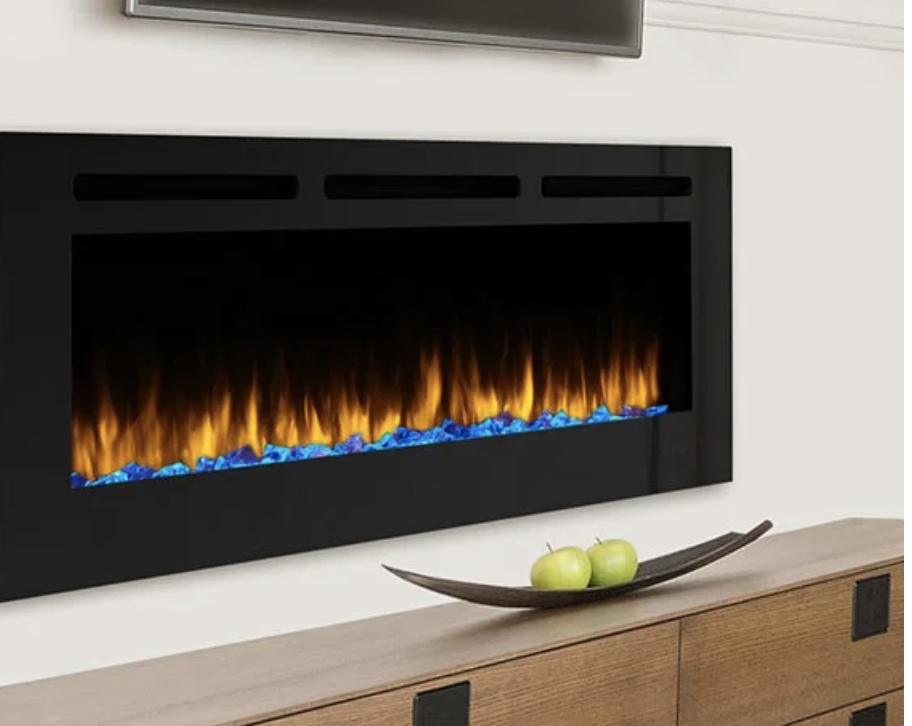 Wall-mounted options skip the need for opening up or building out a wall. The SimpliFire Allusion Electric Fireplace can also be partially or fully recessed and allows you to play around with four flame and 14 "ember bed" color themes. Prices start at $949 for the 40-inch width and go up for the larger units. 
There are even wall-mounted models (like this one for $599) for outdoor use, in case you have a terrace or patio. 
Alternative-fuel fireplaces 
Fireplaces fueled by alcohol (mainly ethanol and isopropyl) have been around for over a decade but have only caught on in the last few years as people switch from wood fireplaces. The fuel is kept in burners or canisters. "Imagine a chafing dish with a Sterno burner and you'll get the picture," says Sara Check, director of sales and marketing for Hearth Cabinet Ventless Fireplace.
Pros: "If people want the look of a real flame they'll go with an alcohol option," Finocchiaro says. Indeed, you get a real, flickering flame and even a crackling sound if you go with fireplaces that use fuel that comes in a gel form, such as the ones by Hearth Cabinets. Ethanol and isopropyl alcohol are among the cleanest burning fuels, producing only water vapor and carbon dioxide (like your breath) and zero smoke or emissions. The biggest difference is that pure ethanol tends to create a bluer flame compared to the golden flame produced by isopropyl. 
Cons: Because it's an open flame, it needs oxygen, so you can't fully enclose it like an electric fireplace. They have an average depth of 12 to 14 inches, so you'll need construction work to house the boxes, though there's flexibility in where they can be installed.
Pricing: These fireplaces range from $5,000 all the way up to $20,000 for custom and the price largely depends on the size and other variables like Wi-Fi capability. There's also the ongoing cost of the fuel replacement (see below), which you will want to factor into your decision. "For this reason alone, electric tends to be more budget-friendly," Finocchiaro says.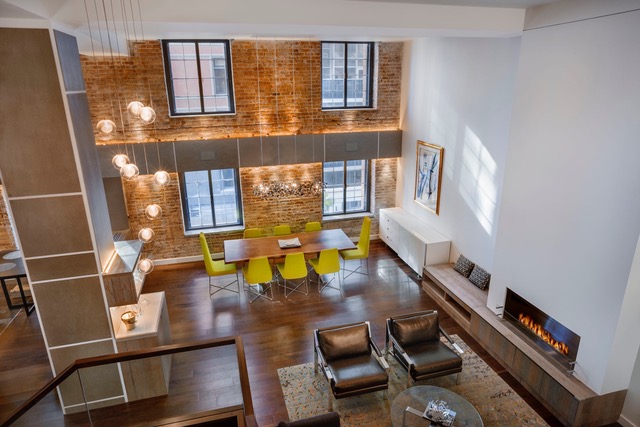 Jeff Streich, owner of Prime Renovations, a renovation contractor in NYC, has had good experience with fireplaces from EcoSmart. The core of the EcoSmart fireplace is its reusable, washable burner; it also uses bio-ethanol, a sustainable form of ethanol derived from agricultural by-products (such as from grain and corn).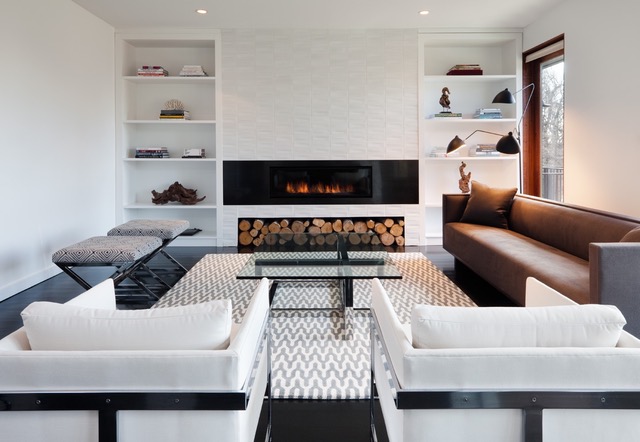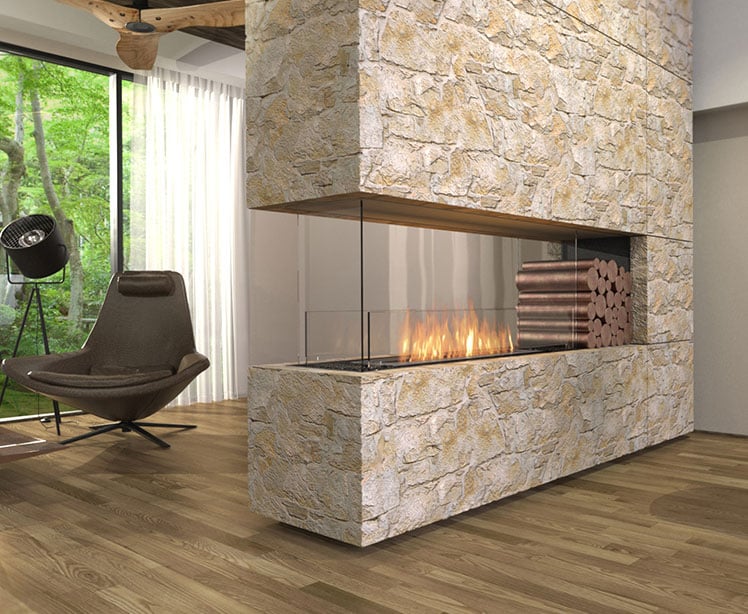 Finocchiaro sells several models of EcoSmart ethanol fireplaces. The Flex 104PN Peninsula model shown here is currently $11,612. Note that unlike the peninsula model by Hearth Cabinets (top image), the flame here is shielded by glass but is otherwise open (an important consideration if you have little ones around). 
If the idea of pouring flammable fuel into a (potentially hot) burner gives you pause, consider ethanol fireplaces by 
Planika USA
. The Polish-based company recently entered the U.S. market, garnering raves for its safety sensors and automatic refill mechanism, which uses a specially designed pump to deliver just the right amount and eliminates the risk of overfilling. It also has safety sensors that will extinguish the flame if anything seems amiss. You can order the
Planika Lincoln, 
above, which starts at around $2,500 (note that electricity is required), and other models through NYC Fireplaces.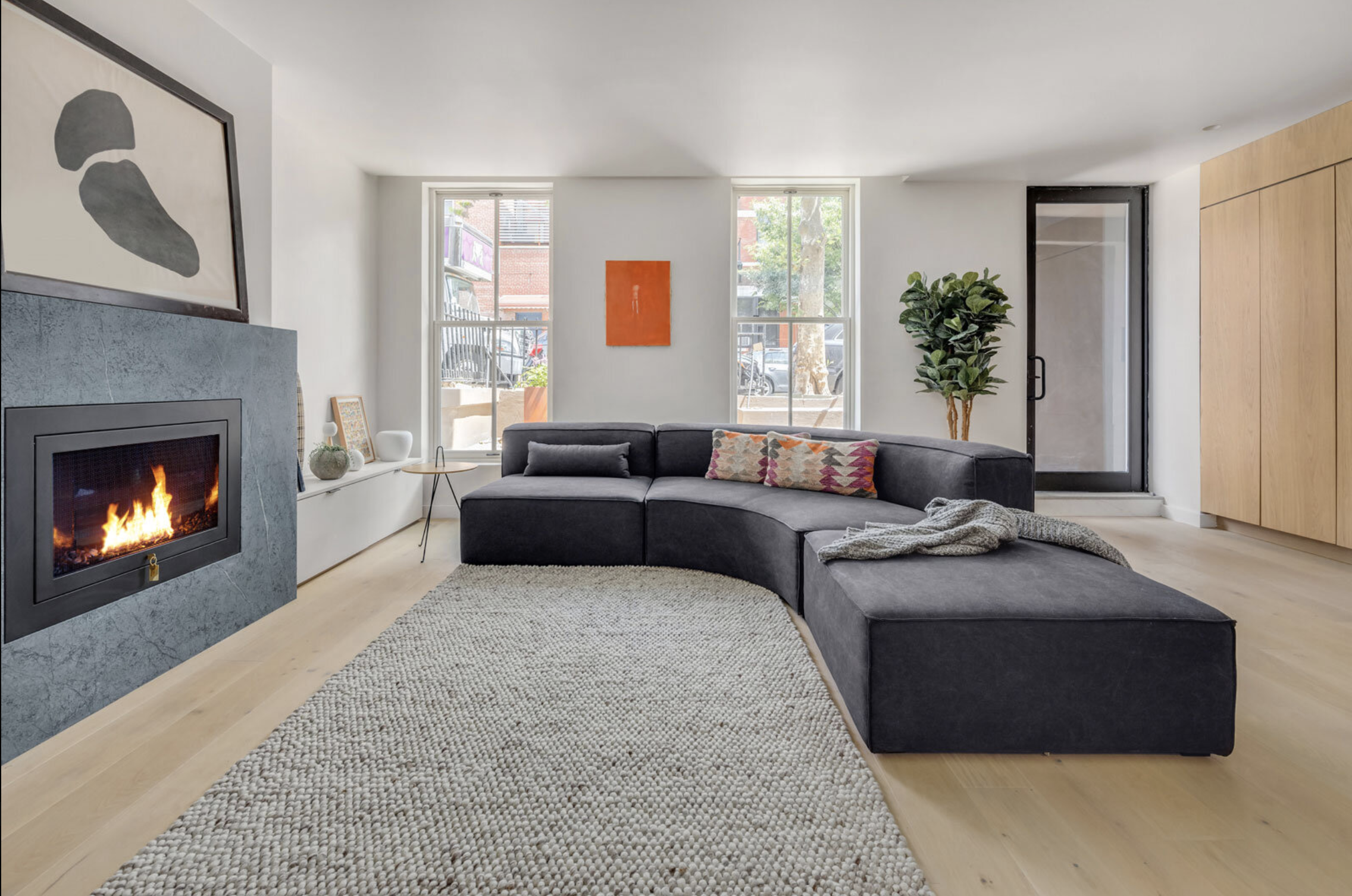 You can also scope out NYC-based Hearth Cabinet (their flagship showroom is in Chelsea), which relies on single-use canisters that are pre-filled with isopropyl gel (no pouring required).
"These are a key feature of our patented system, which includes either a standard or custom metal cabinet with a lockable top-hinged door and protective honeycomb metal screen so no one can touch the flame," Check says. (Per its website, the combination of its locked safety screen and safety gel cartridges has garnered the company the only seal of approval by the NYC Fire Department and Department of Buildings.)
Hearth Cabinet offers both retail and trade pricing, in case you are working with a pro. Check says this year the percentage of direct sales to consumers has gone up and then the company can connect you with contractors to do the installation and build-out. 
Retail pricing falls between $3,500 to $10,000 for standard products. "We've had certain units in bronze and brass that are more like $20,000 as well as simple customizations that end up around $4,000, but the middle ground captures the majority," Check says. 
All parts are fabricated locally and designed by staff architects and designers. The cabinet has an average depth of 12 inches and you can slide that into any surround, including a decorative piece of furniture or traditional mantel or a more elaborate construction (see photo at top). Because they require no hook-ups, Check says about half of her clients are not going through an extensive renovation but are instead doing a sort of facelift like putting in millwork or re-envisioning the floor plan. 
The cartridges are currently about $9.50 each or around $76 for a case of eight, though Check hopes to be able to revert to the typical $8/cartridge price soon, once the cost of alcohol returns to its usual pricing (it is about 10 percent more due to the pandemic). She says most customers use eight to 10 cases a year to tide them through the colder months (November to March). The cartridges last about two hours and will go out on their own or can also be extinguished at any tme by using the included snuffer plates.
Check says approvals for Hearth Cabinet ventless fireplaces from DOB and FDNY "state that there is no work permit needed and that the product is considered a decorative appliance. It is really important that people remember when talking to their board that Hearth Cabinet is not technically a fireplace."
Fireplace conversions
If you happen to have an existing fireplace, sealed or not, you can easily convert it to one of the above methods. Check says Hearth Cabinet does a lot of these retrofits throughout NYC.
Streich converted a wood-burning fireplace for a client in Sutton Place, who in addition to going with an ethanol model spent $5,000 on a mantel from Europe (and added rocks that sparkle when the fire is lit).  
Or you could just park a simulated burning log set inside. The Dimplex Revillusion 25-inch Plug-in Electric Birch Log Set costs around $500 and kicks out over 5,000 BTUs of heat. For the same price, you can get the battery-operated Modern Flames Sunset Charred Oak that merely glows, with no flame effects. 
Cheaper still (by far, at $60) is the Pleasant Hearth 20-inch Electric Crackling Natural Wood Log from Amazon. 
No-fireplace fireplace options
In an updated version of the old-school, televised flickering flame, complete with the covetable white birch logs, you can take a break from binge-watching Queen's Gambit and stream a faux fire in "crystal-clear, high-def" warmth on your smart TV. 
Brick Underground articles occasionally include the expertise of, or information about, advertising partners when relevant to the story. We will never promote an advertiser's product without making the relationship clear to our readers.