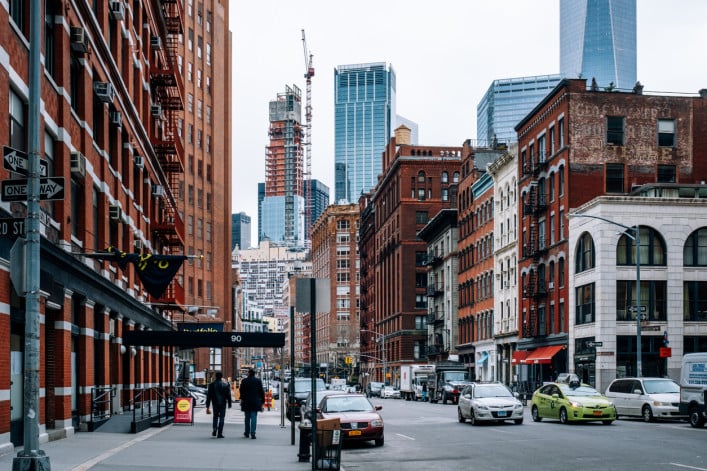 Having trouble deciding whether to list your New York City apartment for sale or put it on the rental market? For a certain subset of NYC owners, the answer is: Do both.
With a hot sales market and an even hotter rental market, lots of owners who have second (or third) homes elsewhere can afford to test out both the sales and rental markets in NYC—at the same time—to see which brings in the better offer.
This is not a brand-new strategy—but it is one that went into high gear during the pandemic, according to Nancy Wu, an economist at StreetEasy. She recently did a report that found that the number of "simultaneous listings" (or listings on both markets) jumped by 98.1 percent from 2019 to 2021. (The increase was larger in the beginning of the pandemic—increasing 70.5 percent from 2019 to 2020, and by 16.2 percent from 2020 to 2021, resulting in a total of 1,757 simultaneous listings in 1,660 buildings last year.)
Wu says that nearly all simultaneous listings (93.6 percent) were in Manhattan, including the top 25 buildings. The Greenwich Club in the Financial District had the most in 2021 with 10 and 75 Wall St. in Fidi had nine. Both buildings are luxury condo towers in an area hit hard by the pandemic slowdown, the report points out.
The trend started taking off when NYC's recovery started, she says. Owners were looking to capitalize on the rebounding rental market.
"When both the prices and rents started going in the same direction once NYC real estate started to recover, that's when we saw an increase in simultaneous listings," Wu tells Brick.
According to Wu's report, for simultaneous listings in 2021, the median asking price was $1,075,000, and the median rent was $3,995—both were small increases from 2020.
A way to deal with uncertainty
For some owners, the decision to test out both markets can reflect some uncertainty and also provide an opportunity to hedge their bets.
Maybe the owners are not ready emotionally ready to give up their NYC place, or are trying to time the market, or maybe have one spouse who wants to hold onto the place and the other doesn't, says Vickey Barron, a broker at Compass.
"They can't come up with the right answer—and the pandemic has really shown us that things can happen that we can't control. That's why I suggest doing both and I bring both sales and rental offers," Barron says.
In the current climate, which is seeing record-high rents for Manhattan, "the rental price will be very aggressive and attractive," she says.
An aggressive rent offer won over clients of Kobi Lahav, senior managing director and director of sales of Living NY. He says owners of a Williamsburg condo were pleased to "lock what they think is a crazy rent."
Multiple offers came in from potential buyers and renters for their one bedroom with a home office on South Third Street. During the early part of the pandemic, the apartment had rented for $3,000.
More recently, the apartment was on the sales market asking $975,000 and the owners received a top offer of $950,000, all cash. However, the owners decided to go with a renter who offered to rent it for $4,000 for two years. (Thanks to a bidding war, the owners also received an even higher offer of $4,500 for one year, which they declined.)
"The owners were so happy to lock in a good rent for two years," he says.
It was a tricky apartment to market and turning down a sales offer is not without risk. "It's not an easy unit to sell as it's facing the BQE and it needs some updating and we got them a cash offer only $25,000 less then asking," Lahav says. 
"Who knows what the world will be like in two years," he adds. Perhaps "they're going to wish they took the offer."
Goodbye, stigma. Hello, power move
If you're considering adopting this strategy and concerned about the stigma associated with listing a property for sale and rent at the same time—something buyers may be used to encountering when a listing lingers on the sales market—brokers say those days are over. It's no longer a sign of a stale listing.
"There's no stigma anymore," says Scott Savory, a broker at Compass. It's become quite common, he says.
"If someone has the ability to hold onto a unit, the thinking is, 'I can get top dollar in rent and in a year from now, I can get top dollar in sales," he says.
In fact, it's something of a power move, Lahav says, one that gives owners the ability to pursue two tracks: the 25 percent premium available for rentals and 10-15 percent premiums that for-sale apartments are bringing—and ratchet up the pressure on both potential buyers and renters.
Lahav explains how it works: If a potential buyer offers a price that's too low—a broker can say, "listen, the owner doesn't have to sell it, he can rent it if he doesn't get his price." Similarly, if a renter balks at the asking rent, a broker can say, "look—he might end up selling the place."
The pressure is multiplied—not only are renters competing with other renters, and buyers competing with other buyers—they are competing with interested parties in the other market.
Still, there are downsides that owners, buyers, and renters need to be aware of when markets intersect.
Buyers may not get top dollar later
Selling with a renter in place is not usually ideal, Barron says. "You better pray you get the right renter or rent it furnished," she adds.
Otherwise an owner will have to show a place with furniture that may not do it justice. Case in point: She got a call from an owner who is renting out an apartment that used to be for sale. A potential buyer asked to see it and Barron obliged and the owner wanted to know how it went.
Turns out, the tenant's sofa is too big and is dwarfing the living room, she says. Her advice is to wait until after the tenant is out to show the place and get a different sofa in order to get top dollar.
"The owner may be getting an extra $10,000 in rent each month, but I can get an extra $100,000 on the sales market if it shows the right way," she says.
Brokers mentioned that owners need to factor in the wear and tear on a place that they ultimately plan on selling. Barron suggests keeping a tenant for extended period of two or three years and then planning on fixing it up.
Brokers also say that owners need to keep in mind that if they plan on renting now and selling later, things may look very different a year or two from now. Multiple interest rate hikes are expected to eat into buyer's purchasing power and sellers may not be in as good a position as they are now.
Renters get a nice place but not for the long-term
Renting from a condo owner usually means the apartment will have quality finishes and more amenities than typical rentals. Plus there's usually a better sense of community since "you're surrounded by owners who take more care of the building," Savory points out.
But it's not the place for renters who want to remain long-term.
"If you see a property for rent or sale, you already know the owner has shown their cards," Lahav says—meaning they're interested in selling.
Many renters will not want to rent for just one year and then have to move again—but most renters don't have a lot of leverage these days.
Still, Lahav recommends trying to lock in a two-year lease if you like the place a lot. Some owners are agreeing to these longer leases, he says.
In addition—renters in these scenarios may find they are dealing with owners who have never been landlords before—and are not familiar with their obligations.
If that's you and you find yourself with a brand new landlord: Be aware that market-rate tenants have rights too and brush up on what they are.
Why your broker may not be so thrilled
Managing both sales and rental listings and subsequent queries is a more work for a broker, plus they earn a lot more from a sales commission than they do from a broker fee—think tens of thousands of dollars vs. several thousand dollars. So don't be surprised if they don't seem excited at the prospect of doubling the work for a much smaller fee.
Brick Underground articles occasionally include the expertise of, or information about, advertising partners when relevant to the story. We will never promote an advertiser's product without making the relationship clear to our readers.