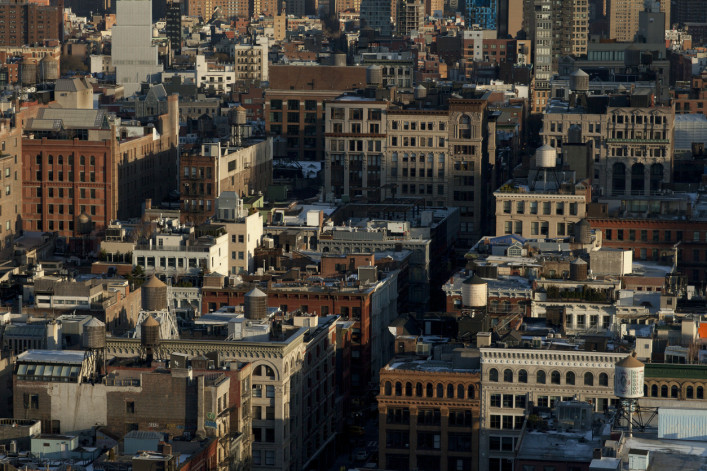 Rents in Manhattan, Brooklyn, and Queens are continuing to rise, even reaching above pre-pandemic levels at the higher end of the market, while renters are finding fewer apartments available. 
That's the picture from the Elliman Report for December 2021, which indicates the NYC rental market is steadying after some of the intense—and unsustainable—activity of previous months.
In Manhattan, the median net effective rent rose to its highest level on record for the month of December, reaching $3,392. This isn't an all-time high, just a record for December when rental activity is normally much slower. Net effective rent includes concessions and in December 2021, a quarter of new leases (25.5 percent) had some form of sweetener—on average 1.6 months of free rent. A year before, the share of leases with concessions was double that at 53.5 percent and renters were, on average, getting two months free.  
The numbers continue to show a "highly polarized" market between the upper and lower ends, says Jonathan Miller, president of the appraisal firm Miller Samuel and author of the report. 
The increase in median rent is evident in both doorman and non-doorman buildings in Manhattan but doorman median rent, which is a proxy for the high-end, has risen annually at a record rate for the past three months and at $4,298 is above the same period two years ago. The median rent for apartments in non-doorman buildings is still below pre-pandemic levels and stands at $2,695, although it has increased annually for three straight months. 
Even as rents rise, listing inventory in December fell year over year at a record rate for the fifth consecutive month and is below pre-pandemic levels. December also saw the highest annual decline in new lease signings on record for that month. Miller puts this down partly to "a return to seasonality" as well as the presence of Omicron. Another factor is the intense level of rental activity in Manhattan earlier in 2021.
"Activity has come down off of those frenzied highs but it is still elevated by 18.3 percent above pre-pandemic levels so there is still excess activity occurring," Miller says. 
The numbers indicate some "normalization" in the rental market, Miller says. Also, it's worth pointing out the comparative numbers for 2020 were heavily distorted by the pandemic with vaccines only widely available in early 2021. "It took vaccine adoption to renew confidence" and spur activity in Manhattan, Miller says. 
Brooklyn didn't experience the same slowdown as Manhattan during 2020 and in December of 2021 new lease signings rose year over year for the 16th consecutive month. The number of apartments available fell at the highest annual rate on record. In December 2020, there were 18,512 apartments listed for rent, a year later there were just 3,077.
Median net effective rent in Brooklyn was $2,747 and increased annually at the fourth-highest rate on record for the month of December. 
In Queens, the median net effective rent in December 2021 reached $2,715. The rent rose at its fastest year-over-year increase on record exceeding pre-pandemic levels for the first time in 19 months. At the same time, the number of apartments available fell annually at its most significant rate in more than a decade. 
The Corcoran group released its Manhattan and Brooklyn reports for December 2021, which notes increased demand for doorman buildings in Manhattan, as the median rent for this type of property climbed 30 percent annually. The report finds that larger apartments and those with a doorman are seeing the highest rent increases.
"As many companies' work-from-home policies remain in effect, tenants value the extra space to spread out—be it an extra bedroom, or a common lounge.  Now more than ever, shared amenities have become an extension of a resident's living space and have taken on a new appeal," says Gary Malin, chief operating officer at Corcoran. 
The average Brooklyn rental spent 73 days on the market, down 10 percent since November. The report notes that with fewer available apartments from which to choose, would-be tenants made quicker decisions. 
Brick Underground articles occasionally include the expertise of, or information about, advertising partners when relevant to the story. We will never promote an advertiser's product without making the relationship clear to our readers.