Getting Ready
2022 NYC real estate forecast: Buyers look over their shoulders, sellers wait for prices to rise, renters catch a break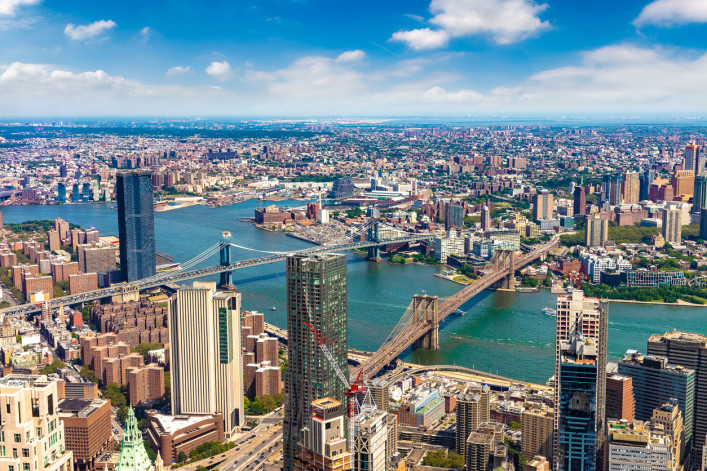 New York City's real estate market boomeranged in the second half of 2021: Renters and buyers returned to the city and snapped up apartments. Thanks to that burst of demand, Covid discounts and concessions nearly evaporated as owners and sellers gained the upper hand. Now that Omicron infections are skyrocketing, it feels like New Yorkers are collectively holding their breath—waiting to see if we are in for another bad stretch.
Omicron is a major question mark, but there are some indications of what 2022 will bring: There will be less competition for rentals since the stampede of returning New Yorkers is largely over, although you can expect rents to continue to rise. And for tenants battered by job loss and unable to pay rent, there may be more federal funds and legislative protections. 
On the sales side, buyers can expect to have more apartments to choose from as the market reverts to typical spring and fall selling seasons. They will feel pressured to lock in a deal before mortgage rates inch up and prices ascend past pre-pandemic 2019 levels. Sellers can anticipate the return of international buyers as long as international flights remain possible—and travelers here feel safe. 
Our 2022 forecast is designed so you can skip ahead to the section most relevant to you via the links below. However, because each segment of the NYC real estate market is interconnected, we recommend reading through the entire piece when you have the time.
Whether you plan on buying, selling, or renting a new place, here's what you need to know in order to achieve your real estate goals this year. 
If you're going to be hunting for a rental in 2022, you may be feeling discouraged. It's tough to find a place to rent these days and the deals that landlords were offering during the height of the pandemic are practically gone. Manhattan rental inventory plunged as a result of intense leasing activity in the fall, with the median net effective rent surging a whopping 23 percent in November. The Brooklyn and Queens rental markets also saw increases in rents and similar frenzied leasing.
But you may be able to catch a break in the coming months. The turbo-charged rental market is slowing down after a year and beginning to approach more seasonal levels, says Jonathan Miller, president and CEO of appraisal firm Miller Samuel. That may be because NYC has already regained three-quarters of its population that left during the lockdown, setting the stage for a further slowing of demand for rentals this winter. 
"We had eight to nine months of pent-up demand crammed into 90 days, giving the impression the rental market is a lot hotter than it actually is," says Adam Frisch, senior managing director of leasing at Lee & Associates, a management company representing small building owners in Manhattan.
This winter will feel very different from the fall, he predicts.
You can expect to see an "unprecedented amount of vacant apartments" available this winter, Frisch says. Units that normally would have rented in the late summer to early fall in 2020 sat on the market until the winter to early spring of 2021 because landlords took a while to drop the rents to below market rate.
"Landlords are now sending out renewal notices with increases at pre-Covid rates," Frisch says. "A lot of renters can't afford those apartments, and most will leave," he says. 
That could mean more availability and better deals in prime Manhattan and Brooklyn neighborhoods—if you don't mind checking out apartments when it is bitterly cold. 
Rents predicted to rise in 2022
Now more than ever, the high and low ends of the rental market are behaving like they are in two different cities: Rents are increasing at a faster rate for doorman buildings (a proxy for the high end) compared to non-doorman rental buildings. Most expect this pattern to continue—driven by the need for larger apartments (read: more expensive) to accommodate New Yorkers who are working from home and generally spending more time in their apartments as the pandemic rages on.
"The high-end rental market is incredibly strong. We are seeing bidding wars and swift lease signings on nearly every listing, even apartments asking over $40,000 a month," says Kirsten Jordan, a broker at Douglas Elliman. These trends will continue in 2022, she predicts.
The numbers tell the story even better. According to the Elliman Report, in November, the median rent for Manhattan doorman buildings was $4,200, a 20 percent increase over the $3,500 median rent seen in November 2020. The median rent for non-doorman Manhattan buildings in November was $2,650, an increase of 6 percent from November 2020.
While rents are on the rise, they still have not surpassed pre-pandemic levels two years ago—case in point the median rent for a non-doorman building in November 2019 was $3,000.
In anticipation of rising rents, more renters are choosing to lock in better deals with longer leases, a pattern Miller is seeing across the city—and something to consider if you're weighing a new lease. 
Bidding wars for rentals may come back this summe

r

One of the stranger hallmarks of the NYC real estate market during the pandemic has been the trend of bidding wars for rental apartments, which happened in the summer and early fall of 2021 in many NYC neighborhoods. The rental market seemed a lot like the sales market as a result of a spike in demand from renters flooding back to the city in anticipation of office reopenings and the start of the school year.

One Park Slope renter who was asked to submit her best and final offer told Brick: "I felt like I was buying." Nicole Beauchamp, an agent at Engel & Völkers, said trying to get into a Midtown West showing for a hot apartment was like "trying to get into a club." There were about 15 people waiting to see the place.

Will there be bidding wars for rentals again in 2022? If offices put off fully reopening until  late spring or even summer, when Covid cases plummet with warm weather—there could be a repeat of last year's rush back to the city, one major property manager predicts.

Robert Morgenstern, principal of Canvas Property Group, a property management company that owns 2,000 NYC apartments, says last year's market was unique, but "this summer could be equally intense."

He predicts offices will "continue to reopen after what we can only hope is a temporary spike of Covid." That will draw renters back, but he says they'll be hampered by a lack of apartments. Morgenstern blames the shortage of rentals to a lack of tax incentives for developers and changes to the rent laws that discourage landlords from deregulating apartments.

"We have seen the most demand for apartments in primarily residential areas where the retail and restaurant scenes are booming," Morgenstern says. "We saw the market explode in direct correlation to the nightlife scene." Neighborhoods like the East Village, Lower East Side and Williamsburg were "all thriving, while the type of building and amenity offerings seemed less relevant," he says.
Financially struggling renters
 could get more aid
If you are behind on your rent, you may be eligible for rental assistance through the Emergency Rental Assistance Program ("ERAP") or other related programs. The fund has been rapidly depleted, but New York could get a lifeline from a plan to reallocate funds from states where they haven't been maxed out. 
When you have an open application for ERAP or related assistance, you are entitled to an automatic stay of any eviction proceeding for nonpayment of rent. Meanwhile housing court continues to move very slowly—as a result of a pandemic backlog.
Some good news for market-rate tenants is the possible passage of the good cause eviction law. This would extend the protections given to rent-stabilized tenants to those in market-rate apartments, allowing all tenants automatic renewals unless the landlord has good cause to evict. Previous versions of this bill have also capped rent increases at renewal time. 
Throughout 2021, the number of Manhattan and Brooklyn co-ops, condos, and townhouses for sale didn't keep up with demand. As a result, bidding wars heated up, the Covid discount shrank, and prices increased.
But New York City still has some runway to go before approaching the inventory drought that has gripped suburbs for virtually the entire pandemic. 
According to the Elliman Report for the Manhattan sales market in the third quarter, there were 7,694 available listings in Manhattan, about 17 percent more than the 10-year average for the third quarter. The months of supply, or how long it would take to sell all inventory, was 5.1 months–quite a bit less than the eye-popping 20.3 months in the third quarter of 2020. 
"At the current rate of demand, Manhattan likely won't experience the same extreme level of inventory shortages [as the suburbs] for another year," Miller says.
Still, that may not be comforting to buyers who have been unable to land a deal.
"So far in December we've seen more units signed into contract than have been listed for sale, so buyers are out in force while sellers are slowing down," says John Walkup, co-founder of real-estate analytics firm UrbanDigs.
A bright spot for buyers is a normalizing pattern of spring and fall selling seasons. Walkup is among those who say that seasonality has "generally returned to the market."
"I anticipate the next wave of listings will begin in February, which is the usual pattern," Walkup says. 
However, with new records being shattered for Omicron infections in New York by the day, making timeline predictions is fraught. Sellers could take a page out of 2020's playbook and hold off on listing their apartments until the surge of infections passes.
More New Yorkers will have access to lower-cost mortgages
In 2022, more NYC buyers will get something they have not had before: Cheaper conforming loans from Fannie Mae and Freddie Mac that will boost their buying power. 
The new, conforming loan limit for mortgages that can be acquired in high-cost areas like New York City is $970,800, an increase from $822,375. It will likely be a boon to buyers who couldn't meet jumbo loan requirements such as having six months of mortgage payments in your bank account, versus the typical two months' worth for a conforming loan, explains Brittney Baldwin, vice president and loan officer at National Cooperative Bank (a Brick Underground sponsor).
Some strings are attached though. In response to the condo tower collapse in Surfside, Florida, Fannie Mae is changing lending guidelines to prevent buyers nationwide from purchasing in co-op and condo buildings without sufficient reserve funds to pay for structural repairs or use an assessment to pay for repairs involving structural integrity (until the repair is completed).
Effective January 1st, loans for condo or co-op units in buildings with significant underfunded reserves or unsafe conditions will not be "eligible for purchase"—meaning Fannie Mae will not buy these loans back from lenders—which will likely prompt lenders to tighten their standards to match. There's also a new reserve fund requirement: Buildings will have to keep 10 percent of their operating budget in their reserve fund, a departure from past practices that allowed buildings to offer up a reserve study instead.
These stricter standards may result in an "uproar" from buyers not getting access to financing—and stepped up maintenance and common charges in buildings that need to shore up their reserve funds in order to come into compliance, says Orest Tomaselli, president of project review at CondoTek, which provides data on condos for lenders. 
Mortgage rates set to climb in 2022
Real estate sales have been juiced by mortgage rates hovering near historic lows for an extended period, a result of the Federal Reserve buying mortgage-backed securities to support the economy. But the Fed plans to taper off those purchases to curb rising inflation—and mortgage rates are expected to rise. 
New economic projections indicate the Fed may raise interest rates three times in 2022. Omicron is still a wild card, however. If the impact of the new variant is severe it could keep the Fed from executing its tapering plan, says Melissa Cohn, regional vice president and executive mortgage banker at William Raveis Mortgage.
Cohn says that the Fed's revised policy won't hurt buyers looking to purchase a home within the next few months, but you might want to act soon. 
Mortgage rates should remain around 3 percent through the early part of 2022, Cohn says. 
She expects to see a .25 percent to a 0.5 percent increase in mortgage rates over the next couple of months, with a limited impact on real estate: "The real estate market was doing well when rates were at 3.625 percent, and will do so again," she says.
What's the likelihood of raising the SALT cap?
Changes to the State and Local Tax cap could keep more money in owners' bank accounts—that's if Washington approves.
The Biden administration's Build Back Better bill calls for raising the SALT cap from $10,000 to $80,000 through 2030. After that it would be reduced to $10,000 and then expire completely. 
However, repealing or raising the cap is probably a low priority in the ongoing negotiations to get the bill through the Senate. Some see it as a perk for wealthier coastal Americans in high tax states like New York. If there is no change at all, the current $10,000 SALT cap will expire after 2025.
Buyers want to see legislative action because more money in their bank accounts boosts their spending power—leaving more money to spend on a mortgage, for example. And sellers would appreciate this because it means buyers are more likely to make a move—and can trade up a larger place. 
If you're planning to sell this year, expect to encounter a brisk market, but one in which prices have not yet fully rebounded to their pre-Covid 2019 highs. 
Prices won't fully recover until 2023 or 2024, predicted UrbanDigs CEO Noah Rosenblatt and COO John Walkup on a recent panel discussion since international and investment buyers have been sitting out the market. Walkup notes that when businesses fully reopen and NYC's ground-floor stores come back to life—these types of buyers will return and drive prices higher—but it will take time for this to happen.
Sellers can expect pandemic price cuts to not cut as deep in 2022.
Miller has been tracking what he calls the "Covid discount," an estimation of how much Covid brought prices down below what was expected—if there had not been a pandemic. In 2021, that discount was about 5 to 7 percent.
"Entering the new year, the aggregate Covid discount is less than 5 percent in a highly polarized market, but it looks like it will be largely eliminated by the summer if current trends hold. The assumptions include the Omicron variant peaking in January as expected and mortgage rates continuing to remain where they have been over the past few months," he says.
Renovated apartments give sellers an edge
If you're selling a renovated apartment or brownstone, you will continue to have an edge this year because of supply chain issues. Many buyers will shrink away from renovations due to major backlogs and shortages for appliances, parts and materials that are driving up costs and causing delays (or requiring renovators to come up with alternate plans.)
"Unrenovated units are not enjoying the recovery as much as renovated," Rosenblatt notes, describing them as "flatlining" as a result. The supply chain "is all broken down," he says.
Apartments with private outdoor space will also maintain their advantage. Pandemic-era buyers are willing to pay an even bigger premium for this amenity. 
Garrett Derderian, director of market intelligence for SERHANT, recently figured out just how much more. In a recent report, he looked at sales of Manhattan and Brooklyn condos and co-ops before and found that after the lockdown, Manhattan apartments with outdoor space sold for an average price per square foot of $1,625, compared to $1,345 for apartments without outdoor space. That represents a premium of 21 percent, and an increase of 3 percent over pre-lockdown pricing. 
Derderian predicts outdoor space will continue to be worth more going forward, even as apartments without outdoor space start to recover with the return of international buyers to the NYC market.
Will international buyers return in force?
In early November, when the U.S. reopened to vaccinated international travelers and before anyone had even heard of Omicron, there was the expectation that like some well-heeled cavalry, foreign buyers would be returning to snap up the luxury units that had been lingering on the market. 
The coming influx spurred some local buyers to get off the fence, says Michael J. Franco, a broker for Compass.
It made "domestic buyers move more quickly and make offers more quickly, thinking that they'll have a limited amount of time to get a certain deal on a property, and they think that prices are going to go up," he says. "I recently sold an apartment at The Plaza, and both of the buyers who were pursuing it were conscious of foreign buyers coming back and wanted to make a deal happen quickly."
Now that the Omicron variant is surging, the future is more uncertain.  
"There may be a return of international buyers, but it won't be a huge influx in 2022, particularly because some European countries are shutting down again," predicts Ellen Sykes, a broker for Warburg Realty.
Still, another broker says NYC can count on a wave of buyers from China. Mark Chin, a broker at Keller Williams New York City, says the defaults of large Chinese real estate developers is almost certain to send over buyers who want to park their funds in the safe haven of NYC real estate. 
"For a while the Chinese buyer evaporated because they were making so much money at home," Chin says. "That ship has sailed." In 2022, we "will start to see Chinese money here," he says, estimating that eventually "billions are going to be invested in residential real estate."
And it doesn't matter if borders are closed or not. As Chin points out, "Chinese buy off-plan all the time" meaning they frequently buy condos that are under construction. And they are equally at ease buying something sight-unseen. "They're comfortable buying over Zoom," he adds.
However, John Walkup of UrbanDigs has a different take on foreign buyers: "I think the era of wealthy foreign buyers spending lavishly on rarely used Billionaire's Row condos has likely seen its peak." 
He says that even though NYC real estate has proven to be an attractive place for foreign investors to park their wealth, buying here "comes with perpetual carrying costs like taxes and maintenance or common charges, not to mention a higher level of transparency."
Blockchain-based crypto-currencies may present a competing way to preserve capital, if you can stomach the volatility.
"While it may not represent a significant, head-to-head competitor to NYC real estate, it is one of the growing numbers of options that come with less friction than a condo purchase," Walkup says.
Brick Underground articles occasionally include the expertise of, or information about, advertising partners when relevant to the story. We will never promote an advertiser's product without making the relationship clear to our readers.