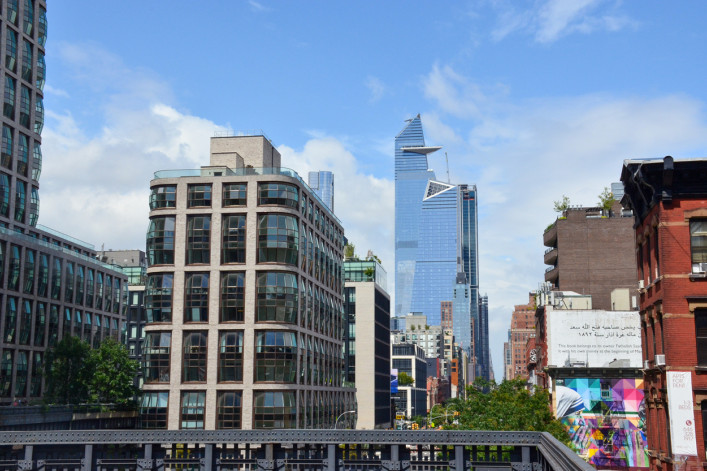 Sales are booming in New York City, even as international buyers have been mostly absent from the real estate market, barred by travel bans from coming to the United States, but that's all about to change.
On Friday, the Biden administration announced international travelers who are fully vaccinated against the coronavirus can enter the U.S. starting on November 8th. Brokers say their return will supercharge the market—but a lack of listings is a problem.
International buyers have been a major missing puzzle piece. This group has long seen NYC real estate as a good investment, especially high-end condos, and foreign investment has driven up prices. But these buyers dried up to a small trickle during the pandemic because of travel bans and Covid concerns, although demand has been picking up recently.
Still the NYC market has been recovering pretty well without them. In the third quarter, sales of Manhattan condos and co-ops more than tripled compared to last year, the highest quarterly total in more than 32 years, according to the Elliman Report. Sales in Brooklyn and Queens also hit new records in the last quarter.
"If the market is this strong with people who are bullish on the city—buyers from around the U.S.," says Vickey Barron, a broker at Compass, who represents sellers at the Four Seasons, which is popular with international buyers. "Imagine what it will be like when the gates are open and foreign buyers are back."
Her expectation: We won't see a flood immediately, but once booster shots become widely available, demand will resume.
Pro Tip:
Whether you decide to buy a co-op or condo, did you know you can receive a buyer's rebate from your broker? Buying with Prevu you'll pocket a rebate of two-thirds of the commission paid to the buyer's broker at closing. On a $1.5 million condo, you'd receive up to $30,000. Click here to learn about Prevu's Smart Buyer Rebate.
International buyers bought only 107,000 residential properties in the U.S. between April 2020 and March 2021, a 31 percent decrease from the previous year. It was the lowest level of foreign investment in a decade, says Garrett Derderian, director of market intelligence for SERHANT.
International buyers make up a larger percentage of buyers in NYC, Derderian says.
"The remarkably strong recovery we have seen this year has been primarily driven by domestic purchasers. With restrictions easing, we expect global buyers to return to Manhattan, although it will likely unfold slowly," he says.
Look for the biggest impact in Midtown, a popular area for foreign investors and an area that has seen stagnant sales as a result of shuttered offices, stores, and restaurants. "Additionally, as more workers return to their desks, at least part-time, by the end of the first quarter of 202, we expect prices to slowly start to rise again," he says.
Queries from international clients of Nicole Beauchamp, an agent at Engel & Völkers, came in fast via text and Whatsapp in late September, when the Biden administration announced it was planning to lift the ban on European visitors.
Now with an actual date on the calendar for U.S. borders to open, foreign buyers can make plans to get on a plane to come here. And they have more incentives than just real estate: The reasons for keeping a pied à terre in the city are falling into place with the reopening of Broadway and the return of restaurant dining.
"That's why they love it here," Beauchamp says. "And who wouldn't want to lock in today's pricing for future enjoyment?"
The NYC market, she says, "will be on steroids when international buyers come back."
What foreign buyers will be shopping for
NYC sellers should take heart, she says. Luxury resales that have been lingering "because the ideal buyer wasn't here" are going to get new attention. "This is a major event," Beauchamp says.
She anticipates having lots of conversations about pricing to bring her clients up to speed on the market, because many international buyers think there's a "fire sale" happening in NYC real estate.
There isn't—prices are in large part still somewhat discounted, but the Covid discount has been shrinking fast. According to the Elliman Report, the third quarter listing discount in Manhattan, for example, was 5.6 percent, representing the spread between the closing price and last asking price—which was significantly lower than a spike in the third quarter of last year of 8.9 percent.
Some international buyers may have trouble finding what they want as the number of available listings has fallen sharply.
"If you want a trophy new development condo, we can find you that," Beauchamp says. "A one bedroom in Williamsburg with outdoor space in a new development? Those are going so fast that by the time you put in an offer it's gone—and the building has just opened. Everything is sold off of floor plans. Try explaining that to buyers that want to see, touch, and feel" what they are buying, she says.  
Rachel Lustbader, a broker for Warburg Realty, points out that a lot of new development condos have become available since the city's real estate market reopened in June 2020.
"Some of that new inventory is high end and is selling quickly. Some mid-level condo inventory is taking longer to sell and, depending on the developer's capital stack [meaning the financing that goes into a project] and their lender, prices may be more negotiable. Many investors will be attracted to those units," she says.
Barron says that some international buyers will be shifting their attention from condos to luxury townhouses—because of restrictions on visitors that many buildings implemented during the pandemic.
"People at a certain luxury level want to call the shots," she says. "If they want their chef or cleaning person or accountant to come, they don't want to be told [no]."
But buying in a townhouse means giving up the support of a full-service building—a necessity for many international owners who might only visit the city a few weeks out of the year.
"They can't pick up the phone and ask the building staff to look after their place," Barron says. That will mean new business for property managers. Barron sold three NYC townhouses to buyers from Seattle and California who hired property managers to collect packages and maintain the property.
Competition for NYC buyers
Scott Stewart, a broker at Corcoran, has already seen deals involving international buyers picking up. In the past five months, he did five deals involving buyers from Turkey and Israel for condos in Chelsea and Soho. Prices ranged from $2.1 million to $3 million, he says.
Next year, he says, will really be the return of foreign buyers, and the result will be elevated competition, and prices. Why the wait until next year? Stewart says inventory is limited now in the $2 million to $4 million range. "We won't see a great improvement until the spring market," he says.
And then, look out. "Your international buyer will be more exuberant to spend," he says.
Advice for NYC sellers
Want to attract international buyers to your resale? Know that you are up against the marketing dollars behind brand-new condos, so take advantage of the latest technology to market your listings, and that includes 3D tours.
Selling in a building with an interesting history? Communicate it well—it's very appealing to an international buyer. And pay extra attention to your presentation. A tip from Beauchamp, who has seen some big marketing fails: Don't ruin historic photos by using text with a super casual Comic Sans font. 
Go with professionals—not just a broker, but a professional photographer. Consider hiring a copywriter.
Make sure you're working with a broker who is plugged into a global network and is showcasing your listing on international websites and publications.
Brick Underground articles occasionally include the expertise of, or information about, advertising partners when relevant to the story. We will never promote an advertiser's product without making the relationship clear to our readers.