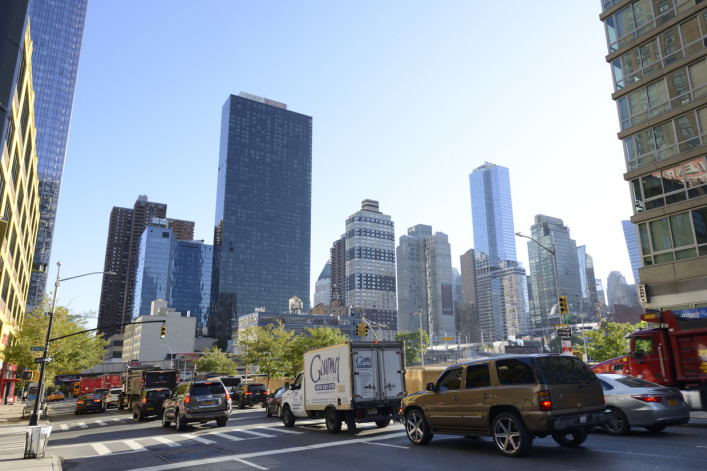 The bargaining power that Manhattan condo and co-op buyers previously wielded is shrinking fast as the real estate market continues to make its way back to normalcy.
In the third quarter, sales of Manhattan apartments more than tripled compared to last year, marking the highest quarterly total in more than 32 years (that's not a typo), according to the latest Elliman Report for sales of Manhattan co-ops and condos.
Jonathan Miller, president and CEO of real estate appraisal firm Miller Samuel and author of the report, describes the Manhattan sales market as "in the middle of transition from a year-ago stall to something much more robust." 
Last year in the third quarter, sales were down 46 percent compared to the third quarter of 2019. In contrast to that same pre-pandemic period, sales in the third quarter of 2021 are up 76 percent. It suggests "that we still have several quarters of robust sales activity in front of us—if not much changes in terms of listing inventory" he says.
All those sales meant listings fell sharply in the third quarter. The months of supply, or how long it would take to sell all inventory, was 5.1 months compared to a whopping 20.3 in the third quarter of 2020, which indicates the pace of the co-op market was the fastest in four years, Miller says.
There were still more apartments on the market than the 10-year-average, he notes, which tempers some expectations.
Listing discount continues to shrink
Buyers in the third quarter saw a listing discount of 5.6 percent—the spread between the closing price and last asking price—which was significantly lower than a spike last year of 8.9 percent.
Pro Tip:
Whether you decide to buy a co-op or condo, did you know you can receive a buyer's rebate from your broker? Buying with Prevu you'll pocket a rebate of two-thirds of the commission paid to the buyer's broker at closing. On a $1.5 million condo, you'd receive up to $30,000. Click here to learn about Prevu's Smart Buyer Rebate.
In addition, the market is moving significantly faster because sellers are being more precise in their asking prices, Miller says, which he determined by comparing listings on the market that sold with and without price cuts.
According to his analysis, listings that were correctly priced with no price correction spent an average of just 72 days on the market during the third quarter, while listings with at least one discount spend 89 days.
Bidding wars are on the rise as well. In the third quarter, the market share of bidding wars rose to its highest level in three years to 8.3 percent (they were 6.8 percent in the second quarter and in the third quarter of 2020 they were 3.6 percent).
Co-op prices increase, condos decrease
All co-op price indicators were up—including the median sales price ($820,000), representing an increase of 2.5 percent over the year-ago quarter. Condo prices fell—a result of a drop in average square footage, Miller says. The median condo sales price, $1,610,00, was a drop of 8.8 percent from the year-ago quarter.
"The notion of the pandemic skewing toward large apartment sizes is misplaced," Miller says. While some buyers may have sized up in response to the lockdown, it's not something that has carried through in sales today, Miller says, noting that the average size for apartment sales in the third quarter was smaller than it was a year ago.
In the third quarter last year, there were several ultra-luxury transactions, including deals at 220 Central Park South, points out Garrett Derderian, director of market intelligence for Serhant.
The firm released reports for the third quarter Manhattan sales market and new development. "Coupled with fewer transactions last year overall, and a greater number of sales for larger apartments, it was expected the average price would normalize this quarter," he says.
In Corcoran's third quarter Manhattan market report, Pamela Liebman, Corcoran's president and CEO, notes that "sales volume topped $9.5 billion, marking it the highest quarterly volume we've ever tracked, while the number of closings skyrocketed to a 14-year high. The third quarter was also a record summer for sales over $5 million with a luxury market driven by buyers seeking more space and better value."
A fourth quarter slowdown?
The third quarter market report from BOND New York points out that with a return to normalcy comes a return to seasonality, and with that the firm "expect[s] to see a slowdown into the fourth quarter in the number of contracts signed…we also anticipate the overall health of the market to continue on this path of resilience."
The third quarter Manhattan market report from Compass found that properties on the Upper East Side and in Upper Manhattan saw the largest increases in average price, up 16.3 percent and 15.9 percent year-over-year, respectively. The $3-to-$5 million bracket had the most sales growth, climbing 20.4 percent year-over-year.
Manhattan and Brooklyn both saw exponential growth in new development contracts signed in summer 2021 compared to 2020, according to a report from Brown Harris Stevens Development Marketing.
The activity "exemplified New York's resilience, the confidence consumers have in the city's housing market, and its future," says Stephen Kliegerman, president of Brown Harris Stevens Development Marketing. "Manhattan new development contract activity in August 2021 was almost double that of August 2019, and the average price was 26 percent higher…Brooklyn's gains were more modest due to available inventory and a better-performing 2020 than Manhattan."
A third quarter Manhattan sales market report from Brown Harris Stevens notes that closings were at their highest level in eight years, and up 182 percent year-over-year from the third quarter of 2020.
Warburg Realty's third quarter market report by CEO Frederick Warburg Peters features data from UrbanDigs. He cautions that there is some uncertainty in the wings with the ongoing pandemic and possible changes to federal tax rates but says that "the city is back."
"Sidewalks are crowded, as are buses. Restaurants are buzzing. Broadway, concerts, and the opera play every night to the vaccinated. The city is alive!" he says.
Brick Underground articles occasionally include the expertise of, or information about, advertising partners when relevant to the story. We will never promote an advertiser's product without making the relationship clear to our readers.