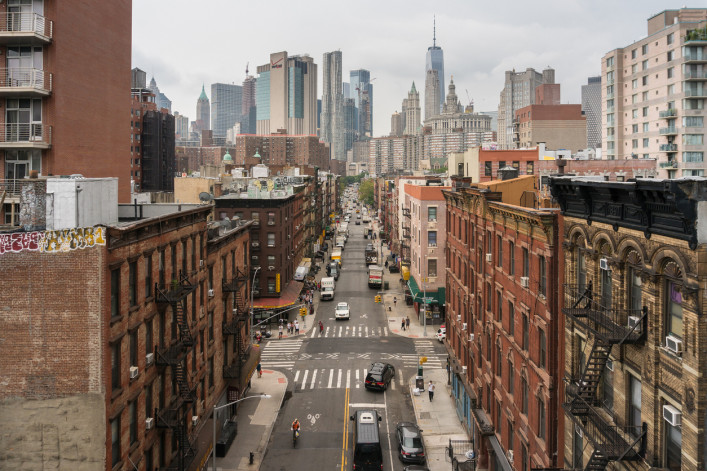 Some New Yorkers who planned to be back in the city this fall are changing their plans and putting buying or renting on hold as a return to normalcy in the coming weeks looks less likely. Rising Covid infections are making them stay where they are in suburban or rural locations. Others are adding room for a home office to their apartment wish lists, anticipating a return to working in person is not going to happen for a while.
It's not a full blown trend for the majority of buyers and renters. Numerous brokers and lawyers say they're not seeing hesitation—lots of renters and buyers are moving full speed ahead with plans to move back. Many agents are emphatic that there's no slowdown—none! ("Busiest August in years!" says Richard Murray, an agent at KWNYC.) The numbers for signed leases (up 54.7 percent in Manhattan according to the Elliman Report) and new contracts (more than doubled for Manhattan) in July, the most recent month for data, appear to bear that out.
Still, there are those who have changed gears—and a few brokers anticipate this could be the start of a bigger trend.
Some buyers who don't have to be back in the office until after Labor Day have put searches on pause for now, says Nicole Beauchamp, an agent at Engel & Völkers. They're thinking a September return could very well be pushed back to October—or to the end of the year. That's already the case at some large corporations that have pushed back their office reopenings to October or much later.
"People who are not going to be in the office until later in the fall are not taking the plunge," she says.
Beauchamp says one New Yorker she's working with left NYC last summer. Her company is not bringing staff back until January 2022. She had just started to look for a place—and now plans to stay put in Maine.
For buyers and renters who are moving ahead with finding a place in NYC, upsizing is the name of the game, she says. They're going for an extra bedroom with the anticipation they'll be working from home.
Beauchamp is advising her clients who don't have a need to be back in the city right away to look at new development—this way buyers can avoid the timeline complications of a resale—in this market, there are lots of delays and sellers need to time to find their own place.
"If your vision of NYC involves restaurants and shows—we're not fully there yet. But 2022 is sounding pretty good, she says."
A renter hits the brakes
Harjot Kaur Nayar, an agent at KWNYC, has been working with a first-time renter who was excited to move out of her parent's house in New Jersey and into the city, where she has friends.
But the renter ultimately decided against signing a lease: The rise of the Delta variant "made her nervous" and the fact that her office has postponed its return-to-work announcement seemed to indicate she should wait. She's staying in New Jersey for now, Nayar says.
Delta is making some would be landlords nervous too.
A couple with a one-bedroom co-op are hesitating to put it on the market, Nayar says. Rents have not rebounded to pre-Covid levels and they have concerns about what happened during the pandemic: Lots of renters broke their leases and may not want to be locked in long-term if there is yet another major wave of infections here.
When it comes to Covid, it seems like "every week is different," Nayar says. Wanting to keep your options open as the situation changes doesn't make you an ideal sort of renter. "If you bring someone to a board it can't be a messy situation," she says.
Staying away from the U.S.
International buyers were largely absent from the NYC market during the pandemic because of travel restrictions and are only just starting to come back. Rising infections rates threatens that revival.
"I have international buyers who are now on pause because they want to see how the market will be affected by the variant," says Mihal Gartenberg, an agent at Warburg Realty.
Renters can move quicker than buyers and Gartenberg knows of some who hustled to be back in the city that are now feeling stung.
"Several renters have remorse about moving back into the city, as Delta has delayed their return to work," Gartenberg says.
Areas impacted by a later office reopening
A delayed return to the office means a slower recovery for parts of the city already hit hard by office shutdowns, like Midtown East and Midtown West. On the other hand, areas that are not economically dependent on foot traffic from office workers and tourists, place like Tribeca, Upper East Side, Upper West Side and a large part of Brooklyn are seeing strong sales activity.
"Despite a very active residential market, there are certain neighborhoods that remain quiet such as the Financial District," says attorney Michael J. Romer, managing partner at Romer Debbas.
"The liveliness of an area is heavily tied to large employers' decisions on when the workforce will be expected back. As for Midtown, I have watched it come back to life week after week. No one is looking to revert back to where things stood in early days of pandemic. Everyone seems to be cautiously looking forward not back," Romer says.
The recovery taking place in the city's commercial areas "varies block to block rather than within neighborhoods as a whole," says Louise Phillips Forbes, a broker at Brown Harris Stevens. Some parts have lost their appeal. "When you can walk down the street and count 20 empty storefronts, the aesthetic unfortunately changes and the area does not have the same cache," she says.
The Delta discount
For buyers who missed out during the pandemic, this may be another chance to get a deal.
Kobi Lahav, senior managing director/director of sales at Living New York, says New Yorkers "are still buying and if anything, they are seeing it as another opportunity to get some discounts in NYC" as the virus destabilizes the city's recovery a bit.
First-time buyers will often look to buy near where they work, and opt for a studio or one bedroom. "Studio and one bedroom sales have lagged behind larger units and will probably continue to lag for a bit more as the Delta variant is spreading," he says.
(It's a similar story in rentals. Despite booming demand for rental apartments, rents have not returned to pre-Covid levels, and that's especially true for studio apartments.)
"With my buyers [Delta] is actually more of an opportunity than a deterrent and with sellers of one bedrooms or studios, it's more of a waiting game as they don't enjoy the same activity that we currently see in other markets," Lahav says.
Delta squashes Florida's appeal
One final word: Florida. Remember how New Yorkers were supposedly ditching the city for Miami? Skyrocketing infections of unvaccinated Floridians, the questionable leadership of Florida Governor Ron DeSantis and the Surfside condo collapse appears to have put an end to those kinds of headlines.
Lahav says that both investors and primary buyers are "much less enthusiastic about Florida."
"The fact that Florida seems like it's gone off the deep end puts in front of people the many advantages of living in NY and makes them want to double down on their lives here. A lot of my clients who were bent on moving to Florida are now changing their minds completely," Lahav says.
Brick Underground articles occasionally include the expertise of, or information about, advertising partners when relevant to the story. We will never promote an advertiser's product without making the relationship clear to our readers.