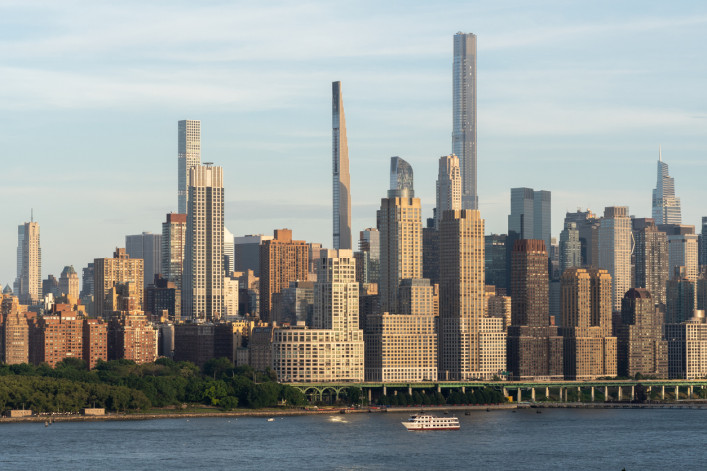 Studio apartments have been a bellwether for the New York City rental market in the pandemic.
When rents plunged, NYC renters who kept their jobs and normally would have been in the market for a studio found they could afford a one bedroom. They traded up, and with far less demand for studios in NYC there was a chain reaction of vacancies and falling median rent for the studio category.
Today, in many parts of the city, renters are clamoring for new leases. Brokers describe the rental market as "insane"—and point to bidding wars that are taking place. But rents for studios are a different story.
In July, Manhattan studios showed a larger annual decline in median rent compared to other apartments sizes. The median rent for a Manhattan studio was $2,396, down 4.2 percent from July 2020, according to the Elliman Report for Manhattan, Brooklyn, and Queens rental markets. (In March and April, the median rent for Manhattan studio apartments showed declines of 23.2 and 20.7 percent, respectively, compared to the previous year).
"The trade up to larger apartments because of newfound affordability have caused studios to remain the weakest performing size category," says Jonathan Miller, president and CEO of appraisal firm Miller Samuel and author of the report.
He points out another significant factor making studio apartments the canary in the coal mine for the NYC rental market: Less demand for this type of apartment from lower wage earners, who bore the brunt of the pandemic through job losses or reduced hours.
Still, low rents continue to attract renters who never thought they could afford to live in NYC. Leasing activity has been up every month since last fall and demand for Manhattan studios saw a 91.8 percent increase in lease signings in July over the previous year.
Manhattan saw the highest number of new lease signings for July since tracking began in 2008, increasing 54.7 percent over July 2020. Manhattan's median rent was $3,208, a drop of 3.4 percent compared to the prior year.
In Brooklyn, renters signed the highest number of new leases for July since 2008, an increase of 40.3 percent over July 2020. Median rent was $2,875, down 4.2 percent from July 2020.
In Queens, a similar story is playing out: The highest number of new leases signed for July in more than a decade, according to the report. Median rent was $2,850, an increase off 14 percent over the previous year.
However that leasing activity has not brought rents up to where they were before.
"All three markets have not returned to pre-Covid levels despite the robust leasing activity this year," Miller says. He notes that in comparison to July 2019, net effective median rent for Manhattan is still down 12.7 percent; Brooklyn is down 4.4 percent; and northwest Queens is down 5.5 percent.
Other market reports
Corcoran released its Manhattan and Brooklyn July rental market reports. Gary Malin, chief operating Officer at Corcoran, notes that many apartment seekers expected "conditions to be the same as they were months ago, with rents slashed and incentives bountiful, but that's simply not the situation today." Median rents are up, and the number of listings are down.
"In some cases, we are seeing bidding wars for rentals. If a listing is well-priced in a prime location, then it's going to see a lot of activity," Malin says.
"People looking to upgrade or change neighborhoods, those who left the city and are now coming back, and new arrivals for work and school are all looking for homes in the city now," he says.
MNS released its rental market reports for Manhattan, Brooklyn, Queens, and the Bronx. The reports drill down to look at rents by apartment size and neighborhood—and compare doorman to non-doorman buildings in Manhattan. Findings include: The largest monthly decreases were for doorman two-bedrooms in Greenwich Village, doorman studios, and doorman two bedrooms in Soho.
Brick Underground articles occasionally include the expertise of, or information about, advertising partners when relevant to the story. We will never promote an advertiser's product without making the relationship clear to our readers.