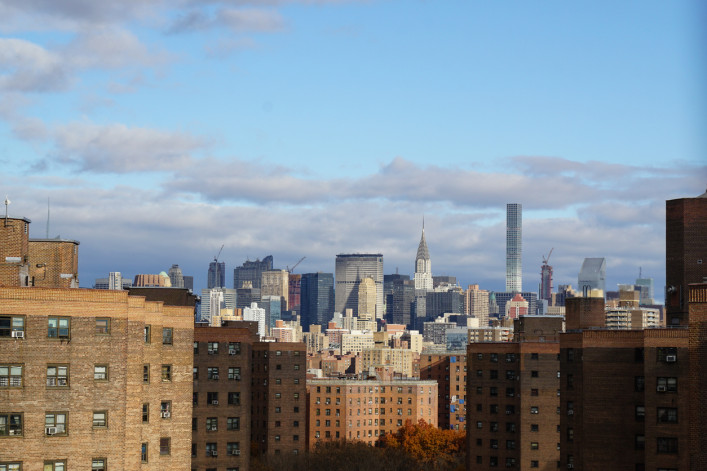 In the third quarter, a period that includes the aftermath of the real estate market shutdown, the number of sales of Manhattan co-ops and condos fell year-over-year by nearly half. It was the second straight quarter to see a sales plunge that steep. 
Prices, however, still managed to defy expectations. The median price for co-ops was up slightly and for condos, leaped nearly 19 percent year over year, according to the latest Elliman Report, which covers sales of Manhattan co-ops and condos.
Jonathan Miller, president and CEO of appraisal firm Miller Samuel and author of the report, emphasizes that Manhattan apartment prices are not actually rising, instead, there's been a shift in the mix of apartments that are selling, with a drop in the number of sales of lower-priced apartments.
Even though bidding wars for resales fell to their lowest market share in almost five years, the average size of co-ops that sold in the third quarter was larger—and that caused the median sales price to increase annually for the first time in three quarters. The third quarter median sales price for co-ops was $800,000, an increase of .6 percent compared to the third quarter of 2019.
Similarly, the average square footage for a condo that sold in the third quarter reached the highest level in more than 30 years, which skewed prices higher. The median sales price for condos was $1,765,559, an increase of 18.4 percent.
There were other negative indicators: The number of listings on the market is the highest and the pace of sales is the slowest it has been since 2009, when the last recession ended.
The report finds that overall sales dropped 46.3 percent in the third quarter of 2020 compared to the third quarter of 2019, and the impact was felt more in sales of smaller apartments: Studio sales slipped in market share from 14 percent to 12.1 percent, and one bedroom sales fell from 41 percent to 37.7 percent of the market as sales of larger-sized apartments gained more traction.
That's a flip from the second quarter of 2020, which saw stronger sales of smaller apartments and weaker sales of larger, family-sized apartments, which brokers had attributed to parents feeling stuck in a holding pattern, confused about whether schools would open for fall. Since then they have apparently made up their minds, and many made moves to the suburbs, although that exodus is now slowing.
Miller previously estimated about 40,000 to 50,000 more New Yorkers than usual will leave for the suburbs this year. Some had plans to leave the city anyway—plans that the pandemic accelerated.
New development is sitting on the market for the longest marketing period in more than eight years (267 days).
The number of luxury listings declined 18 percent, the biggest drop in nine years, and the median luxury sales price fell just over 23 percent.
Douglas Elliman also released its monthly New York Signed Contracts report, which covers Manhattan, Brooklyn, Long Island, Hamptons, North Fork, Westchester County, Fairfield County, and Greenwich, CT. Manhattan remains the outlier compared to other regions. New signed contracts there dropped 33.1 percent and listings were up 31.5 percent compared to September 2019.
While still down compared to September last year, contract activity last month was strongest in the price tranches below $2 million for Manhattan. That's because sellers are cutting prices and demand is being fueled by the continuous decline in mortgage rates, Miller says.
Does that make now a good time to get a deal on an apartment? That's a narrative we will start to see, although for now, there are still more outbound than inbound sales, he says.
Still, contract activity is peaking in the outer boroughs. Total new signed contracts for Brooklyn were flat compared to a year ago. Contract activity is up in other suburban areas, but Miller says it is not sustainable. Not only are there not enough houses on the market, the exodus of buyers to the burbs is starting to peter out.
Other market reports
BOND New York notes that the market behaved very differently at the end of the third quarter compared to the beginning, with sales contracts steadily increasing throughout, and ending up 15 percent from the start of the quarter, the report says.
"There is movement. It's not enough to call it a return to normal, or even a rebound. However, it is enough to put us on the road to recovery—and enough to suggest our city, battle worn and weary, is finding its way back," the report says.
In her firm's third quarter market report, Bess Freedman, CEO of Brown Harris Stevens, addresses why apartment prices are higher in the third quarter compared to the year-ago quarter. One factor was the rush to beat the new mansion and transfer taxes last year, which resulted in the lowest average apartment price in five years. In addition, 16 closings during the third quarter of 2020 for luxury development 220 Central Park South had contracts signed before the lockdown—this also heavily skewed sales data.
"These reports will not show the true impact of Covid-19 until an overwhelming majority of the closings included in them are ones that were negotiated after our economy shut down," she says.
A third-quarter market report from Brown Harris Stevens Development Marketing finds "buyers who have aspired to purchase in Manhattan are finally finding their moment with low interest rates, negotiability, and inventory opportunity," says Stephen Kliegerman, president of BHSDM. 
Corcoran's third quarter market report says it appears demand is rebounding in Manhattan that's distinct from the pent-up demand from the lost spring market.
"Although supply, tax, and affordability challenges remain, we are hopeful that lower prices, record-low interest rates, and easing Covid-19 restrictions will propel the Manhattan market back to the improving levels of activity experienced at the start of 2020," writes Pamela Liebman, president and CEO.
Frederick Warburg Peters, CEO of Warburg Realty, looks ahead in that firm's NYC market report.
"The fourth quarter, with both a presidential election and a possible Covid resurgence, defies prediction, but October sales levels will likely continue to reflect modest increases in transaction volume at all price levels," he writes.
In the third quarter Manhattan market report from Compass, Rory Golod, NY region president, and Elizabeth Ann Stribling Kivlan, senior managing director, say that almost half of the listings on the market in Manhattan are new listings, "indicating a spillover of the spring season and confidence that the market will come back."
Garrett Derderian, founder and CEO of GS Data Services, looks at some of the broad headwinds that Manhattan is facing in his third quarter market report for Manhattan. Without a vaccine, it is tough for office workers to return, and until then, businesses across Manhattan will suffer. A rising crime rate is also making people feel unsafe about returning to the city, he writes.
Brick Underground articles occasionally include the expertise of, or information about, advertising partners when relevant to the story. We will never promote an advertiser's product without making the relationship clear to our readers.