Sell
New survey finds a slim margin between asking prices and accepted initial offers for NYC apartments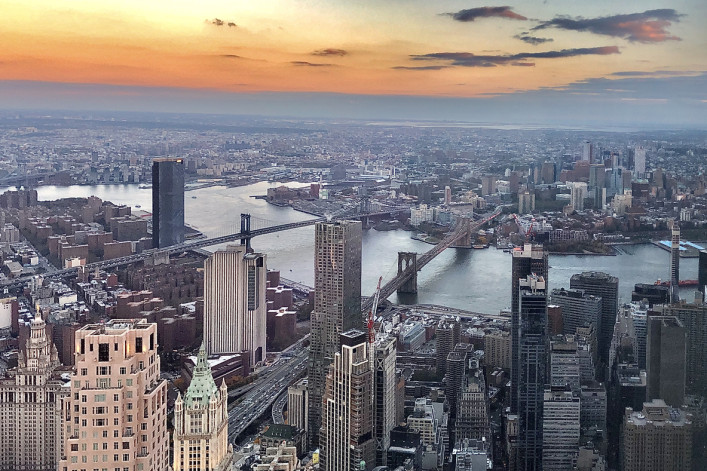 Listings are piling up, signed contracts are way down, and many sellers are itching to get out of New York City, but buyers still may not have as much leverage as they might expect.
A new survey that tracks accepted and rejected offers from NYC buyers finds there was a slim margin between asking prices and initial offers that were accepted for the recent seven week period, especially in Brooklyn—a somewhat surprising counter narrative considering the doom and gloom dominating the New York City real estate market.
But that's what Fritz Frigan, Halstead's executive director of sales and leasing, has found. He's the one who compiles the weekly Halstead Open House Index, which surveys 2,300 brokers across the industry. Earlier this spring, he began asking his newsletter recipients to track buyer's perception of value by focusing on their initial offer: The amount, whether it was accepted or rejected, type and location of the property. Responses are anonymous. He issued his first report tracking offers in May and another in June.
For his latest report, which uses data from July 1st to August 15th, Frigan received 179 responses, which includes 128 from Manhattan and 44 from Brooklyn—plus a few from Queens, the Bronx, and Westchester.
In Manhattan, the report found that sellers accepted on average initial bids that were 5.65 percent below the last asking price or an average of $87,041 off the ask. In Brooklyn, it was much tighter: Sellers accepted initial offers that were on average 1.93 percent below ask, or an average of $26,714 off the asking price.
(In May, when the shutdown prevented in-person showings, Frigan's survey received responses detailing 105 offers, which found that Manhattan and Brooklyn sellers were willing to accept deals with steeper discounts, 7.26 and 4.93 percent, respectively.)
Frigan notes that the latest data set is divided nearly 50-50 between acceptances and rejections (there were 88 accepted offers and 91 rejected offers). Nine offers were above the ask and 12 offers were reported at ask.
That amount of activity is "the best indication that deals are happening. There's been all these catastrophic descriptions of NYC real estate—so to me that's the best part of this story," Frigan says. He says he was surprised that Brooklyn negotiability is so tight, and co-ops and condos are so closely aligned, even though condos are more expensive.
Condos saw a 4.43 average discount accepted. Rejected initial offers for condos were on average 11.79 percent below ask. Co-op sellers accepted initial offers that were on average 4.28 percent below ask. They rejected initial offers that were on average 10.93 percent off the asking price.
A wake-up call for negotiability
In his note to brokers accompanying his findings, Frigan offers a wake-up call for both buyers and sellers.
"Show this analysis to all your stubborn sellers who do not want to negotiate at all or better, to your buyers, who are wondering why their offer of 30 percent below the ask is not seriously considered!" he writes.
Most brokers responding to the survey included extra details about subsequent negotiations or mitigating factors. "The commentary is illuminating," Frigan says. For example, an $10,000 offer below ask on a Brooklyn co-op was accepted, but as the seller's broker writes, "the buyers got cold feet about the price and backed out the next day."
There are references to tough boards, overpriced and dated apartments. Some deals are extreme. In another comment, a buyer's broker writes that the buyer's accepted offer of $2,300,000 for a Manhattan condo is "12.5 percent below what the seller paid in 2008 for new development."
'Buyers don't have all the strength'
Jonathan Miller, president and CEO of appraisal firm Miller Samuel and author of The Elliman Report, reviewed Frigan's report and notes that there were more Manhattan initial offers rejected (72) than accepted (56)—an indication of  sellers' resolve. In Brooklyn, the situation was reversed, with 28 initial offers accepted and 16 rejected.
Even though it is a buyer's market, Miller says, this report indicates that "buyers don't have all the strength" that they've been portrayed as having.
He says its findings track with his own reports on signed contracts. Even though condos and co-ops are very different types of properties, with different prices, they are both seeing similar levels of activity.
"They're experiencing the same market conditions," he says. "Because it's still about the pandemic and the lockdown."
Brooklyn is not experiencing the same pattern as Manhattan, Miller notes. In fact, "the whole urban/suburban narrative should really be Manhattan/suburban," he says. There is some outflow, but not nearly the level seen across the river.
Frigan is planning on surveying brokers again in October.
The goal of his report, he says, "is an attempt to monitor what is going on—reports like this show activity is happening."
Frigan is trying to stay positive about real estate here. "I believe in the resiliency of NYC," he says.
Brick Underground articles occasionally include the expertise of, or information about, advertising partners when relevant to the story. We will never promote an advertiser's product without making the relationship clear to our readers.