If you're selling your apartment or brownstone in New York City, you expect your broker to be in the know about comps and other data, but did you know they can also give you broad statistics about open house attendance so you can calibrate your expectations (and perhaps your price) accordingly?
Thanks to a fledgling newsletter, the Halstead Open House Index from Fritz Frigan, Halstead's executive director of sales and leasing, you can now see how busy other recent open houses have been and how they compare by size, price, and other details. The report breaks down data not just on open houses hosted by the brokerage, but on those scheduled by other firms as well.
The newsletter is aimed at brokers and agents, so if you are working with a broker or agent on the sale of your apartment or house, you can ask them to become a subscriber. (Frigan says some consumers may also be on his subscription list. "I'm not making a issue out of it," he says.)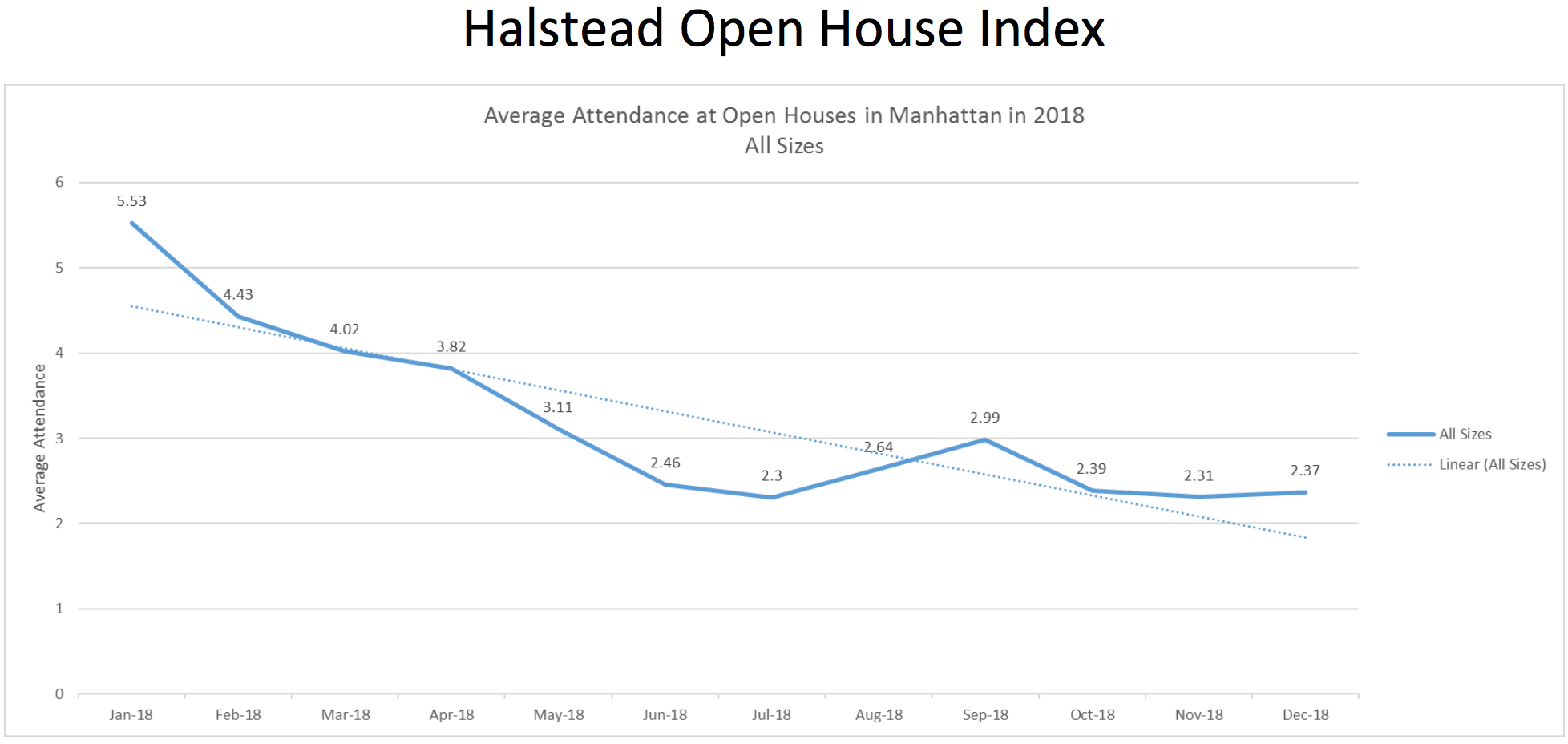 How it works
Every Sunday night, Frigan sends out an email—part request, part cajole—asking all New York City agents who have held an open house to report on attendance levels. Then Frigan crunches the responses and a few days later, newsletter subscribers get a report analyzing the city's open house traffic.
In his collegial tone, his newsletter includes details of notable open houses and congratulates strong showings—even at rival firms.
The index launched in October 2017, and currently has 1,350 subscribers. It reports on about 300 to 400 open houses each weekend—capturing about 5 to 7 percent of the 6,000 open houses held on average each weekend in NYC.
Frigan's goal is to collect data on 10 percent of open houses, in part by converting subscribers who "lurk" into contributors. Manhattan open houses are the most well-represented; Frigan is looking to get more data from agents in the outer boroughs.  
What you can learn
Now that Frigan has a year of reporting to draw on, he's able to offer a fuller picture for open houses in NYC. Some of the biggest takeaways for sellers are his findings on seasonality and timing. Attendance at the first open house blows away attendance at subsequent open houses. He's also found by-appointment-only open houses see lower attendance.
"We can map seasonality in the market precisely," Frigan says. His reports indicate strong attendance in the first five to six months of the year, a slowdown in the summer, and a spike in September and October, then a total slowdown in November and December.
In Frigan's report recapping the weekend of January 19-20, he notes that single-family houses had the strongest showings, while studios were the slowest. Attendance at open houses showing for the first time was 202 percent stronger than subsequent open houses. ("Price them well!" he admonishes.)
In most instances, Frigan says, his "data reinforces what we intuitively know, for example the first open house is really important and it is where you see the most traffic, so pricing it right is extremely important."
With fewer attendees at subsequent open houses, you have a harder time finding a buyer. And apartments that linger on the market for longer than three months can seem stale.
He recently created a report for total Manhattan open houses in 2018. Some of the findings include:
Average attendance in 2018 was 2.89 attendees per open house for all unit sizes.
18 percent of open houses (1,281) had zero attendance.
The top three most visited open houses in 2018 saw 40-50 attendees.
The neighborhood with the strongest attendance was the Upper West Side, with 3.81 average attendees per open house.
Top visited size was junior four with an average of 3.26 attendees.
Condo open houses recorded 2.28 attendees on average, while co-ops had 3.21 attendees on average.
In addition, Frigan says, Brooklyn bests Manhattan open attendance traffic (4.94 average attendees vs. 2.89).
According to the anecdotes that agents send him, open houses today are drawing buyers with unrealistic expectations, he says. "They think everything is negotiable" to an extreme degree, such as "offering $2 million for a $3 million property," Frigan tells us.  
Sometimes his analysis reveals surprises, such as higher traffic at what he calls "wrecks," or listings for apartments that need lots of work.
"Common wisdom is that buyers have no stomach for dealing with contractors, but traffic was statistically higher for wrecks. I'm sure price is a strong factor," he says.
Carson Alexander, an agent with Keller Williams, has been a subscriber and regular contributor for about a year. He appreciates being able to tell clients how their open houses compare to other open houses in the area. 
The index "tells me if we are priced correctly and how the market overall is going. The alternative is just wondering, 'Is our open house the only one that is slow? Is the traffic we had unusually high?' Thanks to this report, we have a much clearer idea," he says.
Brick Underground articles occasionally include the expertise of, or information about, advertising partners when relevant to the story. We will never promote an advertiser's product without making the relationship clear to our readers.