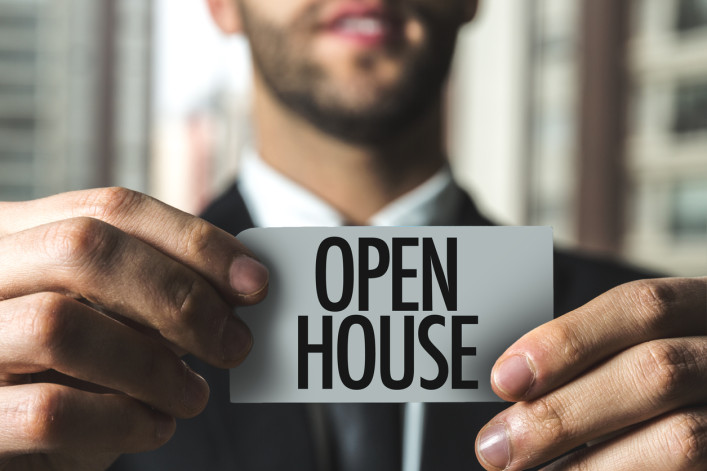 When it comes to holding an open house, there's a lot to fret about. For example, how do you know whether your agent is picking the optimal time slot, advertising in the right places, and showing up prepared? And no, agents don't always show up prepared, believe it or not.  
Brick Underground checked in with 23 brokers from a dozen firms across New York City to assemble this three-part owner's guide to the open house.  The advice ranges from the obvious (nothing sells like clean) to the surprising (how to get competing brokers to send buyers to your open house).  
[Editor's note: This story was first published in 2010 and has been updated to reflect the sources' current job titles. We are republishing it here because the advice remains as useful as ever. Parts 2 and 3 are coming back in the next few weeks.]
Today, we turn to the basics of scheduling and getting the word out: What time is the right time, and where's the best place to advertise?
Timing
The Sunday open house tradition was established back when the Sunday real estate section of the newspaper drove most of the traffic.   
With virtually all open houses advertised online these days  "there is some increase in Saturday open houses," says Roberta Axelrod, director of residential sales and marketing for Time Equities. However, she says, "most brokers take Saturdays off, so there's a resistance to changing it."
Your goal is to be where they buyers are, so stick to Sundays.
For the same reason, pick a popular time slot. Buyers are out in droves from 11 a.m.-4 p.m. In particular, we are told, 11-1 and 2-4 may be the most strategic choices, while the noon-2 slot and to a lesser extent 1-3 may lose buyers to the lunch hour.
Pro Tip:
Thinking of selling?  To find out what actual buyers are willing to pay for your co-op, condo or brownstone, consider discreetly "pre-marketing" it.  New York City real estate brokerage Triplemint has an entire data-driven pre-marketing platform that provides a way to quietly test your asking price and your marketing strategy  among real-life qualified buyers before publicly listing your home. There's no charge to participate and no obligation to enter a traditional listing agreement at the end of the pre-marketing period if your place hasn't sold. Click here for more information.
"Isolated time slots like 10 am or 3-5 p.m. lose lots of traffic," says Melanie L. Swanson, a broker with Level Group. 
The time slot you pick should overlap as much as possible with nearby apartments in the same price point, to encourage buyers to include yours in their itinerary.
"Be aware of all open houses—not just in a 10-block radius but north and south too, because buyers will either drive around and hit them all, or split up and reconvene at the end," Swanson says.
If possible, sync up to any competitors that have "a snazzy marketing campaign and large budget," suggests David Maundrell, an executive vice president at Citi Habitats.
Ideally, your place should be shown at the time it gets the most natural light:  "For instance, east-facing apartments show best in the morning or earlier in the day," says Deanna Kory, a Corcoran broker.
Exceptions to the Sunday open house rule: If it falls too near a national or religious holiday, or on a long weekend, you may want to consider skipping a weekend or trying a weeknight open house.
After-work open houses—Tuesday or Wednesday from 6-7 p.m.—are more common in the summer when many people go away for the weekend. They may also be a useful year-round Sunday supplement for apartments located in Midtown or downtown, convenient to offices.
"Weekdays are hit or miss," says Maundrell, who nevertheless holds Sunday and weeknight open houses year round. On the other hand, "Sunday is our bread and butter."
Duration
Most brokers said that an open house should last around an hour and a half, up to two hours, tops.
"I think the biggest mistake owners make is hosting a four-hour open house," Swanson says. "It takes away from the exclusivity and allows people to make casual visits once they look at everything else. That is, if they don't go to brunch in between."
Advertising
These days, if your open house isn't advertised online, you may as well not hold one.
Beyond a presence on your broker's site, most agents we spoke with said StreetEasy was hands down the most effective tool, followed by the New York Times online.  
"StreetEasy has become the buyers' real estate bible," says Rebecca Knaster of William Raveis Real Estate.
Some brokers say that offering extras can draw more eyeballs and traffic.
"My single best trick to get brokers and/or buyers to an open house is to offer the services of a mortgage broker at the open house," says Charlette Klarfeld of Fox Residential Group. "Buyers ask questions regarding their personal circumstances. And the mortgage broker provides spread sheets to help buyers see the actual monthly costs."
Light refreshments, like the "tea and cake on the terrace" Klarfeld offered at a recent event, can also draw buyers.
Marketing
In addition to advertising your open house, your broker should employ some simple but not necessarily obvious marketing techniques, beginning with your front door.
"Signage is very key, not just within the unit but as well as the doors outside the building," says Frances Katzen of Douglas Elliman. A simple, clear sign with phone numbers and the time of the open house "is very effective, and much overlooked."
Keep the doorman in the loop, too, so they'll treat your visitors nicely and inform others about your open house.
If the building requires appointments, make sure that's in the advertising information. A potential buyer will probably still get in, but doormen can be downright hostile in those circumstances.
Somewhat counterintuitively, agents at competing apartments can be potential allies.
"Sending personal emails inviting other brokers that have listings in the area will always increase your traffic and the chances of having a successful open house," Maundrell says.
The emails should make clear that even though outside brokers may be working their own open houses, they can send their potential buyers and earn a co-broking commission.
Most brokers also send out email blasts to hundreds or thousands of potential buyers and other brokers at their firm or other firms. There's a debate over how effective these are.
Vince Collura of VHT Studios—a real estate photography firm—says emails work best when something specific and uncommon about the apartment is highlighted in the subject line, like the fact that it's in a small building that rarely has anything available, or is sporting a fresh renovation.
Among the least effective come-ons: "Never put 'Price drop!' or 'must-see listing!' in your subject line," he advises.
Next up: Go away. And take your cat with you.
Brick Underground articles occasionally include the expertise of, or information about, advertising partners when relevant to the story. We will never promote an advertiser's product without making the relationship clear to our readers.