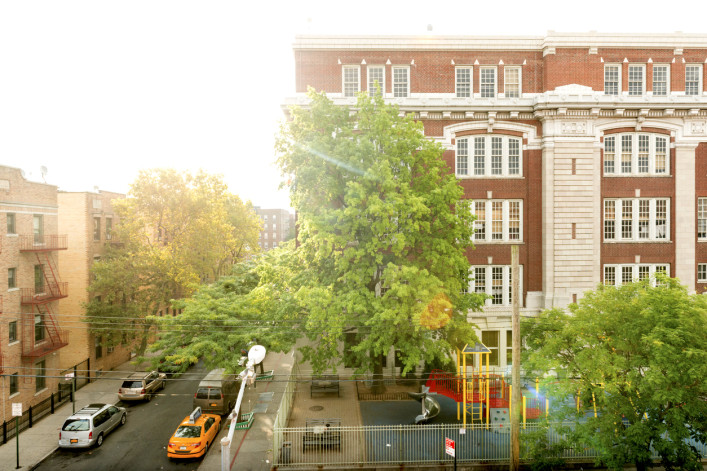 My older daughter received some disappointing news last week: The family of one of her closest friends is likely to move away this summer for good if schools in New York City do not reopen. They're waiting for the Department of Education to release its plan for fall before deciding on a move to the Hudson Valley—or even farther away.
Other states have announced their school plans but NYC families are stuck waiting for the DOE's decision, Gothamist reported. The lack of guidance is frustrating to parents, making planning for the future difficult. That uncertainty is weighing on the real estate market here.
Anecdotally it seems that if remote learning continues in the fall, NYC may see a second exodus of families heading to the suburbs or farther afield. Other families who left in the spring to get away temporarily from the epicenter of the pandemic could make their move permanent. Some may decide to remain in the Hamptons (where the elite private school Avenues is opening a location that will reportedly offer Zoom classes for $48,000) or other vacation destinations.
Earlier this month, New York City Schools Chancellor Richard Carranza sent a letter to principals and school superintendents that said several options for schools are being considered, including reopening in phases, attending school in shifts, and using a combination of remote and in-person learning. Schools may only have fewer than half their student population in the building at a time, Carranza has said.
In the absence of a detailed plan, many buyers and sellers, especially for family-sized apartments of two- and three-bedrooms, are stuck in a holding pattern, according to Kobi Lahav, senior managing director and director of sales at Living NY. He pins New York City's real estate recovery on the DOE's decision.
"Everyone is skeptical that schools will reopen," Lahav says. "Putting kids in closed spaces seems like a bad idea" especially with expectations for a second wave of infection this winter. "The DOE is not giving us guidance, and it's a major dilemma for families in both private and public schools," he says.
They left in March, and may not be back
One Ditmas Park co-op owner, Bess (a pseudonym), is dealing firsthand with the uncertainty surrounding school in the fall.
She, her husband, and their two children ages 5 and 7, went to her native Michigan in March, where they could spread out in a house that used to belong to her late mother-in-law.
"We wanted to get out of the city" because of the pandemic, Bess says. She's a therapist who can see clients remotely. "We just found it too hard juggling work and remote learning in an apartment," she says. In Michigan, they have family who can help with childcare so they can work.
She's not sure if they will move back to NYC without a plan for schools in the fall—and even then is unconvinced it makes sense.
"Until we hear what the DOE says, I'm hesitant to return," she says. If remote learning is part of the mix, she's not interested—it's hard to do in an apartment. But she can't say unequivocally that she wants her kids back in their Brooklyn school building. "There would have to be a plan for safety," she says, adding, "I think that for our mental health, we need to have our village back."
Governor Gretchen Whitmer of Michigan says children will return to school buildings in the fall, so that gives the family one option. "Knowing that has made it easier for me," she says.
What would they do with their co-op? They are considering subletting, which their building will allow for two years, and then put it on the sales market. But they may have a hard time: Sublet listings spiked in May, according to a report from RentHop. That means there's many listings and not enough people to rent the available apartments.
Schools: The last tether to NYC?
Schools in NYC are incredibly (and arguably unfairly) competitive. Parents here work hard to help their children get into private schools, gifted and talented programs, audition-only middle schools, and specialized high schools. In the pandemic, for some families, schools are the last tether keeping them here now that many jobs are remote and much of what made NYC special is still shuttered. And because families work so hard to gain acceptance to schools, a decision to leave is even more complicated.
Lahav knows a NYC family with a child accepted to kindergarten at an elite private school that costs $65,000 a year. The family doesn't know if they should give up their spot—and their deposit. There's a chance the child might not get accepted again if they reapply next year.
"They have to weigh if it is worth it to do Zoom classes," Lahav says.
And so buyers and sellers are on the fence, Lahav says. "Buyers don't know if should pull the trigger and get the discounts that are out there. Sellers don't know if putting their properties on the market is a waste of time. A lot of my sellers are holding off; they don't want to give it away," he says.
New York City saw an uptick in signed contracts in May compared to April, but the numbers are still way off compared to 2019, according to The Elliman Report. For example, there were 32 new signed contracts for Manhattan co-ops priced $1 million to $1.99 million in May 2020, compared to 150 in May 2019, a drop of 78.7 percent.
On the rental side, the number of new Manhattan leases signed in May was the lowest for that month in a decade as a result of agents not being able to show apartments in person. Brooklyn and Queens also saw plunges in new leases, according to The Elliman Report.
Those reports chart the market prior to NYC reaching Phase 2 of the reopening last week, which allows vacant and unoccupied apartments to be shown, with many restrictions. Still, the majority of the deals Lahav is doing right now are studios and one bedrooms.
It's hard to know what it is the safest approach. Lahav himself has children—he sent them back to Israel, where schools have reopened.
"Everyone has to make tough choices," he says. "There's a lot of confusion. A lot of what happens in real estate 2020 will depend on what the DOE does," he says.
Brick Underground articles occasionally include the expertise of, or information about, advertising partners when relevant to the story. We will never promote an advertiser's product without making the relationship clear to our readers.