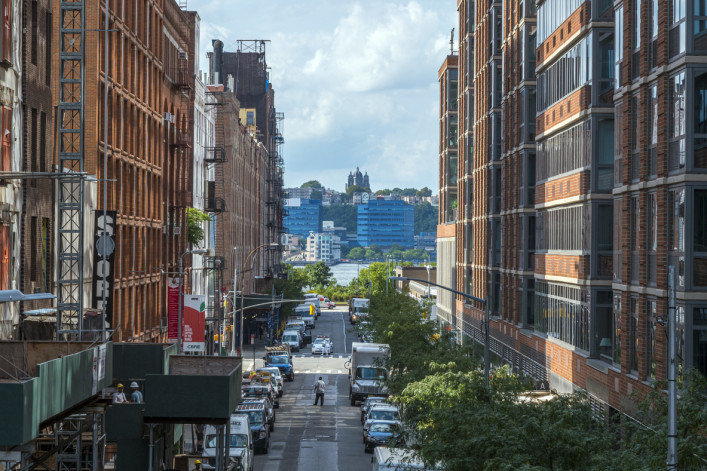 Fewer renters signed leases in Manhattan last month but the slowing leasing activity didn't hold back a record increase in median rent.
Manhattan's net effective median rent—the benchmark for tracking rent because it reflects concessions from landlords—surged annually at a record rate for the second straight month, increasing by a leap of 22.8 percent to hit $3,369 last month compared to November 2020, according to the Elliman Report for the Manhattan, Brooklyn, and Queens rental markets.
In addition, the market share of landlord concessions, listing inventory, and the vacancy rate all fell annually at record rates for the fourth, consecutive month, according to the report.
But demand is easing up a bit: The number of new leases signed in Manhattan fell 17.8 percent from November 2020.
Leasing activity is starting to approach more seasonal levels, says Jonathan Miller, president and CEO of appraisal firm Miller Samuel and author of the report. It is close to long-term averages, down from the spring, when the city was seeing triple the usual level.
It's a sign that demand for apartments has been "satiated," Miller says, ticking off other effects of New Yorkers returning en masse to the city in recent months: Listing inventory plunged by 76 percent and supply has fallen by 20,000 apartments and the current vacancy rate is approaching normal at 2.09 percent—in February it hit a record 11.79 percent, he notes.
"We're seeing a lot off numbers return to long-term norms, but we're not quite there yet," Miller says. "We're still seeing record price increases even though we haven't stabilized [leasing]."
Another continuing trend is the polarization between the upper and lower ends of the Manhattan rental market. Rents are increasing at a faster rate for doorman buildings (a proxy for the high end). In November, the median rent for Manhattan doorman buildings was $4,200, a 20 percent increase over the $3,500 median rent seen in November 2020.
The median rent for non-doorman Manhattan buildings last month was $2,650, an increase of 6 percent from November 2020.
While rents are on the rise they still have not surpassed pre-pandemic levels two years ago—for example the median rent for a non-doorman building in November 2019 was $3,000.
That's prompting a greater number of renters to lock in in longer-term leases, Miller says. In January 2021, one-year leases accounted for nearly 77 percent of leases, while two-year leases were 16 percent of leases. Now, one-year leases have fallen to 43 percent of total leases and two-year leases are nearly 54 percent of total leases.
"We've seen the same pattern in other boroughs," Miller says. "People are opting for longer leases in anticipation that rents are going to continue to rise."
In Brooklyn, the situation was different compared to Manhattan. It saw the most new lease signings for the month of November in more than a decade, an increase of 21.3 percent over November 2020, and the 15th straight month that new leasing rose annually.
Still, deals are becoming more scarce: The amount of concessions fell to a record low and only a quarter of leases come with a concession, compared to over half in November 2020. Net effective median rent rose year over year for the first time in 17 months to $2,737, an increase of 4.5 percent from $2,619 in November 2020.
Similarly, in the northwest part of Queens that is tracked by this report, new lease signings rose to their highest level for the month of November in a decade (however these are small numbers—which makes the percentages increases more dramatic). There were 369 new leases last month, compared to 183 in November 2020.
Net effective rent in Queens last month was $2,504, an increase of 10 percent over November 2020.
"The market share of two-year leases comprised a large majority of signings, a complete inversion from the beginning of the year," the report notes.
The Corcoran Group released its Manhattan and Brooklyn rental reports for November 2021, which note that the vacancy rate for Manhattan reached the lowest level in 18 months.
The largest rent increases occurred for Manhattan three-bedroom apartments, says Gary Malin, chief operating officer of The Corcoran Group.  
"However, the extraordinary leasing activity we experienced this summer is largely a thing of the past. Lower inventory and higher rents have caused traffic to moderate," he says.
Malin says despite continued uncertainty, "the NYC rental market is in many ways back to normal."
"That's a testament to our city's continued desirability, and evidence of a resiliency that is quite simply, remarkable," he says.
MNS also unveiled its November rental market reports for Manhattan, Brooklyn, Queens, and the Bronx. The reports drill down to look at rents by apartment size and neighborhood—and compare doorman to non-doorman buildings in Manhattan. Findings include: The largest monthly decreases were for Soho and Chelsea doorman studios, and Battery Park doorman two bedrooms.
Brick Underground articles occasionally include the expertise of, or information about, advertising partners when relevant to the story. We will never promote an advertiser's product without making the relationship clear to our readers.