The Market
Tale of two Manhattan markets: Rents for doorman apartments surge 18 percent, non-doorman units see small rise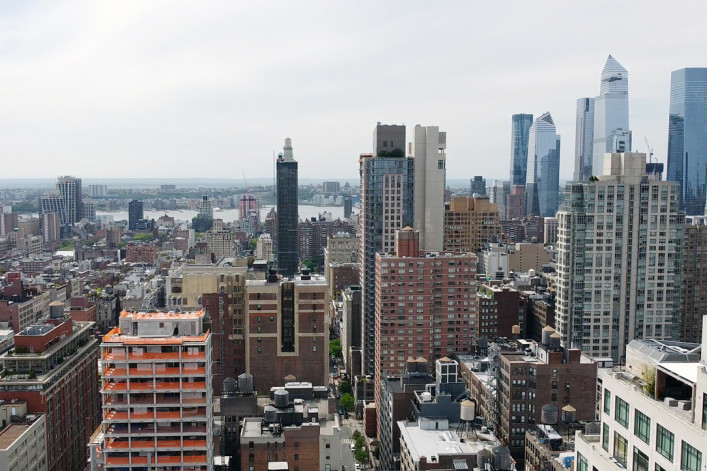 Rents are rising in Manhattan—and the high end of the market is behaving very differently from the low end—as New Yorkers returning to the city seek out larger and therefore pricier places to work from home, at least for now.
Looking at the market overall, the median net effective rent for Manhattan ($3,382) jumped 17.9 percent last month compared to October 2020, according to the Elliman Report for the Manhattan, Brooklyn, and Queens rental markets.
But if you compare doorman to non-doorman rentals as proxies for the high and low ends of the market—you'll see a big disparity.
The median rent for apartments in Manhattan doorman buildings in October was $4,398, an increase of 18.3 percent over October 2020. This was highest year-over-year increase for this type of apartment since 2012, according to Jonathan Miller, president and CEO of appraisal firm Miller Samuel and author of the report.
The median rent for non-doorman Manhattan apartments was $2,650 last month, an increase of 3.9 percent compared to October 2020, representing the first increase in rent in a year and a half.
It's a tale of two very different markets, Miller says. The upper half of the rental market has had four months of rapid increases in rent—resulting in a market so competitive that there are bidding wars for rentals. The lower half just started to see increases in rent in October after falling regularly, he says.
"The market remains highly polarized," Miller says, and another way to see this is to compare new development to existing rentals. The median rent for new development ($5,498), which tends to skew toward the higher end, is up 22 percent, while the median rent for existing rentals ($3,350) is up 11.7 percent—about half the rate for pricier new development.
Pro Tip:
Need help renting the perfect apartment in the perfect neighborhood? Looking for a landlord who is flexible about guarantors, pets, or "flexing" a space with temporary walls?  Place your search into the capable hands of The Agency, a tech-savvy real estate brokerage that's helped hundreds of Brick Underground readers find their ideal NYC apartments.. Bonus: The agents at The Agency are not only a delight to deal with, they will charge a broker's fee of 10 percent of a year's rent on open listings instead of the usual 12 to 15 percent if you sign up here. 
These increases are happening despite a much-slower-than-expected return to the office. A new survey from The Partnership for New York City found 28 percent of Manhattan office workers are in the office on an average weekday, with only 8 percent in the office five days a week, while 54 percent remain fully remote.
Other findings include: Employers expect that 49 percent of workers will be in the office on an average weekday by January 30th, 2022. Major employers were surveyed from October 19th through October 29th.
Concerns about the Delta variant prompted many employers to push back their return to in-person work to the new year, but New Yorkers have still been returning to the city regardless, Miller says.
Many renters who left the city during the pandemic have been scrambling to sign new leases. For those that have already landed apartments here—many are working from home in the city—countering the narrative of the typical remote worker.
"The stereotype of the remote worker is someone in the suburbs, but that's not necessarily the case. There are plenty of New Yorkers working remotely in the city. It's become an employee benefit as opposed to a pandemic need," Miller says.
Far fewer listings available is also helping to fuel higher rents. The vacancy rate has fallen from its February peak as new leasing activity took away a lot of inventory. Listings are 58.2 percent lower than a year ago—even though new leases fell 22.1 percent from a year ago, according to the report
Gary Malin, chief operating officer at The Corcoran Group, which released its Manhattan and Brooklyn rental reports for October 2021, notes Manhattan's October vacancy rate hit a 17-month low. 
"New York's rental market rebound continues, and Manhattan's high-end segment is seeing the largest gains," he says.
"Overall, pricing for more luxurious and larger product is now officially back to levels not seen since 2019," Malin says. "Amenities and space are what many tenants want—and in most cases, they'll need to pay full price to get them."
In Brooklyn, October brought the highest number of new lease signings for that month since tracking began in 2008. The number of new leases increased 22 percent over October 2020.
The median net effective rent ($2,731), which reflects concessions, slid year over year for the 16th consecutive month and remains below pre-pandemic levels—in October 2019 it was $2,906. The percentages of leases with a concession (34.1 percent) fell sharply from a near record last year (50.9 percent).
Northwest Queens saw the highest number of new lease signings for that month since tracking began in 2011, increasing 103.1 percent over October 2020.
Net effective median rent ($2,612) increased annually for the third time in four months. The percentage of new leases that came with a landlord concession was 36.9 percent—down by more than a third from the near-record levels seen last year (57.7 percent).
Brick Underground articles occasionally include the expertise of, or information about, advertising partners when relevant to the story. We will never promote an advertiser's product without making the relationship clear to our readers.