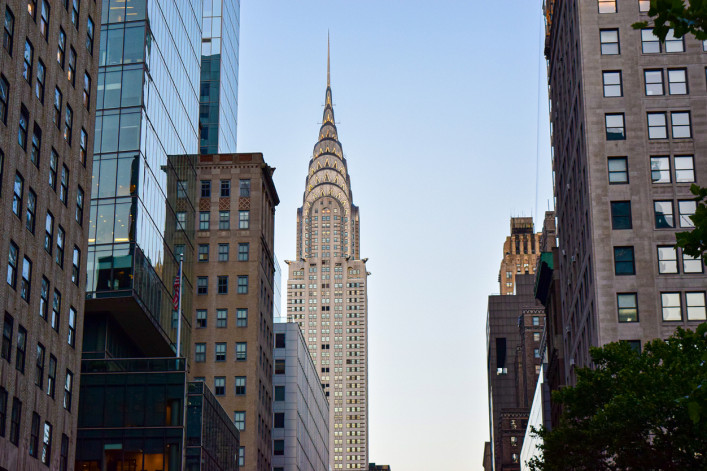 To rent or buy in New York City, that is forever the question. Deciding what to do with your hard-earned dollars is complicated: Apartments here are absurdly expensive to buy—and renting is not cheap either. In 2022, as a result of the pandemic, the answer to this perennial real estate dilemma may look a little different from past years. 
Economic conditions are shifting but you can expect certain conditions to impact the sales market: A chronic lack of apartments and townhouses for sale, rising inflation, and interest rates moving higher. On the other hand, despite the surge in Omicron infections, the NYC rental market has made a stunning comeback—meaning rents are even higher than they were before the pandemic.
Brick Underground spoke to brokers and a real estate analyst for what to keep in mind when making this major decision—here are reasons why you should rent followed by reasons to buy.
Rent: Because the sales market currently has low inventory
Prices in the New York City sales market have recovered post-pandemic and are not spiking higher, while rents not only recovered their pandemic lows, they are pushing to new highs in several areas, says John Walkup, co-founder of real estate analytics firm UrbanDigs.
"This might seem like a good reason to buy, but the sales market is low on inventory, especially for well-located properties with popular amenities," Walkup says. (In December he told Brick there were more units signed into contract than were listed for sale.) That low sales inventory "suggests renting might be a better bet," he says, at least for now.
Rent: To put yourself in a better position to buy later
This is perhaps a default mode for most would-be NYC buyers—but you can make it more of a strategy once you define where and what you want to buy.
Let's say the apartment you're looking for is just a little outside your budget and another year of savings might get you there. For example: apartments you really want are $1.5 million but your budget puts you in the $1 million range. Instead of shifting your search to apartments you can afford, you put your search on hold for now and focus on saving up this year to buy more apartment.
The logic behind this is you could quickly outgrow the $1 million apartment, and not be able to recoup your transaction costs when you sell in a couple of years, says Krista Nickols, an agent with SERHANT. Closing costs are very high in NYC and you pay as both a seller and a buyer—meaning you get hit going and coming.
"Of course, this idea doesn't come without risk. If the NYC market gains more strength while you wait, prices could push even higher, putting your desired home even further out of reach," she says.
Rent: If you don't know where you'll be a year from now
If you're looking to stay put for a good five to seven years, and you have the financial means, buying makes sense. But if you are unsure about where life will be taking you, either personally or professionally, "it's often wise to stick to renting, which is flexible and based on a one-year commitment," says Tara King Brown, a broker at Corcoran. 
That comes with another set of considerations, she notes: "Is it a privately owned condo or co-op where the tenants will be asked to leave after one or two years if the owner wants to live in the space or a rental building where they might see a 15 to 20 percent jump in rent next year?"
"Whatever you decide, educate yourself on the potential risks and rewards," she says.
Rent: To live large without overextending your budget
If buying means you have to sacrifice too much to enjoy living in New York City—renting makes a lot more sense, whether you're young and single or have a family that needs a larger space than you can afford to buy.
"Some renters choose to rent because their monthly rent payment allows them to live the kind of high lifestyle in the now," says Douglas Wagner, director of brokerage services at BOND New York. "That same monthly payment might afford less apartment—size, features, amenities, and neighborhood—when it's going towards a mortgage." Of course that live-in-the-moment ethos applies to your finances as well: "Once the rent is paid, the money is gone forever," Wagner says.
Rent: In case you need to pick up and leave
Many renters left the city during the height of the pandemic—illustrating how it's much easier it is to get out of a lease these days. Changes to the rent laws incentivize landlords to re-rent an apartment being vacated early, although you can be on the hook for the back rent until a new tenant is found.
"The pandemic has shown us the need for flexibility in living arrangements. When you own it's harder to make big changes and just get up and leave," says Kobi Lahav, senior managing director and director of sales of Living NY. 
The pandemic is of course still raging and lots of New Yorkers feel uncertain about their jobs and their future here. 
"Some people want to see where we are heading, financially and with respect to the virus. I see a lot of people who want to rent now and if things calm down then buy," Lahav says.
Buy: Because you expect to stay in NYC long term
One major factor to consider is where you expect to be in the next few years. Do you foresee a major life change—like getting married or having a baby, or changing jobs—which could necessitate a move in the short term? Or do you expect to stay put?
If you have a long-term plan to stay in New York, owning "provides a sense of belonging and refuge during complex times," says Frederick Warburg Peters, CEO of Coldwell Banker Warburg. But if you are going to be in NYC only two or three years, renting makes more sense, he says.
Buy: Since prices are expected to rise in 2022
Sales were booming in the second half of 2021 and signs point to increased demand in 2022—which is expected to make prices go higher.
"Prices have stabilized since the pandemic but now we're seeing prices rise slightly in marquee neighborhoods," says Tara King Brown of Corcoran. "If this continues into 2022 as international buyers arrive, and supply continues to dwindle, prices could rise further. Combined with the expectation of rising interest rates, there is a strong argument to buy sooner than later."
Buy: To unlock the tax benefits of ownership
When you borrow money to buy, you're leveraging your purchasing power—and that can unlock certain tax advantages, says Patrick W. Smith, a broker at Corcoran.
"For the vast majority of buyers who purchase with a mortgage, they will benefit from the multiplier effect of leverage on their equity investment as well as the amortization of paying off their mortgage through regular monthly payments," he says. "For homeowners who decide to keep their property for investment purposes in the future, there is the 1031 exchange rules that allow investors to defer capital gains."
Buy: So you don't miss historic mortgage rates
Mortgage rates have been lingering near historic lows for an extended period thanks to the Federal Reserve's purchases of mortgage-backed securities to support the economy. In 2022, the Fed plans to taper off those purchases to curb rising inflation—and mortgage rates are expected to rise. 
Melissa Cohn, regional vice president and executive mortgage banker at William Raveis Mortgage, previously told Brick for our 2022 real estate forecast that the Fed's policy won't hurt buyers looking to purchase a home within the next few months, but buyers should act soon
Mortgage rates should remain around 3 percent through the early part of 2022, Cohn says. She expects to see a .25 percent to a 0.5 percent increase in mortgage rates over the next couple of months.
The point is not to wait too long.
Pro Tip:
Need help renting the perfect apartment in the perfect neighborhood? Looking for a landlord who is flexible about guarantors, pets, or "flexing" a space with temporary walls?  Put your search into the capable hands of The Agency, a tech-savvy real estate brokerage founded by a pair of Yale grads in response to the frustrating apartment-search experiences of classmates and colleagues. The Agency will charge a broker's fee of 10 percent of a year's rent on open listings instead of the usual 12 to 15 percent if you sign up here. Bonus: The agents at The Agency are a delight to deal with.
"If you wait a year, it's likely your purchasing power may be negatively impacted more by rising rates than by rising prices," says Scott Harris, a broker at Brown Harris Stevens. "If you miss this historic lending window, you may be kicking yourself more than if you had let a particular apartment slip away." 
Buy: Because you know which nabe is going to pop
New York City is a city of neighborhoods—each is a separate market. Buying in an area that is growing increasingly popular "but is a little less white-hot in demand" can pay off when you sell three to five years later, says Stan Ponte, broker at Sotheby's International Realty.
He touts Murray Hill, which is near multiple subway lines and surrounded by good restaurants. Other great neighborhoods for buyers to look at now, he says, include Morningside Heights, the Lower East Side and the East Village.
For more NYC neighborhoods to consider, check out this list of places to watch in 2022.
Brick Underground articles occasionally include the expertise of, or information about, advertising partners when relevant to the story. We will never promote an advertiser's product without making the relationship clear to our readers.