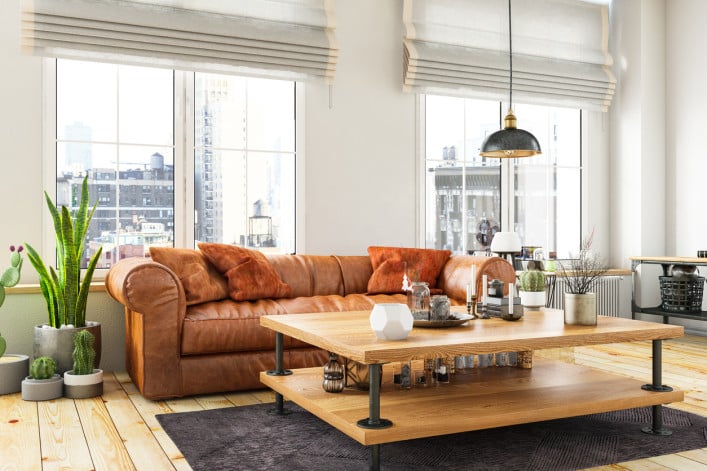 Selling a New York City apartment is complicated enough—and it is even trickier when you are doing so while you are renting the place out. Whether you've got a townhouse with a separate rental unit or an investment co-op or condo, you will have some additional considerations when selling with a tenant in place.
For starters, you need to plan how are you going to market the place to buyers. You also need to think about the most painless way to set up showings. And what are your legal obligations to the tenant? From the get-go, when you put your place on the market, you'll want to make it clear to buyers what they're getting into. For more on what you need to do, read on.
---
[Editor's note: A previous version of this post was published in February 2015. We are presenting it again with updated information for August 2021.]
---
1) Make it clear buyers can't move in
"Make sure your paperwork is in order, and be careful with disclosures," says Dean Roberts, a real estate attorney with Norris, McLaughlin, and Marcus. If what you tell buyers "constitutes a misrepresentation, you can get in trouble." This means you need to double check the terms of the lease and triple check that the apartment isn't actually supposed to be rent regulated. "The thing you have to watch out for is brokers who promise things" to buyers, Roberts says—for instance, saying that a tenant can be easily shooed out when in fact, they've got a lease for another nine months and do not intend to move out sooner. 
And since you'll be marketing to a smaller, more specific group of buyers—those on the hunt for an investment property rather than a new primary residence—you'll need to tailor your approach accordingly. 
"We always put 'investment property only' in the listing so it's clear to buyers that they can't move in," says Peggy Dahan, a broker at Brown Harris Stevens.
Pro Tip:
Thinking of selling your investment apartment?  To find out what actual buyers are willing to pay in a transitional market like this one, consider discreetly "pre-marketing" it. New York City real estate brokerage The Agency has an entire data-driven pre-marketing platform that provides a way to quietly test your asking price and your marketing strategy  among real-life qualified buyers before publicly listing your home. There's no charge to participate and no obligation to enter a traditional listing agreement at the end of the pre-marketing period if your place hasn't sold. Click here for more information.
2) Spell out the income potential
For buyers who are truly looking for an investment, an established tenant might be seen as a plus. 
"When we have the investor [i.e. the potential buyer], we get the tenant's lease in front of them, along with information on costs, maintenance, taxes, etc. We have an Excel spreadsheet so they can see how much the apartment costs versus how much it's bringing in," Dahan says.
"Sometimes buyers will spend more money because they know they'll be making income from day one, and know the exact return on their investment," Dahan adds. "Basically, an investor wants to see how much money is coming in."
3) Avoid spooking your tenants 
Some investors don't even visit the property. "These aren't people who are looking to buy today and sell tomorrow," Dahan says.
If that's the case and you don't have to deal with showings, you can let the tenant know about the new owners (and where to start sending the rent checks) as part of the closing process, Roberts says. In fact, some owners like to keep their sale quiet until it's finalized to avoid spooking the tenants.
On the other hand, your tenants could also be your buyers. If they love living there, maybe they want to buy the place, so you may want to consider offering it to them first. 
4) Plan for showings
What if your potential buyer actually wants to see the place? If you have the opportunity, take video or photos the apartment before you rent it out, so you'll have something to show buyers without having to bother your tenants, Dahan recommends. And from the start, put a clause in the lease saying that you'll give 24-hours notice for showings if you are selling the apartment, and will accompany any prospective buyers who are coming through.
If you must show the place while it is occupied, your ideal scenario is when it's looking as clean and decluttered as possible, and when the tenant isn't home. To ensure cooperation, make it worth their while. Consider giving your tenant a break on the rent during the month you are showing the apartment
5) Think about buying your tenants out
If you're getting interest from buyers who would prefer the renter out before the lease is up, it can't hurt to see if your tenants would be open to a buyout.
"You can always offer to buy someone out," Roberts notes. "You can't harass them, but you can always negotiate."
—Earlier versions of this article contained reporting and writing by Virgina K. Smith.
Brick Underground articles occasionally include the expertise of, or information about, advertising partners when relevant to the story. We will never promote an advertiser's product without making the relationship clear to our readers.