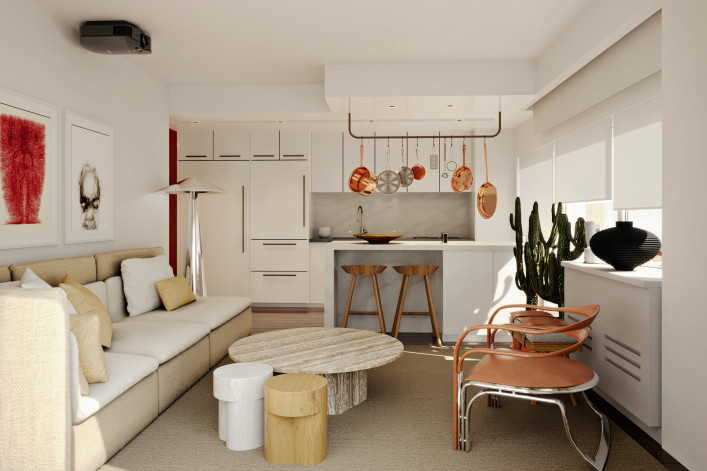 Are you primed to give your New York City apartment a style update? That's understandable if you've been staring at the same four (or 14) walls for months on end. A fresh coat of paint will definitely do the trick, transforming a tired space into one that looks and feels brand new. 
Painting is also a great way to imbue a new apartment with your own personality. On the flip side, it will make your apartment more attractive to potential buyers if you are planning on selling. 
"You only have one chance to make a great impression on a buyer. Adding a fresh coat of paint throughout the apartment is one of the easiest and least expensive ways to increase your home's value," says Kimberly Jay, a broker at Compass.
---
Editor's Note: Brick Underground's NYC Renovation Qs tackle your real-life, New York City renovation queries. A previous version of this post was published in May 2019. We are presenting it again with updated information for February 2022.
---
Whatever has brought you to the brink of painting, you'll want to know what to budget for. Needless to say, painting a room in NYC is always an expensive endeavor, but even more so these days. 
"With homeowners spending more time living and working at home they are engaging in home renovation projects," says Karen Kostiw, an agent at Coldwell Banker Warburg. "This is causing a shortage in labor and [because of] supply chain issues, the cost to paint a home is much higher than in the past, so plan accordingly."
Indeed, the price of paint has risen over the past year and is expected to continue an upward climb well into 2022. (Sherman Williams says it is hiking the price of certain paint products a whopping 12 percent!) Given that reality, it's worth knowing where to prioritize your spendings so you reap the biggest return on your investment.
You'll also have to factor in the cost of labor, which can vary wildly. How do you cut through the rigamarole and know which estimate to go with? Brick Underground is here to help: This paint primer will help you know how much you may have to spend and how to evaluate different estimates so you can get the best paint job for your money.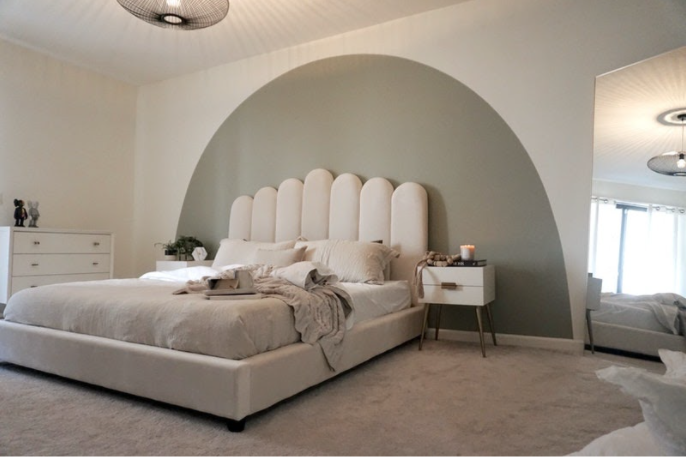 How much paint will you need?
It all starts with square footage. You need to know how large (or tiny!) your apartment is and then you can calculate how much paint you'll need.
To do that, multiply the height by width of each wall that will be painted and then add those amounts for the total square footage. Be sure to include ceilings too (this time multiplying length by width). Then calculate the square footage of each window and other surface you will not be painting (like an open doorway) and subtract this amount from the total square footage of your walls. 
Keep in mind that a textured wall such as brick and stucco (and a popcorn ceiling) has more surface area and requires more paint to cover. Paint pros suggest increasing your total square footage by 20 percent to account for the additional expanse. 
If your space is newly renovated or built, know that fresh drywall is very porous and will soak up paint unless it is properly prepped—experts recommend at least two coats of primer to ensure proper coverage. 
If math is not your strong suit, head to your favorite paint company's website—most brands, including Benjamin Moore and Backdrop (a new, ship-to-home paint company that recently collaborated with fashion favorite Madewell)—offer an online paint calculator that will guide you through the measuring process so you can get a rough estimate, generally based on two coats of paint. 
How do you figure out paint costs?
A gallon of interior latex paint will cover an average of 400 square feet (same for primer) and cost anywhere from $30 for commercial-grade paint (which many contractors use in rentals) to over $100 for high-end products. 
Popular brands like Benjamin Moore fall somewhere in between, at $45 for the entry-level (and zero volatile organic compounds) "ben" line, $65 for Regal Select, and up to $85 for Aura paints (based on current pricing at Janovic locations throughout NYC). Primer costs $30 to over $50 per gallon, the latter recommended for new sheetrock.
Online paint makers are in the same ballpark. A gallon costs $69 from Backdrop, $59 from Clare. 
Let's say you want to paint a two-bedroom, two-bath apartment with 2,000 square feet, plus another 700 square feet of ceiling. For that you would need about 14 gallons of paint based on two coats. Depending on the quality, the cost of the paint alone could be $910 for Benjamin Moore Regal Select, $966 for Backdrop, and $1,610 for Farrow & Ball, plus at least another $270 on primer.
If that figure seems like a lot, be forewarned: Skimping on cheaper paint may cost you in the end.
"It's possible to cut corners and find a lower-cost paint that still looks polished, but cheaper paint may require more coats, which could end up costing just as much as fewer coats of a more expensive paint," advises Laurence Carr, CEO and founder of interior design firm Laurence Carr Inc.
Maryana Grinshpun, principal of architectural and interior design firm Mammoth Projects, echoes that ethos: "When contractors have tried to skimp on paint, it always shows and the few hundred dollars saved on material are never justified in the result," she says.
She only uses two brands: Benjamin Moore and Farrow & Ball.
"The latter is quite expensive and the former is great for moderate budgets." (Inside tip: Her go-to white for years has been Benjamin Moore Cloud White. "It has a softness and slight warmth that is both modern and flattering.") She is also fond of using Farrow & Ball in smaller spaces, where it makes a big impact (such as in the entry of the condo at the top).
So instead of skimping on paint quality, consider spending less on paint for use in private spaces like a bathroom or laundry room, and more on premium paint for public spaces, such as the kitchen or living room. 
"Never skip primer, no matter what the paint product or the painter claims. Without it the color will not look as rich or last as long," Carr says.
Grinshpun offers two other tips for stretching your paint dollar: Lighter colors typically require fewer coats, for instance two for white vs. three or more for black. (That is unless you are going from black to a light neutral, in which case it can take multiple coats of lighter paint to cover that darker color up, though a high-hiding primer will help.) Using flat paint can sometimes allow you to forgo a skim coat as various bumps in a wall will be less visible than with a paint with a higher sheen (more on finishes below).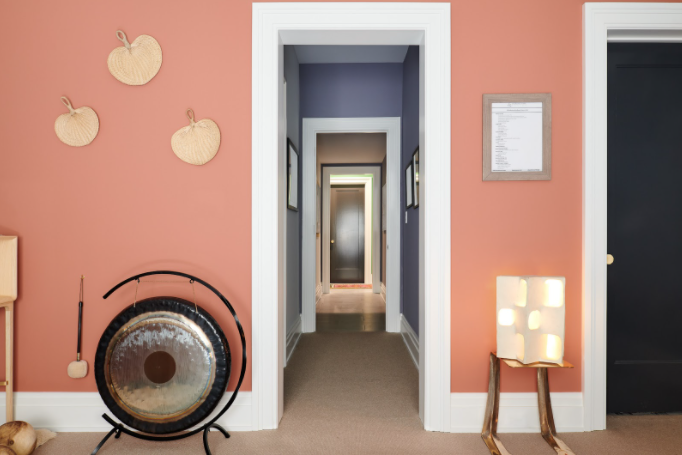 What kind of finish should you ask for?
Even if you do not choose a specific paint brand for your painter, "it's important to specify at least the minimum quality you are willing to go with," says interior designer Jennifer Morris of Brooklyn-based JMorris Design. "Otherwise the painter may go with a cheaper product and you wind up with lackluster walls." Another option, Morris says, is to buy the paint yourself.
Be explicit about the finishes, too, as many painters will default to eggshell for walls and perhaps satin in kitchens and bathrooms, flat for ceilings, and semi-gloss for trim. 
"It's hard to find NYC apartment walls with smooth surfaces, which is why I suggest sticking with flat or matte paint," Morris says. "Anything with sheen, including eggshell, will show everything behind it."
Indeed, many designers prefer matte for everything but the trim (and then you can go up one level in sheen). Just going with a matte finish can give your walls a modern make-over. 
That said, the "scrubbable" nature of eggshell has long made it a popular choice for kitchens and kids' rooms.
Fortunately, advances in technology have made matte paint easier to clean than before. Backdrop's premium Standard Finish is a "highly desirable low-sheen, durable semi-matte" that is intended to be paired with the semi-gloss finish for trim, doors, and high-use areas like an entry.
But you can even use matte in your bathroom or laundry room thanks to Aura Bath & Spa paint by Benjamin Moore, which is designed for areas with high humidity. (Regular matte paint would show drip marks in a New York minute.) Same for Farrow & Ball's Modern Emulsion, billed as a matte paint that's "washable, scuff-proof, and mold and mildew resistant."
How can you test out your color before buying the paint?
Landing on the right paint color can be daunting. Benjamin Moore alone has over 3,500 colors and hundreds of shades of white! 
"A great place to start is to look at real-world images of paint in spaces that might be similar," says Natalie Ebel, founder of Backdrop, which offers a gallery that allows you to sort by color or room. "I find that is a less overwhelming approach than looking at hundreds of color chips at the hardware store but gives you a wide enough range to help you narrow your choice," she says.
No matter which route you take, before purchasing gallons of non-returnable paint, you should view paint samples on your walls—or even better, as Carr suggests, hire a color consultant to nail your choice from the get-go.
"Color can change from dawn to dusk and from gloomy days to sunny day," Morris says. That's why she suggests applying the color to the lightest and darkest parts of the wall and observing how it looks at different times of day.
You can either do this yourself ahead of time, or by building in what Morris calls a "paint-color day" when the walls are being primed (you should not view color on top of another color). "The painter may charge you extra, but it will be so much better than having them paint an entire room in a color that makes you cringe."
If brushing wet paint on your walls to test your color choice gives you pause, companies like Backdrop and Clare offer peel-and-stick swatches as an easier, no-mess alternative.
Backdrop for example has large (12-by-12-inch) adhesive swatches that are an exact color match and can be moved around the room to see how the color changes with the light—Ebel recommends putting them in the corners too.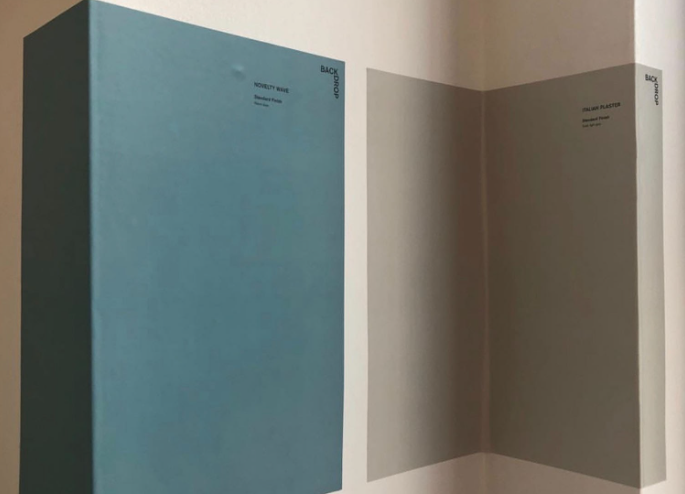 What if you are planning on selling? 
In that case you may want to play it safer with the palette—buyers may be turned off by anything too specific or too moody.
"Choose neutral colors that will brighten up the space," Jay says. She also advises making sure the painter fixes holes, cracks, and imperfections. And don't forget to paint the ceilings as well as inside the closets. "Skipping these details may reflect that these easy renovations were done cheaply."
Kostiw says caulking is another must. "Walking into a listing where the caulk is old, crumbling, and discolored is distracting to buyers. Caulk baseboard gaps, the bathrooms, kitchen, and windows with silicon. It's resistant to water and moisture and instantly makes a space pop," she says. 
Painting is also a must for hiding imperfections. She recommends Behr Dynasty interior paint, a new line that is stain and scuff resistant. "It has over 1,000 colors, is fast drying, and applying two coats will beautify almost any space." (A gallon costs around $50 at Home Depot.)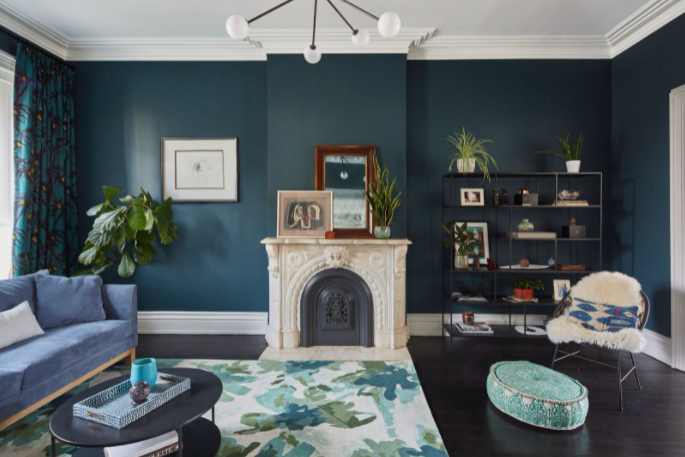 How can you factor in time and labor?
Even the best paint won't hide a shoddy surface or application. Any dings and dents, cracks and crevices will only be amplified by a fresh coat of paint, and so will need to be prepped first. Expect to pay an average of $50 (and well over $100) per hour for quality painters.
Assuming it requires minimal prep work, that 2,000 square foot apartment would take at least two days to paint, for a minimum of $800 in labor costs (and that is per painter). Some painters calculate the cost by square foot, with $5.25 being the average for NYC. Ask your painter about their rate. 
"People often fail to look into the prep work when trying to make sense of fee ranges," Morris says, "but it is a major part of any paint job. A handyman who comes in with a low bid is just going to be putting paint on the walls, which might be fine if you're a renter that's going to move out in four years."
Otherwise, buyer beware: For a more flawless result, you'll want to hire a painter who will do the necessary spackling and sanding; filling in holes from nails and repairing hairline cracks takes little time and is usually baked into the price. Some painters tack on an hourly rate for more substantive repairs.
"To really make your home your own, especially one that is 100 years old and has had countless other inhabitants, it is usually worth the cost of having the walls skim-coated to near perfection," Morris says. (But be prepared to pay 10 figures for this service.)
Carr also urges owners of prewar apartments or brownstones to maintain the original architecture and historic elements, respecting the molding, woodworking, hardware, and so on. "This will, of course, impact the project rate because it takes more time and skill to protect such elements from paint splatters, but the investment will help set your space apart from others and increase the property value over time," he says.
If you do decide to paint those historic details, you may want to splurge on Farrow & Ball's Dead Flat finish.
Watch out for secondary costs that might come into play, including the following:
You may need to reserve the elevator for when the painters will be lugging all their equipment—nothing like having the meter running while they stand around the lobby—and tip the super, doorman, and/or property manager for their efforts. 

If you live on the top floor of a five-story walk-up, be prepared to shell out more money to the painter for the extra schlepping—and give your neighbors a heads-up that painters will be accessing the building.

Find out as well if you or the painters are expected to move the furniture and take the art and TV off the walls. "You're better off spending the weekend before doing this yourself, rather than paying the painters for a few hours' extra work," Morris says. "You'll also be more motivated to protect your belongings."

Be sure to get your landlord or board to sign-off before hiring anyone (and forking over a non-refundable deposit). Renters should also look into paint-color restrictions.
How can you evaluate bids?
Limiting the pool to reputable painters will greatly ease your efforts. 
Never hire anyone without word-of-mouth recommendations from people you trust. Start with painters who have worked in your building. Seek out friends as well as brokers, designers, and contractors that you know for referrals.
"Just don't expect all painters to have Instagram-worthy photos of their projects, which would drive up their expenses by requiring a professional photographer," Morris says.
When comparing estimates with widely different rates, Morris says to keep in mind that not all painters have the same business structure, or are paying a decent wage to their staff. "That's why I'm cautious about going to the lowest bid, as maybe they are not compensating their employees enough. Running a reputable company, especially in NYC, costs money," she says.
What's more, painters are required to carry hefty insurance policies, often to the tune of $2 million (as dictated by many co-op and condo boards), which in turn costs the company thousands of dollars a year in premiums.
The level of experience and expertise will also be reflected in a painter's rates, which is another reason to solicit more than one bid (but no more than three, otherwise you'll be wasting their time and yours).
Ultimately, you want to figure out the best-case scenario that won't strap your savings, and go with a painter who matches your style IQ—even if that means spending more now and reaping the dividends for years to come. "I often remind clients that one of the most budget-friendly things you can do is to do something right the first time," Carr says.
What if you want to do the painting yourself?
You'll be joining legions of DIYers who have proudly wielded a paint roller (and captured their progress on social media). 
"Painting is a lot less involved than people think. If you were to DIY anything, this would be the first thing on my list," Grinshpun says. "I painted my own apartment and found the experience relaxing. If you take the time to put paint down, it's not that difficult to get a professional-looking job."
For sure it takes time and effort to pull off, but you'll be saving on labor costs. Plus it can be hard to find a painter who isn't booked already through spring and summer. Who wants to wait that long? 
And then you can put your money toward higher quality paint, a must if you will be doing it yourself as they will be easier to apply and provide more even coverage. Be sure to also buy quality applicators, which will do a much better job. Ask for guidance at the paint store or go with the recommended products from an online vendor like Backdrop.
"Painting can often be an overwhelming experience and our main goal in starting Backdrop was to simplify the experience and make it more fun and enjoyable," Ebel says. "We've even made painting playlists to match your mood or color, as well as painter's shirts." Ready, set, paint.
Brick Underground articles occasionally include the expertise of, or information about, advertising partners when relevant to the story. We will never promote an advertiser's product without making the relationship clear to our readers.