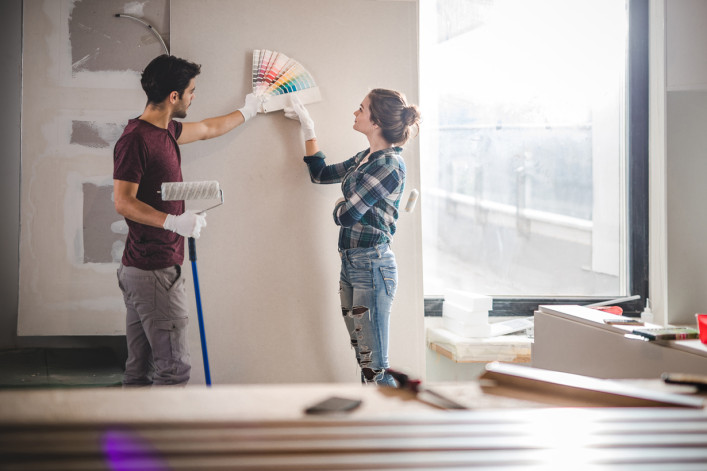 One of the best ways to spruce up a tired apartment is to paint the walls. But do you hire painters or do it yourself? For most rentals, your landlord is required to paint every three years, and they'll likely use "antique white." If you want color, there are rules to follow. Believe it or not, there also are regulations for some condo and co-op owners, too.
It's best not to gloss over what you do and don't know. Check out Brick Underground's compilation of articles on finding a painter, choosing the right shade of white, and much more. Happy painting!
General dos and don'ts
Get a general overview of painting dos and don'ts, including whether to get your super involved and what's a good type of paint to buy, with our 12 things to know before painting your NYC apartment.
If you live in a rental, check out everything you need to know about painting, including the city's rules as well as questions from readers with answers from our expert real estate attorney.
Find the right white
Looking to sell? Many brokers recommend creating a clean, neutral look to attract buyers—aka white walls. But some shades can make your place look light and bright. Others can make it seem dingy. Find out from our design experts what is the best shade of white to paint your NYC apartment.
Do it yourself
So you've decided to tackle the job yourself. Check out our five foolproof steps to painting any room—successfully.
How much does it cost for someone else to do the job?
Use this guide to help you set expectations for how much you may spend and how to evaluate the estimates you receive.
Old paint removal
Before you paint, there are some important considerations if you live in an older place: Do you plan to remove old layers of paint? If so, one of your writers tested a few products that help strip decades of gloopy paint off your walls.
Online Help
If you're not sure how much to budget for your desired paint job, there's the online service Paintzen, which helps you figure out rough estimates on the cost of painting each room and gets your apartment painted on demand.
Brick Underground articles occasionally include the expertise of, or information about, advertising partners when relevant to the story. We will never promote an advertiser's product without making the relationship clear to our readers.