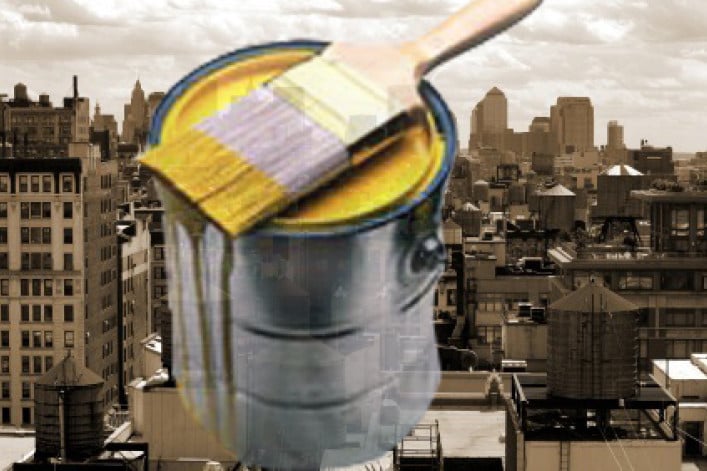 Most apartment dwellers in New York spent too much time and money hunting for the perfect property, slogging through landlord or board approvals and paying for their space to turn cheapskate and cavalier on the interior paint job. So, before you even think about choosing between ochre with eggplant trim or Boomerang Beige--or the challenge of returning the red walls you envision for your rental to their original white--consider this advice from our expert panel.
[Updated 2/19/13]
Tip the super in advance About $50 to $100 should do the trick, for ensuring that the freight elevator is available when the painters arrive, helping with a quick cleanup if paint is accidentally spilled in a hallway, and maybe even looking the other way if the painters stay a little too late one day.
Think twice before hiring the super do your paint job "High-quality interior painting is not what your super  was trained to do," says Yoel Borgenicht, a general contractor, noting that your expectations will play a big role in your satisfaction with the outcome. Another compelling reason not to hire the super: If you're unhappy with the final product or the super becomes disgruntled for whatever reason, you're stuck with each other for a long time.  
Get detailed estimates If you've been in your apartment for at least three years, your landlord is required by law to get your apartment painted. If not, you'll need to hire your own painters. Each estimate should be broken down by labor, materials, the number of coats of primer and paint, the brand and model of materials, and a detailed description of the amount of surface preparation that will be done. Be leery of any contractor who takes a quick walk around and says he'll give you a bargain price because this is the first apartment he's done in your building or because yours is a small studio without a lot of fancy architectural features. 
Renter white Most rental apartments in New York are painted "antique white." That's important to know since renters are expected to return apartment walls to their original color or the landlord can withhold the appropriate portion of a renter's security deposit. But with paint companies producing whole color wheels of whites of various tints, renters have design choices they may not have to cover up when they leave.
Home Depot may lack cachet, but... according to Consumer Reports, its Behr paint is practically formulated for New York apartment life. It does the best job of hiding a color underneath with one coat and it combines paint and primer into one, saving time and money.  It's also budget friendly and very low in VOCs (volatile organic compounds), chemicals that make paint smell like paint. Behr met the toughest regional California VOC standard of 50 grams per liter; good news for New Yorkers concerned with indoor air quality.
Your painter might need to be lead certified In buildings born before 1978, your painter must have passed a lead paint certification course. That's because even though lead paint has been off the market for decades, you may still encounter it when sanding years of paint from, say, windowsills before repainting begins. 
Consider buying the paint yourself Your contractor may try to substitute a cheaper  "contractor grade" paint that bears the brand name you asked for but doesn't perform or hold up as well.
No, your college brother can't paint your apartment during spring break In a co-op or condo,

 you must hire a licensed contractor who is insured (typically $1 million per incident, $2 million total) and, probably, has workers' comp insurance in case someone is injured on the job. The co-op board or condo association, the managing agent and apartment owner must be added as additional insured on the contractor's policy – a procedure that sometimes takes a few days. In a rental, many leases impose similar requirements.  It's also a good idea to tell the landlord you're painting and ask whether he has someone on contract for the building to recommend. Landlords often do, but these guys may be more handymen than painters. You should check them out as you would the other contractors you're considering.  

The"fifth wall"  In a small NYC apartment it's especially key to choose the ceiling color carefully because it will affect the perceived height of the ceiling. Flat paint hides imperfections best (handy if you're economizing by skipping a skim-coat of the ceiling) but semigloss may be a better choice for bathrooms and kitchens since it stands up to water and scrubbing. Jeff Streich, a Manhattan general contractor and a member of our expert panel, advises painting the ceiling the same color as the walls: "That way you won't see that in Manhattan apartments, at least, the lines where walls and ceiling meet are never straight.
Dark paint doesn't cover as much as you think You might assume that you can save money by using dark colors on your walls, since they are likely to cover light colors with a single coat. In fact, Consumer Reports found that some dark primary colors, such as fire-engine red or royal blue, may provide thinner coverage, since they often are missing the titanium dioxide or white pigment that contributes to hiding what's already on your walls. That means you might need a primer coat and several top coats for a smooth finish
Watch the painters."There are some painters who will not do the simple things like remove the outlet and switch plates prior to painting," says Streich. "There are some that try to get away with painting with one coat, when there should always be 2 coats. Some will try not to use primer,  which I believe should always be used." 
Before you remove that crown molding for a more modern feel...know that the plasterwork underneath must be perfect or the transition to the ceiling will look horrendous.
Related posts:
The Rules of Painting Your Rental: What's Required of You (And Your Landlord)
NYC Renovations: What are the best paint colors for a NYC apartment?
7 perfect paints for your NYC apartment (if only)
Rent Coach: How often does my landlord have to repaint my apartment?
See all NYC Renovation Chronicles
Ask an Expert: The right price to skim coat a 2-bedroom apartment
Brick Underground articles occasionally include the expertise of, or information about, advertising partners when relevant to the story. We will never promote an advertiser's product without making the relationship clear to our readers.