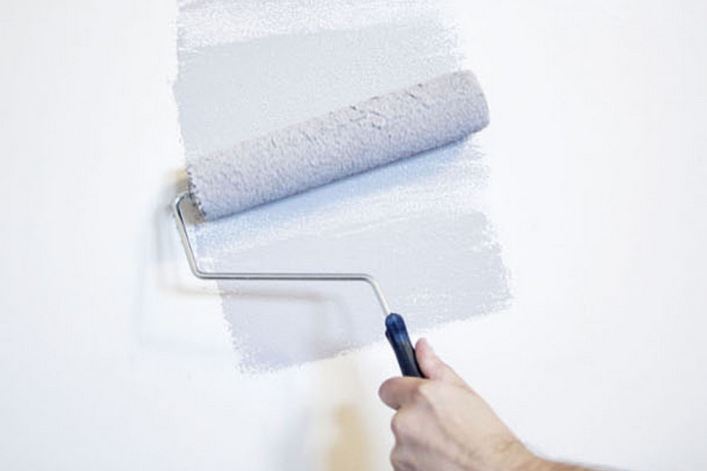 If you can order groceries, mattresses, and an entire new decorating scheme online, it seems only fitting you should do the same with a paint job. Or so goes the thinking behind new startup Paintzen, which launches today in New York (and San Francisco) offering on-demand painting services to users in all five boroughs. "We wanted to eliminate all the complicated questions about things like square footage, and things you wouldn't know off the top of your head," the company's co-CEO Mike Russell explains. "So we created an algorithm using production rates and average room size by market, and we can estimate, for instance, that a bedroom will be roughly $300."
It works like this: you go online for an estimate based on which room (or rooms) you'd like painted, what parts of the room you want to include (ceiling, baseboards, door frames, molding, etc.), and paint colors. Used correctly, their tool can come up with an estimate in 30 seconds or less, says Russell, and it's certainly a faster process than tracking down a company and nailing them down for an estimate (which can be doubly tricky depending on your contractor).
The site works with pre-vetted painting crews—meaning you don't have to do any digging on your own (and the background check is taken care of for you). While prices for different jobs and from different companies vary, Russell says that Paintzen is able to keep user costs down by hiring painters at comparatively low prices in exchange for the promise of guaranteed bookings. A standard bedroom with Paintzen costs $300 (or $400 once tax, tip, labor, and paint are factored in), and a living room $370 (and $470 with all the add-ins). According to estimates from online renovation guide Homewyse, that falls at the cheaper end of the spectrum for paint jobs: around $416 is at the low end for a single bedroom, and $743 at the higher end.
You can also use your own paint or purchase it from Paintzen (they've got a partnership with Benjamin Moore), and if you're feeling indecisive, the site will give you a free five-minute "color consultation" and mail you up to five color swatches to look at in the comfort of your own home, test against your lighting scheme, etc. 
Once you get those details set, you add in your desired start date and your address, and wait for a so-called "Relationship Guru" from the company to get in touch and confirm the details of the job. At this point, you put down a refundable 10 percent deposit, then kick back and wait for supplies to arrive and your room to be transformed—depending on the job, the site offers scheduling options that start as soon as the next day, and also includes a "schedule later" option if you're in planning stages and would rather wait to settle on the exact date. 
On their end, Paintzen matches your job to an appropriate crew. "If you have 14-foot ceilings and if you live in a huge apartment, you're probably not going to get matched up to a single-person crew with a step stool," Russell explains. The site also works with building management to make sure crews have access to the building, and handles details like insurance and workers' comp for its crews. The cost of the job even includes the tip for the crew.
While the website is officially launching today, it's been in "beta" mode for the past year. While we haven't had the chance to test out the painting process itself, we played around with the site, and it does seem surprisingly simple and user-friendly (the nice-looking layout doesn't hurt, either). 
Paintzen reports that it's already had a hand in painting more than 4,000 rooms (both residential and commercial). Its founders also have a good amount of experience with on-demand home services, having also launched online maid booking service MyClean. A few more sites like these, and we'll never need to leave the apartment again—unless, that is, we need a break from the fresh paint fumes.
Related:
The rules of painting your rental: what's required of you (and your landlord)
Does your fave color work with your room's light? Find out before you paint
12 things to know before painting your NYC apartment
5 foolproof steps to painting any room—successfully
Revive a long, dark hallway with a two-toned paint job
Decorate like a commitment-phobe with removable wallpaper
Meet today's home furnishings store: cheaper, faster, and web-only
Want a happy and harmonious life? A Feng Shui master shares her tips on setting up your home
Brick Underground articles occasionally include the expertise of, or information about, advertising partners when relevant to the story. We will never promote an advertiser's product without making the relationship clear to our readers.