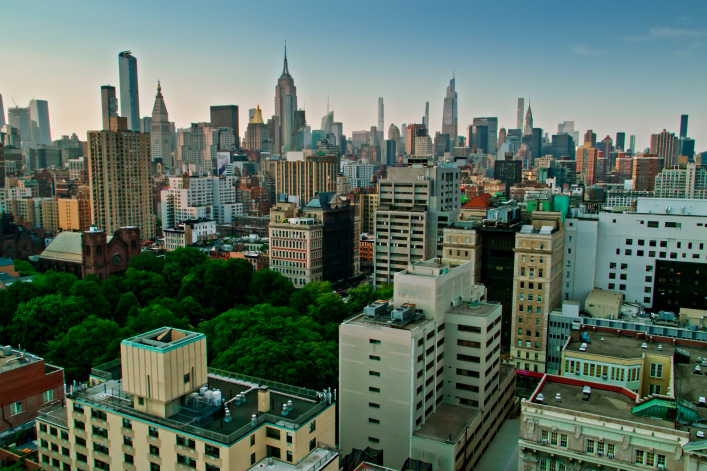 Using an app to find your next New York City rental apartment—instead of scrolling through listings websites—can help you fast-track your search and avoid wasting your time going in person to places that are not a good fit.
It doesn't matter what you're looking for—no-fee listings, a pet-friendly building, separate office space, or parking amenities—you can find your next place with your smartphone. These apps have other customizable search features like price ranges, neighborhoods, and how big the space is. Another perk of using an app is that you can get notifications when apartments with your requirements are listed without having to log onto a website or check your email. 
If you've used these apps for your last apartment search, many have kicked it up a notch in response to the pandemic. Now you can view apartments with 3D virtual tours, apply for apartments directly on the app, and set up in-person showings.
---
[Editor's Note: A previous version of the article ran in August 2021. We are presenting it again here as part of our summer Best of Brick week.]
---
Brick Underground tested the most popular apartment rental apps by searching for similar apartments across NYC to see which are the best suited for finding an apartment in this competitive city. We evaluated apps with the following checklist: 1) customizable features, 2) map view, 3) number of listings, and 4) neighborhood information.
Read on to find out which app offers features that suit your apartment-hunting needs
Recent updates/features: The most recent update includes security improvements and enhanced video tours.
How it matches up against our checklist: 
You can customize your search by answering three questions about your preferred neighborhood, price range flexibility, and how many bedrooms you need.

The standard view is a list, but you can change to a map view by toggling list/map.

There are currently just over 11,900 listings across NYC, with the majority in Manhattan.

There's a tool that lets you customize your commute from the address, see nearby schools, and who has viewed or inquired about the listing. 
What sets it apart? You're able to request an application for some apartment directly through the app. They also have a tab that tells you how many people have recently viewed or inquired about a listing. And they also let you pay your rent via their app if your new landlord is signed up for the service.
Who should use it? If you're competitive and want to know who else is looking at the apartment you've been eyeing.
Pro Tip:
To rent an apartment in New York City, most landlords require you to earn an annual salary of at least 40 to 45 times the monthly rent. If you don't—or if you're an international employed person, self-employed, non-employed with assets, retired, or an international student or a U.S. student—you'll need to find a guarantor for your lease who earns at least 80 times the monthly rent and lives in New York, New Jersey or Connecticut. Or you can turn to Insurent Lease Guaranty. Accepted at more than 4,700 buildings across the city representing over 475,000 apartments, Insurent Lease Guaranty is a quick and easy way to get the apartment you want. Click here to learn more.
Recent updates/features: All of the most recent updates fixed performance-related issues. The newest feature about one year ago allows more pet filter options.
How it matches up against our checklist: 
The app lets you save your search and get updates such as price cuts. 

You can toggle between map and list viewing options.

There are currently 8,000 rentals according to their app. 

The listings show nearby schools and an interactive map with nearby amenities such as grocery stores and there's stats for the zip code.
What sets it apart? The app highlights local laws for those in the LGBTQ community and renters using housing vouchers. They also include a Walk Score so you know how easy it will be to get around on foot.
Who should use it? If you want to make sure the apartment is priced fairly to others in the area, or you want to see information specific to your new neighborhood.
Recent updates/features: StreetEasy launched a new tool for renters using housing vouchers which includes tips on how to find listings that your voucher will cover and what to do if you face discrimination.
How it matches up against our checklist:
StreetEasy allows many customizations when setting up your account profile, including your desired move-in date, making your apartment search specific to your preferences. 

The standard view is a list that matches the aesthetic of StreetEasy's website, but you can opt for a map view.

There are currently over 14,400 listings across the five boroughs. 

You can check out how long your commute will be from an apartment by adding a destination directly in the app. You can also see nearby schools, map views, and similar apartments.
What sets it apart? You can filter listings with 3D and video tours and see available time slots for in-person viewings. There are also quick searches like no-fee rentals and luxury rentals.
Who should use it? If you want to see concessions and gross rent without doing the calculations yourself or prefer an overall idea of the apartment, building, and neighborhood.
Recent updates/features: Replay Listings recently added a new way for agents to record videos and more search methods for rentals. And if you want to buy a place in the future, they recently added sales listings. 
How it matches up against our checklist: 
When you set up your profile, you can set your max rent, apartment size, move-in date, and preferred neighborhoods for search optimization. 

There is a separate tab for map view, which makes it easy to toggle between list and map view.

There are about 1,000 rental listings currently on the app. 

Replay Listings highlights building amenities and there's a map of the neighborhood.
What sets it apart? Video tours are at the forefront of the app, which makes it easier than other apps. Some listings also have photos. 
Who should use it?  If you're all about video tours instead of photos.
Recent updates/features: You can search for apartments using map mode. More recent updates included minor fixes.
How it matches up against our checklist: 
You can customize your search by price range, apartment size, bathrooms, and must-haves like elevator or dogs allowed. You can also use filters for building and apartment features like laundry rooms and dishwashers. 

You can toggle between map and listing views.

There are currently over 16,800 rentals on the app.

The app shares the specific neighborhood and what area of the borough it is located in. For example, Rego Park, Northwestern Queens. 
What sets it apart? In addition to finding apartment rentals, you can easily post your own sublet with quick approval. And RentHop has a rental guide if you're new to the city's renting game.
Who should use it? If you want a no-frills app to find your next apartment—or easily post your sublet.
Recent updates/features: All of the updates within the last year included bug fixes and general improvements.
How it matches up against our checklist: 
You start by searching for your specific area and there are filters for price range, number of bedrooms, lease term, and if dogs or cats are allowed. 

Map view is the default but you can opt for a list too.

The app doesn't provide a listings count but there seem to be thousands across New York City—and beyond.

You can use the map view to see what's around the neighborhood but there isn't any additional information provided.
What sets it apart? There is a tool called Daily which curates daily listings for you based on your interests and preferences. 
Who should use it? If you want an app to do the searching for you.
Brick Underground articles occasionally include the expertise of, or information about, advertising partners when relevant to the story. We will never promote an advertiser's product without making the relationship clear to our readers.