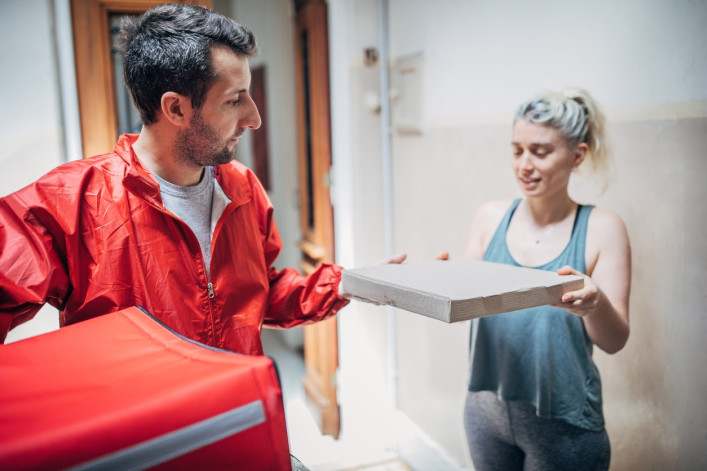 Living in NYC has its conveniences: Like a subway system that runs 24-hours, bars and restaurants that stay open open till 4 a.m.—and the ability to use an app to order Kung Pao Chicken, Pad Thai, or nearly any dish from your favorite restaurant right to your door. But with so many apps out there, which one should you use? 
To find out, Brick Underground checked out seven of the most popular food delivery apps in NYC including Seamless, Postmates, DoorDash, Caviar, Delivery.com, and the newest addition, UberEats. We tell you what you need to know about fees, recent updates, and features.
These apps target different niches, so we bottom line who they make the most sense for, so read on to find out if works best for you (and your stomach). And, don't forget about the discounts you can get when you use these apps for the first time—switching it up pays off.
---
[Editor's note: An earlier version of this post was published in July 2015. We are presenting it again with updated information for January 2020.]
---
Fees: The app itself does not charge any fees, but some restaurants partnering with the app charge for delivery. 
Recent app updates: There's now a Perks tab that has deals and rewards from restaurants in your neighborhood, like $10 off your next order or a free appetizer if you meet an order minimum. 
The lowdown: Seamless started back in 1999 as a web-based ordering system for NYC companies and opened the service to individuals in 2005. GrubHub acquired Seamless in 2013, and focuses the app on NYC, while GrubHub is geared towards the rest of the country, so although you can use GrubHub in NYC, there's not much difference between the apps. There's a solid combination of local eateries and chain restaurants, and the app rewards you for referring your friends to the app. There's also the occasional discount (I once got $5 off for being one of the best tippers in my neighborhood), and deals exclusive to the app.
The bottom line: If you're a New Yorker who just wants your food delivered as cheap as possible with no frills attached.
Fees: The delivery fee ranges from $0.99 to $3.99 for partner merchants and $5.99 to $10.99 for others. Plus, a small delivery fee of $1.99 for orders less than $12. If you're a frequent user and want to save some cash, there's Postmates Unlimited, which costs $9.99 a month or $99.99 a year for free delivery on all orders over $15 (plus special offers, giveaways, and access to events). 
Recent app updates: Postmates Party was released last year allowing you to order from restaurants trending in your neighborhood delivery-fee free if you order within a five-minute window. Postmates Live with the Yankees was released late last year, allowing you to order ahead at Yankees games so you're not stuck waiting in the concessions line. Fun fact: Every app update on the App Store has a $2 off discount code for the first 100 customers to use it.
The lowdown: Postmates was founded in 2011 and came to NYC in 2013. It allows you to get food delivered from places that don't usually offer delivery (think: fast-food chains) and you can get deliveries from places outside of your neighborhood—for a hefty fee. You can also get deliveries from retailers like the Apple Store, Duane Reade, and CVS. And Postmates is generous with discounts (I've received three emails with discounts such as $6 off my next two orders and $5 off my next delivery fee in the past two days).
The bottom line: If you really want that Big Mac, or don't feel like schlepping to the Apple Store for a new charging cable.
Fees: The delivery fee depends on where you're ordering from, but the app occasionally offers free delivery from partner restaurants. And there's DashPass, which cuts the delivery fee for popular eateries with a $15 food-order minimum, for $9 a month.
Recent app updates: App updates fixed minor bugs and enhanced performance. There were no new features available in the app store.
The low down: Doordash was founded in 2013, and has operated in NYC since 2015. Perks include free delivery for first-time customers paying with ApplePay (which is integrated into the app like Seamless), and they have DoorDash Deals which gets you free or $0.99 delivery from select eateries. There's also a green check mark (think verified Twitter and Instagram accounts) for partner restaurants so you know you're ordering from a valid spot.
The bottom line: If you feel more comfortable ordering from "verified" restaurants, or prefer to pay with Apple Pay for the extra security (and discount).
Fees: There's a delivery fee for every order depending on the restaurant. But how they really get you is with the service fee, which is as high as 18 percent of your subtotal, depending on distance.
Recent app updates: Back in November, Favorites was added which allows you to bookmark your favorite restaurants and restaurants you want to try in the future. 
The lowdown: Caviar was recently acquired by DoorDash, and their schtick is that they partner with local and independent restaurants (no Chik Fil A or Sweetgreen here) and some of the restaurants are exclusive to the app. The app has unique categories like "Nutritionist-Picked Spots," "Healthy Enough," and "Caviar Secret Menu," which makes ordering fun and helps if you're seeking a very specific meal.
The bottom line: If you don't want to support chain restaurants and want to give your money to local spots (and you're a stickler for healthy eating). 
Fees: Fees vary by the restaurant, your location, and availability of couriers (so you could pay more if less are working in your neighborhood). Then there's a service fee, which is 15 percent of your subtotal, and a small order fee for orders less than $10. Eats Pass was recently released, which gets you free delivery and 5 percent off for $9.99 a month.
Recent app updates: App updates over the last six months include localization improvements, enhanced filtering, top pairings for items you add to your cart, and upgrades to courier and restaurant status updates.
The lowdown: When Uber Eats started back in 2014, you could only order from a curated menu from a couple of restaurants at certain times, and it was limited to Midtown. Now, Uber Eats is all over the city and offers delivery from local spots and fast-food chains. They have helpful categories like "Kosher Delivery in New York.'' Perhaps what sets it apart is that the app is the official delivery partner of Starbucks (and you get $5 off of your first two deliveries). 
The bottom line: If you have a desire to spend a lot of money on delivery fees.
Fees: The app does not charge any fees, so any fees you pay are coming from the restaurant. 
Recent app updates: The most recent updates include easier access to catering options and group ordering where you can invite friends and order together.
The lowdown: Delivery.com's app looks a bit antiquated compared to the rest of the apps we checked out, but it does boast a slew of delivery services other than food, which sets it apart. Not only can you have wine, liquor, and groceries delivered, but also dry-cleaning and laundry services. For the next six months, they will have Mastercard Monday where you can get 10 percent off if you use a Mastercard to pay for your delivery.
The bottom line: If you want to order Pad Thai and have your dry cleaning picked up too.
Brick Underground articles occasionally include the expertise of, or information about, advertising partners when relevant to the story. We will never promote an advertiser's product without making the relationship clear to our readers.