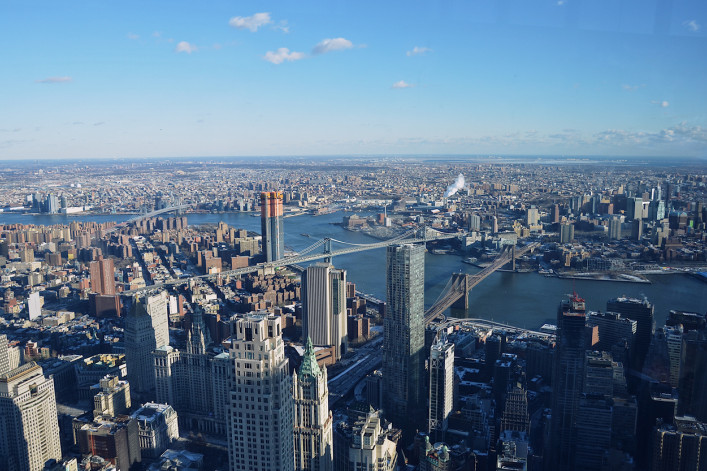 New York City renters continue to sign new leases at a record pace but the Delta variant took activity down a notch last month.
In Manhattan and Brooklyn, new signed leases hit a high for August that hasn't been seen for the month since at least 2008, according to the latest edition of the Elliman Report, which covers the Manhattan, Brooklyn, and Queens rental markets for August 2021.
It's a continuation of a trend that kicked off in April with record leasing numbers as vaccine adoption became more widespread—thanks to increased eligibility. New renters continued to flood the city throughout the spring, many of them young people who were living at home with parents during the height of the pandemic and returning to the city to start new jobs or in anticipation of their offices reopening, says Hal Gavzie, executive manager of leasing at Douglas Elliman.
There were 8,201 new Manhattan leases signed in August, an uptick of 171 percent over August 2020. In Brooklyn, there were 2,071 new leases signed, an increase of 27.9 percent over August 2020.
Manhattan lease signings surged in July and August, but the volume was lower by about 1,300 to 1,400 new leases compared to the spring, according to Jonathan Miller, president and CEO of appraisal firm Miller Samuel and author of the report. 
Until recently, the rental market had been returning to a seasonal pattern, but there was a "weakening" in July and August. Miller attributes this to "Delta playing a role."
"The market went from massive volume to heavy volume," Miller says. He characterizes it as a "slight downturn, but activity is still heavy."
The surge in leasing has been taking pressure off landlords and shrinking the "Covid discount" on rents, Miller says. Now "the Covid discount is more like 5 to 10 percent instead of 20 to 25 percent." (For some listings, rents are going in the other direction, as in-demand listings see rental bidding wars—an unusual and localized trend that doesn't apply to the city's rental market as a whole.)
For example, Manhattan's net effective median rent, which factors in concessions ($3,118), was down 8.9 percent last month compared to August 2019 (comparisons to last year, when leasing was stalled by the pandemic, are not very indicative of where the market is these days.) And if you look at rents on a month-to-month basis, rents in the city this year have stopped falling or are seeing slight gains, he says.
Similarly, median rent in Brooklyn last month was $2,800—down 7.68 percent from $3,015 in August 2019—but nearly flat compared to July 2021.
Demand for NYC rentals is also shrinking concessions.
Concessions averaged 2.3 months for Manhattan landlords in January (and you could find some landlords offering three or even four months for some hard-to-rent places). In August, the average was 1.9 months. It's still more generous than the average for the month of August if you look at the past decade (1.3 months), Miller says.
But they're also harder to find: In August the percentage of Manhattan leases that came with a concession was 37 percent compared to the peak market share of 60.4 percent in October.
"The market is tightening in slow motion," Miller says. "What is changing is that the month of September was the month that corporate America was going to bring everyone back. And there appears to be an uptick in call backs but many companies are kicking the can down the road."
That delay reduced the need for some New Yorkers to return to the city and sign a lease, says Gary Malin, chief operating officer at The Corcoran Group, which released its Manhattan and Brooklyn rental reports for August.
"Some chose to postpone their apartment search to the fall if possible," he says. Still, he points out that the vacancy rate hit a 16-month low and many buildings filled their empty apartments. "The turn-around has been remarkable," he says.
Queens saw the second-highest number of new leases signed in more than a decade, according to the report. Median rent ($2,696) was down 3.6 percent compared to August 2021 as listings increase for the 16th straight month. The market share of apartments with landlord concessions fell by nearly a third since peaking late last fall, according to the report.
MNS also released its rental market reports for Manhattan, Brooklyn, Queens, and the Bronx. The reports drill down to look at rents by apartment size and neighborhood—and compare doorman to non-doorman buildings in Manhattan. Findings include: The largest month decreases in rent were for doorman one bedrooms in the East Village, doorman two bedrooms in Battery Park City, and non-doorman studios in the Financial District.
Brick Underground articles occasionally include the expertise of, or information about, advertising partners when relevant to the story. We will never promote an advertiser's product without making the relationship clear to our readers.