The Search
8 tips for finding a NYC rental when there's lots of competition for apartments
Set up viewings for a Thursday or Friday so you can be first in the door
Have updated paperwork ready to go so you can make an offer on the spot
Tap your personal and professional contacts—word of mouth works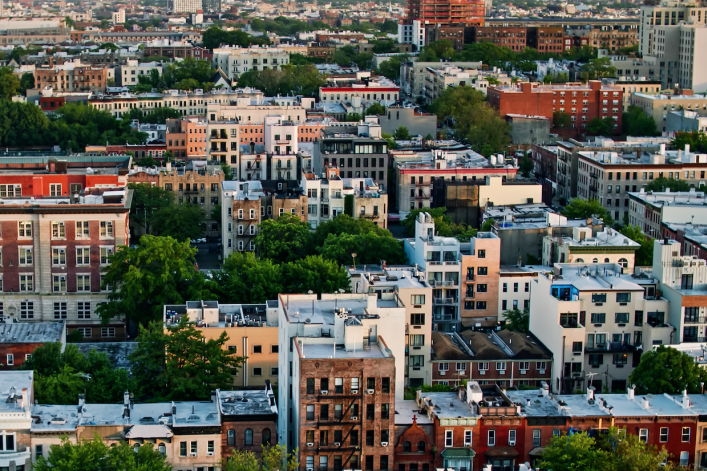 Record-setting rents and frenzied competition can make the search for a New York City rental apartment extremely intimidating. Bidding wars for rentals are here to stay and high demand means you should be using every trick in the book to get the place you want. 
But if you keep missing out on rental apartments because they are being snapped up so quickly, what should you do? 
An obvious solution is to move fast when you see the apartment you want. Another tip is to tap into your personal and professional networks for under-the-radar listings, or identify the building you want to live in and approach the management company directly, as well as giving yourself as much lead time as possible.
---
[Editor's note: This article was originally published in August 2021. We are presenting it again with updated information for June 2023.]
---
1. Know what you want 
Using a broker can simplify and speed up your search. If you keep missing out on rental apartments, Amelia Gewirtz, an agent at Brown Harris Stevens, says it's important to be "crystal clear with your agent about your priorities," so that you are seeing the right apartments on day one, not day three or four.
She advises clients to know what they want in terms of location, light, views, the kitchen, and square footage, and to send detailed preferences to your agent before you head out to see places.
2. Be prepared to adjust your wishlist
There's value in knowing what you want but it's also possible you will have to adjust your wishlist in NYC. "We used to have to suggest a renter would need to be flexible on either location, budget, or amenities," says Molly Franklin, an agent at Corcoran. Now, for anything below $2,500 in the one-bedroom market she says, "this will usually mean all three points will involve compromise." 
This might mean being open to neighborhoods you have not considered. Franklin has worked with multiple people who had to pivot from their first-choice area. "All have found themselves so happy in their new neighborhood and sometimes borough," she says.
Pro Tip:
Need help renting the perfect apartment in the perfect neighborhood? Looking for a landlord who is flexible about guarantors, pets, or "flexing" a space with temporary walls?  Put your search into the capable hands of The Agency, a tech-savvy real estate brokerage founded by a pair of Yale grads in response to the frustrating apartment-search experiences of classmates and colleagues. The Agency will charge a broker's fee of 10 percent of a year's rent on open listings instead of the usual 12 to 15 percent if you sign up here. Bonus: The agents at The Agency are a delight to deal with.
3. Be first in the door 
One tip from Sarah Minton, an agent at Compass, is to set up appointments for a Thursday or Friday. "Inventory replenishes later in the week for the weekend," she says, suggesting you might have to take a day off work. "It will be worth your time to see new inventory before the weekend rush," she says.
If you can, be the first in the door at 10 a.m. Gewirtz says she's had situations where a 10-minute delay has cost her clients the place. If one renter fills out the paperwork and has excellent credit and is qualified at 10 a.m., and another with the same qualifications waits until 11 a.m., she says, it's no surprise if the first person gets the place. 
Another tip on timing is to use a holiday weekend to your advantage. "If you can view while the rest of the renter pool is on the beach, you will be glad in the long run to have missed that day's festivities," Franklin says. 
4. Have your updated paperwork ready to go
Brokers stress the importance of having all your paperwork ready to go. This means you need to have your most recent tax returns, two recent bank statements, a letter of employment or two recent pay stubs, and a scanned copy of your photo ID, as well as signed agency and fair housing disclosures. 
Your letter of employment should not be an afterthought but recent and "the centerpiece of your application," Franklin says. A job offer letter needs to be from the past six months. "You cannot apply with last year's letter even if you have not gotten a raise—those delays will potentially lose a deal for you," she says.
She also recommends getting a landlord reference letter from your previous rental (if applicable) and if you have a pet, to make sure you have a letter from the vet confirming they are up to date on vaccinations. A charming photo of your four-legged friend "never hurts," she says.
With your documents ready, Gewirtz says you should "make an offer on the spot" if you like an apartment, and fill out an application immediately.
If you need a guarantor, either an individual or an institution, make sure they are lined up and ready to go and can provide the necessary paperwork immediately.
Pro Tip:
To rent an apartment in New York City, most landlords require you to earn an annual salary of at least 40 to 45 times the monthly rent. If you don't—or if you're an international employed person, self-employed, non-employed with assets, retired, or an international student or US student—you'll need to find a guarantor for your lease who earns at least 80 times the monthly rent and lives in New York, New Jersey or Connecticut.  Or you can turn to Insurent Lease Guaranty.  Accepted at more than 4,700 buildings across the city representing over 475,000 apartments, Insurent Lease Guaranty is a quick and easy way to get the apartment you want. Click here to learn more.
Franklin says she has taken clients into competitive open house situations with a hard copy of their application in hand and offered it to the listing agent the moment the client gives the sign. 
"It has tipped the tables for us and when done with kindness and eagerness it doesn't read as aggressive, it reads as prepared. I also let the agent know that I can send the documents to them digitally if they prefer, and most agents do, but it is a gesture that stands out," she says.
5. Tap your personal and professional networks
It's very possible your personal and professional networks could help you in your apartment search. Let your friends and colleagues know what you are looking for either through social media or in conversation.
"Word of mouth is an often overlooked source for finding a rental in a very hot market," says Gerard Splendore, a broker at Coldwell Banker Warburg, You may be uncomfortable revealing your needs and your budget to a wider circle but it's also possible an owner prefers renting to a "friend of a friend" rather than a someone they don't know at all.
One long-time NYC renter tells us she found two great apartments through word of mouth rather than scouring listings. 
6. Identify the building you want to live in
Reaching out to the management company at larger rental buildings is another strategy. If you are flexible on the layout or floor you want, these larger buildings may have more availability than appears online. Owners often hold back apartments, known as shadow inventory, to boost demand. 
It's even possible you may find a building offering to "pre-lease" apartments to tenants—that is, you sign a lease and lock in an apartment 50 to 90 days before you move in. 
Splendore says the savviest renters will keep an eye out on garbage and recycling day for particular buildings and see if they can make contact with the super. Sounds extreme, he says, but "asking supers, who know almost everything about the buildings in which they work, can sometimes yield hidden information." 
Alternatively, watch for moving trucks in front of buildings, or painters and handymen coming and going—a sure sign an apartment will soon be available. "Finding an apartment is not for the shy or reticent; it is crucial to speak to as many people as possible and be prepared to be flexible," Splendore says.
7. Give yourself plenty of lead time
Franklin advises treating your apartment hunt like a job search for three weeks. "Ideally those weeks will be the last one of the month prior to your lease end and the first two weeks of the month prior to your move," she says. 
Within your timeframe, put your tech to work for you: Set all of your search engines to notify you of every possible option that has potential and be ready to see things at the drop of a hat. Also, check your spam folder in case your inquiry about an apartment has ended up in your junk mail.
"If you are in a family or a roommate situation, you should either designate one person to be the decision maker, or take shifts to cover as many opportunities as possible," Franklin says. She points out, it may not be what you want to do, but it beats moving your belongings to storage and couch surfing. 
8. Understand who has the upper hand
It's important to understand the NYC market is very localized. "Some units still linger because they are further from transportation or perhaps have dated fixtures," Franklin says. She points out, you might be able to find a bargain in those situations, but unless the apartment has been vacant for at least three weeks, the landlord has the upper hand in a competitive market.
In most situations, Franklin says, "holding back or nickel and diming won't get you in the top position out of multiple applications." In fact, in very competitive scenarios you may have to offer higher than the asking price and offer to pay the broker fee. If the apartment is advertised as no-fee, it means the landlord is paying the broker fee, and offering to pay it is a way to make your application more attractive. 
"It's not a time to haggle," says Karen Kostiw, an agent at Coldwell Banker Warburg.
Brick Underground articles occasionally include the expertise of, or information about, advertising partners when relevant to the story. We will never promote an advertiser's product without making the relationship clear to our readers.