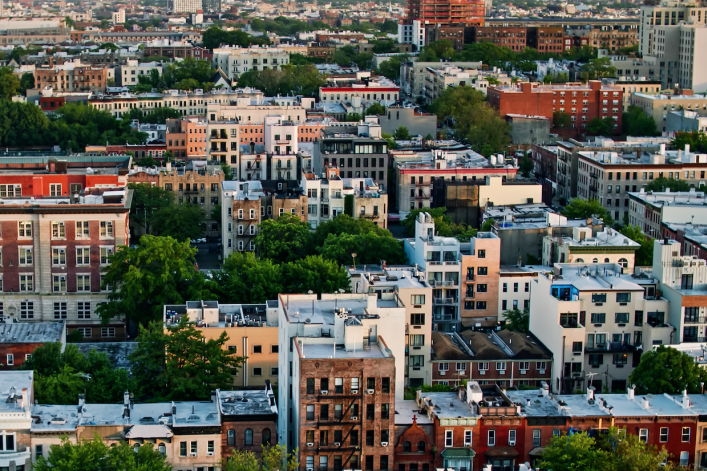 If you're hunting for a New York City apartment and discouraged by what you're experiencing, you're not alone. Lots of New Yorkers describe missing out on apartment after apartment these days.
Even though the Delta variant of the coronavirus has seen some renters halt their plans to move back to the city, there's still a huge demand for rentals right now. Many New Yorkers who left during the pandemic are returning as offices prepare to re-open and the first day of school—which will be in-person for public school students—approaches. That crushing demand means the prospect of finding an apartment you can afford within the timeframe you need can be even more daunting than usual. There are even bidding wars for rentals in some of the most popular areas of the city.
If you keep missing out on rental apartments because they are being snapped up so quickly, what should you do? An obvious solution is to be able to move fast when you see the apartment you want. Another tip is to tap into your personal and professional networks, or identify the building you want to live in and approach the managment company directly, as well as giving yourself as much lead time as possible. For more tips, read on. 
1. Know what you want
Using a broker can simplify and speed up your search. If you keep missing out on rental apartments, Amelia Gewirtz, an agent at Brown Harris Stevens, says it's important to be "crystal clear with your agent about your priorities," so that you are seeing the right apartments on day one, not day three or four.
She advises clients to know what they want in terms of location, light, views, the kitchen, and square footage, and to send detailed preferences to your agent before you head out to see places.
2. Be first in the door 
One tip from Sarah Minton, an agent at Warburg Realty, is to set up appointments on a Thursday or Friday. "Inventory replenishes later in the week for the weekend," she says, suggesting you might have to take a day off work. "It will be worth your time to see new inventory before the weekend rush," she says.
If you can, be the first in the door at 10 a.m. Gewirtz says she's had situations where a 10-minute delay has cost her clients the place. If one renter fills out the paperwork and has excellent credit and is qualified at 10 a.m., and another with the same qualifications waits til 11 a.m., she says, it's no surprise if the first person gets the place. 
Being first is important and being nice can pay off too. Ellen Sykes, a broker with Warburg Realty, recently helped a client sign a two-year lease for a one bedroom on the Upper East Side for $2,950 by finding a tenant on Leasebreak who wanted to get out of his lease. "He liked us. We dealt fairly with him and he didn't let in another broker who came later on and promised to pay more," she says.
3. Be prepared
Brokers stress the importance of having all your paperwork ready to go. That means you need to have your most recent tax returns, two recent bank statements, a letter of employment or two recent pay stubs, and a scanned copy of your photo ID, as well as signed agency and fair housing disclosures. Molly Franklin, an agent at Corcoran, says your letter of employment is not an afterthought but "the centerpiece of your application." She also recommends getting a landlord reference letter from your previous rental (if applicable) and if you have a pet, to make sure you have a letter from the vet confirming they are up to date on vaccinations. A charming photo of your four-legged friend "never hurts," she says.
With your documents ready, Gewirtz says you should "make an offer on the spot" if you like an apartment, and fill out an application immediately.
If you need a guarantor, either an individual or an institution, make sure they are lined up and ready to go and can provide the necessary paperwork immediately. 
Franklin says she has taken clients into competitive open house situations with a hard copy of their application in hand and offered it to the listing agent the moment the client gives the sign. 
"It has tipped the tables for us and when done with kindness and eagerness it doesn't read as aggressive, it reads as prepared. I also let the agent know that I can send the documents to them digitally if they prefer, and most agents do, but it is a gesture that stands out," she says.
4. Tap your personal and professional networks
It's very possible your personal and professional networks could help you in your apartment search. Let your friends and colleagues know what you are looking for either through social media or in conversation.
"Word of mouth is an often overlooked source for finding a rental in a very hot market," says Gerard Splendore, a broker at Warburg Realty. You may be uncomfortable revealing your needs and your budget to a wider circle but it's also possible an owner prefers renting to a "friend of a friend" rather than a someone they don't know at all.
One long-time NYC renter tells us she found two great apartments through word of mouth rather than scouring listings. 
5. Identify the building you want to live in
Reaching out to the management company at larger rental buildings is another strategy. If you are flexibile on the layout or floor you want, these larger buildings may have more availability than appears online. Owners often hold back apartments, known as shadow inventory, to boost demand. 
It's even possible you may find a building offering to "pre-lease" apartments to tenants—that is, you sign a lease and lock in an apartment 50 to 90 days before you move in. 
Splendore says the savviest renters will keep an eye out on garbage and recycling day for particular buildings and see if they can make contact with the super. Sounds extreme, he says, but "asking supers, who know almost everything about the buildings in which they work, can sometimes yield hidden information." Alternatively, watch for moving trucks in front of buildings, or painters and handymen coming and going—a sure sign an apartment will soon be available. 
"Finding an apartment is not for the shy or reticent; it is crucial to speak to as many people as possible and be prepared to be flexible," Splendore says.
6. Give yourself plenty of lead time
Franklin advises treating your apartment hunt like a job search for three weeks. "Ideally those weeks will be the last one of the month prior to your lease end and the first two weeks of the month prior to your move," she says. 
Within your timeframe, put your tech to work for you: Set all of your search engines to notify you of every possible option that has potential and be ready to see things at the drop of a hat. Also, check your spam folder in case your inquiry about an apartment has ended up in your junk mail.
"If you are in a family or a roommate situation, you should either designate one person to be the decision maker, or take shifts to cover as many opportunities as possible," Franklin says. She points out, it may not be what you want to do, but it beats moving your belongings to storage and couch surfing. 
7. Understand who has the upper hand
It is still possible to get a deal on a rental in NYC but the market is very localized. "Some units still linger because they are further from transportation or perhaps have dated fixtures," Franklin says. She points out, you might be able to still find a bargain in those situations, but unless the apartment has been vacant for at least three weeks, the landlord has the upper hand in today's market.
In most situations, Franklin says, "holding back or nickel and diming won't get you in the top position out of multiple applications." In fact, in very competitive scenarios you may have to offer higher than the asking price and even offer to pay the brokerage commission. If the apartment is advertised as no-fee it means the landlord is paying the broker fee and offering to pay it is a way to make your application more attractive. 
"It's not a time to haggle," says Karen Kostiw, an agent at Warburg Realty. 
Keep in mind, however the market will eventually cool down, says Arik Lifshitz, CEO of DSA Property Group. He anticipates more vacancies than usual this winter. That's based on the fact that many apartments were empty last summer and not leased until the fall or winter and then only at "bargain basement prices", he says. Those leases will shortly be up for renewal. "There will be added supply this year as those leases turn over and revert to market rate," he says, meaning that when landlords renew those leases without such generous concessions or without concessions at all, tenants may move out.
Brick Underground articles occasionally include the expertise of, or information about, advertising partners when relevant to the story. We will never promote an advertiser's product without making the relationship clear to our readers.