Neighborhood Intel
The 10 best NYC neighborhoods for recent college grads in 2023
These neighborhoods have the largest number of affordable rentals as per StreetEasy
An affordable rental is defined as costing less than 30 percent of your annual income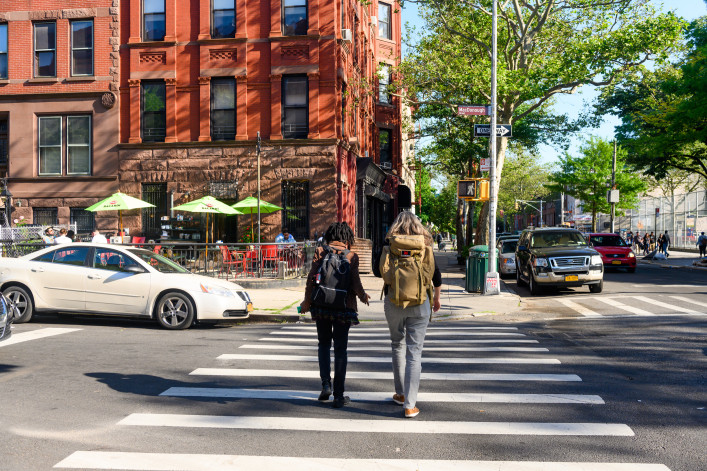 Diploma in hand and heading to New York City? High fives! You're following a tried-and-true path of countless other college grads who bravely chose to launch their careers and adult life in the Big Apple. 
Sorry to spoil the celebration, but you'll need to find a place to live, and doing that in NYC can be a daunting task—especially if you aren't familiar with the landscape. After all, it's one of the most complicated—and expensive—real estate markets in the world.
So your first post-grad task is to find a "reasonably priced" neighborhood (by NYC standards anyway). Despite record-breaking rents, that's entirely doable. 
For Brick Underground's list of the best neighborhoods for recent grads, we started with a report on the top nabes from StreetEasy that calculated affordability based on data from the U.S. Bureau of Labor Statistics for median annual income of people ages 22 to 27 who have a bachelor's degree and are living in NYC. Then Brick drew from our recent reporting to get a sense of what (besides affordability) draws newly minted renters to the area—including good commutes, interesting restaurants and bars, places where you can enjoy being outdoors, and more.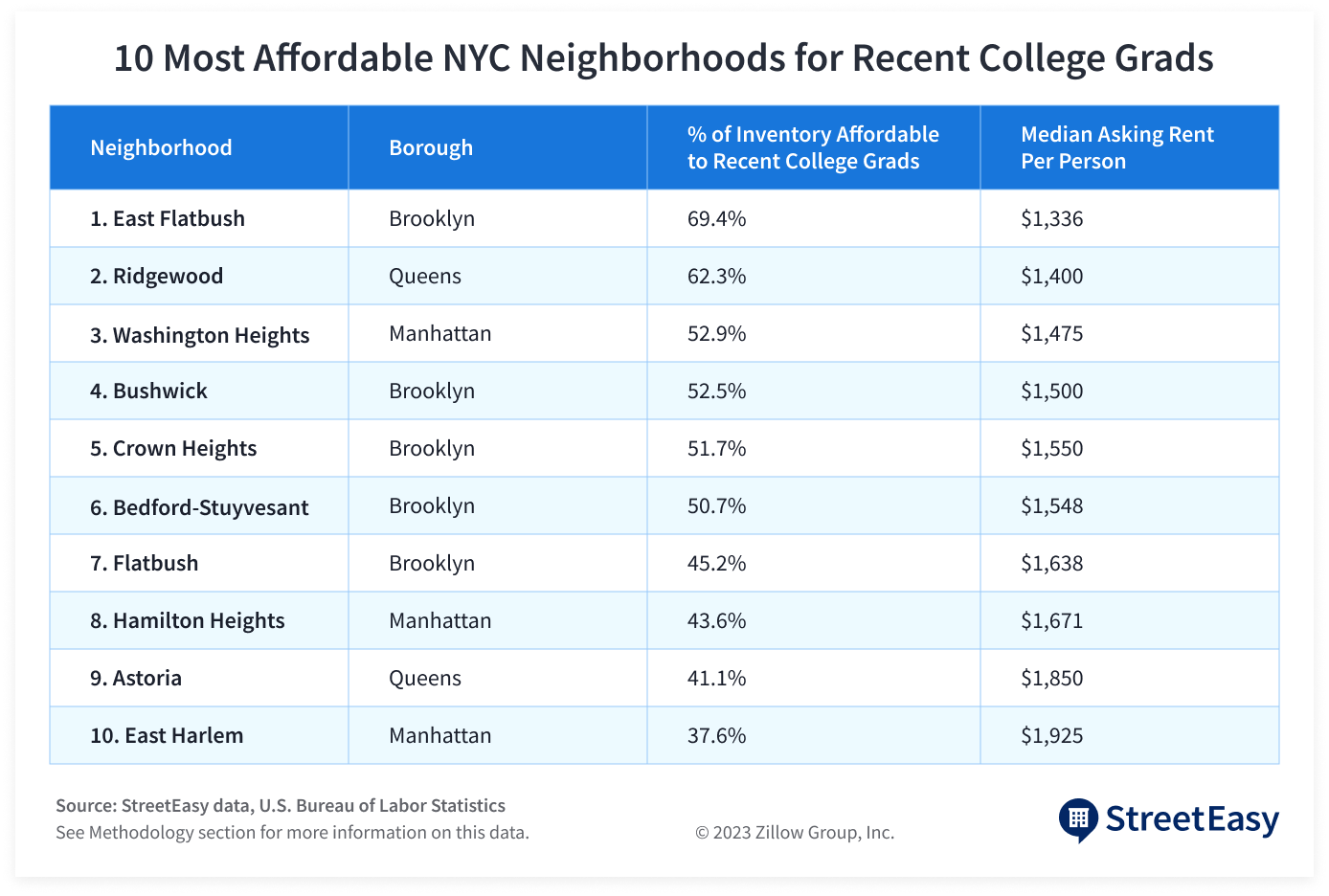 According to StreetEasy's survey, the median annual income for this cohort is $62,000. The top neighborhoods on its list have the largest percentages of affordable rentals based on the median asking rent per bedroom "because it's common for recent grads to live with roommates for their first few years in the city—and this unlocks a greater share of rental inventory," explains a StreetEasy spokesperson.
BTW, an "affordable" rent is defined as being no more than 30 percent of your annual income, which is the standard threshold of affordability used by most federal and local housing agencies. As StreetEasy points out in its report, that breaks down to roughly $4,000 per month after taxes (and excluding expenses), making the current citywide median asking rent of $3,700 for a two bedroom seem daunting.
This year saw some first-time entrants, including number-one East Flatbush, while Flatbush slid up three slots to number seven. Others reappeared after having fallen off the list for years. (Bushwick, for example, last held the number seven spot in 2015). East Harlem (2017's number two slot) also slid in at number 10. Meanwhile, Bedford-Stuyvesant continues its uninterrupted run—it just keeps on keeping on.  
What's telling, too, is the popular post-college neighborhoods that didn't make this year's cut—you can read about hot spots like Jackson Heights, Greenpoint, Clinton Hill, and Concourse in previous Brick guides from 2021, 2019, 2018, 2017, 2016, and 2015. 
This guide answers where to live, but be sure to check out "How to Move to New York City" for how to get there without the hassle or headaches. And if you're not sure whether you are going to stay for the long (12-month minimum) haul—or want to test different neighborhoods out before committing to any one locale—read "An insider's guide to finding a short-term, furnished apartment rental in NYC" for options, including co-living companies. 
Read on for the affordability rundown. 
1. East Flatbush, Brooklyn
Percentage of affordable units: 69.4 percent
Median asking rent per bedroom: $1,336 
Making its debut in first place, East Flatbush is a bustling neighborhood in southwest Brooklyn prized for its diversity, affordability, and public transit. It was once part of Flatbush (see number seven) but eventually became its own distinct area. Notable residents include Busta Rhymes and Wesley Snipes, who both grew up here. At $2,672, it has the lowest median two-bedroom rent of the bunch—though not by much. (Ridgewood is a mere $128 more per month.)
However, there are other perks of living here than cheap rent. "East Flatbush is home to many amazing Caribbean restaurants and cultural attractions," says Casey Roberts, home trends expert and senior communications manager for StreetEasy. "There's a lot of new development in the neighborhood, so renters are likely to find sought-after amenities like central AC, dishwashers, and in-unit washer/dryers," she says.
Indeed, a thriving enclave known as Little Caribbean is filled with West Indian restaurants, groceries, boutiques, and colorful murals. (One recent grad who moved to this nabe told Brick it had everything she needed. She was also thrilled to live in a Black community.) Anchoring the community is the Flatbush Canton Market (FCM), which launched as an open-air market in 2000 and has since become a commercial and cultural hub housing over 40 merchants. It also hosts community events and a seasonal farmers' market.
And leafy blocks with neo-classical townhouses dot the otherwise urban landscape. In fact, East 25th Street was named the "Greenest Block in Brooklyn" and was designated a historic district in 2020—the first in the neighborhood. That's largely thanks to community-minded organizations that are struggling to preserve their neighborhood, which has undergone a change as brownstones and limestones are torn down in favor of new high-rise developments. 
Residents of all ages head to Paerdegat Park, a block-long recreational area with basketball and handball courts, playgrounds, and walking paths that received a $1.65 million update in 2015. 
With easy access to Kings Highway and other major throughways, getting around the city is easy by car. It takes about 20 minutes to reach Manhattan without traffic. The Long Island Rail Road's Bay Ridge Branch runs along the southern border, and a direct train on the 4 subway line takes about 35 minutes to get from Crown Heights/Utica Avenue to East 86th Street on the UES. The 2 and 5 trains also serve the area, as do express and regular buses. 2.
2. Ridgewood, Queens
Percentage of affordable units: 62.3 percent
Median asking rent per bedroom: $1,400 
Ridgewood returns for a fourth year on this list—moving up from the number eight spot—though the two-bedroom median rent shot up from $2,215 to $2,800. At least part of that uptick is the influx of creatives in Bushwick and Williamsburg who are relocating just across the borough's border to Ridgewood.
And while the neighborhood did lose some businesses during the pandemic, new businesses are popping up––not without controversy. Further evidence of change: The Strand, a recent luxury rental building in "Ridgewick."
It's a diverse neighborhood with tree-lined residential streets as well as industrial areas. It's also more spread out and lacks the density of places like East Flatbush, Greenpoint, or Bushwick. Four historic districts help the area retain its charm.
"Ridgewood is a beautiful neighborhood with several distinct architectural styles, including Tudor Revival, Neo-Renaissance, and Art Deco. It's a popular hub for artists and creatives, with several galleries, art studios, and performance spaces," Roberts says.
And new businesses continue to open alongside veteran shops, such as Rudy's German Bakery & Café, and often make use of the neighborhood's large-scale spaces. 
You'll find excellent Mexican, Dominican, Italian, Ecuadorian, and Nepalese food here, as well as several breweries/beer gardens (Evil Twin Brewing, Queens Brewery, Bridge and Tunnel Brewery). Newer businesses include Rolo's and Nha Minh, the last of which is located in all-ages performance/community space Trans-Pecos. Nowadays is a popular spot with a large outdoor space for drinks and events, Topos Books is the neighborhood's used bookstore/cafe.
It's not the place to be if you need a park of Prospect or McCarren caliber: Ridgewood's Grover Cleveland Playground is small, and the athletic field is often closed. But Roberts says it's still "a great neighborhood for those who seek green space with Highland Park and Ridgewood Reservoir, which offer hiking, biking, picnicking, and beautiful views of the NYC skyline."
For commuting, the M is the main train, with the L servicing a small portion of the neighborhood. A trip to Manhattan can take 40-50 minutes, but Citi Bike has arrived in Ridgewood, making travel to neighboring areas in Brooklyn quick and easy. (Though it is on a hill, so getting home is more of a workout than leaving.) 
3. Washington Heights
Percentage of affordable units: 52.9 percent
Median asking rent per bedroom: $1,475
Washington Heights, which held the 2019 number-one spot, has been known for some time as a place to get more space for less money—you can get a two bedroom for about $2,950. (A location at the northern end of Manhattan will do that, which is why the area attracts students, young professionals, and families.) Hollywood also shone a bright light on the neighborhood with the film adaptation of "Hamilton" creator Lin-Manuel Miranda's "In the Heights."
Spotlight aside, Washington Heights offers a relatively quick commute to Midtown (you can make it there in about 30 minutes) and it's well-served by three train lines, the 1, A, and C. And, the fact that Manhattan Island physically narrows way uptown means the walk to the train is never too far. (Trust us, it's a major plus.) Citi Bike is also well-represented here, and it's easy to hop on the Hudson River Greenway, a bike and pedestrian path along the water. 
The neighborhood is home to a diverse Latin American community, and new restaurants have joined longtime celebrated Latin American and Dominican spots; popular additions include The Pandering Pig, Havana Heights, Fort Washington Public House, and Terravita. 
In addition to value, a strong community, and loads of character, Washington Heights provides incredible views of the George Washington Bridge and the Palisades across the Hudson River, and numerous spots to enjoy nature. Green spaces include Fort Washington Park and Highbridge Park, the latter of which received a $30 million renovation—and is, in fact, the site of that pool scene from "In The Heights." The park connects to The High Bridge, an elevated historic promenade over the Harlem River. 
"Washington Heights offers large apartments in predominantly pre-war buildings, and its access to numerous parks makes it a popular neighborhood among dog owners," Roberts says. "As one of the hilliest areas of the city, it's also best for those who like to keep active." (GTK!)
4. Bushwick, Brooklyn
Percentage of affordable units: 52.5 percent
Median asking rent per bedroom: $1,500
By all accounts, Bushwick—aka "Shwick"—is the new "it" neighborhood in Brooklyn.
Located on the northeast border of Brooklyn and Queens, Bushwick is "a funky and industrial area that's been very popular among new grads in recent years," Roberts says, adding that you're likely to find more unique and unconventional apartment styles, like lofts in converted old factories. "The neighborhood also has a lively arts and nightlife scene with great breweries and distilleries."
That it has managed to remain affordable is a bit of a surprise—the last time it made this list was in 2016. Bushwick also scored the number two position on StreetEasy's neighborhoods to watch in 2023. The two-bedroom median rent of $3,200 was $1,000 cheaper than nearby Williamsburg—the former hipster hub of the borough.
Recent grad Christian, who moved here from Georgia after a short stint in Greenpoint, told Brick he considers Bushwick (and Greenpointt) "the epicenters of youth and culture in Brooklyn." He chalks up the beautiful street art, incredible food, and lively atmosphere as major draws. "What I love most about living in Bushwick is, however, its convenience. Though it is a bit further from Manhattan, I live a block away from the L and M trains, which makes going to Manhattan incredibly quick and easy." (Click here to read his full story.)
For sure, the transit situation in Bushwick is a good reason to live here—and Citi Bike recently expanded here for commuting on two wheels. 
There are other conveniences, too—namely grocery stores, including bodegas and local, natural/organic options. What you won't find here: big-box stores, which can be good or bad depending on your opinion of those. (Locals cite this fact as a banner of pride—keeping Brooklyn real!) 
The restaurant scene has taken a hit lately with some notable closings, but it's still flush with an amazing range of world cuisines. Favorites include Bunna Cafe (considered the best Ethiopian eatery in the city), Queen of Falafel, Tortillería Mexicana Los Hermanos (a tortilla factory with a taqueria), The Turk's Inn and Döner Kebab (a super kitschy rendition of a Midwest icon), and Falansai (for Vietnamese-Mexican fusion), and Sally Roots (serving Caribbean with a stellar patio). 
Ultimately, landing your first apartment in this uber-hip name would be a cool way to launch your post-grad life in the big city. 
5. Crown Heights, Brooklyn
Percentage of affordable units: 51.7 percent
Median asking rent per bedroom: $1,550
Returning to the list for the first time since 2016, when it was the number one nabe, "Crown Heights is an eclectic and busy neighborhood with a mix of main avenues offering a vibrant nightlife and quieter residential cross streets," Roberts says. "There's plenty to do here, from coffee shops, restaurants, and bars to its close proximity to Prospect Park, Brooklyn Botanic Garden, and Brooklyn Museum." The Weeksville Heritage Center, which preserves the history of Weeksville, one of the largest free Black communities in pre-Civil War America, is also here.
Old comfortably meets new in Crown Heights. The neighborhood is comprised of four historic districts filled with low-rise brownstones and multi-family apartment buildings along with new developments, though of all the Brooklyn nabes mentioned here, Crown Heights has seen the least number of permits (and those are often for low- or mid-rise construction rather than high rises).
Eastern Parkway, a three-mile-long, tree-lined boulevard designed by Frederick Law Olmsted, divides the neighborhood into northern and southern sections. The main commercial districts are on Nostrand, Kingston, and Franklin avenues, the latter seeing an influx of yoga studios, organic grocery stores, upscale boutiques, and even a cider distillery amidst mom-and-pop eateries, old-school butcher shops, and bodegas. 
You have your choice of trains, with access to the 2, 3, 4, and 5 along Eastern Parkway delivering you to the Financial District in half an hour, though expect a longer journey to work if you're in Midtown (about 45 minutes). If you prefer pedaling to straphanging, Citi Bike has arrived here. 
6. Bedford-Stuyvesant, Brooklyn
Percentage of affordable units: 50.7 percent
Median asking rent per bedroom: $1,548
Known for historic architecture and a sense of community, Bed-Stuy is the place to be if you want to live in a neighborhood rich in culture, with lots of options for restaurants, bars, and nightlife. Bed-Stuy's dance and party scene is especially notable thanks to spots like rum bar and reggae den Lovers Rock and restaurant/bar and venue Bar LunÀtico, both of which survived the pandemic pause. 
Indeed, an influx of new cafes, bars, and restaurants has enlivened the area's suburban residential feel and makes Bed-Stuy a worthy alternative for recent college grads and those priced out of nearby Williamsburg and Fort Greene.
Rents are climbing, so the two-time (2021 and 2018) top-ranked area has slipped in rank in terms of affordability. In two years, the median rent for a two-bedroom increased by $600. 
Still, the neighborhood gets big points for throw-back charm, thanks to a significant number of low-rise, architecturally pleasing, townhouse-style buildings on tree-lined streets, which give it a quiet and relaxed feel. "Bed-Stuy has the largest collection of Victorian brownstones not just in the entire city but anywhere in the world," Roberts says.
And yet, new development has been booming: Bed-Stuy has been among the neighborhoods with the highest number of new development permits. These join existing buildings along the commercial thoroughfares of Fulton Street and Bedford and Nostrand avenues, where luxury buildings with amenities can also be found. "This means that renters can find units in new construction buildings in addition to spacious apartments with gorgeous details in converted brownstones," Roberts says.
Subway access can be great or not so great, depending on where in the large neighborhood you live. The north edge is serviced by the G train, the southern border by the A and C trains, and the eastern border by the J and M train lines. Those in the middle can walk or take the bus. Bed-Stuy has a vast network of bike lanes, too, and many residents commute via bicycle. 
7. Flatbush, Brooklyn
Percentage of affordable units: 45.2 percent
Median asking rent per bedroom: $1,638
Flatbush has stubbornly held onto the number 10 spot in previous editions of this list, but its affordability helped it climb a few rungs on the best-of ladder. Where else can you nab a two bedroom near Prospect Park for less than $3,500? (Answer: nowhere.)
"Located just below Prospect Park, Flatbush is a great option for renters who want to be in proximity to the park but at a lower price point than neighborhoods closer to the top of the park (like Park Slope). Flatbush is a really beautiful area with a mix of historic Victorian homes and newer construction."
In case you're not in the know, the prominent park (by the same designer as Central Park) offers 500 acres of open green spaces, woods, and hiking/biking trails, plus an ice-skating/roller-skating rink, zoo, botanical garden, ports fields, an Audubon Center, boat rentals, and a bandshell, where an annual concert series (with many free performances) is held. 
Adding to the area's unique feel is the section often referred to as Ditmas Park, a pocket with wide, picturesque streets and Victorian houses on large lots. (It's easy to forget you're in New York City here, especially when the area is all lit up during the winter holidays.) But it's not all pastoral calm here. Flatbush Avenue is a major thoroughfare with lots of retail, big box stores, and even the spectacularly restored 1929 Kings Theatre, which packs the house at blow-out concerts (recent shows include the "Electric Lady" Janelle Monáe and indie rock band The Flaming Lips). For quaint Brooklyn shops, bars, and brunch, head to Cortelyou Road. 
You won't find the conveniences and services in Flatbush that you do in other Brooklyn nabes like Greenpoint or even Bed-Stuy. Of course, that's not necessarily a bad thing, it's just different. (And Flatbush is hardly lacking in places that will take your money for food, drink, and entertainment.) 
The main way you "pay" for this singular Brooklyn mix is with the commute. It's not horrible—you can get to Manhattan on an express train, the B or the Q, but budget about 45 minutes to get to Midtown. (You can also catch the 2 and 5 trains on the east side of the neighborhood.) CitiBike has plans to expand here, but in the meantime, if you have a bike, there are lanes for you. 
The appeal of Flatbush is not lost on developers—construction sites have become part of the landscape here, though that means more units will be coming on the market. 
8. Hamilton Heights
Percentage of affordable units: 43.6 percent
Median asking rent per bedroom: $1,671
The Upper Manhattan neighborhood of Hamilton Heights is appearing on this list for the first time since a two-year run in 2016-2017. It continues to deliver the same affordability, convenience, and friendly feel.
"Just north of Harlem, Hamilton Heights is home to the main CUNY campus and close to Columbia University, making it a popular destination among recent grads and graduate students," Roberts says. "It's also a culturally rich neighborhood with tons of diverse food options and an exciting arts scene, including hosting the annual Harlem Arts Festival." Harlem Stage, a performing arts center that showcases a diverse range of artists, and Hamilton Heights Art Center are other cultural destinations.
Named for Alexander Hamilton (of "Hamilton" fame), the historic area has amazing architecture—incuding Beaux Arts mansions and the founding father's own former home, Hamilton Grange. Shepherd Hall on the CUNY campus is another iconic building. 
But like East Harlem (number 10), the landscape of the neighborhood has been changing quickly, meaning now may be the time to get in. Those changes involve new bars and restaurants popping up as well as rentals coming back onto the market after extensive renovations. 
Those newly revamped units will cost you, but for college grads seeking shares, there are still three bedrooms for $3,000 and four bedrooms for $4,000 in older buildings, if you're comfortable with fewer bells and whistles.
Some notable restaurants in the neighborhood include Harlem Public, a lively gastropub with a rotating selection of craft beers. 
Although you don't need to go downtown for entertainment, when you do, the journey is fairly painless. You can catch the 1 train at 137th Street, or the A, B, or C at 135th Street. (Here's a NYC trick: The orange line offers one of the longest express trip in the city, traveling from 125th Street to 59th Street in one go, bypassing the entire Upper West Side.) Citi Bike recently arrived here, too.
Perhaps best of all is the sociable vibe of Hamilton Heights: One broker who lives here says his block is very family-oriented. "People barbecue on the streets and play dominoes. It's very neighborhood-y."
9. Astoria, Queens 
Percentage of affordable units: 41.1 percent
Median asking rent per bedroom: $1,850
Astoria has long been a bastion of affordability, retaining longtime residents and drawing young people looking for space and deals. It's reputed to have one of the most diverse populations in the city (if not the planet), with an equally wide-ranging culinary scene. "As the home to the largest Greek community outside of Greece, Astoria offers some of the best Greek restaurants you can find in the U.S.," Roberts says. (Greek seafood restaurant Taverna Kyclades is legendary, and you'll also find excellent sushi and ramen, plus Middle Eastern, Indian, Italian, and more.) 
The neighborhood has a lively nightlife scene, with lots of outdoor dining along Broadway and Ditmars and Steinway avenues. 
The large green space of Astoria Park is the area's crown jewel (it recently received a $30 million renovation), where a variety of free, community-based programming like yoga, outdoor movies, and events take place. The neighborhood is rich in culture, too, with the Museum of the Moving Image, The Noguchi Museum, and Socrates Sculpture Park all located here. 
Roberts says most of the neighborhood still features single-family homes and smaller-scale postwar apartment buildings, but newer developments have started popping up in recent years, especially closer to the river. Indeed, the "secret" of Astoria has been out for a while (RentHop crowned it hottest neighborhood for NYC rental hunters), and the neighborhood is seeing an influx of money in the form of residents and developers—it's not far behind Bed-Stuy in development activity. 
Commuting is only getting easier here, with Citi Bike and ferry expansion to Astoria making commuting to Manhattan quicker, especially for those not living near the N and W stops. (For even more affordability, look in Astoria Heights, where rents are lower due to less access to mass transit.) 
10. East Harlem
Percentage of affordable units: 37.6 percent
Median asking rent per bedroom: $1,925
Once an Italian enclave, East Harlem—north of 96th Street on the East Side—became home to many Puerto Ricans beginning in the mid-20th century and now includes immigrants from Latin American and Caribbean countries. "Here you'll find tranquil, leafy residential blocks alongside busier blocks dotted with food carts and businesses," Roberts says.
East Harlem's vibrant streets are flush with community gardens, murals, and street art. In fact, Roberts describes East Harlem as "a really charming neighborhood with more street murals than any other neighborhood in the city." The renowned El Museo del Barrio, which celebrates the area's diverse cultures, is across from Central Park.
Speaking of Central Park, you are never more than five or so blocks away from Manhattan's official backyard and all the activities there. The neighborhood also offers access to smaller parks and local community gardens, Roberts says. 
Long considered one of the most affordable areas in Manhattan, the median asking rent here rose 21 percent year over year to $2,600 in 2022. Rents are highest in the southern end, where access to the Q train station at 96th Street and Second Avenue whisks passengers to Midtown in less than 15 minutes. The Lexington Avenue line is the main transit artery, with the 6 train stopping every six to seven blocks. The 4 and 5 express trains are at 125th Street. Both the Lexington and Second Avenue lines provide easy access to the Upper East Side for more robust nightlife options. And Citi Bike has dozens of bike stations across the neighborhood.
What's more, according to Roberts,"With the Second Avenue subway expansion coming in the next few years, East Harlem will enjoy even better subway access, making it easy to get to Downtown Manhattan and the borough's business districts." 
Prices cover a broad range, depending on whether the apartment is prewar or new construction and renovated or not. But for now, East Harlem has a decent number of budget-friendly rentals—and has the shortest commute of all the communities on the list. Plus, it has a strong sense of community. According to Allyson, who recently moved here from Central Harlem, "East Harlem is always active—lots of people hang out outside, especially when it is warmer, and they all seem to know each other. We also bump into our neighbors while on the block." 
Brick Underground articles occasionally include the expertise of, or information about, advertising partners when relevant to the story. We will never promote an advertiser's product without making the relationship clear to our readers.