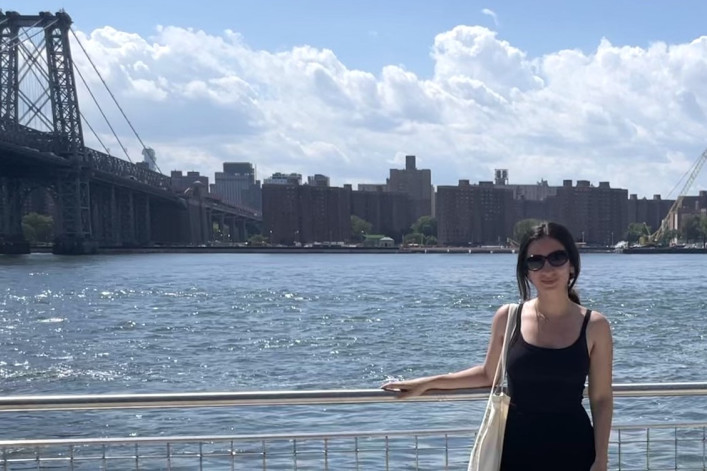 Yasmeen Dohan was ready to move on from Ann Arbor after graduating from the University of Michigan when she landed a job in New York City, a place where she only knew a few people. A friend connected her with a Williamsburg apartment and she took it sight unseen, a sign things were falling into place. Here's her story.
I was born and raised in Indianapolis. Most recently, while I was a student at Michigan University studying political science, I lived with a roommate in Ann Arbor in a two-bedroom apartment off-campus. The place had a small living room and kitchen—no dishwasher or in-unit laundry. The building had a coin laundry, pool, and small gym on the main floor.
The building was old, from the 1960s, but was in a prime location—just a 10-minute walk from the center of campus and near popular college bars and restaurants. I particularly loved Cafe Zola, Sadako, The Last Word, and The Grotto. We each paid $1,050 a month in rent. While I didn't like having to pay so much to live in an old building, the maintenance staff was responsive and the front desk staff was helpful most of the time.
---
[Editor's Note: Brick Underground's series The Newcomers features first-person accounts about why a renter or buyer decided to take a chance on NYC and live here now. Have a story to share? Drop us an email. We respect all requests for anonymity.]
---
Ann Arbor itself is great. The campus is beautiful and connected with the rest of the city. There was always lots to do: museums, hiking, movie theaters, restaurants and bars. The city is very progressive and most living there are highly educated and politically active. The weather wasn't great most of the time—especially in winter.
A chance to grow in a new city
I knew I wanted to live in a big city after graduation and put myself outside my comfort zone. When I arrived as a freshman, I didn't know anyone and felt like I grew a lot as a result, so I wanted that experience again. I felt like I had outgrown my college town, so I was really eager to leave even though I love Ann Arbor. I wanted to live somewhere with a vibrant arts and cultural scene. I applied for jobs in DC and NYC and ended up getting a NYC job offer first.
I was initially considering the East Village or Lower East Side because I heard that is where a lot of young people move to in Manhattan. I knew I didn't want to live in Midtown even though I know a bunch of U Mich grads ended up living in the Kips Bay area.
Coming in under budget
I also knew I wanted my share of the rent to be under $1,400. Other than that, I didn't really have too many preferences.
One of my friends from college was also moving to NYC and we wanted to be roommates (along with another friend). Turns out she had a friend from high school who is a few years older than us who was moving out of her apartment in Williamsburg. She offered to FaceTime us and show us the apartment, give us the rundown of the area, share the contact info for landlords, and it all fell into place! We signed the lease without even seeing it in person! We moved in July of last year.
We ended up in a three-bedroom apartment and my share of the rent is $1,250. There are no amenities. I do a pickup/drop off service nearby for laundry, which is about $20 for two weeks' worth of clothing.
She's only seen one rat (so far)
We live on the third floor of a walkup. It's a small building, so there are not a lot of tenants, which is nice, and I get a lot of natural light, which I appreciate since my Ann Arbor apartment got none and adversely affected my mood. My new landlords are relatively responsive. Luckily, I have only had one rat sighting (this is good for NYC, right?) and just a few roaches, but not an actual roach problem.
The building is old and there is trash all over the street outside the building and on sidewalks throughout the neighborhood. But this seems to be common in NYC and is not specific to Williamsburg. Williamsburg is pretty aggressively gentrified—it is getting several new luxury developments—and is predominately white and well off.
I live very close to the East River and there are a lot of fun stores and restaurants and I do think it is a lovely place to live. I enjoy Nitehawk Cinema and Domino Park. My favorite places to eat are Juliette, Oregano, Court Street Grocer, and Mission Sandwich Social, which is new in the nabe. I enjoy wandering around bookstores like Spoonsbill & Sugartown and McNally Jackson. 
For food shopping both Whole Foods and Trader Joe's are just a 15-minute walk away.
A nabe made for biking
There are a lot of one-way streets, which is really nice for biking (I love to bike!) and the area is very pedestrian friendly. Living so close to several parks and the water makes me feel like I'm not in NYC at times and I appreciate that. We are very close to the subway as well. It's safe, very accessible to Manhattan but only somewhat accessible to other areas of Brooklyn.
I rarely go into the office (I work in public relations) so I don't go into Manhattan except on the weekends, and sometimes not even then. But I can get to practically anywhere in Manhattan in half an hour. I like to Citi Bike around Brooklyn and sometimes even to the East Village.
Moving here has made me realize how important it is to me to live somewhere pedestrian-friendly. It reminds me of living on campus and how easy it was to see friends and interact with local businesses. I think this way of living makes you feel less isolated and more inclined to be involved in your community.
Making friends in NYC
I find that making new friends in NYC is pretty easy. I think the type of newcomers NYC attracts are those who are comfortable with stepping outside of their comfort zone and eager to have new experiences, which translates well into making new friends and dating.
Some of my friends visited and they were surprised by Williamsburg because of how different it was from their expectations. Many Midwesterners think all of NYC is like Midtown. They were shocked by the small size of our apartment and how much we pay for it, which is ironic considering other New Yorkers are impressed with how nice our apartment is and how little we pay for it.
Overall, I am very happy I moved here and plan on staying for the foreseeable future.
Brick Underground articles occasionally include the expertise of, or information about, advertising partners when relevant to the story. We will never promote an advertiser's product without making the relationship clear to our readers.