The Newcomers
Why I moved to NYC from Minnesota: To experience all the city has to offer—namely drag queens, art cinemas, and Broadway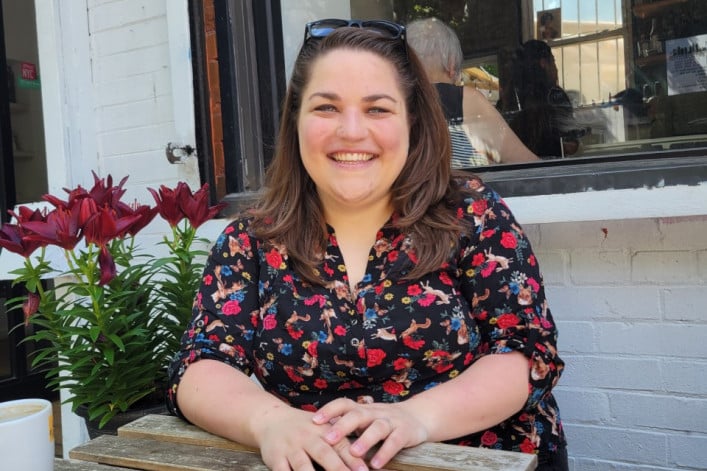 Megan Benedict was living in suburban Minneapolis when the pandemic made her reevaluate why she wasn't pursuing her lifelong dream of moving to New York City. When she (finally) landed a job in the city and made the leap to Bed-Stuy, she felt welcome from the get-go. Here's her story.
I was born and raised in a small town in Wisconsin and graduated from the University of Wisconsin-Milwaukee in 2013 with a degree in film studies as well as journalism, advertising, and media studies—plus a certificate in LGBT studies. My first, full-time job was at the Milwaukee Film Festival, where I worked for three years, all the while trying to find a job in NYC.
Then in 2017 I met a cute umpire named Aaron on Tinder and ended up accepting a job at a summer camp for kids with HIV that was headquartered in Minneapolis, where Aaron was living. The job didn't last—I pivoted to working in PR for an advertising agency—but the relationship did. (We are now engaged after six years together.)
---
[Editor's Note: Brick Underground's series The Newcomers features first-person accounts about why a renter or buyer decided to take a chance on NYC and live here now. Have a story to share? Drop us an email. We respect all requests for anonymity.]
---
My fiancé and I shared a nearly 1,000-square-foot, two-bedroom, one-and-a-quarter-bath apartment with a balcony. The building had heated indoor and outdoor pools, a hot tub, sauna, community room, gym, and playground. Rent was $1,185 per month including garage space. There were coin-operated laundry machines on each floor.
It was the biggest apartment I had ever lived in and the first time I was living with a partner. We hung art, bought furniture, adopted two cats, and made it our home. I disliked the commute to work, which was about 30 minutes. I also disliked not being in the actual city, meaning there was less diversity, fewer cultural events, and very limited public transportation.
Overall, the area was very family oriented. Our neighborhood was very residential and included an elementary school. Beautiful parks were nearby, which was ideal for getting outside during the pandemic. People would do outdoor activities even in 60-below-zero winter weather. We walked a lot for exercise but being south of "downtown" meant we would need to take a car to visit restaurants and shops.
There is a big music, foodie, and theater scene in Minneapolis. Some things we enjoyed doing in our area were attending drag shows and live theater. There were lots of movie theaters and museums, too. And we would cheer on our local baseball and hockey teams occasionally.
Minnesotans have a reputation for being cliquey and closed off emotionally (even though they'll help you push your car out of the snow)—and that was true in my experience. They will smile and give you directions but never invite you to their own house. So I ended up connecting with other transplants.
Why she wanted to move to NYC
When people ask me why I moved, I say legendary drag queens, robust public transportation, art cinemas, and Broadway shows. 
In truth I've always wanted to live in New York—since I was in high school and visited for the time. I'm now in my 30s and over the years I continued to visit periodically to see friends and attend shows but was afraid to make the jump without a job lined up.
We had originally planned to move the summer of 2020, but we all know how that turned out. The pandemic jolted me out of my imposter syndrome and made me reevaluate why I wasn't pursuing my dream. (Aaron has been a huge supporter and cheerleader throughout.)
How she made the transition to the city
At the beginning of 2022 I finally landed a PR agency job in Tribeca. I was able to work remotely from Minneapolis for a few weeks while looking for a temporary place to rent. Aaron is a teacher and wouldn't be joining me until the end of May, after the school year.
We wanted to be south of Central Park in Manhattan or west of Bushwick in Brooklyn. I found a three-month sublet (through May 31st) in Bed-Stuy through Settle Living. Rent was $950 per month for one room in a four-bedroom apartment, with a shared bathroom and kitchen. It was a fifth-floor walk-up. Carrying heavy suitcases up eight flights of stairs almost killed me, but my ass has never looked better.
Wanted: a pet-friendly, two-bedroom apartment for $2,500
Then it was time to look for our long-term rental. Must-haves included a building that would allow our two fat and demanding cats, Oscar and Phillip, and a rent of $2,500 or less. NYC is way more expensive than Minneapolis for less space and fewer amenities; we also would need to pay more in utilities, insurance, and parking. (Our lease in Minneapolis went through July, so we would also be paying double rent for two months.)
We thought having a dishwasher and/or in-unit laundry machines would be nice but not essential.
I bookmarked about 20 different rental websites and checked them obsessively throughout the month of May. We saw around a dozen properties—some in person, some virtually.
Ultimately, we found a two-bedroom, one-bath apartment in Bed-Stuy through Jay Payton, a broker with MySpace NYC. It has A/C units in each room, a video intercom, and a dishwasher and built-in microwave in the kitchen. We're on the third floor of a five-story elevator building with trash chutes on every floor and coin-operated laundry machines on the first floor. We aren't thrilled with our building's common areas, which are cluttered and need a new paint job, but the apartment itself and the location makes up for it.
We ended up having to pay a broker's fee, but it was worth it in my mind because I really wanted this apartment and was tired of looking. We did not end up needing guarantors for our apartment.
Overall, renting is easier in Minneapolis. There are no brokers and not as much competition (although there is still plenty of demand). There are fewer renters' rights but more leeway with contracts/leases, and properties get listed farther in advance there.
What it's like living in Bed-Stuy
The neighborhood features beautiful brownstones, quiet streets, and friendly neighbors. We love that it is in a historic district with 19th-century architecture. We also love seeing murals in the area.
When I walked into the new apartment building, I saw that two-thirds of our neighbors had pride decorations out—I'm queer, so that was welcoming!
I work fully remote now so no commute for me. Although we have access to the J, Z, A, and C trains, I do wish we were a bit closer to the stations. We kept our car, which my partner only uses in order to umpire college baseball games.
We like that we can order food and get delivery service any time of day and night—and to help support small businesses in the community.
Some of our favorite places include Harold and Maude Vintage, Swell Dive, Pilar Cuban Eatery, Lula Bagel, Do or Dive, and Bushwick Taco Company. 
How her social life is going
Making friends here has been easier than in Minneapolis, although scheduling and transportation can provide their own challenges. There's always something going on, so there's never an excuse for being bored in this city—and beyond. Aaron is most excited about the concentration of new zoos and aquariums to visit on the East Coast.
The job I got before moving here ended up not being the right fit, so I'm freelancing full-time now. I've turned our second bedroom into an office space that has an extra bed for guests.
No one has come to visit us yet, but we're getting ready to welcome several friends and family members later this summer and in fall. Everyone we've sent apartment and neighborhood photos to is impressed by how modern our building is and how residential our street is!
One of my oldest friends (from sixth grade) happens to live in Bed-Stuy with her husband, a friend of mine from college (I introduced them!). So now we live 10 minutes away from each other again like we did when we were kids! 
I have never truly felt like I belonged in any of the cities I've lived in before. I was always keeping one eye on NYC, and now that I'm finally here, it feels good to be home. We may not stay in Bed-Stuy, but our current plan is to embrace NYC and experience all that it has to offer.
Brick Underground articles occasionally include the expertise of, or information about, advertising partners when relevant to the story. We will never promote an advertiser's product without making the relationship clear to our readers.