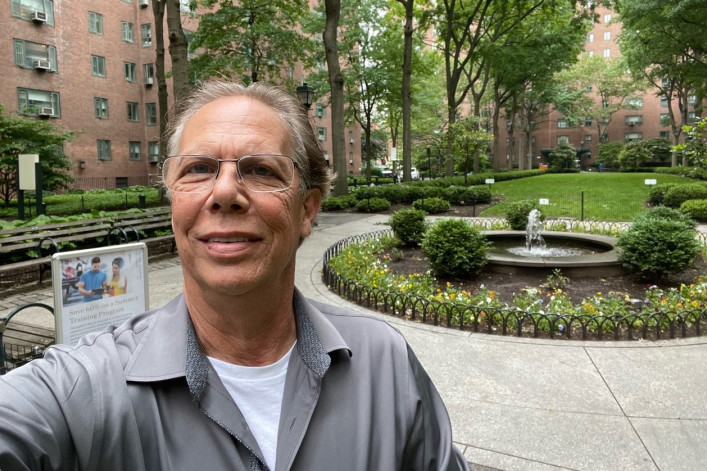 Frank Kaplan, a widowed, empty nester, drove cross country with his pets in tow to start a new chapter in New York City. In addition to a new place in Peter Cooper Village, he finds love and a new career. He is thrilled with living in the East Village and says NYC's bad rap is undeserved. Here's his story.
I am from the West Coast, where I raised three daughters and lived with my wife until her passing. We lived in Lake Arrowhead, CA, a mountain resort area in Southern California. There are a smattering of celebrities who live on the lake: Christopher MacDonald, Pricilla Presley, Pam Dawber and Mark Harmon. After I was widowed, I rented in Laguna Beach for 2020 and a bit of 2021.
I bought my home in Lake Arrowhead in 1998 for $189,000, and it's worth $750,000 now. In Laguna I rented a three-bedroom house on the Pacific Coast Highway for about $5,000 per month.
---
[Editor's Note: Brick Underground's series The Newcomers features first-person accounts about why a renter or buyer decided to take a chance on NYC and live here now. Have a story to share? Drop us an email. We respect all requests for anonymity.]
---
In the mountains I pursued photography—drone, landscape and nature photography. At the beach I started hiking. I would take daily hikes in the foothills and on the beaches. 
One of the things I enjoyed about CA is their delis, like Canters and Langers and old LA eateries like Musso Franks. I enjoyed Lakers and Dodgers games and I worked a lot. I owned a legal support business. We did court filing process serving, skip tracing, and legal research. My clients were lender and landlord attorneys. I always owned two cars and I drove about 75,000 miles a year for my business.
In August 2021, I decided to move to NYC. I did a lot of business in the city and always wanted to be here. All my life people have asked if I am from NY. Now I am.
I came at the urging of a woman who I met after my wife passed. Not long after my arrival in NYC, she moved on. Since then I have met someone else who I am very serious about. She works for UNICEF and if I didn't come here, I would never have met her.  
I started from scratch in NYC. I gave away most of my belongings in CA and I drove across the country with a couple of animals, golf clubs, computers, and some clothes.
I have a bird, and a couple dogs and cats, and we try to fly under the radar. When my wife passed and the kids left home, I was left with this bunch of furballs. I couldn't rehome them so I shlep them along with me.
Initially I stayed with a friend in Battery Park City, from September until January, while I apartment hunted.
I searched for several weeks and then just toured two properties. My agent, Sharon Banta of Keller Williams NYC, helped me find something large enough for my pets. Ultimately I ended up renting a 944-square-foot one bedroom in Peter Cooper Village in the East Village when the new year began. I also ended up paying about $1,000 more per month than my original budget, which was in the $3,000-$3,500 range, but I am very happy here.
My new place is in a typical, post-war brick building. It has an intercom, elevator, and laundry. The interior is fully renovated. I have stainless steel appliances and a wine fridge. It has a clean, modern bathroom. The community has gyms, parking garages, and package delivery services. 
Most of all I love the neighborhood—the East Village is great. Restaurants around here are amazing. My building is surrounded by several green acres that are great for dog walking. I have had no trouble maintaining my goal of taking 10,000 steps a day around the neighborhood. 
Also, the community sponsors cool events like outdoor film screenings during the summer and green and flea markets. There are no downsides so far.
On Wednesdays, my girlfriend and I walk together. Each week we explore a new neighborhood and she shows me all the cool spots, celebrity residences, and history. 
I'm now a real estate agent with Keller Williams NYC, so this is also invaluable knowledge. Such fun and educational days! My daughter is a realtor and she's been encouraging me to make the switch from legal services to real estate for years. I started the process in California and got licensed in both NY and CA.
My girlfriend and I have some favorite restaurants: Barbounia and L' Express. We also love Mama Fina's in Alphabet City and walking to Chinatown for Chinese food!
Food shopping is amazingly convenient but expensive. At first, I went overboard ordering in because for years I couldn't do that. I have settled down but still get dinner delivered once or twice a week.  
I kept one of my cars and pay monthly for a garage nearby. I use it for real estate showings in Brooklyn and Queens. In Manhattan I walk and take the subway. It's not unusual for me to walk home from my Fidi office to my home.
NYC is amazing! Its rap as an uncaring megalopolis is completely wrong. Culture, people, food, opportunity—this city really does have it all! My life is fuller than it ever was back in CA.    
My daughters say they will visit this summer. I'm eager to show them that coming here was really the best move for me. I have every intention of staying here permanently. 
Brick Underground articles occasionally include the expertise of, or information about, advertising partners when relevant to the story. We will never promote an advertiser's product without making the relationship clear to our readers.